Villa Maria Lodge Fishing Report – 8 – 15 February, 2019. Sea trout fishing on the Rio Grande, Argentina.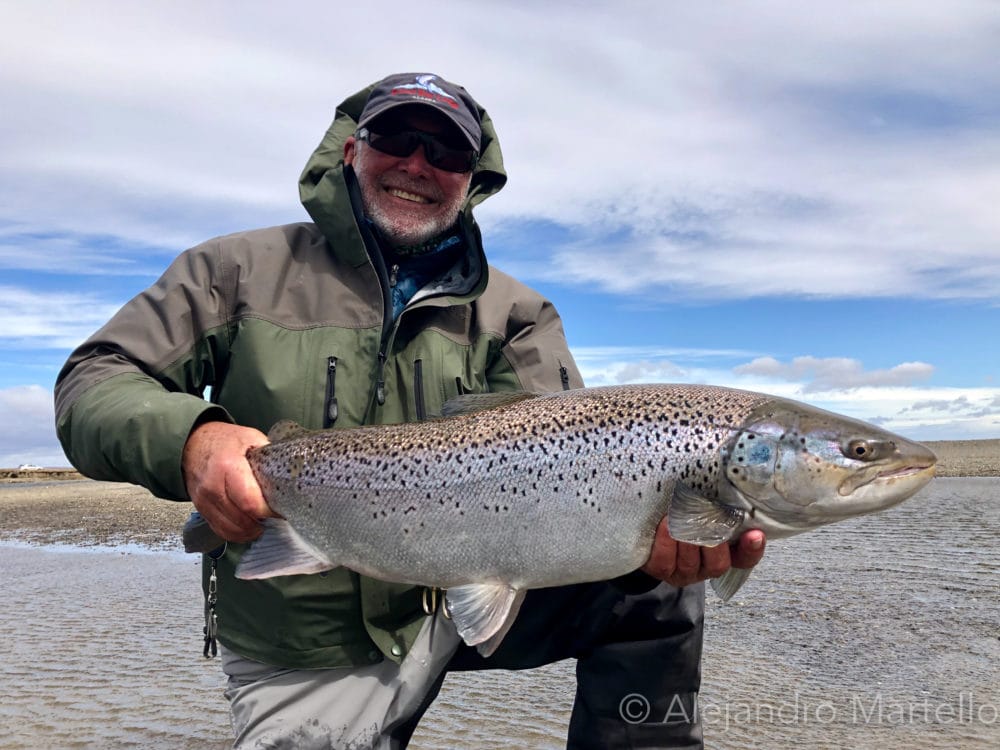 This past week we welcomed a group consisting of four old friends, (Gilbert, Nigel, Bob, and Ken) and 2 new friends (Dave and Joe). The river remained low so we had to continue our practice of fishing with stealth. Nymphs were the top selection and our old friends showed that several years of expertise paid off. Mastering dead drifts and feeling a very light touch to the fly, with 20 mph winds and waves its not an easy task– but after a few hours of tuning up the set ups and refreshing the skills, the results were nothing short of astonishing.
Nigel showed his skills off in the warm up session the first morning while landing 2- 16 pounders, plus a 17 and a 19 lb. fish. Each fish was celebrated with Gilbert's Belgian chocolates and Hardy's smooth Cognac. Joe was quick to pick up the Rio Grande fishing game and landed an 11, 14, and 21 lb fish in a morning shift. Strangely enough for Villa Maria waters, single handed rods + floating lines were the best option. But as always, a good presentation and drift were more important than the line/rod itself. Dave was able to test his swinging skills and was quickly rewarded with a 21 lb hen in the first evening of fishing
Most of the small flies worked fine, but nymphs from #6 to #10 were the best options coming out the fly boxes. Green Machines were good also-they fooled picky fish when they were not even looking at the tiniest nymph we could find in our boxes. Of course long, dark, slender streamers were a must from the moment when the sun was getting close to the horizon and afterwards. During the last three fishing sessions, the wind began picking up slowly and on Thursday morning we experienced winds up to 110 km/h (75mph) and despite these near impossible fishing conditions Ken and Bob were able to land an 18, 21, and 23 lb fish. That evening the wind was so strong that it forced us to leave the river very a bit early, the gusting winds and murky water makes fly fishing a difficult sport, but when you are putting 20 pound trout in the net- it is all worthwhile!
FISH OVER 15lbs –20
Fish Over 20lbs— 6
If you would like more information then please do not hesitate to contact Steffan Jones or call our office on +44(0)1980 847 389.