Astove Atoll Fly Fishing News 12 – 19 March 2018 – SLAMS
Six eager fishermen descended onto Astove's flats with bootlaces tight, all the desired kit and the mindset of accomplishing personal goals they had set for themselves leading up to this trip. The week started with neap tides with very little water movement meaning lengthy sessions in the surf and very rewarding lagoon opportunities. Nearing the end of the week we began to receive our spring phase of tides making for exceptional surf walks to target GT's, triggerfish, and Astove's infamous supersized bonefish.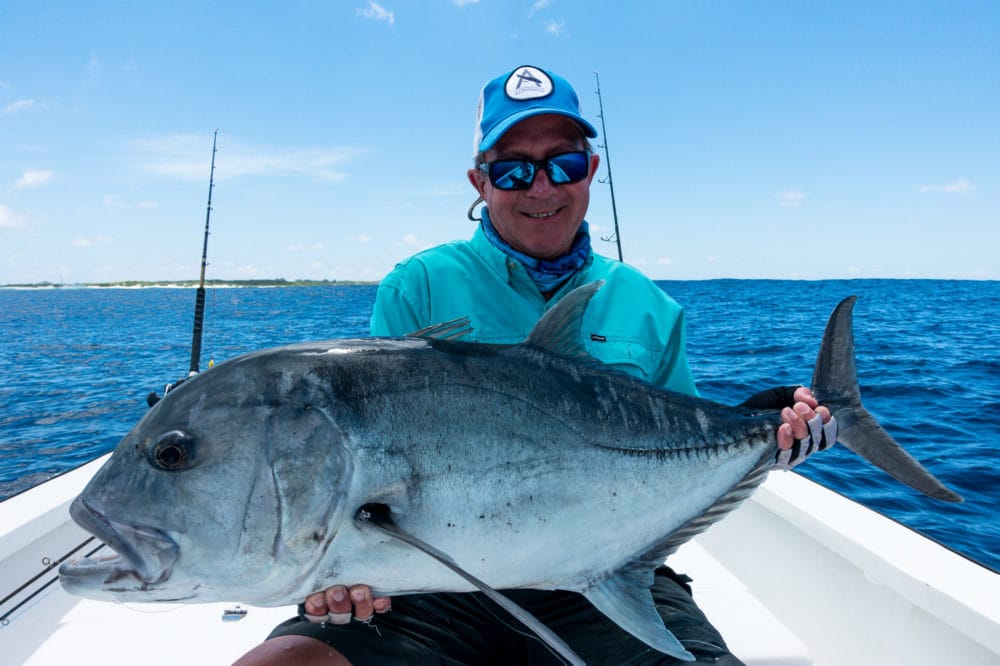 Day one did not upset when lady angler Elena Kirillova executed a 'Super Grand Slam' with one indo-pacific permit, one mustache triggerfish, one GT, and a handful of bonefish. Robert Gilchrist set out on a different mission outside the lagoon to find what lurked in the deep blue and managed two dorado on fly and a number of nice GT's to hand. John Horlock treated himself to a 'Flats Slam' on day two with 4 GT's, the largest at 97-centimeters, one mustache triggerfish, and epic session of catching tailing bones at Paulie's Island during low tide. Oleg Veber found a gold nugget in the lagoon as day two neared its end by landing a wonderful 65-centimeters permit with head guide Kyle Reed.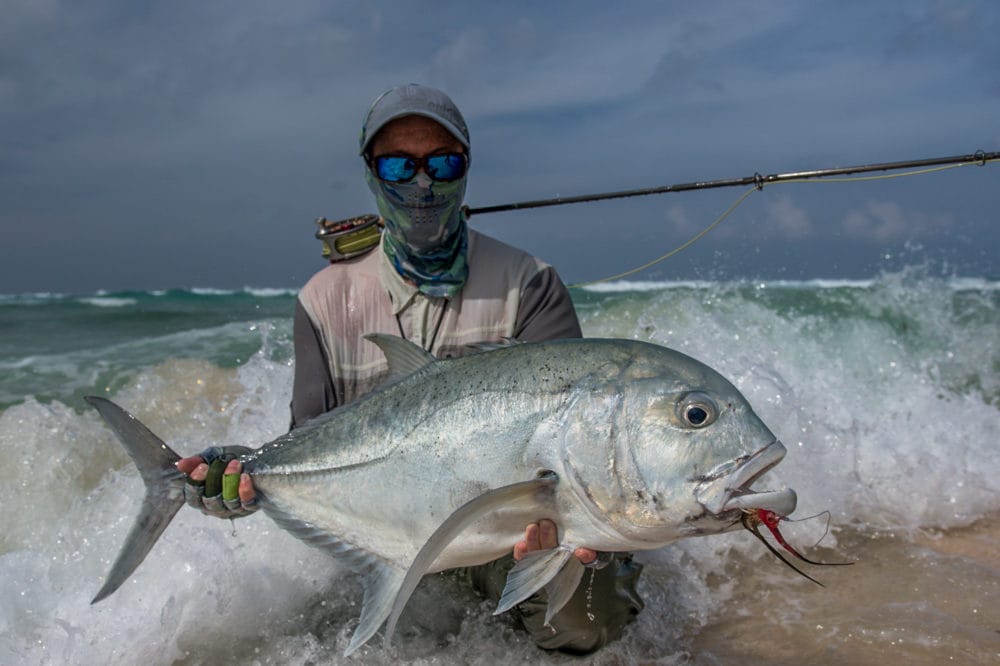 The strong winds continued to grow from the northwest, creating massive swell and surging waves onto the flats of the surf zone. The final day was upon us and our anglers decided they were not going to give up easily. John set out to the east in the morning with the hopes of fishing GT's and it did not disappoint. Landing four GT's, one triggerfish and a few bones, John completed his second 'Flats Slam' of the week. Oleg also came out on top with a 'Flats Slam' on the last day with a nice GT on the flats, a triggerfish, and a number of nice bonefish from the surf.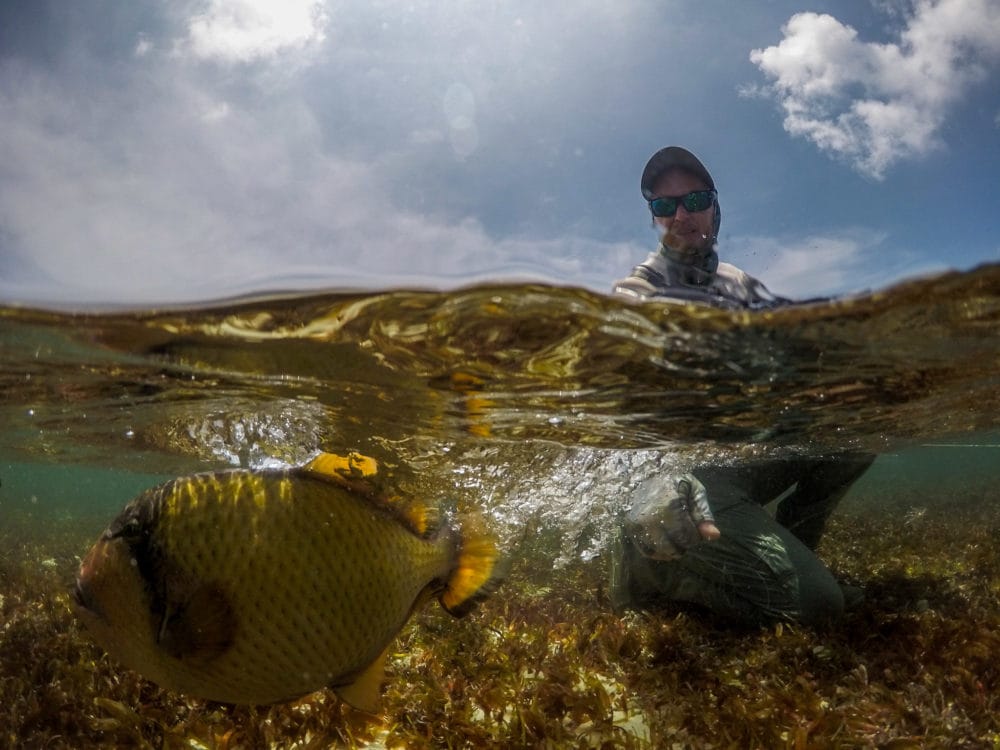 Despite the trying weather the results speak for themselves with a respectable 48 GT's, four moustache triggerfish, two Indo-Pacific permit, 180 bonefish and two dorado, between 6 anglers.
If you would like more information please contact Charlotte Chilcott or Peter McLeod or call us on ++44 1980 847389. Alternatively click HERE if you would like us to contact you.
Cosmoledo Atoll Fly Fishing News 8 – 15 March 2018 –  73 GTs
With last week's low-pressure system moving off, sunshine and a gentle breeze come in for this week's enthusiastic guests ready for what Cosmo had installed for them. The neap tide cycle had most of the team getting stuck into the incredible bone fishing, with almost all of the guys beating their personal best catches on the first day of the trip. Greg Almond and Byron Christie had an absolutely astronomic start to their first Indian Ocean experience. On day one they landed 10 GT's with three of those fish being over the magic one-meter mark included one that measured a monstrous 128cm, the biggest GT of the season so far. Greg carried on with his good fortunes with landing another giant fish later in the week that measured at 117cm. Needless to say the GT fishing had these guys 'hooked'. There is, however, more to Cosmo than just the crazy GT fishing.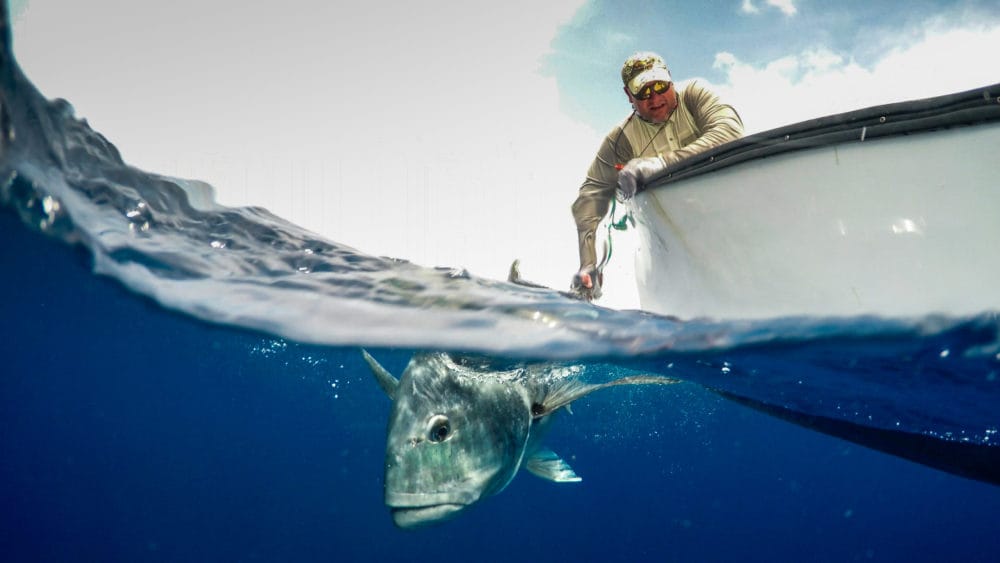 With the milkfish making a brief appearance, Mark Godwin got his rod bending only to experience heartbreak as the fish broke free right at the net, it seemed to be a the resembling story for a few of the others this week. Some close encounters with the elusive indo-pacific permit and the tricky triggers on the flats had the guys changing flies and tactics as the tide became more encouraging for these species. George Toledo capitalized on his opportunity and managed to land two moustache triggerfish. Roy Washbum landed his first yellowmargin triggerfish, a monster bonefish and a couple GT's all in a day to complete a solid 'Flats Slam'.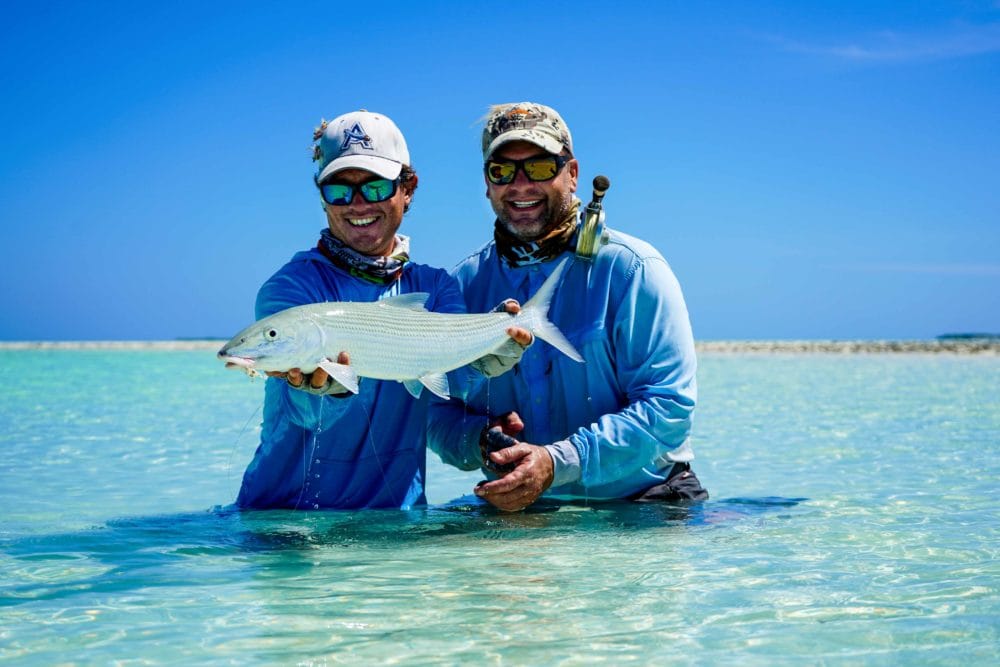 There was some great fun had on the reefs that surround Cosmoledo with all sorts of grouper and snapper species landed and lost. While offshore, David Corrigan got stuck into the yellowfin tuna busting up on bait and landed a brightly coloured fish. All in all, a good weeks fishing was had by all with many stories of trophies landed and bigger trophies lost will have the guys from Texas talking for a while.
If you would like more information please contact Charlotte Chilcott or Peter McLeod or call us on ++44 1980 847389. Alternatively click HERE if you would like us to contact you.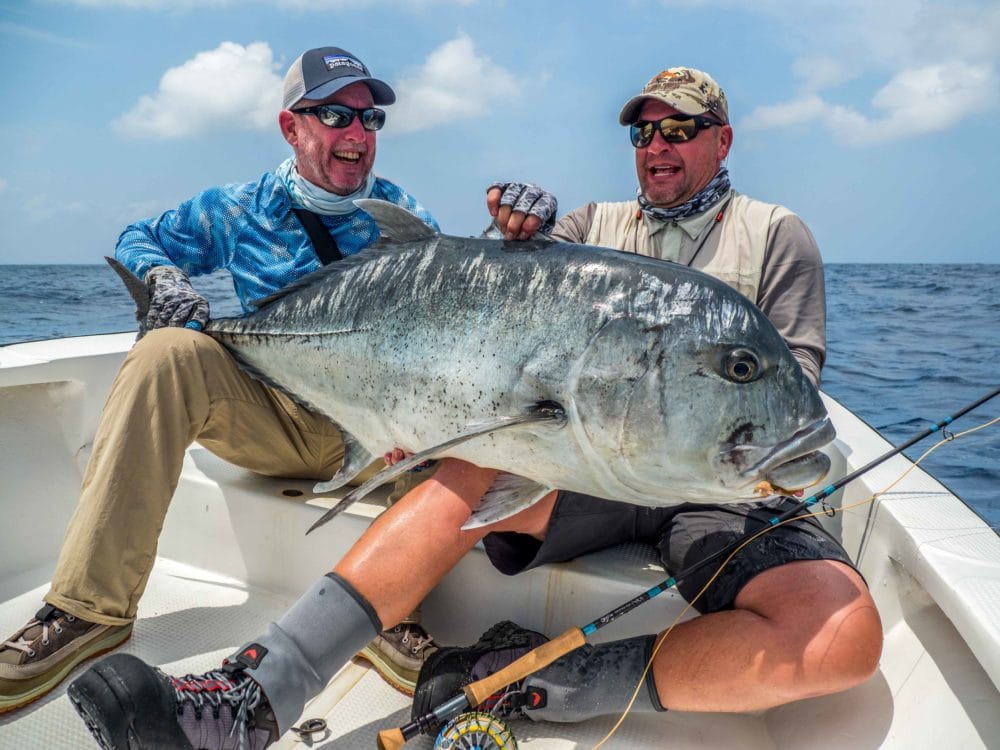 Alphonse Island Fly Fishing News 10 – 17 March 2018 – 700 Bonefish
Northeastern winds, beautiful sunny conditions and midday spring tidal movements provided top-notch action throughout the week with a massive 700 bonefish landed for the 6 days of fishing. While most high spots on the atoll produced good numbers, the largest numbers populated areas closest St. Francois such as Cosmic Lagoon and Morning Traffic.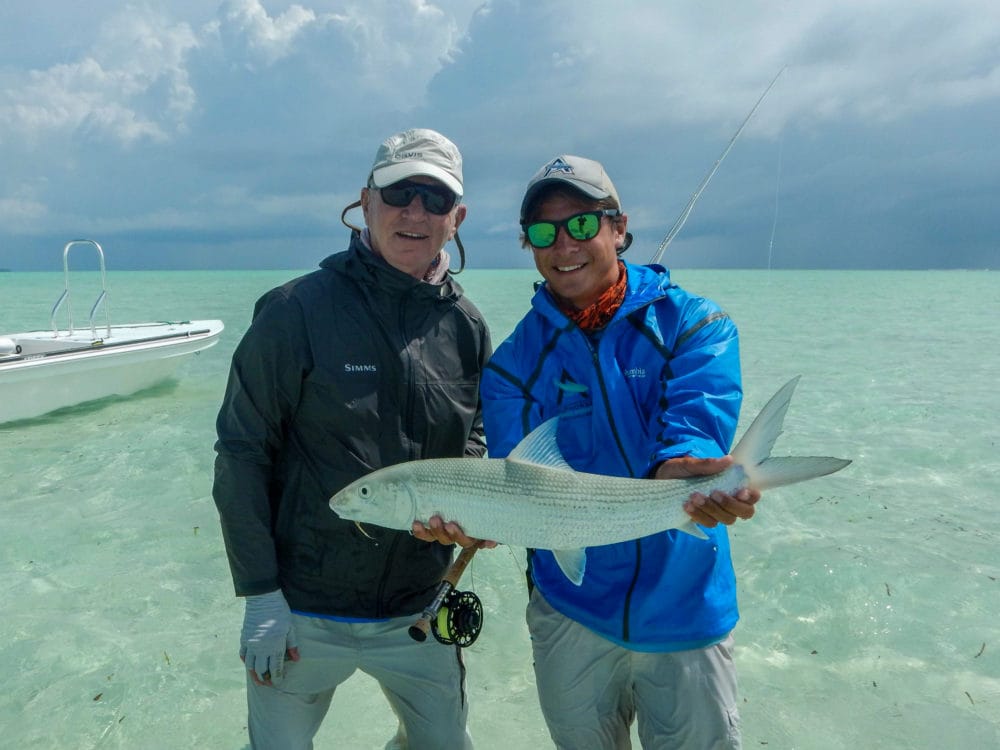 Angler Ray Palmer found himself surrounded knee deep in bonefish while fishing the mangroves, where in an hour and a half he tallied up an impressive 41 fish averaging in the 50cm, 4lbs class. The bonefish champion of the week goes to Mike McGowan who on the last day landed a 67 cm, 8lbs fish on the Delta high spot. A near miss occurred on a triggerfish slam as Mark landed both a moustache and Picasso when a yellow-margin was impossible to prevent from entering its coral cave.Despite rough seas the blue water fishing remained blazing hot as Tapani Henrikkson landed his first ever two sailfish on the fly as well as a wahoo. He then went on to fish the flats and caught a handful of bonefish to complete a double "Bills & Bones Slam". Steve Busch matched Tapani when he also accomplished his double "Bills & Bones" with two sailfish and a plenty bones in a day.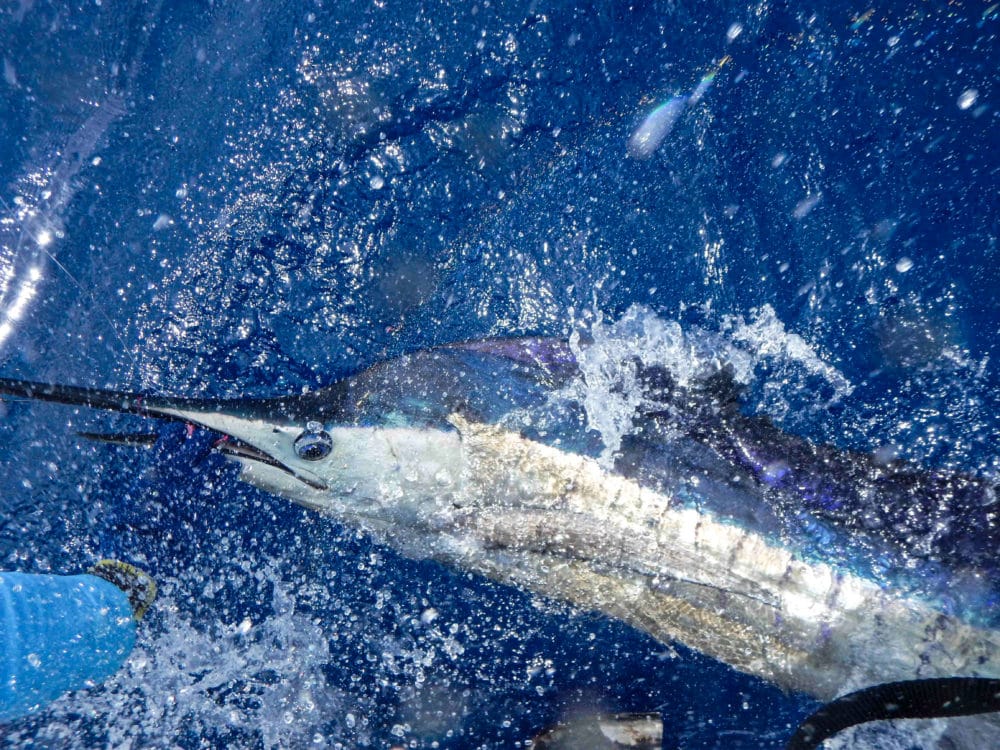 If you would like more information please contact Charlotte Chilcott or Peter McLeod or call us on ++44 1980 847389. Alternatively click HERE if you would like us to contact you.