We're delighted to share owner, Wayne McGee's, report of the start of the 2023 season at ATA Lodge on the Alagnak Wild River in Alaska. Over to you Wayne:
Well, the 2023 season started with a bang. What a great opener we have had this year. June is arguably my personal most favourite time to be at ATA Lodge!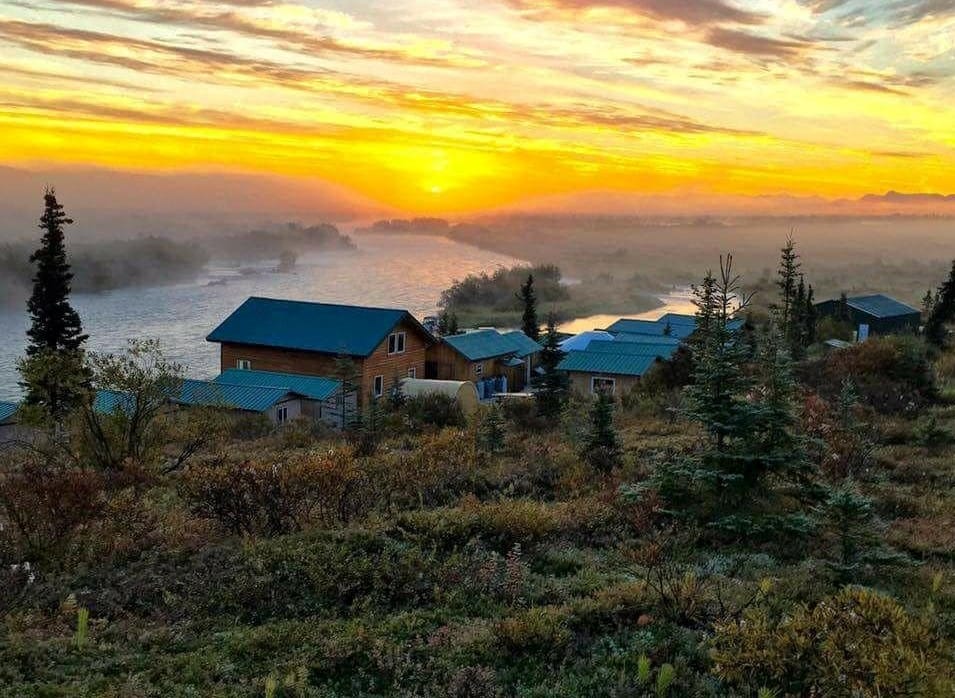 On the flight in, guests were able to see moose and the very next morning, we saw our first bear of the season.
It's been a late spring and the weather was cold and blustery for most of our opening week. The mountains on the horizon were full of snow, and the wind was gusting as our first guests arrived. Conditions were tough and not optimal with wind and colder temperatures, but the fish didn't seem to mind!
As opening day on June 8th fell mid-week, we offered intrepid guests the opportunity to come for a short three day, seven day or ten day option. And we had various guests choosing each offering.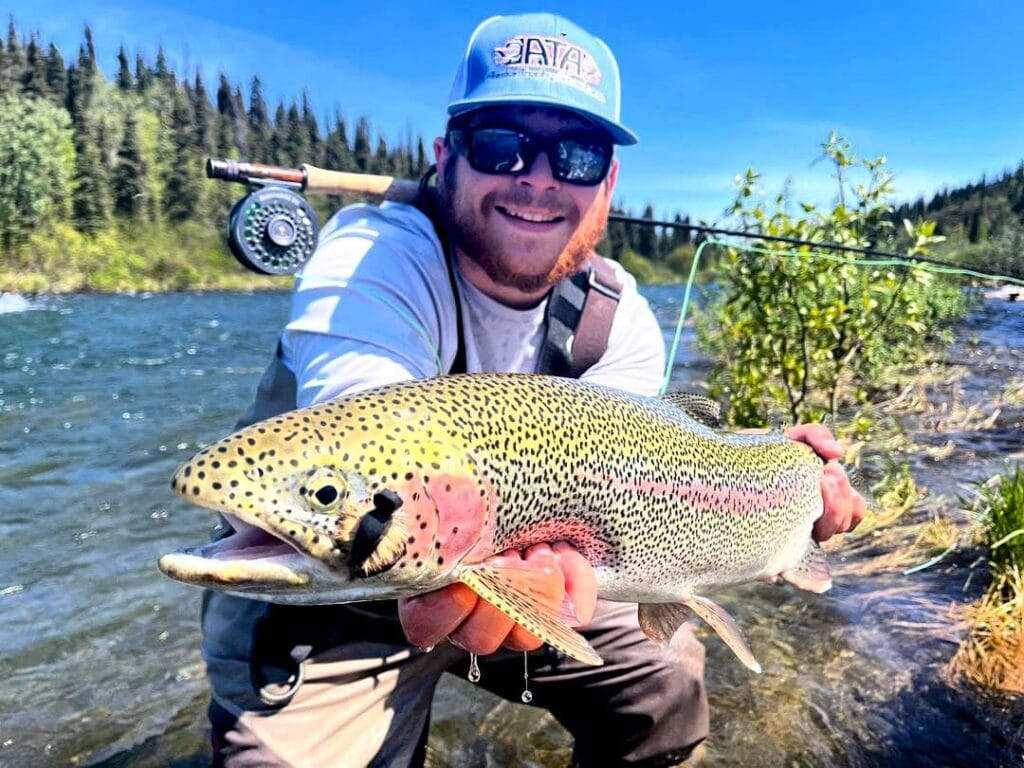 All I can say, is that regardless of how long each guest was with us to kick off the 2023 season, they all left with smiles on their faces and memories of epic battles with strong and feisty, hard fighting trout. The average size topped well over 20" with some up to 27". Every guest can recount stories of the "one that got away", as well, left only to shake their heads and speculate just how big those fish might have been!
We had clients who have been coming for years because of just how good the early season trout and grayling fishing is. Each of them said that this opening week resulted in the best quality trout they have experienced to date, catching multiple fish that topped their previous personal bests.
Trout were distributed throughout the upper system and although challenging conditions made some days slow, each guest had multiple hookups and many great specimens found their way to the back of the net.
Streamers were usually the ticket, but a few were landed on mice patterns skated across the surface of the river, and some days nymphs were what was required to provoke the bite. Anglers had to be creative to figure out what was going to produce the best results and it seemed to change from day to day in terms of fly size, colour and presentation.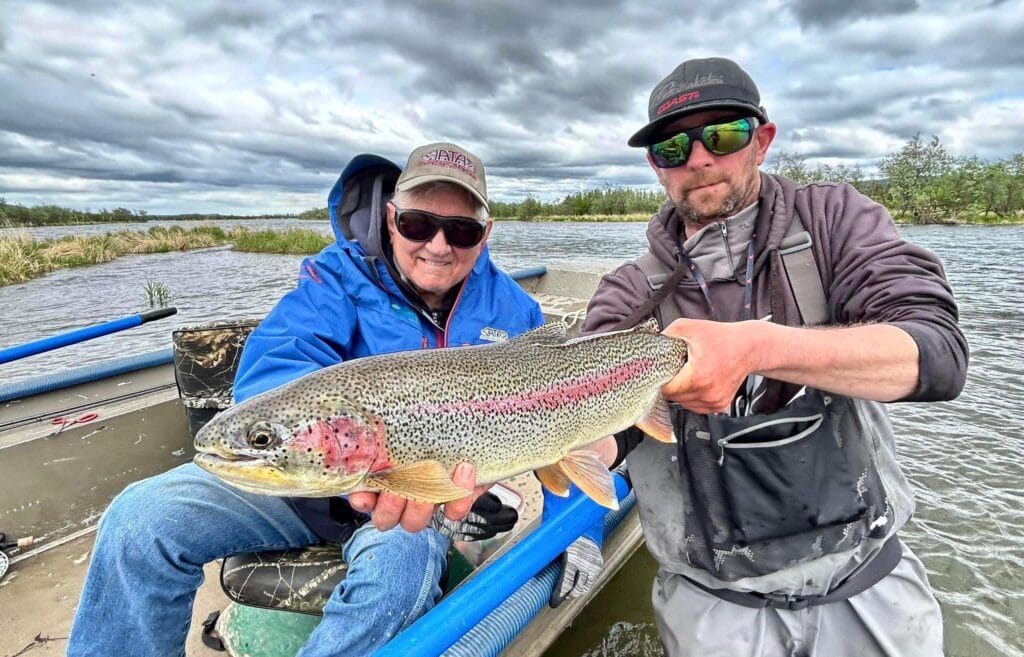 Conditions were not ideal for dry fly fishing for grayling, but as things improved later in the week the grayling didn't disappoint either, with those who targeted them catching multiple fish in just a few short hours.
But with hard fighting trout being such a constant source of rod bending runs and jumps it was difficult to put down the streamer rods and pick up a dry fly rod to target grayling. A few lake trout were also landed as well. "Lakers" will come down out of the lakes and into the river, chasing the salmon smolt as they migrate from our headwaters out to the sea. June is always the best time of the year to get a chance to catch a lake trout with us.
Weather and pilot availability put plans to fly out to Halo Bay to view and photograph bears on hold till the end of the week when we managed to get a fly out organized. Those who took advantage of it had an amazing time. The Cessna 180 flew over lakes and rivers, mountains, glaciers and volcanos to eventually land on the beach of the wild and rugged Katmai Coast.
The tide was out, and one bear was out in the tidal flats digging for clams. Other bears could be seen nearby, and guests were even treated to a sow nursing her cubs right on the beach. With the mountains surrounding the bay, and a stream coming right off a glacier and running through a meadow down to the beach, it's a dramatic setting in which to get up close and personal with these costal brown bears.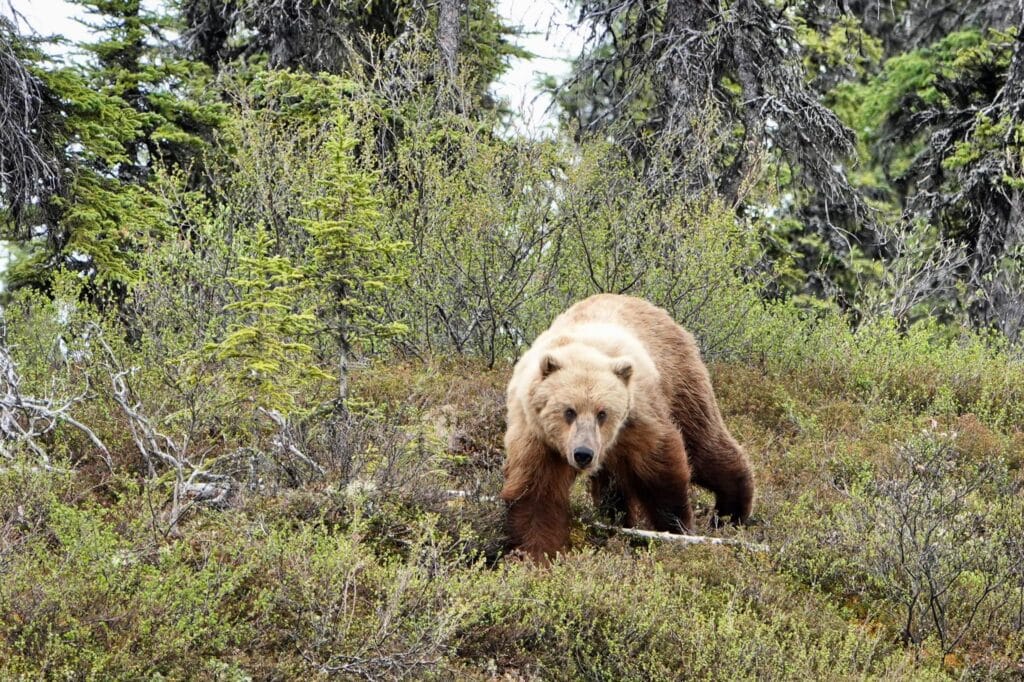 On the flight back to the lodge, guests saw six moose from the air and enjoyed a scenic flight over the region's iconic Valley of Ten Thousand Smokes. This is the sight of the largest volcanic eruption in the last century and third largest ever recorded. It's a fascinating landscape where volcanic ash fields covered up rivers, resulting in plumes of steam coming up through the ash; hence the name Valley of Ten Thousand Smokes. The "smokes" have long since disappeared, but the ash remains, and in some places it can be hundreds of feet deep. The valley's lunar landscape is reminiscent of mini Grand Canyon and it's the location that US Astronauts chose to train for their first lunar mission.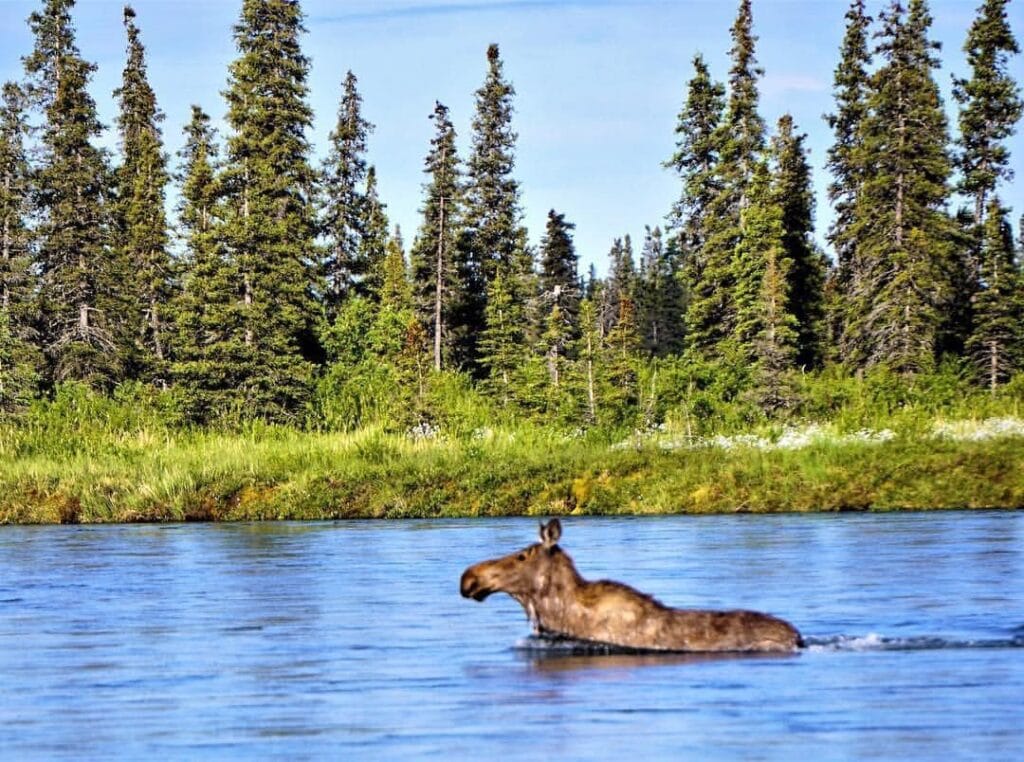 Back at the lodge there was a great atmosphere all week as likeminded guests made new friends and shared stories of each day's adventures around some delicious meals.
It was great having some ladies among our first guests this season. Kathleen, Linda and Kat, braved the wind and cold and got some great fish, doing it in style too (check out Kathleen's Louis Vuitton clutch she took on the water in the boat each day to hold her "essentials")!
All in all, we had a fabulous time and feel honoured to be able to share this amazing river with those who come to visit us here for the 2023 trout opener at ATA Lodge.
Remaining 2023 availability at ATA Lodge (the King Salmon season ends on July 31)
31 July to 6 August – King salmon, chum, pinks, some sockeye and silvers (coho), trout, char and grayling.  Egg drop starting. 
6 August to 13 August – A mixed species week in peak egg drop
27 August to 3 September – Silvers (coho), trout, char and grayling
Please contact Alex Jardine for more details. Alternatively call the office on to +44(0)1980 847389 for more details or visit our ATA Lodge web page.