This lovely film shows the fly fishing possibilities in this remote location. This is truly a trip for the angler who wants maximum variety. From the anchorages visited on this trip you'll be able to head east and access the outer edge of the barrier reef to catch huge GTs, coral trout, dogtooth tuna, spanish mackerel, wahoo, yellowfin tuna and a huge variety of other species.
Around the islands and reef flats that the mothership anchors near you'll find a series of islands, sand flats and reef flats that are unmatched anywhere else in Australia. The species variety is immense from GTs to cobia to permit, queenfish, golden trevally and every other tropical saltwater species you can think of walking these flats and sight casting. For those that love walking the flats and sightcasting, this is a true paradise.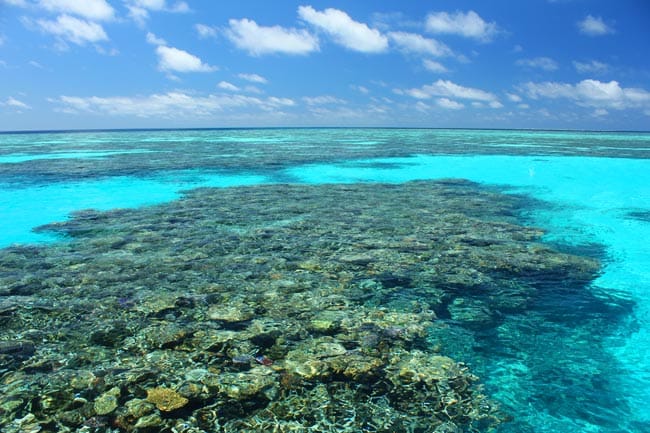 And if that's not enough, head west of the anchorage and you'll hit the coastline with some of the most remote rivers in Australia, just teeming with fish. These rivers cannot be accessed by land, there's simply no way to drive there, and a mothership with small shallow draft tenders is the only real way to access these rivers. The barramundi and jack fishing is just wonderful in these clear shallow sandy rivers, and the queenfish at the mouths of the rivers are incredible fun!
When do we fish Claremont Isles?
The best time for this area is between September-December, and Claremont Isles fly fishing trips are only scheduled on the best tides and moon phases each year. We have limited places available for 23 to 30 October 2017, and we have one trip scheduled in 2018, from 29 October to 5 November.
Getting to Claremont Isles
This area is seriously remote, and has taken a significant amount of planning to organise relatively easy access to this area. To access the Claremont Isles, you'll board a chartered plane in Cairns and fly to Musgrave Station on Cape York, which is pretty much in the middle of nowhere. You'll be met there by a 4×4 18 seat bus that will take the group on a 60-90 minute drive through the bush to meet the tenders in a creek near the coast. You'll then board the mothership and travel the 30-40 nm overnight to the first anchorage and be ready to start your 6 days fishing from a calm island anchorage at the Southern end of the Claremont Isles. The return trip back to Cairns will be the same scenario, but in reverse, at the end of your trip.
CLAREMONT ISLES FLYFISHING ADVENTURE
 6 days of fishing
80ft mothership
2 x 25ft centre consoles
2 x 18ft centre consoles
Max. 8 anglers onboard (2 anglers per boat)
Trip cost of AUS$9550pp + AUS$1490pp for return transfers ex Cairns
The pick up/drop off point for our Claremont Isles trips is Portland Roads to the far north of Cape York, which is reached via a charter flight from Cairns to Lockhart River, and then a landcruiser/bus transfer from Lockhart River to Portland Roads. All transfer arrangements from Cairns and back to Cairns are included in the transfer cost.
If you would like more information on fishing in Iceland please contact Peter McLeod or call our office on +44(0)1980 847389.