Of the all the saltwater species that can be targeted on a fly rod the permit is perhaps the crowning achievement. The permit is the combination of all the facets we love in a flats species; rarity, stealth, uncanny senses all combined with the power of a GT. You can make the perfect cast with the perfect fly and still be refused, which although sometimes infuriating, is also why catching one is such an achievement. The secret to catching permit is numbers. You want to be somewhere where there are good numbers of fish which will therefore increase your chances and even better, cast at multiple fish. I caught my first permit back in the late 1990's on my first ever saltwater trip to Turneffe Atoll in Belize. I did not catch it because I was a good fisherman, I caught it because I was casting at multiple fish that then competed for the fly. There is nothing like a little healthy competition to have a get a fish to switch on and grab your offering!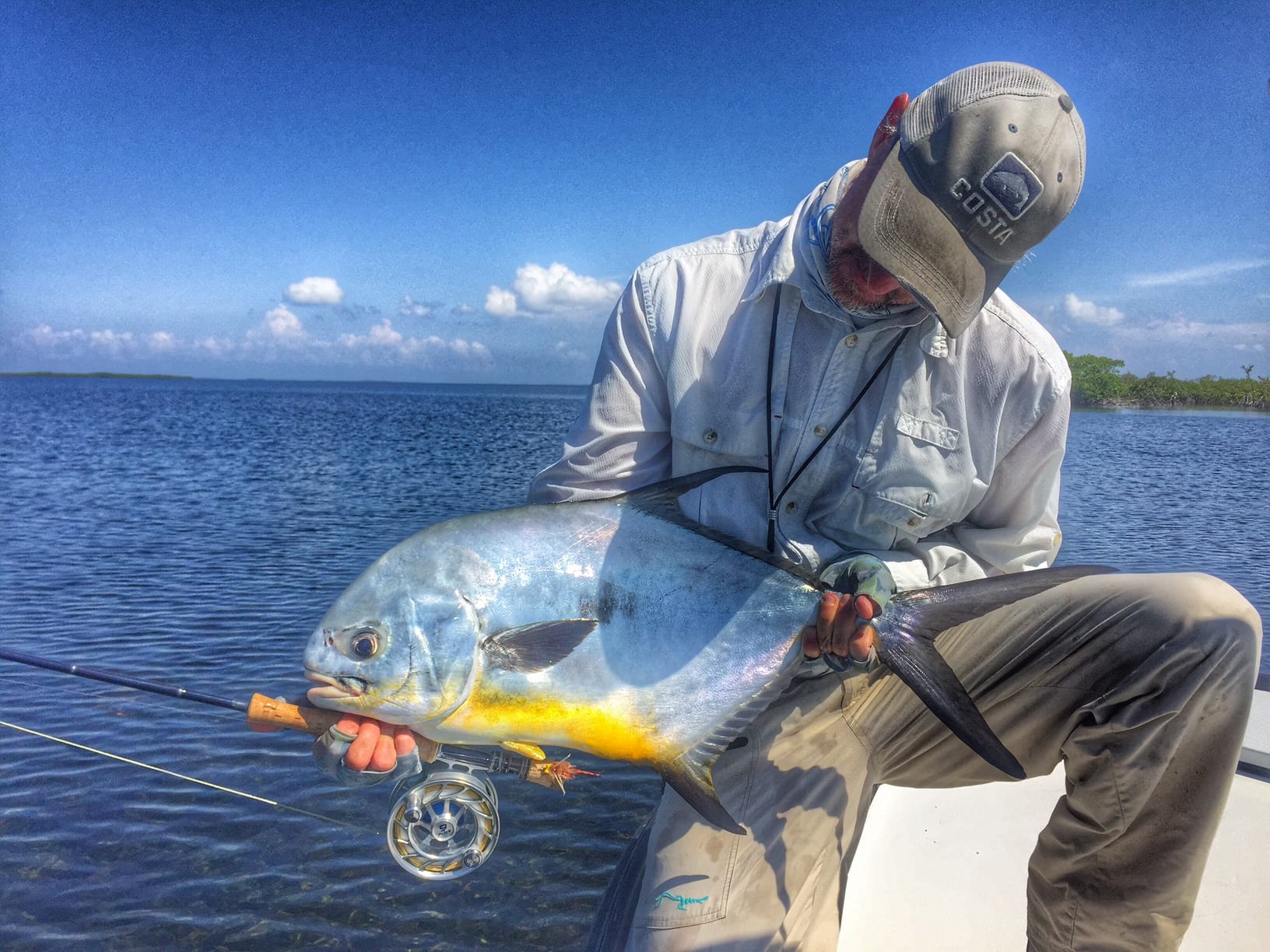 The skiff was drifting down the side of a sandbar and as I stood on front a school of six good sized permit came meandering down the other side. They could not see us as we were protected by the strip of sand so by casting right across the dry sand and dropping the crab pattern a few feet in the water I could lay the perfect ambush. As they drew closer I gave one small twitch, the crab gave a puff of sand as the fish came into view and they charged it. The lead fish tipped up, I set the hook and I will never forget watching it then empty the reel on the first run. The permit had stuck with the school and charged off into deeper water. I just managed to turn it as the spool became visible through the backing and separate it from the school. After a few more agonising runs and with sweat pouring down my face at last the tail came to hand. That is perhaps the most memorable experience I have ever had in fly fishing.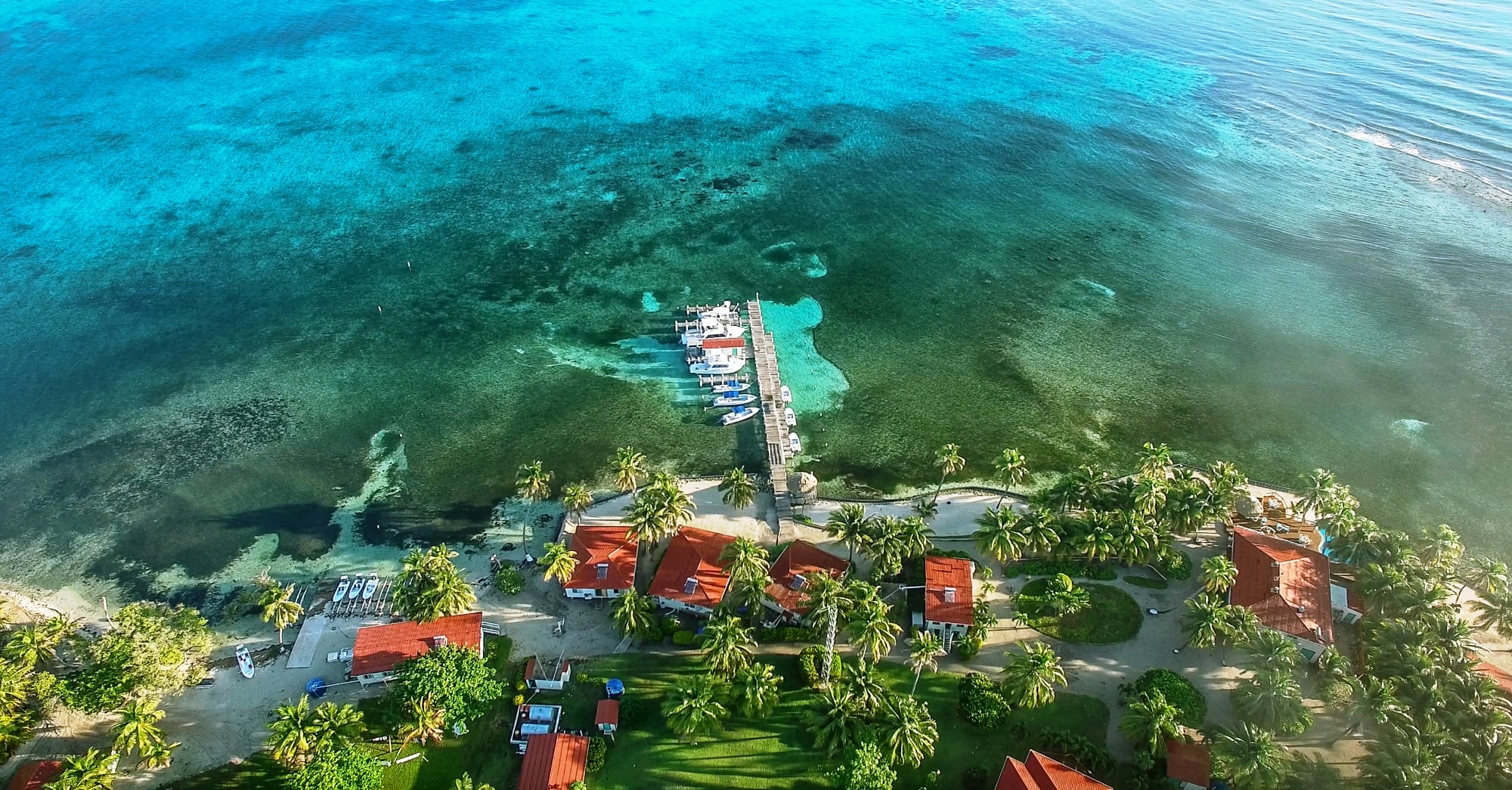 Turneffe Atoll remains to this day one of the best spots on the planet for the avid permit fisherman. The hard coral Atoll offer the perfect environment to target good number of permit in crystal clear water whether on foot or from the front of a skiff. Aside from chasing the black tailed devils Turneffe flats is one of the few true wading destinations for bonefish where casting at glittering tails will while away hours of your time as you hunt the grey ghost in skinny water. There are also resident tarpon cruising around on the inside of the lagoon. Turneffe Flats offers that island paradise fishing experience that many of us seek. It is a long standing lodge with excellent guides and a well proven track record. The lodge caters excellently for non-fishing partners or families and provided a decked swimming pool overlooking the flats along with excellent snorkelling and diving in a relaxed framework. Aside from the well-appointed beach front Cabanas the lodge has just opened the Pelican Villa, it's new two bedroom accommodation right on the waterfront and perfect for families.
There is still some excellent availability for this spring and summer including a last minute cancellation in the prime week of 16 – 23 March.
February 16-23 3 rods
March 2-9 2 rods
March 16-23 6 rods * NEW spots due to Cancellation *
March 23-30 2 rods
March 30 – April 6 2 rods
April 6-13 2 rods
May 4-11 2 rods
June 1-8 2 rods
June 8-15 2 rods
June 15-22 4 rods
June 22-29 6 rods
June 29 – July 6 10 rods
July 6-13 8 rods
July 13-20 8 rods
July 20-27 4 rods
July 27 – August 3 10 rods
August 3-10 8 rods
Aug 10-17 6 rods
Aug 17-24 8 rods
Aug 24-31 12 rods
Costs from: US$2,490 + tax per person not fishing and US$4,390+ tax per person fishing based on 7 nights / 6 days.
For more information on Turneffe Flats Lodge please contact Peter McLeod or Alex Jardine or call our office on +44(0)1980 847389.