Belize is considered by some to be the permit capital of the world, its cays and atolls providing a perfect habitat in which to hunt them. Ambergris Cay is one of those habitats and offers a fantastic fly fishing destination all from the comfort of El Pescador Lodge.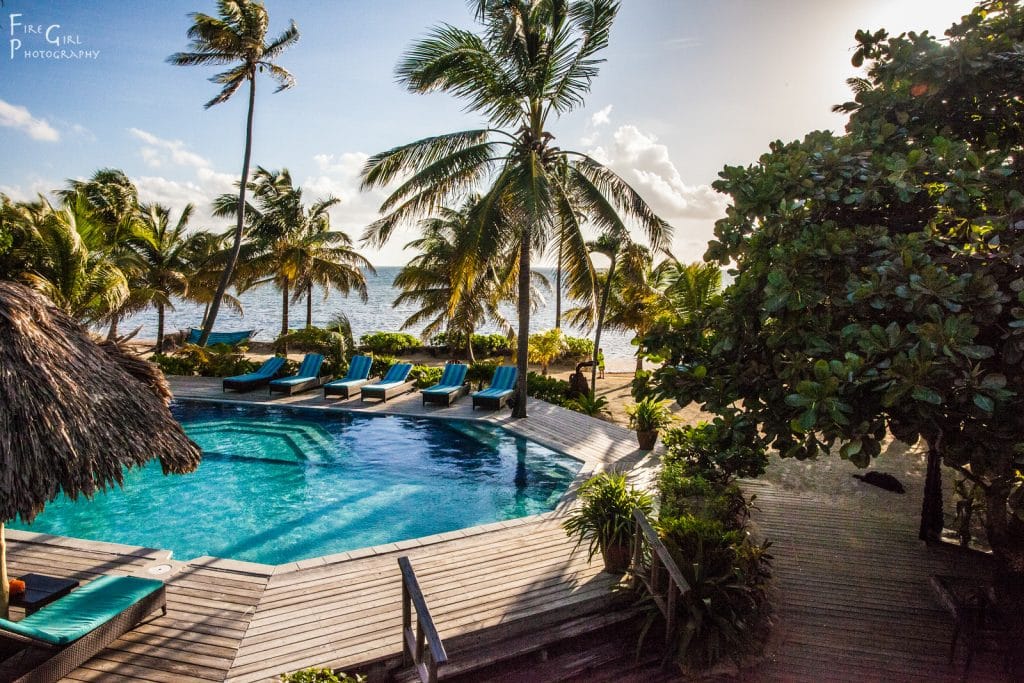 El Pescador is a great combination lodge, offering world class fishing along with excellent service for non-fishers too. Ambergris Cay is situated at the southernmost tip of the Yucatan Peninsula, once ruled by the Maya. The mahogany colonial lodge is right on the beach, facing the sea, surrounded by fragrant tropical flowering plants and the whisper of shady palms. Not only will you find the serenity and relaxation you are looking for, you also have the convenience of being a few miles north of San Pedro Town and its gift shops, restaurants, bars and night spots. The lodge has three swimming pools, spa and massage facilities and also offers various excursions (including a tour of local Mayan Ruins and diving).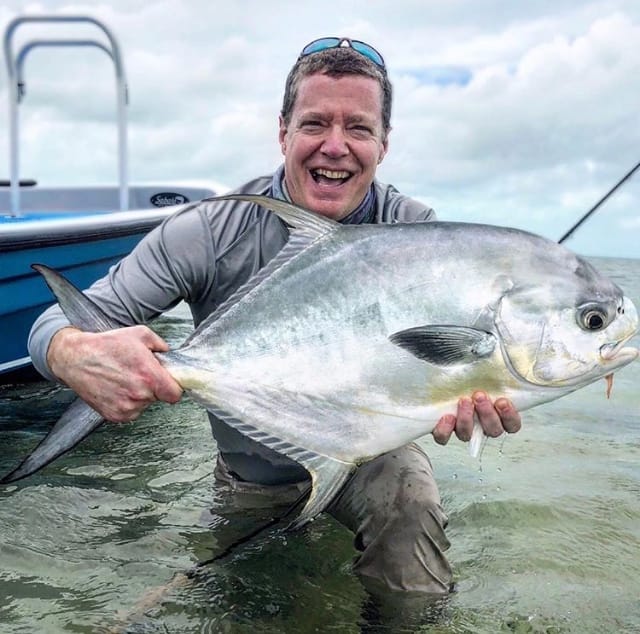 There is good fishing to be had all year round, with good numbers of resident permit, tarpon and bonefish that can be targeted on several good wading flats or through a series of lagoons and channels although most fishing is done from the skiffs. Resident schools of 20 to 80 lb tarpon roam the flats of Ambergris all year, while migratory fish in the 100 to 200lb range arrive in strong numbers in late spring and early summer. It is also possible to find other species, like snook, large jacks, snapper, and barracuda. While the tarpon and permit fishing in this part of Belize is almost always done from the boat, there are some places where an angler can wade hard-bottomed flats while stalking schools of bonefish and some tailing permit.
When to visit El Pescador Lodge, Belize:
There is great fishing to be had throughout the year at El Pescador Lodge, but below we have given a brief outline on what anglers can expect from month to month.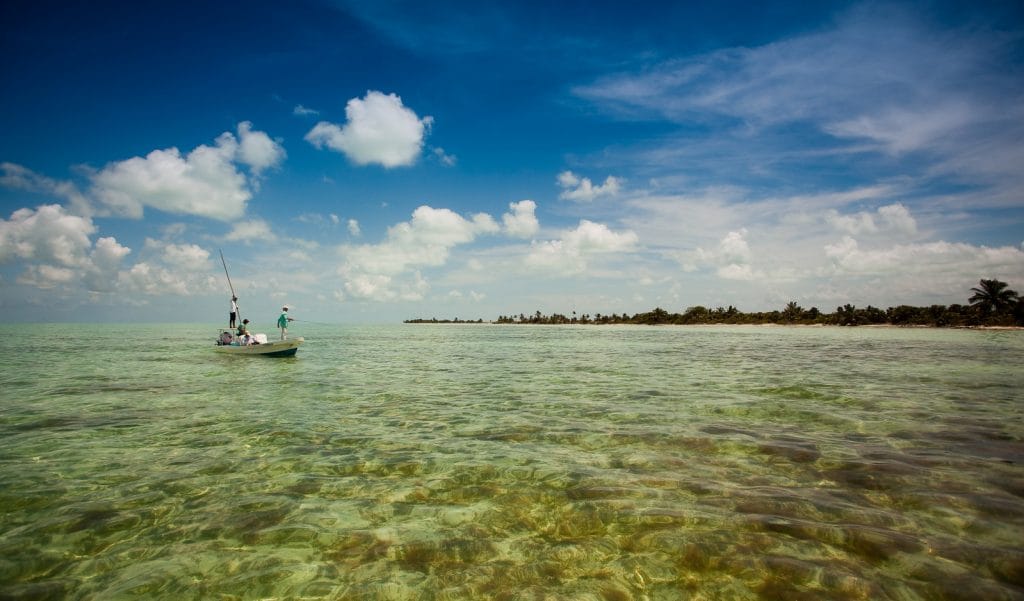 January: On calm days you should see as many as 50-75 tarpon, 20-90lb range. Generally, bonefish and tarpon fishing are good; reef fishing good to excellent on calm days.
February: Fish are plentiful on the flats if the wind isn't too strong. Tarpon in the 20-90lb range. Bonefish, permit, and tarpon fishing are good, but weather-dependent. Reef fishing is excellent.
March: Plenty of 20-90lb tarpon on the calmer days. Plenty of bonefish. Tarpon in lagoons. Reef fishing good to excellent. Permit schooled up in good numbers.
April: Lots of tarpon, 40-100lb, and they are more aggressive. Migrating tarpon start coming onto the reefs. It's a good month for permit too. Usually large schools of small permit, and plenty of bonefish. Reef fishing excellent.
May: Generally our hottest month, with calm-to-light breezes. It's not uncommon to see huge schools of 200-300 bonefish. Tarpon on both flats and the reef. Reef fishing is good to excellent.
June: Bonefish fishing is excellent as it always is from April through October. Tarpon on both the flats and reef. Reef fishing good to excellent.
July, August, and September: Usually calm and warm. Great fishing. Lots of bonefish, lots of tarpon to well over 100lb. We consider this the best tarpon time of the year. The most and the largest tarpon have been caught in August and September. We also find some of the largest permit of the year during tarpon migration.
October: Lots of tarpon, large and aggressive. Bonefish are larger and more aggressive too. Big schools of jack crevelle are also on the flats now and it is a good month for the larger permit. Reef fishing fair to good. If there is a lot of rainfall on the mainland, snook arrive on the flats in large numbers. The lodge record for the most tarpon landed in a single day was had in October by Dick Smith with seven tarpon landed and another five jumped.
November: There are plenty of 60-100lb tarpon on the flats. Jack crevalle and bonefish fishing are also good. Reef fishing good to excellent.
December: If the sun stays out there are plenty of barracuda, bonefish, and tarpon (40-80lb) on the flats. Jacks and ladyfish too. The full moon brings grouper and snappers to the reef to spawn. Reef fishing good to excellent.
New 2024 Season Rates at El Pescador Lodge
2024 Winter/Spring Rates (16 December 2023 – 15 July 2024)
US$5,891.41 per person – shared room / shared boat
US$6,654.41 per person – single room / shared boat
US$8,848.14 per person – single room / single boat
2024 Summer/Fall Rates (16 July 2024 – 15 December 2024)
US$5,149.38 per person – shared room / shared boat
US$5,912.38 per person – single room / shared boat
US$8,106.10 per person – single room / single boat
Cost includes; 7 nights full board accommodation, 6 days guided fishing, internal flights, local drinks (including soda, beer and rum), complimentary use of on-site amenities (pools, internet, paddle-boards, canoes, bikes, etc) and local taxes.
Cost excludes; international flights, fishing licence, park fees (if applicable), hire equipment, imported drinks and gratuities.
For more information on El Pescador Lodge please contact Peter McLeod or Alex Jardine, alternatively you can call our office on +44(0)1980 847389