Permit. 10 o'clock, 30 feet. Cast. Drop the fly! Instructions to get the heart pumping of any saltwater angler – even a relative novice like myself. After poling a mangrove-lined shoreline for about an hour, there they were. Six or so big permit cruising close to the boat. Breathe, take a moment – well that goes out of the window in a frenzy of casting excitement. I managed a few shots in the right place as the fish obligingly stayed within my reach, but no joy. Over to the professional in the boat (my husband) who touched one but 'trout-struck' – to the amused anguish of John our delightful guide – allowing the quarry to make a quick exit. "They were 30lb fish man, oh that was amazing."
Roll back to spring 2022 when a Christmas holiday was mooted. Where could we go that would appeal to a luxury-loving, part-time fishing wife, a never-fished before girlfriend, and three anglers spoilt by multiple trips to the Seychelles? Peter (McLeod) suggested Belize – specifically Turneffe Flats Lodge – where he'd been with his own family a few years back.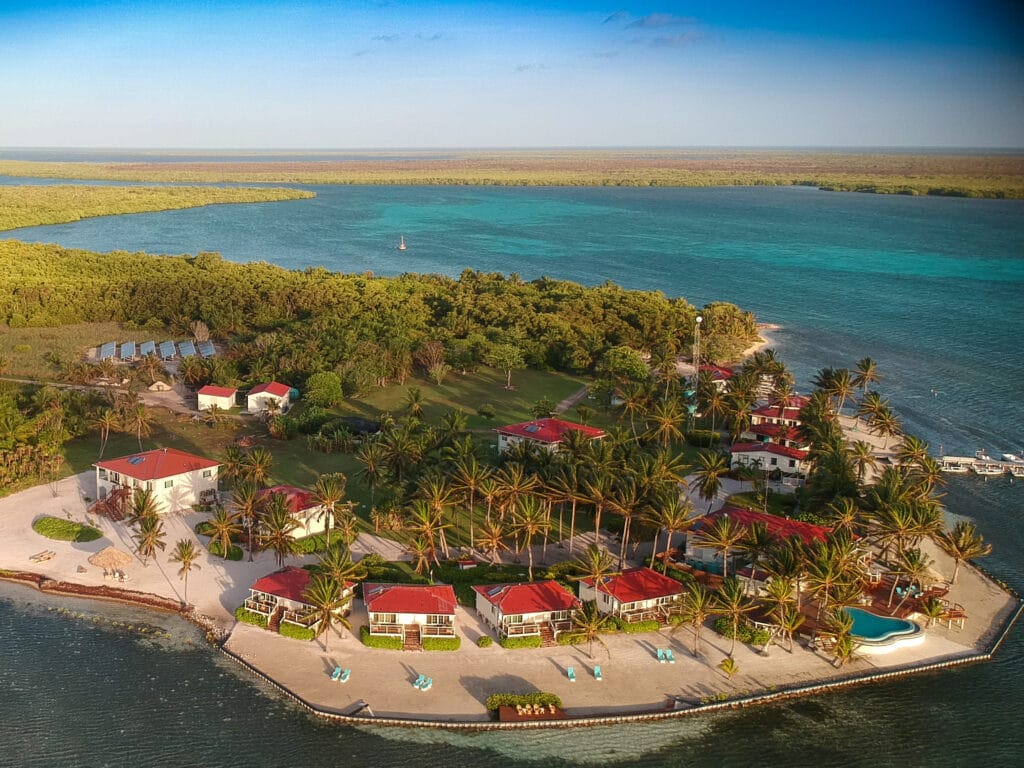 It proved an inspired choice. Cosy and owner-run by Craig and Karen Hayes it's warmly hosted and offered just the right mix for all of us to enjoy a relaxed break. Craig, previously an emergency room physician, and Karen have been running the lodge since 1981 and have overseen it's evolution from a simple fishing camp to the comfortable lodge it is today. They are still very much involved on a day to day basis and together with their lovely team run a well organised and highly regarded operation.
For the 'proper' fishermen among our party there was enough variety to create interest all week. For those of us less experienced the chance of a catch wasn't ever too far away. In fact our non-fisher caught four bonefish on her first morning.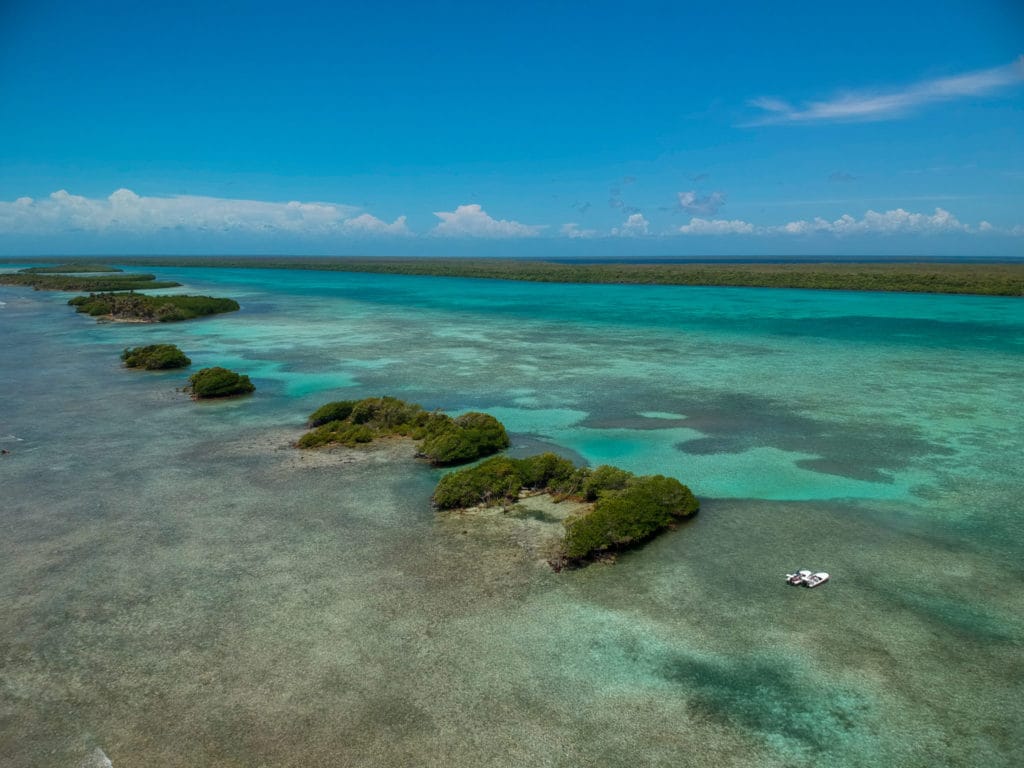 The 'home flat' can be waded straight from the lodge and we consistently saw the biggest bonefish on the atoll here. The rest of the fishing is accessed via skiffs and is anything from a quick 15 minutes to 45 minutes or so if you want to reach the tip of the atoll north or south. Motoring through the mangrove channels and across the cerulean waters is a treat, with exquisite scenery around every turn.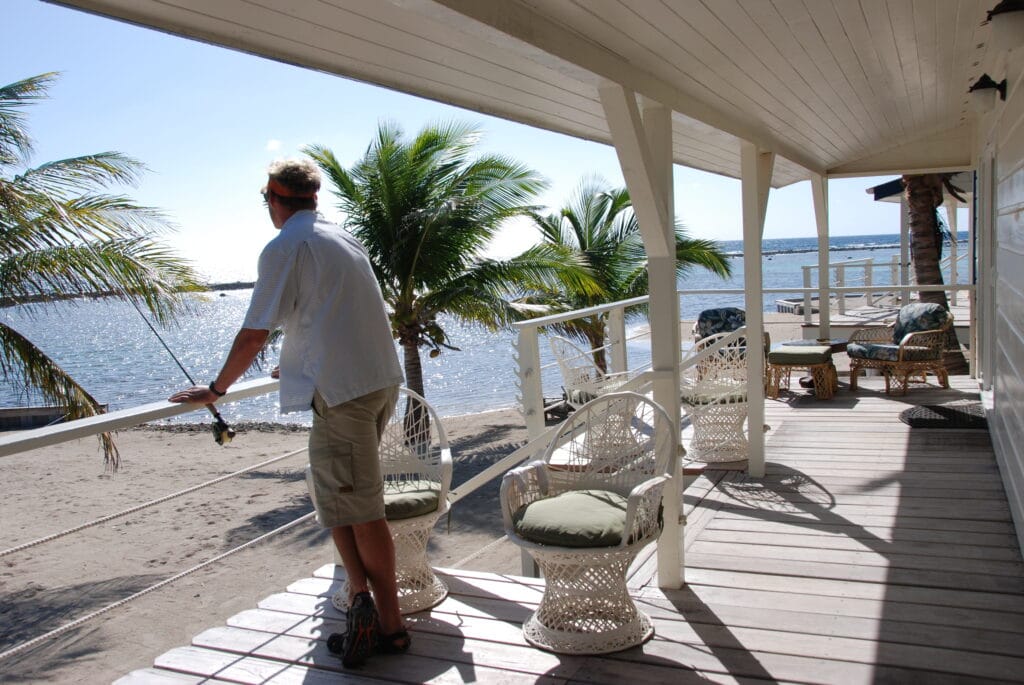 There are bonefish all over but the most fun is casting at the big schools tailing near the surf line. The wading is easy and the guides know where the fish are so there's an excellent chance of finding them. These canny, athletic, fish head straight for the rocks when hooked so landing them isn't straightforward. Running with the rod held as high as possible is a novel experience – but with the guides' help we all caught decent fish. I claimed the biggest at a little over six pounds.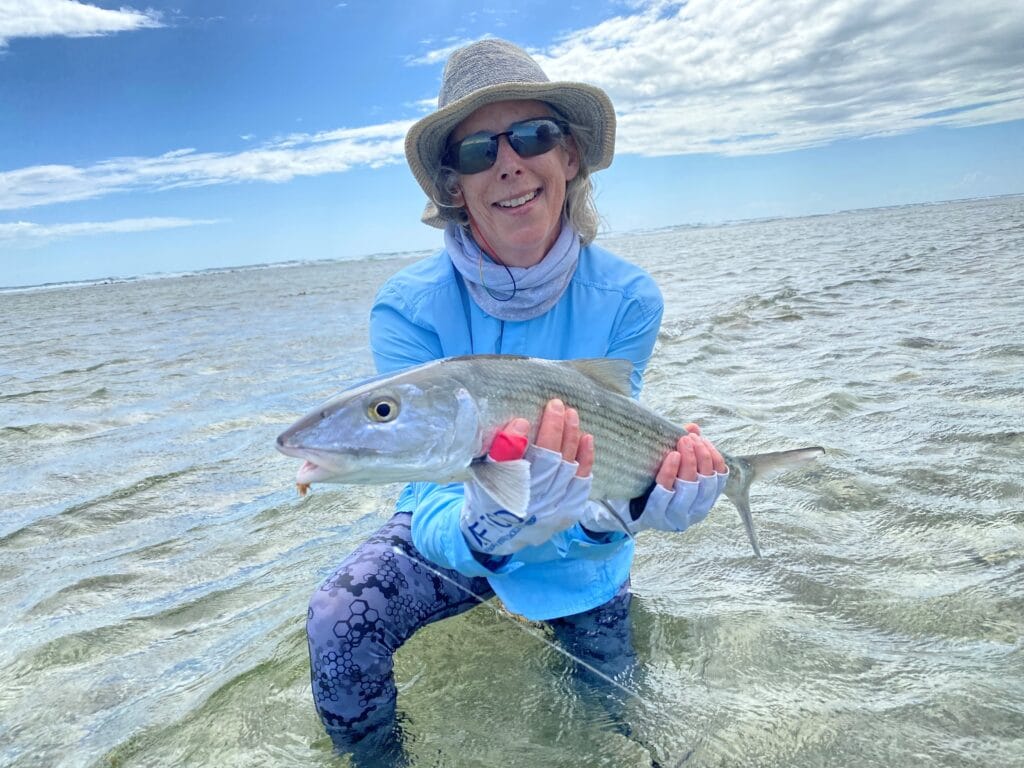 Casting at trigger fish idling in the surf proved an entertaining diversion. As wild as ever, several of these feisty fish were hooked with just one actually landed. There are permit too, close to the surf. It's always an amazing thrill to stalk these wonderful fish with their backs out of the water.
Poling is the order of the day for tarpon and snook. Between us we had some decent shots – but none landed. Likely permit spots were well explored too and Pete's perseverance was rewarded with a lovely six pound specimen. In fact, in a single bay one afternoon we had multiple rods on the go, casting for tarpon, snook, permit and bonefish. A properly exciting half an hour.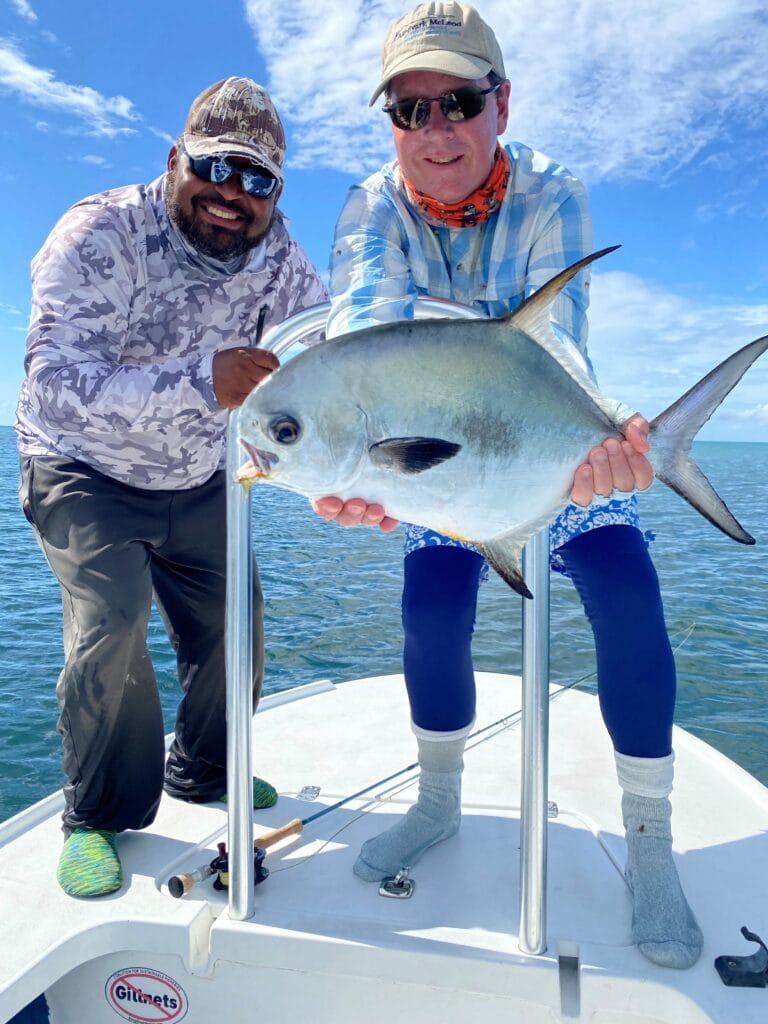 Away from the fishing, there's great diving and snorkelling, and the swimming pool is a pleasant spot to while away an hour or two. The rum punches and margaritas were dangerously delicious, as was the simple, unfussy food.
In my experience, fisherman are obsessive. Show them the water and they're off. So it can be tricky to find a spot that's going to offer enough for the less avid angler. I've tried the Bahamas which almost fits the bill and Alphonse Island in the Seychelles which certainly does. I'd happily visit Turneffe Flats Lodge again. It's not the place to sit in the sun for a week, you would need to do some fishing, snorkelling or diving, but for an all round fun holiday it's a very good choice. Next time, I'd plan to see a bit more of the Belize too – there's plenty to explore. The great thing about the lodge is you can do half weeks, making it easy to combine a few days visiting Mayan ruins in the jungle with some fishing.
It's relatively easy to reach with several US airports offering flights to Belize City (the queuing at Miami both in and out was interminable so perhaps choose another airport) and then a 90 minute boat ride – or 15 minute helicopter trip – to the lodge. To find out more and check availability, click HERE.
For more details on fishing in Belize please do not hesitate to contact Peter McLeod or Alex Jardine or call our office on +44(0)1980 847389.