Long Caye Outpost Lodge is operated by Belize River lodge and has most of the amenities they are known for, along with the excellent service and tasty cuisine in beautiful idyllic scenery. This island resort sits on the front of Long Caye overlooking Belize's Barrier Reef and offers spectacular views of the sparking blue-green waters of the Caribbean Sea. BRL's Long Caye Outpost's neighbor's Caye Chapel and is less than a 10 minute boat ride from St. George's Caye and Miami Beach and about 20 minutes from Caye Caulker. The Long Caye Island Resort provides the perfect get-away-from-it-all vacation.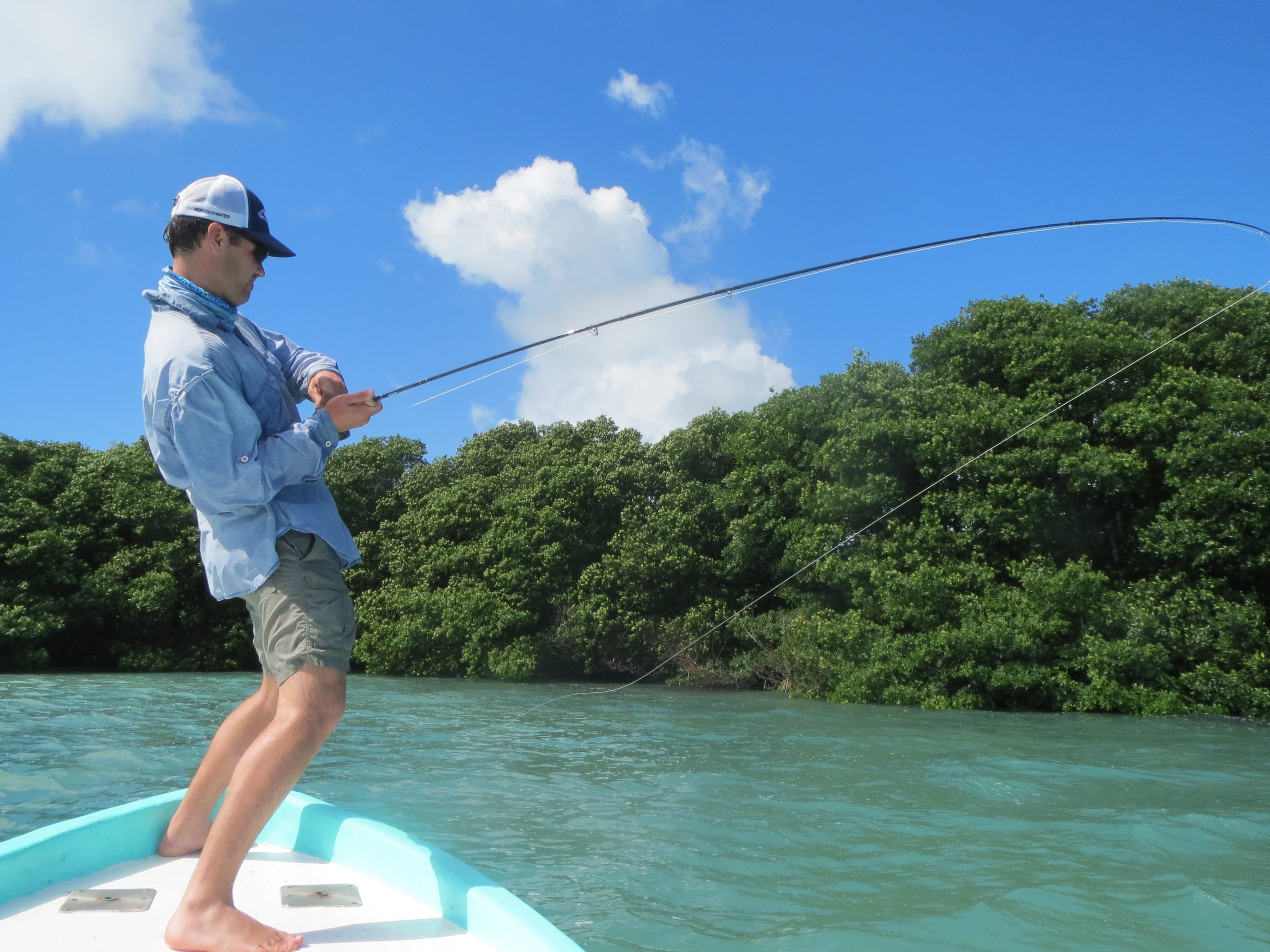 Long Caye is one of the best fishing areas in Belize with a wide variety of species available – tarpon, snook, bonefish and permit, along with tripletail, ladyfish, lacks, barracuda and many others; all only five minutes away from Belize River Lodge's Long Caye Outpost Lodge.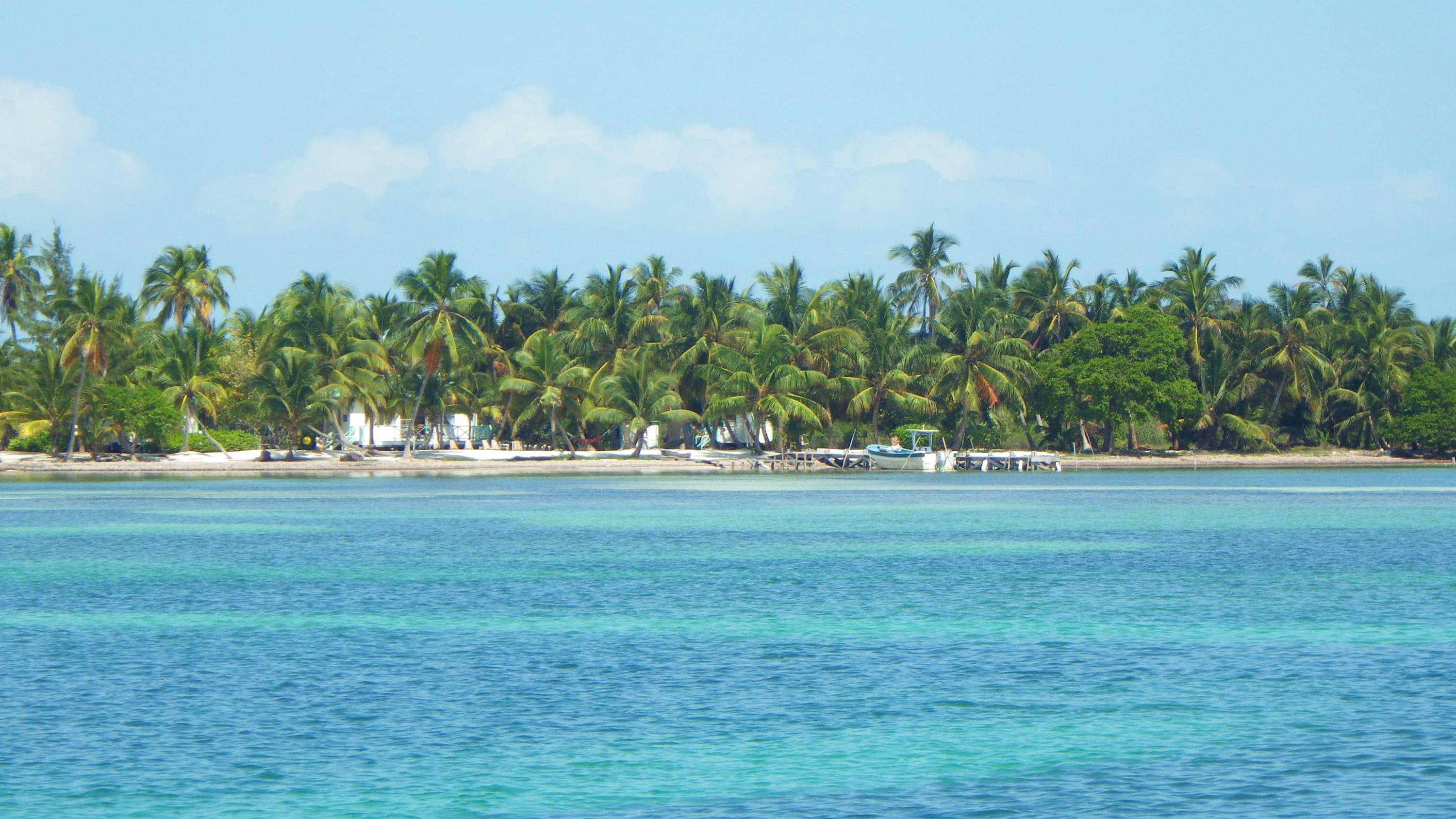 As with fishing from the main Lodge, the guides fish long hours AND as the Outpost sits in some of Belize's best fishing waters you have a choice of your fishing day, fish early and/or fish late. You can start off early, come back to the island for lunch or "slack tides", take a siesta, then fish late into the evening and come back to the island at the end of your fishing day. Or you can leave after breakfast, take a packed lunch, and fish all day, then come back to the island in the late afternoon. Either choice ends after a long day of fishing, and with you watching the stunning beauty of a sunset, the oranges and reds overlapping the turquoise jewelled tones of the Caribbean Sea, while telling the tales of your day, enjoying appetisers in an extremely beautiful setting.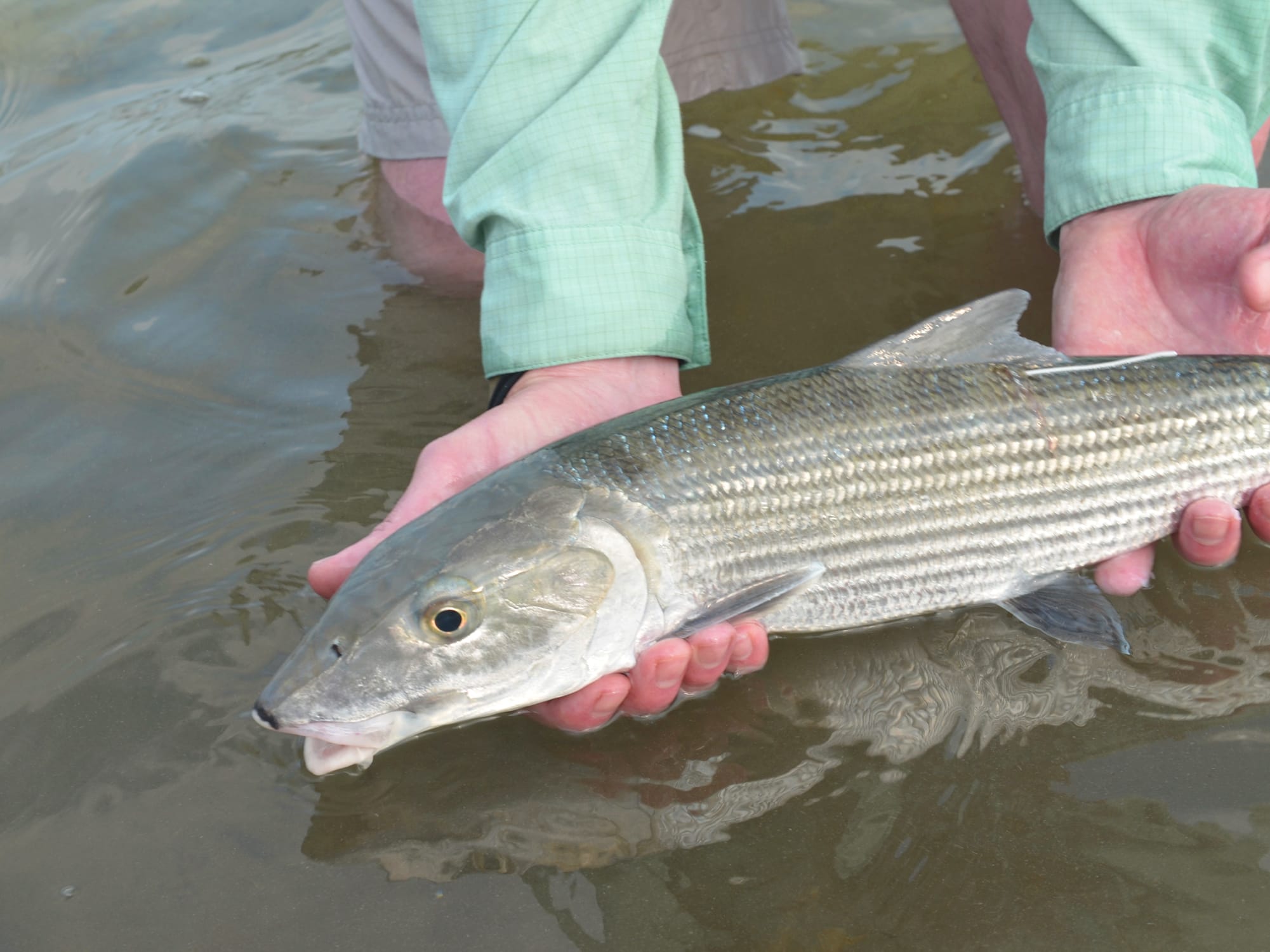 Before or after a day of fishing, or if you wish while on the island on your first day, you can wander along the beach with bonefish and permit to be found on a hard sand spit, right in front of the Island Resort.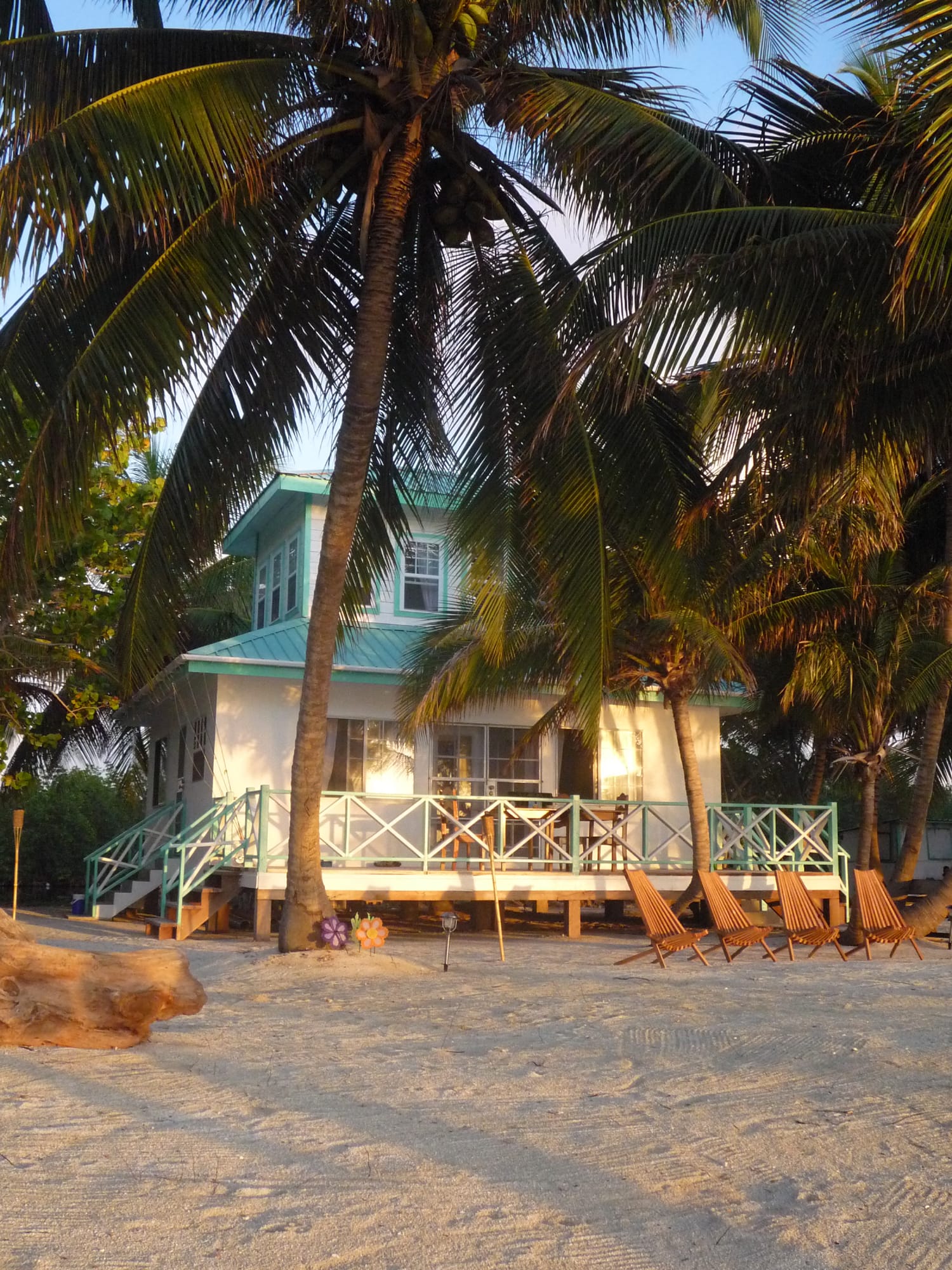 If you are a group looking to get away from it all or someone who likes to fish only a half day, then Long Caye Outpost Lodge is a great choice as it is on the beach and you can dictate your own fishing hours. While relaxing part of the day, you can also schedule a snorkel at the Barrier Reef. Visiting neighbouring islands is also an option. Your guide can "run" you to Caye Caulker, so that part of your day is spent exploring the village and local shops. For the R&R/Eco-Tourist, any of the water tours are offered while staying on the island – snorkelling, manatee watching, Miami Beach and St George's Caye; all are within easy boat distance of Long Caye Island Resort.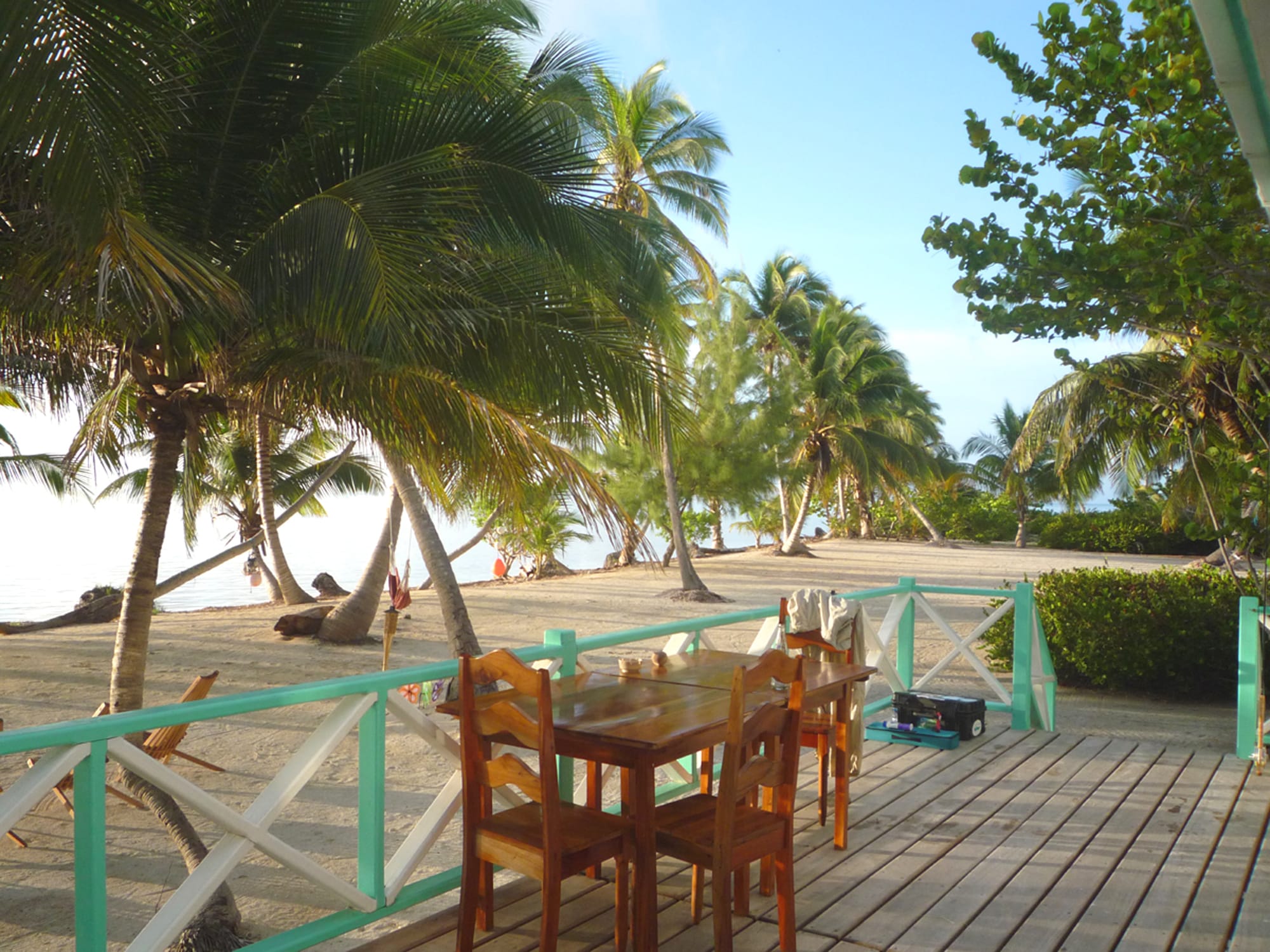 The outpost has three double occupancy bedrooms, two twin beds in each room; a shared bathroom (hot & cold water) for all, thereby catering to groups of up to 6 people. The main building has a full veranda overlooking the beach and sea. The rooms have ceiling fans and power is from a generator which will run while you are visiting.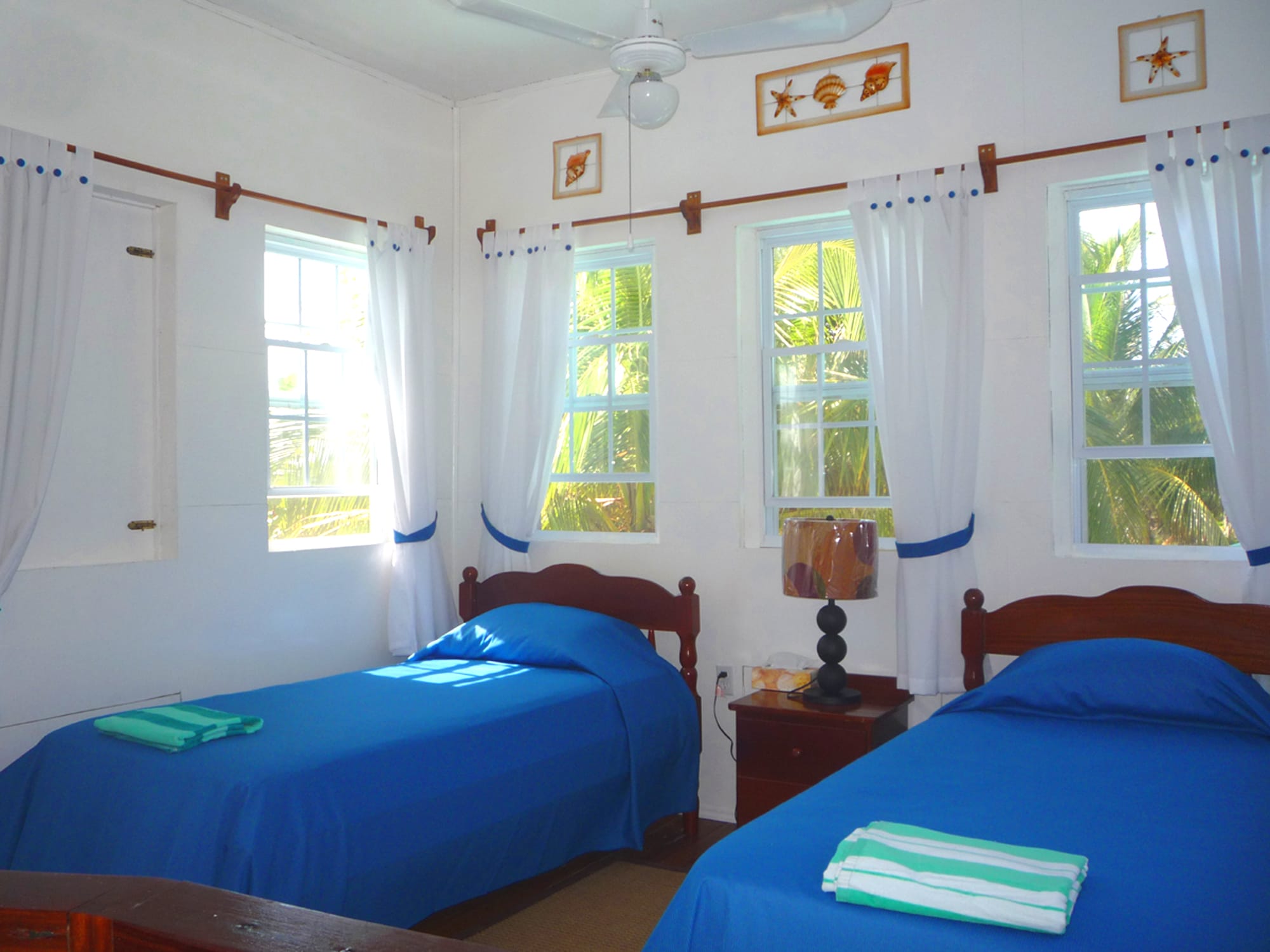 The same wonderful Belize River Lodge cooks will be preparing your meals at the Outpost Lodge, so a delicious variety of meals will be served daily. Any dietary needs known beforehand can be accommodated during your visit.
Whether R&R'ing, touring or fishing, visiting Long Caye Outpost Lodge is a great choice. As the only resort on the island, you can relax and enjoy the beachy Caribbean scenery. If touring, you are in the middle of the some of the best snorkelling and manatee watching. Staying at the Outpost Lodge on Long Caye still allows you to fish all of Central Belize, the areas that Belize River Lodge has fished for over 50 years. This area is best known for "Grand Slams" or "Super Slams". Tarpon and snook fishing is on the back side of the island, about five minutes away. Some of the best permit and bonefish flats are out front and very close by. The Long Caye Channel and Miami Beach Flat are known for large tarpon. Basically all of the fishing is right in your front or back yard, while still offering all the variety that Belize River Lodge is known for.
Outpost packages are based on groups of 4. Groups of 2 can be accommodated; maximum is a group of 6 people.
Cost for a 7 night/ 6 day fishing package is US$4,375 per person and a non – fishing package is US$2,212 based on four people offering exceptional value for money.
For more information on Long Caye Outpost please contact Peter McLeod or call our office on +44(0)1980 847389.