Belize is considered by some to be the permit capital of the world, its cays and atolls providing a perfect habitat in which to hunt them. Owned and run by Craig and Karen Hayes, Turneffe Flats Lodge has for a long time offered one of the world's most diverse Caribbean fishing experiences. The Turneffe Atoll is particularly special as it is one of the few true wading destinations available to those who like to wander the flats hunting tailing fish. Much has been done at Turneffe Flats in terms of renovation and refurbishment and the new look Beach Cabanas will be completed in the next few weeks. Like so many remote island, Turneffe has invested in solar power and is well on the way to producing its target 85% of its own energy.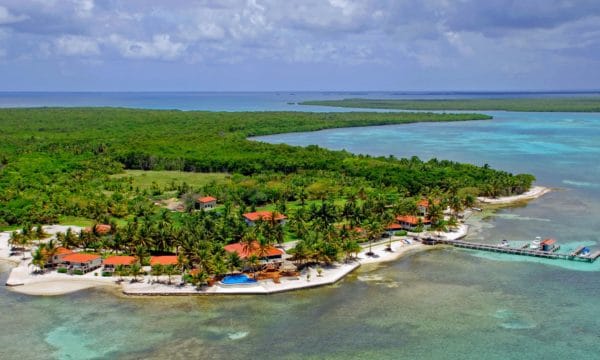 Rarely do we see Autumn availability at Turneffe Flats Lodge so make the most of the opportunity.
Fishing special offers
1st angler at full price/2nd angler at half price or a single angler package for the price of a regular fishing package. This applies to the 7 night/6 day trips only.
18 – 25 November 2023
25 November – 2 December 2023
2 – 9 December 2023
9 – 16 December 2023
6 – 13 January 2024
2023 Availability
1st diver at full price / 2nd diver at half price. This applies to 7 night/6 day trips only.
28 October – 4 November 2023
25 November – 2 December 2023
2 – 9 December 2023
9 – 16 December 2023
Casting at glittering bonefish tails on the skinny turtle grass will test your skill and nerve, not to mention the numerous shots at permit that atoll can provide. Competitively priced, Turneffe Flats offers that island paradise fishing experience that many of us seek. The lodge also caters well for non-fishing partners providing a swimming pool overlooking the flats along with excellent snorkelling and diving in a relaxed framework. There has also been an increase in the numbers of tarpon being seen in and around the lagoon.
The social centre for Turneffe Flats Lodge is the air-conditioned lodge surrounded by eight spacious, air-conditioned guest rooms located on the beach with panoramic views of Turneffe's coral reef. There are also two villas for larger groups and families. All rooms are furnished with a queen size beds and an extra-long single bed and ensuite bathroom.
The lodge also recently completed the Pelican Villa which is a perfect addition for larger families. If you are looking for an Autumn escape to the sun then Turneffe Flats should be high on your list of considerations.
Here are our five reasons for choosing to stay at Turneffe Flats Lodge:
Craig & Karen Hayes live On The Island – Although this might sound a little odd as a reason to visit somewhere, once you are there it all becomes clear. Having started the operation in 1981, Craig and Karen are still there to welcome and look after their guests. Over the years they have assembled a team of like-minded individuals and developed and in incredible service ethic that immediately makes you feel at home. Nothing is too much trouble which allows you to truly relax.
Turneffe Atoll Is A Stunning Location – As one of the largest atolls in the western hemisphere Turneffe remains and incredibly diverse marine eco system that has been heavily protected. This marine ecosystem offers not only incredible fishing opportunities but also amazing snorkelling and diving for those that wish to totally immerse themselves in a tropical island paradise.
Flats Fishing for Tailing Bonefish – there is a distinct lack of places around the world where it is possible to wade for tailing bonefish and Turneffe Flats is one of a handful. There is nothing as exciting as sneaking up on a tailing fish in skinny water and watching its reaction to a fly. It is also possible to pick a rod up in the evening and wade out onto Home flat right in front of the lodge which is extremely rare.
Variety of Species – As well as the prolific bonefish population that can be hunted on the coral edges and the mangrove lined beaches, Turneffe Atoll is also one of the permit hotspots of the world. On top of that at certain times of the year there is the strong possibility of bumping into migratory tarpon, big barracuda, triggerfish and multitude of species and flats environments.
Comfortable Accommodation – Aside from the beautifully appointed air-conditioned beachfront cabanas Turneffe flats also offers several villa options which are ideal for families wishing for their own space.
For more information on Turneffe Flats Lodge please contact  Peter McLeod or call our office on +44(0)1980 847389.
About the author Peter McLeod.