Weather: The week began with brisk winds from the prior week's cold front (hopefully, the last of the season) which transitioned to pleasant, calm breezes and clear skies. The tail-end end of the week brought more wind and a few isolated squalls.
Air Temp: Highs of upper-70s to low-80s
Water Temp: 79-80 degrees
Wind: A N-NE breeze on Sunday, gave way to a nice light easterly for the mid-section of the week, before increasing again near the end. Winds started at 10-20 mph on Sunday and mellowed to 5-7 for Monday to Wednesday, before increasing slightly to 10-15 for Thursday and Friday.
Tides: We had a rising tide in the late afternoon to start the week and early morning at the end of the week.
Moon: First quarter was on Feb. 15th.
Even though we had some unstable weather, there were some notable catches and good fishing.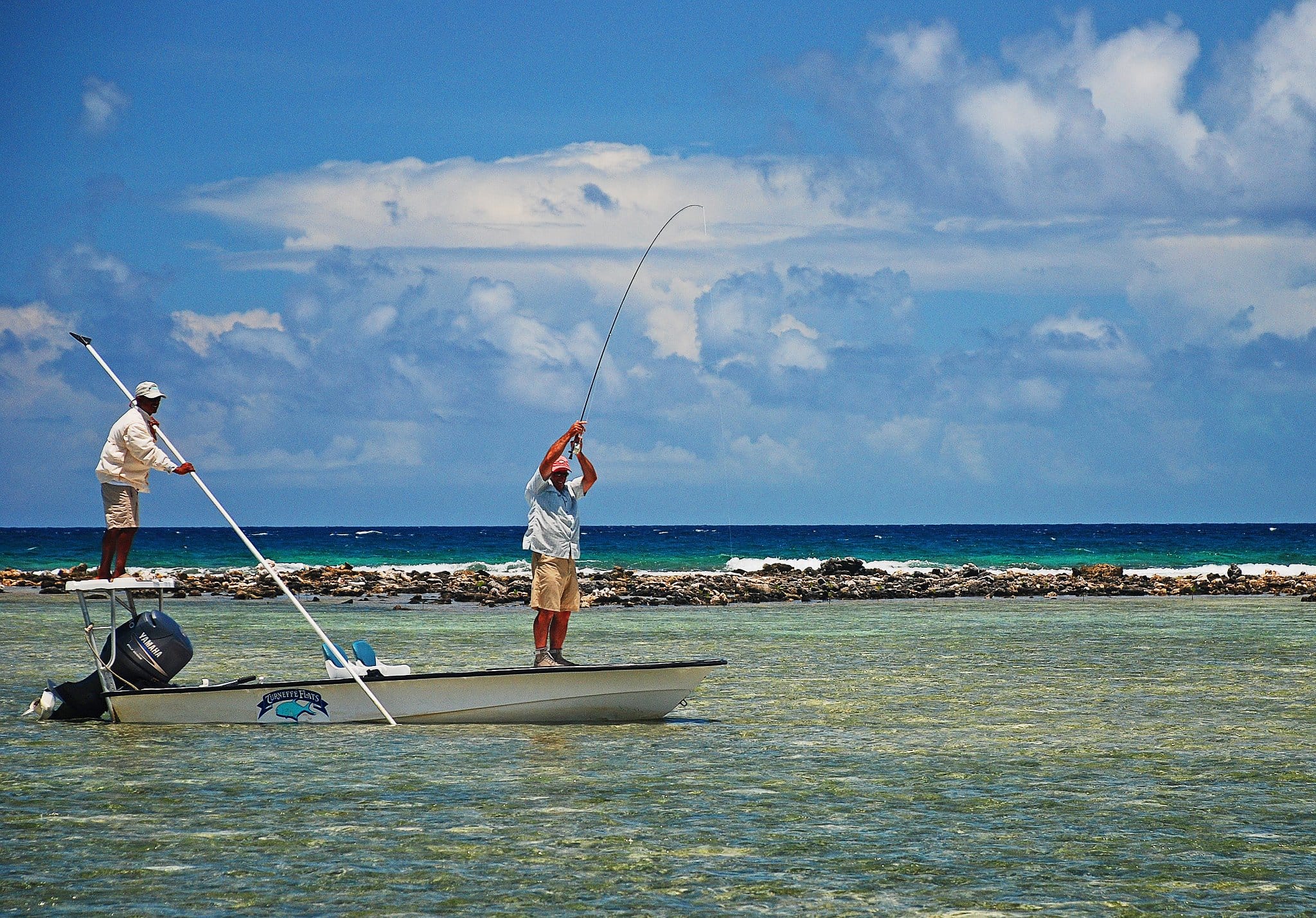 Earl M., of Spring Island, SC is a friend and regular guest who enjoys fishing with Dubs so much that he makes his way down here at least three times per year. "Dubsy" (as Earl fondly refers to him) and Earl are a proven team on the flats, and it shows with day in day out great fishing stories Earl shares during appetizers. This week was no different. Earl started with a very productive day of bonefishing. It continued into mid-week with a good day of snook fishing. Connecting with a permit eluded Earl this trip, despite multiple shots each day. He ended his week with more productive bonefishing. It looks like permit number 51 will just have to wait until his next visit.
David H. is another long-time guest of Turneffe Flats, also hailing from Spring Island. David was joined on this trip by his son Jake H. for the start of the week. As always, David fished with Dion. While Jake has been fishing for years, this was his first time fishing on the flats. Jake start the week by catching his first, second, third (you get the point) bonefish. He was very excited each day upon his return to the lodge. David was a proud father who enjoyed watching his son catch fish as much as catching them himself. The two tried their luck with permit, and although they too had multiple shots, they were unable to connect. On Wednesday, Jake needed to return state-side for work, which left Dion and the boat all to David. He took advantage of his time on the front of the boat by catching some really nice snook. He also had multiple shots at "the biggest bonefish" he'd
ever seen on the Atoll, but was unable to get the fish to commit. More encounters with snook and some productive bonefishing capped another great week.
Wally M., a third member of the "Spring Island" crew, returned again to Turneffe Flats with buddies David H. and Earl M.  We always enjoy seeing these guys. This time, Wally fished with Daniel and looked primarily for permit. Unfortunately, this was not his week. As with most of the anglers looking for permit, there were many opportunities, but the fish seemed to have "commitment" issues. He had multiple fish inspect his fly, but none that fell for the imitation crab. Wally did manage to land some nice bonefish and enjoyed his time fishing with Daniel.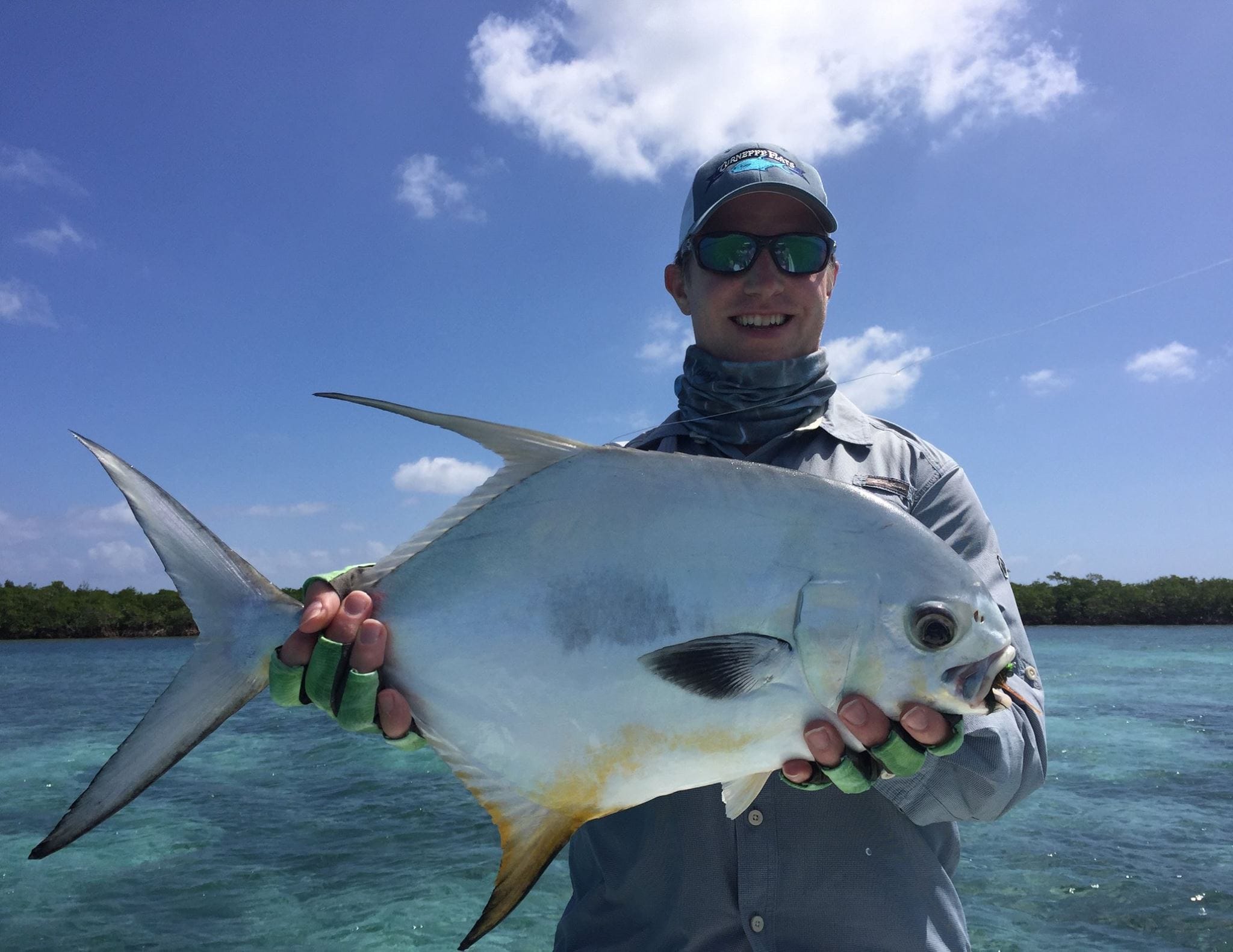 Matt O. and Bill W. made their first visit to Turneffe Flats and assured us it wouldn't be their last. They took a break from the damp northwest weather in the Seattle area. Both have lots of experience fly-fishing, but not too much time on the flats. For Bill, this was the first time he had ever been saltwater fishing. They were paired with guide Michael and started the week really strong. Bill's first bonefish to hand was a 5-1/2 pounder! He continued the strong fishing by catching more bonefish, some snappers, a few jacks, and a mutton snapper! Matt quickly took to the flats and was able to have productive bonefishing. He soon wanted to catch a permit. Echoing the theme of the week, Michael's boat saw lots of the elusive fish, but was unable to seal the deal … until late in the day on Friday, that is. After a tough morning of seeing more permit, only to get refused again and again, Michael suggested one final flat. They reached the end of the flat and were just about to reel up, when a group of three permit was spotted. Matt made a perfectly placed cast between the three and connected! Congratulations Matt on landing your first permit!
Dennis S. and Barbara S. joined us this week from the Seattle area too. Needing some time away from the rain and cold of the northwest, they joined us for the first time. Relatively new to flats fishing, Dennis was eager to learn and catch bonefish and permit. Barbara isn't much of an angler, but loves being outdoors, so she joined Dennis each day on the water. They were paired with Mark as their guide, and they had a great week with him. Bonefish were the target at the front half of the week, with more focus placed on permit in the latter half. While similar to most anglers this week, many permit where found, but none was enticed. Dennis found plenty of success with bonefish for him to leave with a smile on his face.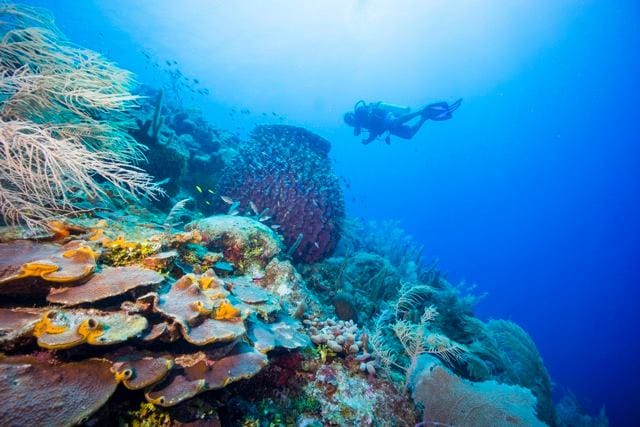 Kyle V., Sam D., Jed S., Chris A., Brian H. and Brad M., all from the Salt Lake City area, joined us for the first time. Brian and Jed focused exclusively on fishing, while the other four split their time between fishing and scuba diving. The group of six rotated their time with guides Pops, Willy, and John while fishing and enjoyed some underwater lionfish "fishing" with Denroy. Brian and Jed started the week with good bonefishing and flowed into the end of the week determined to catch a permit. Willy led them to permit, and Brian hooked up twice, but was not able to bring one in. Kyle, Sam, Chris, and Brad didn't have much experience fly-fishing, but wanted to learn. They each connected with bonefish on the first day and were able to land a few before the end of the week. Again, they too looked for permit, found them, but were unable to get them to eat. This crew was fun to have around the lodge, fun stories and great friends made for a memorable trip.
For more information on Turneffe Flats Lodge please contact Alex Jardine or call our office on +44(0)1980 847389.