Weather: Rain on Sat. evening gave way to beautiful, mostly sunny conditions this week. The wind was consistent, and the tides were nearly ideal.
Water Temp: 80-81 degrees
Wind: The typical prevailing winds from the ESE held this week. They blew at 4-8 mph during the first part of the week, and then increased slightly to 8-12 mph for the final days of the week.
Tides: High tide was mid/late morning to mid-afternoon.
Moon: A crescent moon near the end of the week.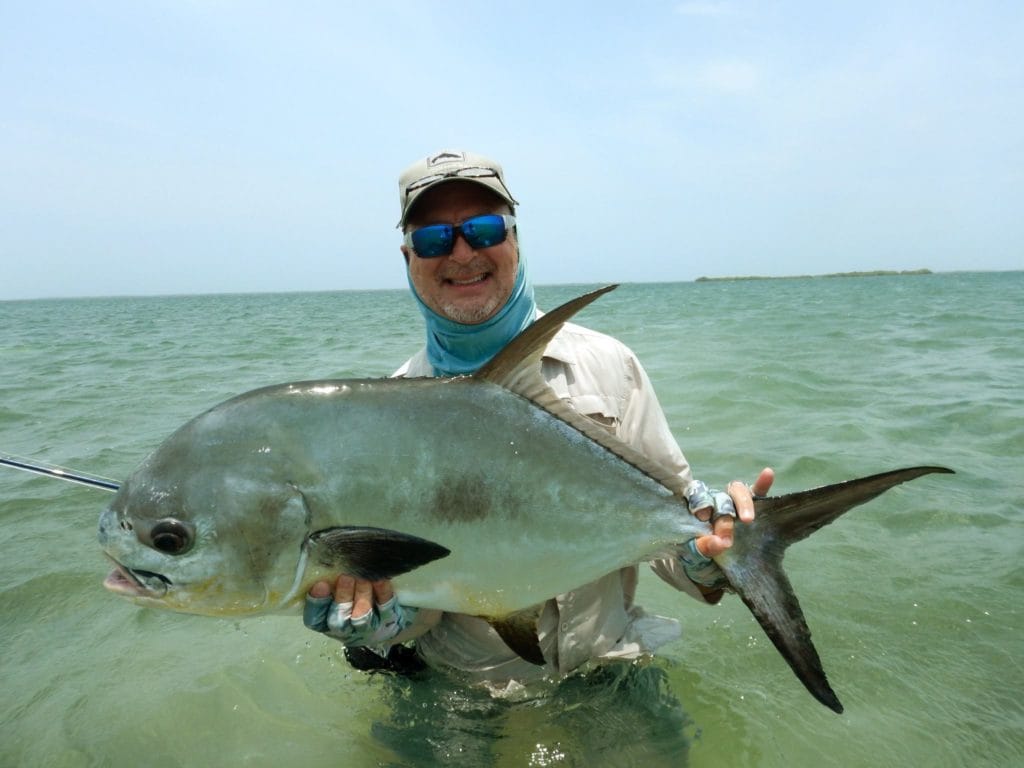 David H. and his wife Elizabeth made their annual trip across the Atlantic, from Britain, for another visit.  This time around, Elizabeth focused her time on snorkelling and eco-tours with Abel, and David was paired to fish with Dion. David was focused on catching just about anything. He had a very easy going approach and relied on Dion's best judgment for what to fish for each day. Dion had a feeling it was going to be a "permit week," and his premonition was accurate. David landed three permit, and hooked two more! What an amazing week of fishing!  He also reported catching some really nice bonefish.  He was all smiles each evening when showing off his catch of the day. On Wednesday he elected to spend the day on the adventure boat with his wife Elizabeth and guide Abel. His day off from fishing paid off, as he landed a permit on each of his last two days fishing with Dion.
Making their fourth trip to Turneffe Flats, fishing buddies Kathy H. and Jim S. from Southern California were eager to get out on the water with their favourite guide – Daniel. Jim's goal was to land a permit; Kathy's goal was to continue to add more species to her 'catch list'. By the end of the week, she was up to 28 different species, and that's just on this atoll. Included in that list are different jacks, snapper, and of course bonefish. Now she can add permit to the list, as she landed her first and second permit (she also hooked another that they fought for 20 minutes before it wrapped the line around some mangroves). The Jim and Kathy also reported very good bonefish fishing. Jim had his heart set on catching a permit. And on the last day, he finally convinced one to eat his fly. Despite overcoming the hardest part of permit fishing – getting the fish to eat – the fish spit the fly shortly after peeling some line off the reel. So that permit will be there for Jim on his next visit.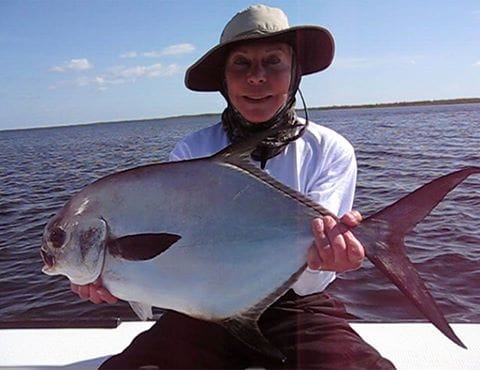 Another return group, the husband and wife Nick and Brenda D. of Bozeman, MT, brought their adult children, Nicholas and Elizabeth for a quick visit. The occasion was Brenda's birthday, and the entire lodge helped her celebrate with birthday cheer and chocolate cake. Their trip was a mix of activities including both fishing and snorkelling. Brenda and Elizabeth started the trip in guide John's boat. They each landed some nice bonefish and a barracuda. Nicholas later fished with his mother and he too caught bonefish. The next day was spent snorkelling with Abel, and they finished their quick trip with the women fishing in the morning and the guys fishing in the afternoon. The entire family was sad to being leaving Wednesday but made promises to return soon enough.
Last year when Steve J. made his first visit to Turneffe Flats, he vowed he would be back. This year he posted a sales contest for the sales staff at his company. If they met goals that Steve had set, the company treated them to a week of fishing and adventuring at Turneffe Flats. Twelve team members, included Steve, brought the fun to the lodge this week. Late night poker games and plenty of fish stories helped this crew from Montana and Chicago feel right at home. Mike P., Danny C., Ted D., Kier C., Steve B., Chris B., David K., Ed A., Jeff D., Austin D., and Scott G. had reserved five fishing guides: Mark, Mike, Kimbral, Pops, and Willy; plus they switched to spend time snorkelling with Abel. Then, on Thursday and Friday seven of the gang took the day to explore SCUBA diving in our Discover SCUBA class. It is designed for guests who are interested in SCUBA, but are not certified. It's a really cool way to be introduced to the sport. Everyone reported having a great time, no matter is they were fishing, snorkelling, diving, or the mid-week inland tour. Everyone who went fishing saw and caught more than their share of bonefish. After the first day, David K. wanted to fish for something more challenging, like permit or tarpon. He got his wish, and had opportunities for both, but they proved be exactly what he expected – more challenging.  There were many barracuda caught this week, along with a few cubera and mutton snapper. Chris and Scott had a great day with Mark snapper fishing and brought a few back to lodge for everyone to enjoy. Ed, Steve, Mike and Danny all reported seeing permit and tarpon, as well as bonefish. They didn't catch any tarpon or permit. However, Steve J.'s graciousness towards his team was rewarded on Friday when he landed his first permit. While it wasn't sized for the record books, it is still a permit and will last in his memory as most "firsts" do. Thanks for bringing a great crew and a lot of fun, positive energy to Turneffe Flats.
George and Stephen W. made their first visit to Turneffe Flats. Traveling from the northeast, they used some Father and Son time to capitalize on some great fishing. Both Stephen and George have a fair amount of flats fishing experience, mostly in the Bahamas. They chose Turneffe Flats for the annual trip do the variety of fish species available. Stephen really wanted to land a permit this week. They started the week warming up on some bonefish. They reported seeing huge schools, and more challenging conditions than they were used to in the Bahamas. The fish here are strong and wise and broke off multiple times. Each day they did find some success. They fished with Dubs, and he took them to his favourite permit flats. Both George and Stephen reported seeing a lot of permit, and "turned" a few. But, permit acted like permit having commitment issues and never falling for the flies that were presented.  They finished their week strong by landing more bonefish.
Summary: Near perfect weather conditions and great tides made for excellent fishing opportunities. The guides and guests reported seeing fewer migratory tarpon than expected, perhaps because of the large amount of rain and cool weather at the end of last week. Still, more than enough bonefish were found, cast to, and caught. A few permit were brought to hand as well.
For more information on Turneffe Flats Lodge please contact Alex Jardine or call our office on +44(0)1980 847389.