When conjuring up a list of must-visit trout fly fishing destinations it is easy to think of places like New Zealand, Patagonia and the American West. That said, for anglers based in the UK and Europe there are numerous world class fly fishing destinations on our doorstep. Whether you are a group of avid anglers or just looking to add a couple of days of fishing on to your family holiday here are several destinations that may work for you.
UK Chalkstream Fly Fishing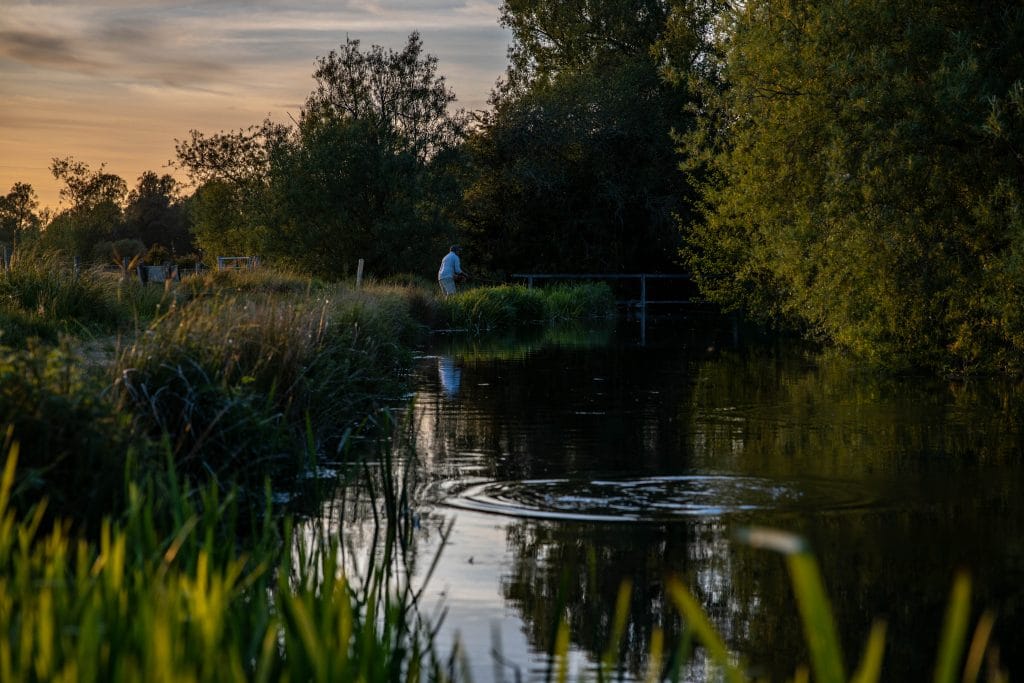 Best time of Year: All year around
Our home waters, the English chalkstreams are steeped in history and offer some the finest clear water dry fly and nymph fishing to be found anywhere in the world.
The main attraction is the brown trout that inhabit these waters, and also the spectacular fly hatches throughout the season. For those looking to travel outside of the trout season the rivers offer incredible sight fishing for grayling in the winter and a chance to watch pike chasing big flies during one of our predator guided trips.
With over 30 miles of water available to our anglers we can accommodate a huge range of requests from single rod days through to large group trips and longer itinerary with accommodation.
If you have always dreamt of fishing these delightful streams and rivers, do not wait any longer and get in contact.
Click HERE for our summer availability
Iceland Trout Fly Fishing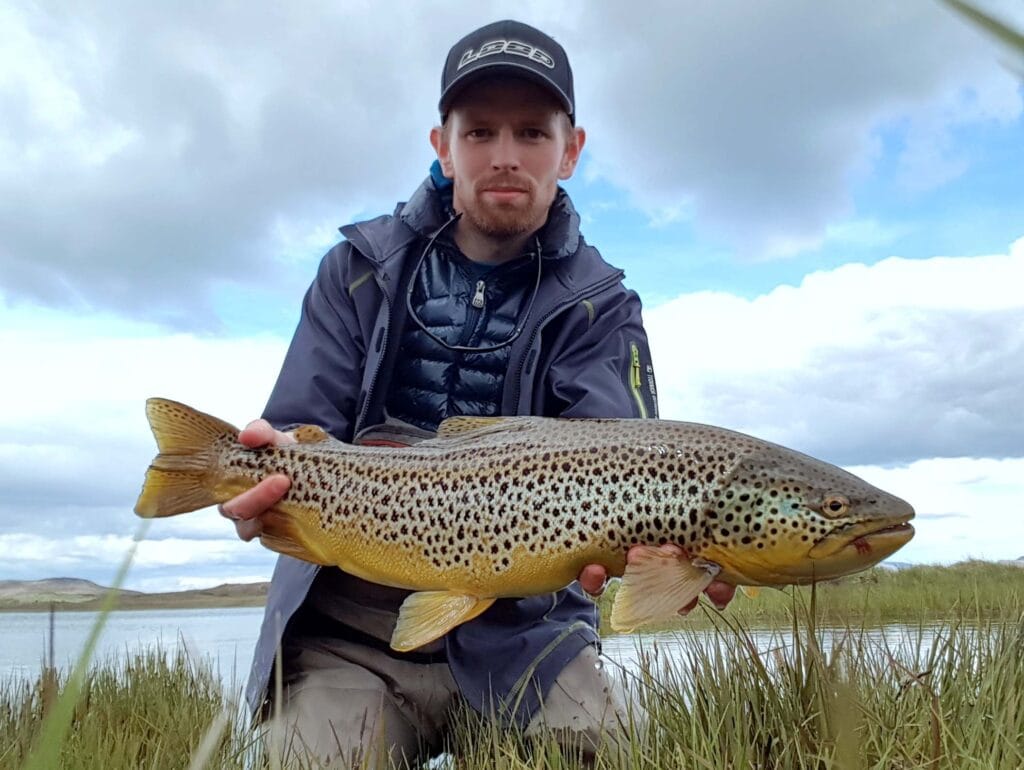 Best time of Year: April to mid-October
Although best known for its salmon fishing Iceland has forged a name for itself as one of the World's top wild brown trout destinations. There are rivers home to dry-fly hungry browns of up to 10 lbs, even 20 lbs in some cases and lakes where fish of 30 lbs are landed each year.
With regular short haul flights from several airports in the UK and trip options from three days, Iceland has become a great destination for long weekend fishing trips. River options are numerous and depending on your requirements, from numbers of fish to size of fish we can advise you on the best options.
Aside from the fishing Iceland is an adventurer's playground, the breath-taking landscape is an inspiration to artists and photographers. Countless hiking and drive tours will take you to the heart of what makes this country so beautiful. The surrounding coastline provides opportunities to go whale, puffin and seal watching. Following the geothermal valleys inland you will witness waterfalls jetting through volcanic rock and expansive lava fields until you reach the giant glaciers hugging the sides of volcanoes. As well as hiking, you can take 4×4 tours over the glaciers or take a bird's eye view on one of the helicopter tours. Each river is serviced by its own lodge, these are available in all shapes and sizes from small self-catering cottages to larger full service lodges. A number of our lake options are also available on self-catered and full service options too.
---
Slovenia Trout Fly Fishing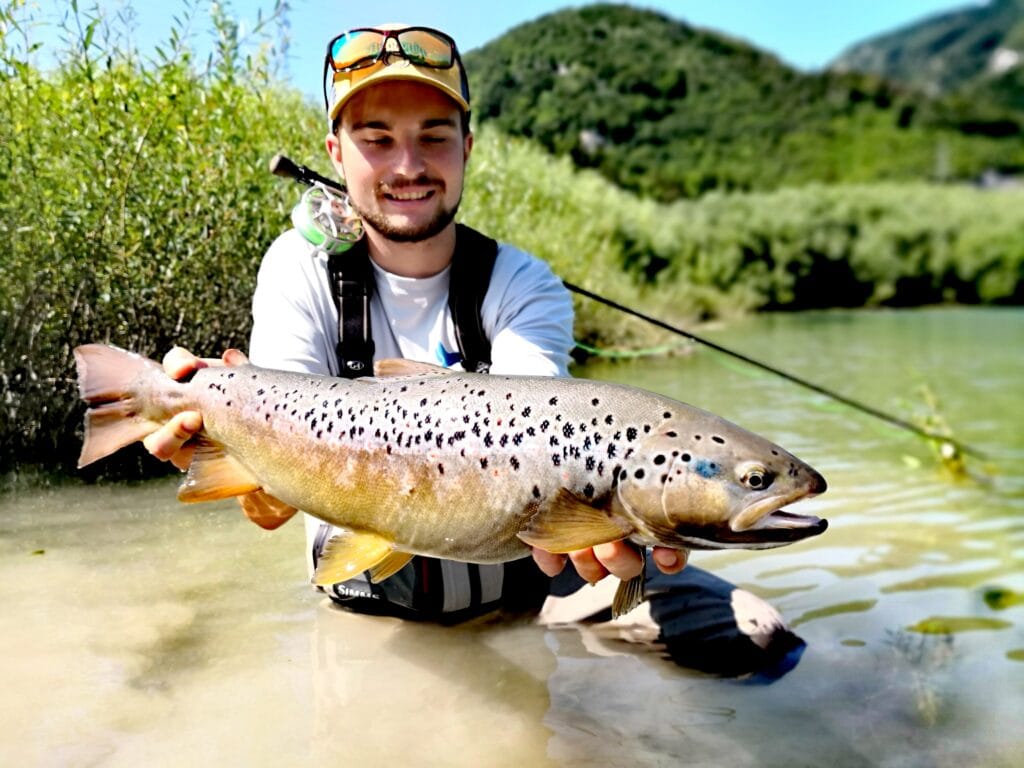 Best time of Year: April to mid-October / November to February
Just a two hour flight and you can be nestled in the Julian Alps, a landscape more akin to New Zealand but not so far away. Crystal clear glacial streams tumble down every mountain side combining to make incredibly beautiful and prolific trout and grayling rivers.
Like Iceland, Slovenia offers the option for the shorter fishing trip but it also offers a more diverse range of species. The most common fish encountered are rainbow trout and grayling but you will also see brown trout, brook trout and even marble trout. During the winter months you can also target the huchen (Danube salmon), a close relative of the Mongolian taimen.
A great destination for intact groups of anglers, individual rods and combination trips. For non-fishers Slovenia offers plenty of outdoor activities from walking to cycling. The country also has a rich history that can be explored through museums and tour routes.
We work with various hotels in Slovenia to provide you exactly what you are looking for, from luxury hotels perfect for couples to shared cabins suitable for small to mid-sized groups.
---
Italy Trout Fly Fishing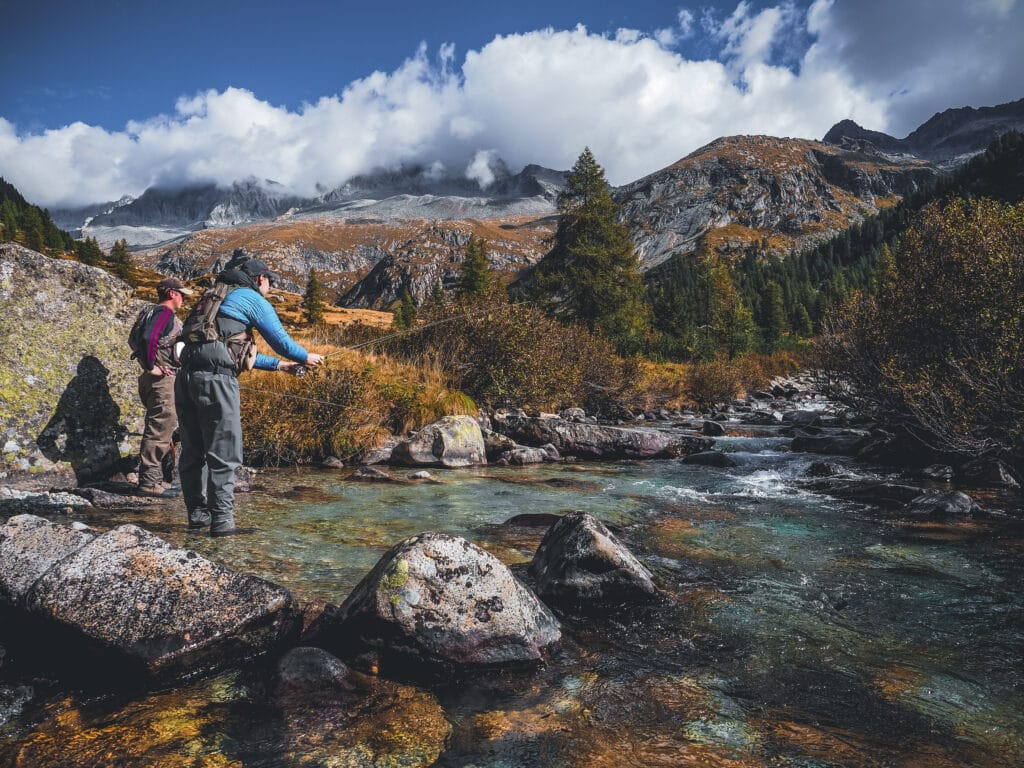 Best time of Year: April to mid-October
Trentino is known all around the world for the Dolomites and thanks to the Alps it can count on a great number of watercourses stretching for 3,000 km and nearly 300 lakes. This makes Trentino one of the most interesting destinations in Italy for fly fishing enthusiasts. The varied water resources of this region have also been improved by careful management over the last few years. Just one hour away from the main airports of northern Italy, there are a lot of fishing opportunities in various environments: from the alpine lakes of the Dolomites to mountain streams, from valley floor rivers such as Adige (the second longest river in Italy) to lakes such as the Garda Lake (the biggest lake in Italy).
Trentino is rich in history, with its castles, museums and traditions, and it is near art cities such as Verona, the capital of music with its famous Arena, and Venice with its romantic canals. All this makes Trentino a must see stop-over which combines fishing and art, culture, trekking and good cuisine, surrounded by the natural amphitheatre of the Dolomites.
Our packages to the region are completely flexible to suit each individual group, whether a team of avid anglers or those looking to combine fishing and non-fishing activities over the course of a stay in this beautiful region.
---
Bosnia Trout Fly Fishing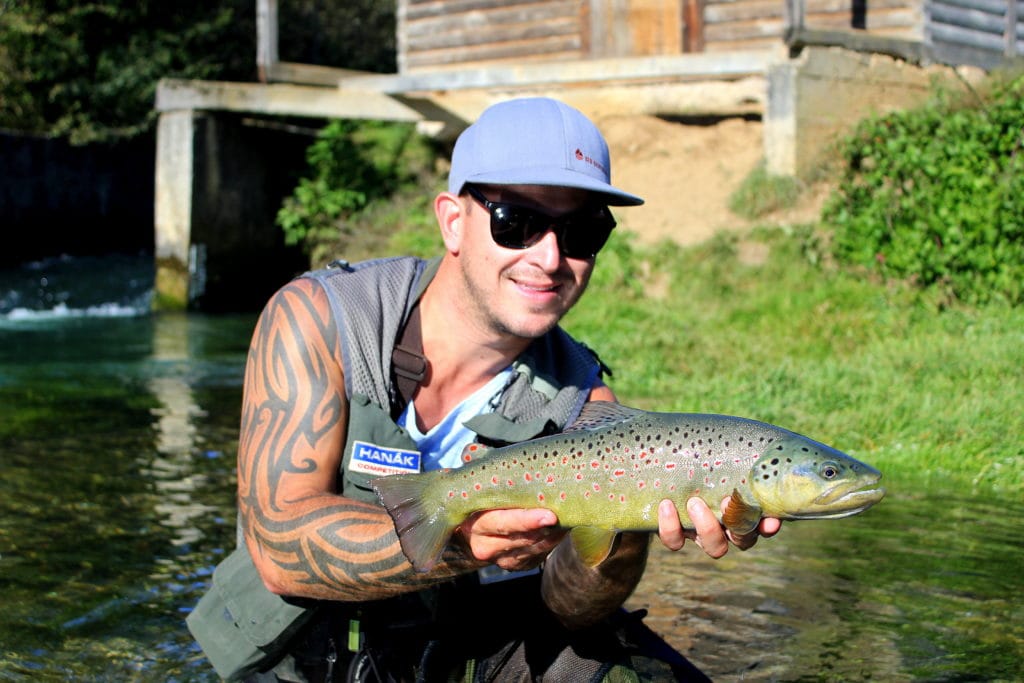 Best time of Year: April to mid-October
The Ribnik and Pliva valleys in Bosnia offer some wonderful catch and release fishing for brown trout and grayling that can be combined with simple and comfortable log cabin accommodation. The rivers are both 'karst' rivers, spring-fed limestone rivers causing them to run as clear as glass and hosting superb fly life.
The Ribnik runs for just 5.6 kilometres before joining the Sana. The river is 20-30 metres wide in most places and the soft gravel makes wading easy. The depth varies from just ankle deep to waist deep with the odd deeper hole. It gently twists and turns, splitting every now and again around islands that change the flow speed and depth. The water is gin clear, you can count every stone and watch every leaf on beds of ranunculus as they wave in the current. The water runs at a fairly constant 7 degrees Celsius, the temperature can offer a pleasant relief on hot days but more importantly it provides fantastic living conditions for shrimp and other aquatic invertebrates.
The Pliva is very similar to the Ribnik but generally deeper and wider making wading harder. It is 33 kilometres in total but the fishing is focused on the fly fishing section in the upper part of the river. It is possible to find some of the biggest brown trout and grayling here but they scrutinise every cast and fly, offering the ultimate clear water challenge.
Our trips are more fishing focused, with several Aardvark McLeod exclusive weeks each season.
---
Croatia Trout Fly Fishing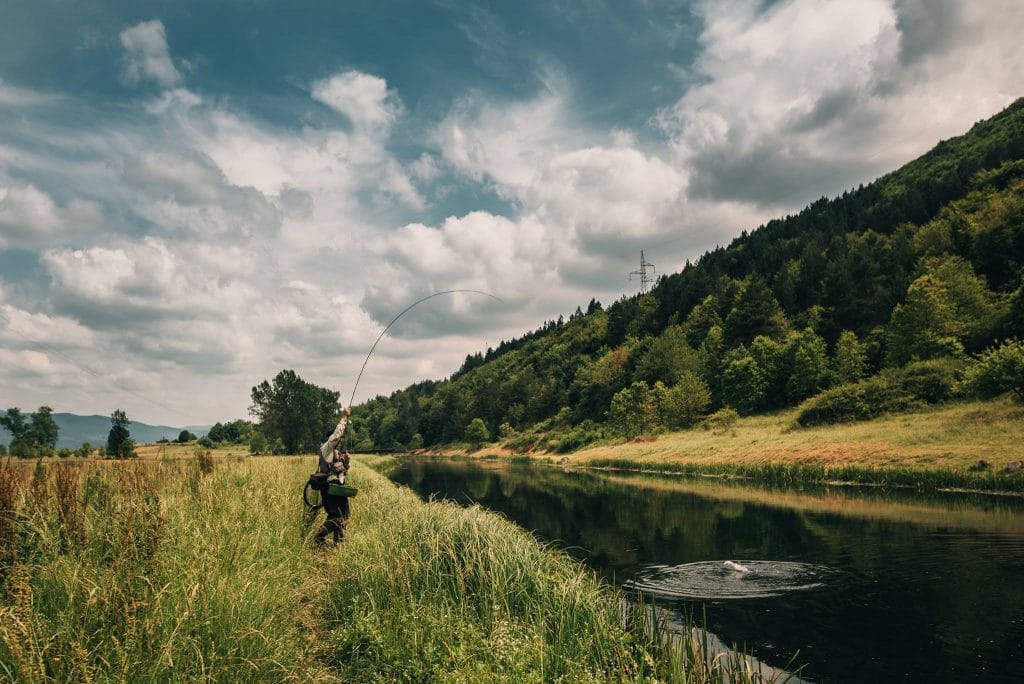 Best time of Year: April to mid-October
The fly Fishing in Croatia may not be as widely talked about as its Balkan neighbours; Slovenia and Bosnia, but offers some phenomenal fishing experiences. The country boasts numerous crystal clear and insect rich rivers, including some very similar to our own chalkstreams such as the Gacka. Our programme offers access to many of the top rivers guided by excellent English speaking guides that know them intimately and will put you on the fish and help you catch them, including chances to catch the incredibly rare softmouth trout endemic to the region.
Most of our trips focus on the Gacka River and the Kupa / Kupica Rivers, with itineraries being based from two separate centres.
The Gacka River is atypical of a chalkstream or spring creek; slow flowing, consistent water temperatures (annual average of 9.4°C), luscious weed growth and rising fish. The brown trout of the river flourish, and are believed to grow quicker here than almost anywhere else in the world and have been know to reach 8 kg (17 lbs). The river gently twists its way through low farmland and is fished almost exclusively from the bank with anglers focusing on the impressive fly hatches and opportunities to fish dry flies.
The Kupa River (or Kolpa), a tributary of the Sava River, forms a natural border between Croatia and Slovenia. It also benefits from the limestone bedrock, but due to the terrain it is much more akin to a classic freestone river. Anglers can enjoy miles upon miles of runs and pool. Wading is essential and can be challenging in parts as the river flows over a rocky river bed as it carves through forested hillsides. The river is great a great place to target native Grayling, smaller brown trout and, during the winter time, excellent for Hucho fishing.
The Kupica River is the first main tributary of the Kupa, and although only 3 km long it is full of grayling. You can fish there only with dry fly but the fishing can often be breathtaking. For those that want to continue to explore the smaller streams, there is also the Curak. Anglers can have great days here using dries, nymphs and streamers.
The accommodation is simple, yet comfortable and the food is typical of the region but of excellent quality.
---
Spain Trout Fly Fishing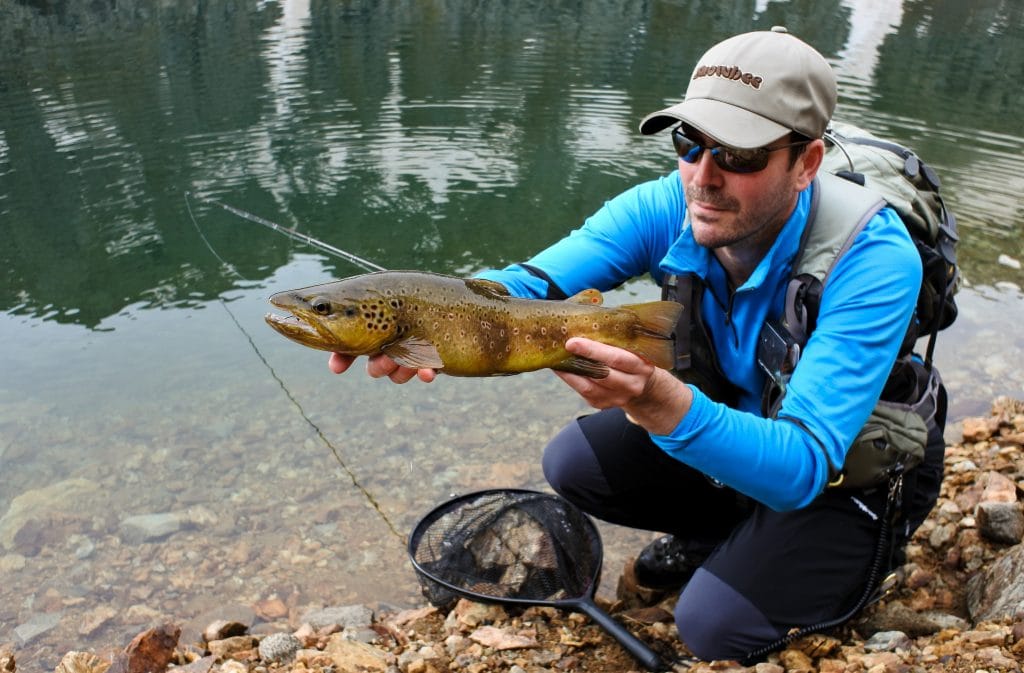 Best time of Year: March to November
A little known fly fishing destination sits on the sunny side of the Pyrenees, astonishingly beautiful and strategically located. Indulge your passion in an environment of warm sunshine, exotic culture, delicious food and stunning landscapes.
Ernest Hemingway visited Spain in 1920 and found himself fascinated by the rivers, mountains and the warmth of the local people. Follow in Hemingway's footsteps and experience what he called "The closest thing to heaven", fly fishing in the Spanish Pyrenees.
The Spanish Pyrenees contain varied landscapes with several different options for fly fishing: from high mountain lakes with spectacular views, hidden gorges teeming with zebra trout and brown trout, to stunning mid-size mountain streams where you will find the biggest trout and the Iberian barbel.
These spectacular fishing venues are situated within the Ordesa National Park, certified as a UNESCO World Heritage Site. The most notable species you target is the wild zebra trout, endemic to the Mediterranean region, it is a beautiful and well preserved treasure. Guests will also have the opportunity to fish brown trout, brook trout, rainbow trout and barbel. Fishing is mostly done with dry flies but nymph and streamer fishing can be great in the spring and autumn.
With a range of accommodation options and a plethora of non-fishing activities in the region this is the perfect getaway for fishers and non-fishers alike. Non-fishing activities include rock climbing, horse riding, nature tours, golf and on-site spa facilities.
For more information on tour fly fishing in Europe please do not hesitate to contact Olly Thompson or Alex Jardine, alternatively you can call us on +44(0)1980 847389.