I'd had a silly busy year of fishing, used up nearly all my brownie points, and then the phone rang – "Thought this might be up your street, but it is very last minute. Gordon has had to pull out of a trip for giant Arctic Char in the Northern Territories of Canada, on the Ekaluk River and it would be a shame for it not to be fished!" Oh dear – there go the last of them!!!
From the moment that I wandered into the Drillers Bar of the Airways Country Inn in Edmonton, where I was to meet my tent partner Dustin, I knew this was going to be different. Dustin is large, in every way, and he does everything in proportion to his size, including swallowing beer quickly. Several pints of the brown stuff later and a 5.00am start with a kg.  of corned beef hash and coffee down my throat saw us heading north to the permafrost of the biggest wilderness on earth.
The hamlet of Coppermine came and went with another change of plane and we arrived at Cambridge Bay on Victoria Island in Nunavut, 70 degrees north so 4 degrees above the Arctic Circle. Everything up here is big, just like Dustin. Victoria Island is approx. the size of most of Europe, Frazer Lake, that drains out of it via the 2 mile long Ekaluk River into the Coronation Gulf is the size of the home counties, and the Char that live in it are a freak of nature. Most Char that I have caught in Alaska and Iceland are 2-7lb. In Quebec I have caught bright fresh fish off the salt to 17lb. Here they don't count them at less than 30", about 12lb, and the benchmark of excellence is 36" or 20lb, providing it has a 20" girth!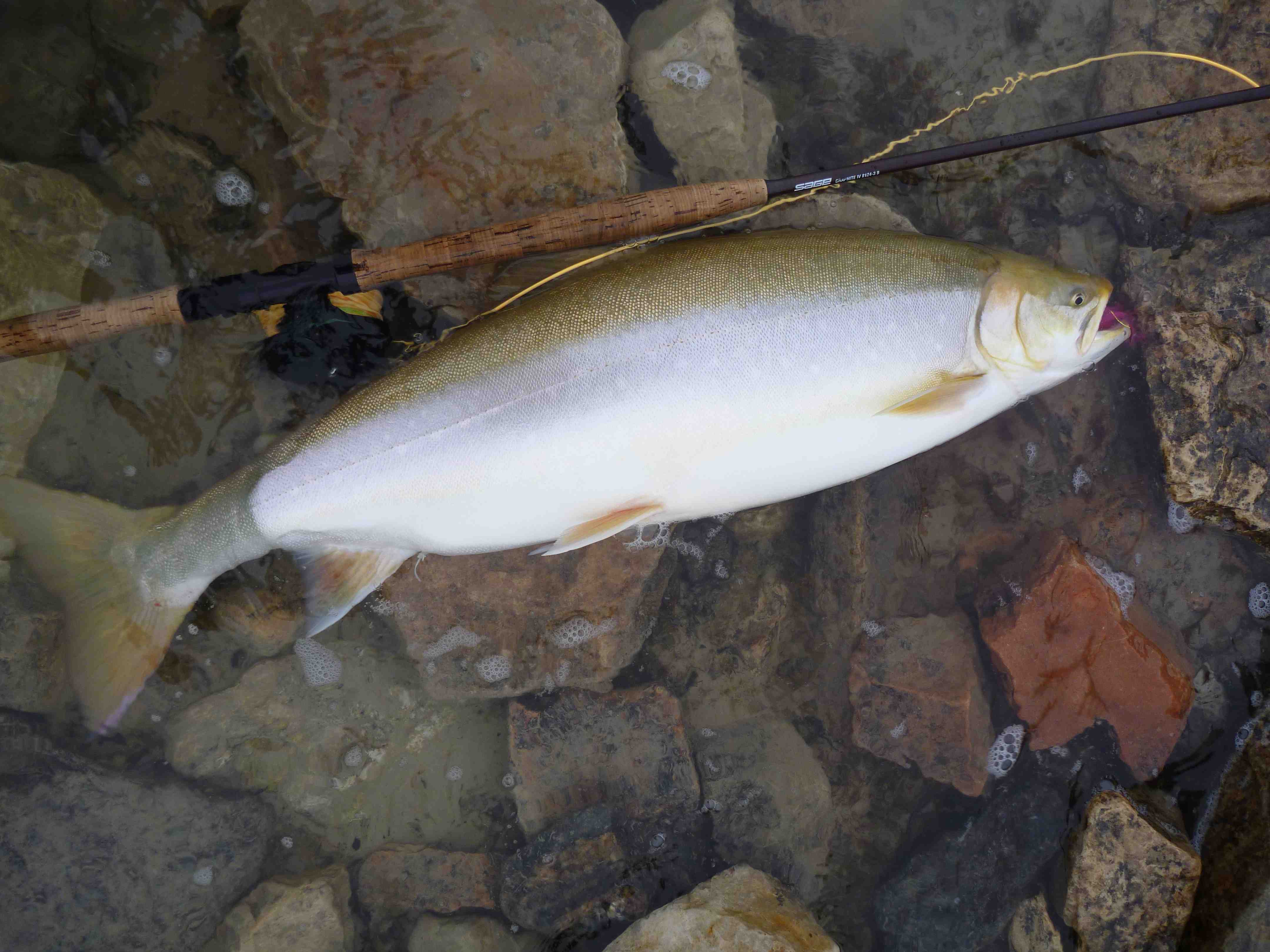 This is a harsh, and at first glance barren landscape. But if you look at the micro environment it is crammed full of beautiful and amazing things to look at, from the little clump of wild Arctic Rhubarb protected in a shelter of rocks that Mike showed me he had been nurturing and eating a handful of each year for 5 seasons, to the fantastic array of brightly coloured lichen on the stones. The river isn't bad either, gin clear with a greenish tinge, the bottom studded with large white rocks which are the lies of epically proportioned Char running back up from the Arctic Ocean to their spawning grounds.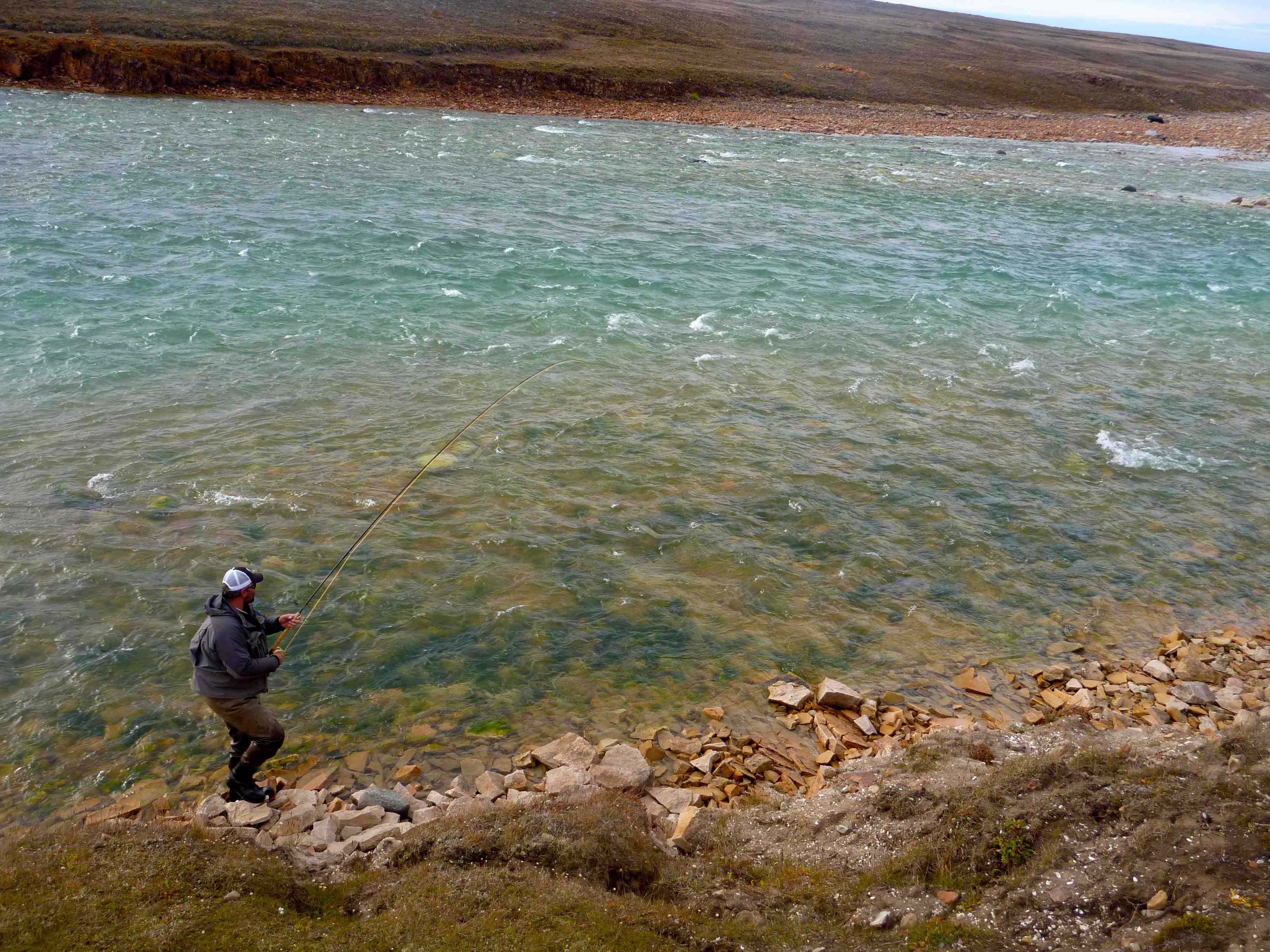 The camp is owned by Bill and Jessie Lyall, local Inuit's, and their good friend Jack has been fishing and guiding this from the beginning.  A little science has been done on the system and Jack has a pretty good handle on what's going on with it. These fish and truly anadromous. They live in the lake for 10 months of the year not feeding, and then approx. 80,000 of them leave en mass around 4th July every year at  "ice-out" when the river breaks up into house sized chunks of rolling ice, enroute to their feeding grounds, a migration that lasts for about a week. A 30" fish leaving the lake would weigh approx. 6lb. Seven weeks later, around 25th August, the same 80,000 head back up the river to the lake having feasted in the interim on a soup of  1" transparent arthropods, as far as we could gather from the ones we gutted. Our 30" fish is now 12lb and looks about to explode with muscle.  It is a multi spawner and is probably 8-10 years old. This return run lasts about 3 weeks and contains fish from 3 – wait for it – to nearly 40 lbs. That fish could well be 25-30 years old.
So, to the fishing.  8 rods a week for 2 weeks a year, that's it. Camp is 4 wooden guest huts, a mess tent, three camp staff huts and a dunnie perched on a bluff above the estuary.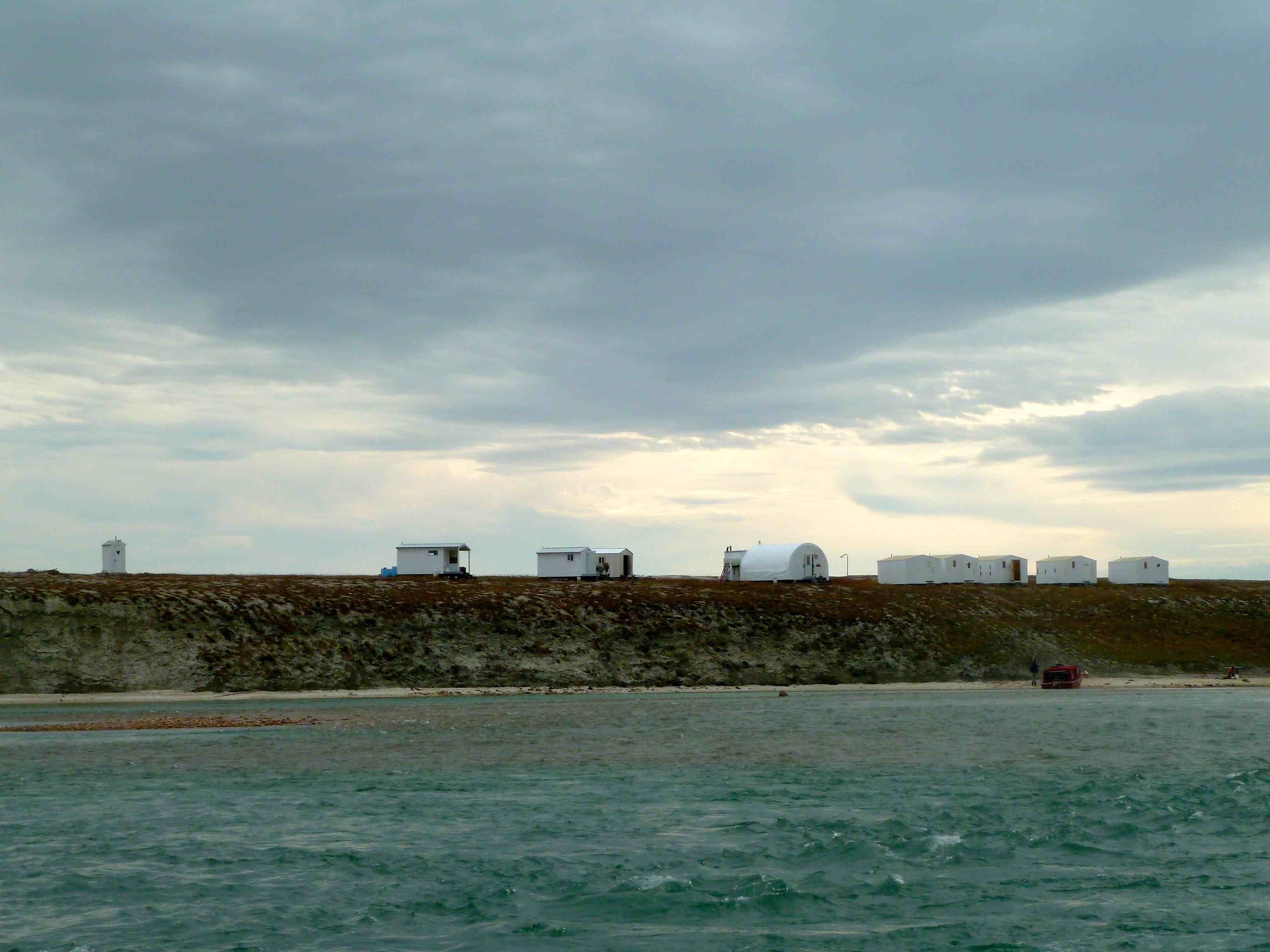 Fishing is any time you want. Meals are there if you want them, cooked breakfast, soup and Caribou stew lunch, roast Muskox rib for supper or make your own sandwiches and fish all day and night. Gravlaxed Char with Wasabi to keep you warm is on tap daily, as are Jack and Mike, who  also cooks, to help you, but this is a self guiding event mainly.  Big rods are the order of the day, coupled with big heavy flies.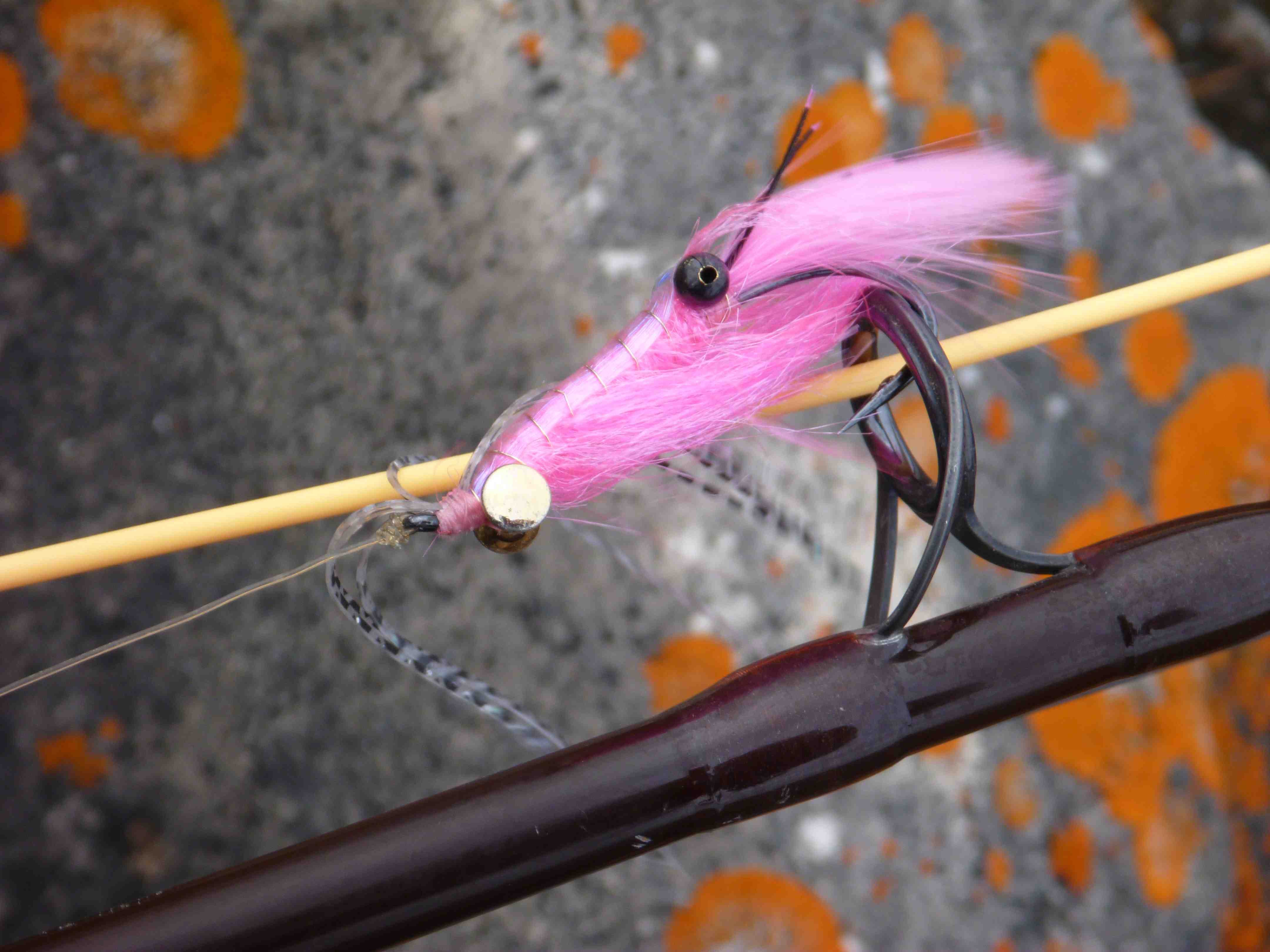 The key is to put the fly in the face of the fish and hold it there for as long as you can. Some people used 9ft 9wt's but big rods just let you manage everything more efficiently. When hooked a big fish will go across the current and up the far side,70 yards away, at a very fast pace, so again a big rod helps you keep the line from drowning.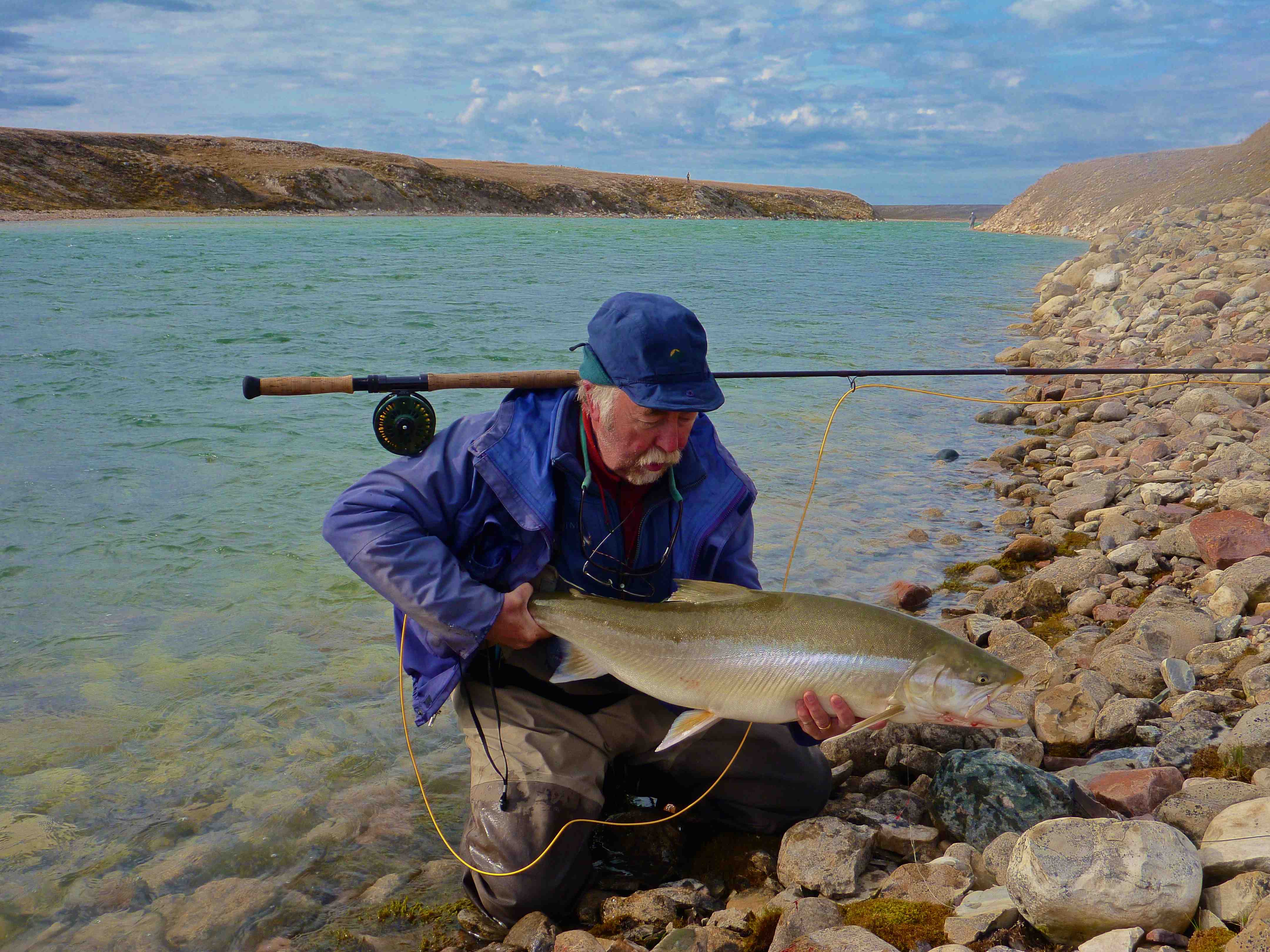 The week was more about big fish than numbers, but if you think Atlantic Salmon numbers you would think you were doing fine.
Dustin made it look easier than it was, seemed to have stamina to fish on to ridiculous hours when I was tucking up in my sleeping bag, and hooked 48 with a biggest landed of 25lb.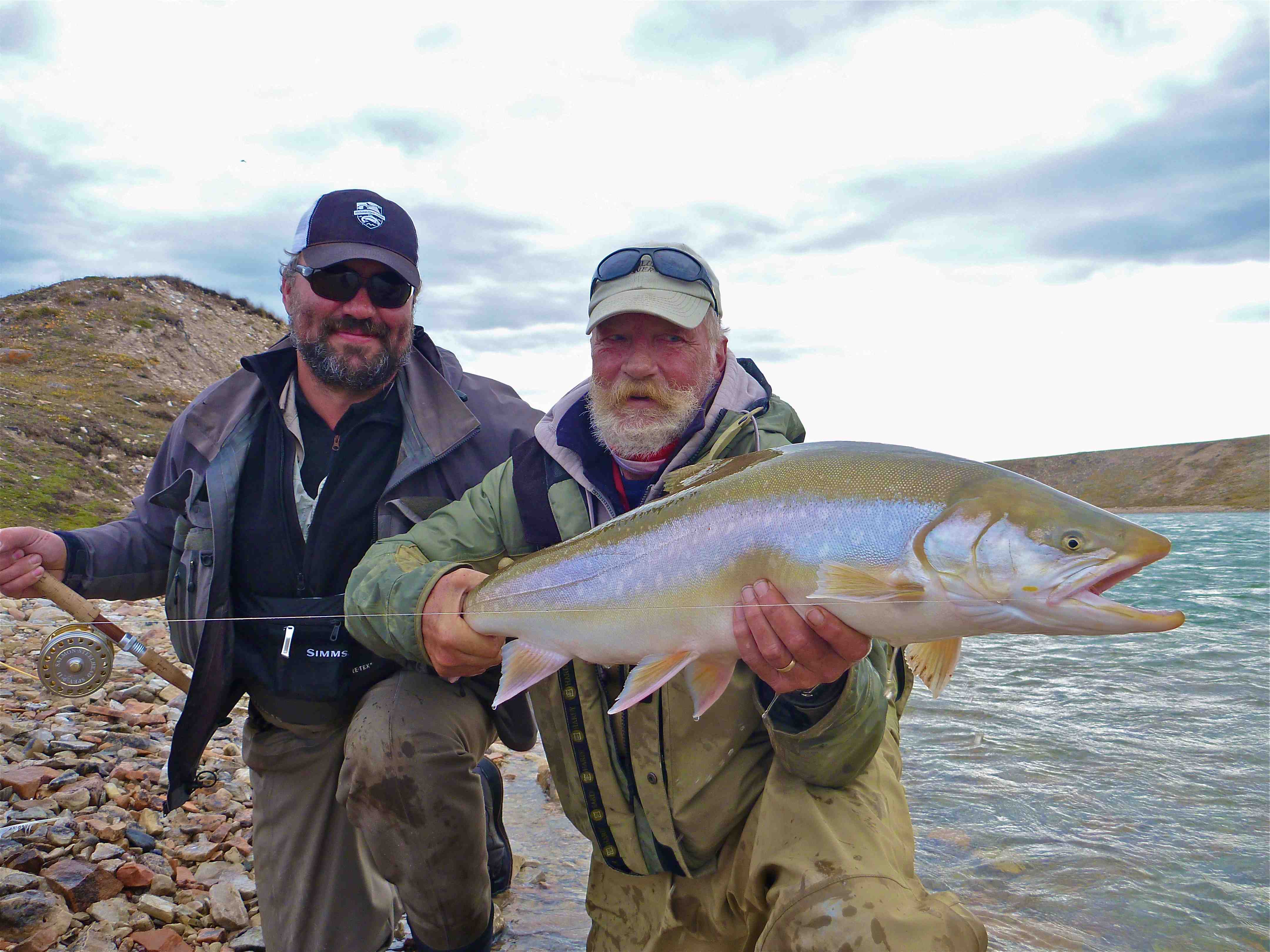 I was half of that and 22lb, but we each hooked something that was too much to handle. Mine was a huge rock for a minute or so that then moved serenely out into the centre of the heaviest bit of current available before attaching itself to the bottom again. I still have sleepless nights doubting if it really did move that 15ft or if it was just my imagination. Either way I never saw it, but if what I did land weighed what it did , this thing was double!