Phil Ratcliffe went fly fishing in Bosnia on an Aardvark McLeod exclusive week in September 2017. Phil is a fully qualified casting instructor, Sage and Fulling Mill representative based in Cheshire (Phil Ratcliffe Fly Fishing). He is regularly found chasing trout and grayling in his local streams or targeting elusive salmon. Read his full report on his fly fishing trip to Bosnia this autumn below.
One on my bucket list was fishing for the large grayling and trout in Europe, I'd heard many a story about Poland, Czech Republic, Iceland and several other venues but when I was asked if I wanted a trip to Bosnia then I jumped at the chance.  For those that haven't taken a trip abroad then it's worthwhile booking through one of the "destination" fly companies.  Ours was organised through Aardvark McLeod hosted by Funky Fly Tying's very own Toby Merigan.
When you say you're going to Bosnia, it conjures up many an image in one's mind and the past conflict in the country are usually at the forefront. This, however, didn't matter a jot as anglers that have visited before telling tales of big grayling and trout to be caught on both nymph and dry. Bosnia and Herzegovina is a country on the Balkan Peninsula in south eastern Europe and we headed out on a flight from Heathrow to Zagreb in Croatia.
Several hours on the transfer through Croatia and across the border into Bosnia was simply majestic. The countryside and scenery was just awe inspiring right the way through to our first destination.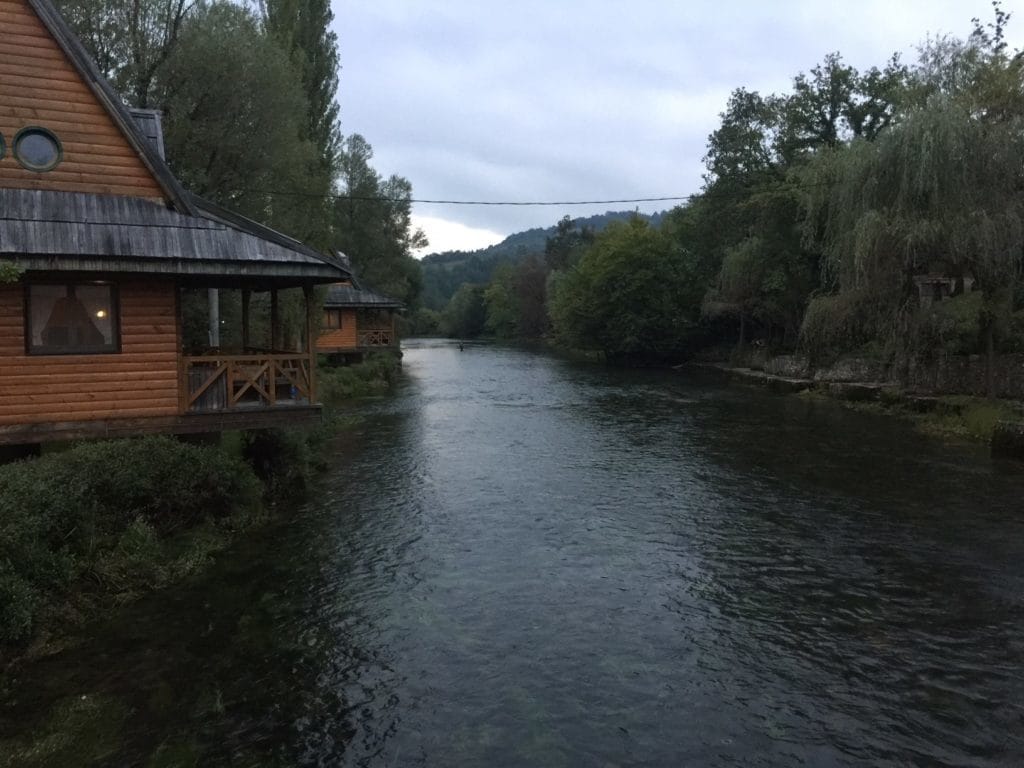 The Ribnik is in a small town Gornji Ribnik (some 15 minutes' drive from Kljuc) and is inhabited by grayling and brown trout in numbers. The size of some of the fish in the crystal clear waters was unbelievable and I couldn't wait to get a chance to catch one.  I had packed the ESN 10ft #2 and the SAGE Mod 9ft #4.  This would allow me to change to a variety of methods as and when required.  Not having fished the river before it certainly pays dividends to do your homework and pick the brains of others and scour the internet in search of further knowledge.
River Ribnik
After a very comfortable first night in the Ribnik accommodation, all rooms en-suite and on the banks of the river it was time to head out.
We were in the hands of two guides for the week who both have vast knowledge of the Ribnik and Pliva rivers.  Renato Opencar and Milenko Mita Balaban have both fished for their country, and guide full time on these rivers.  With their expertise, the week ahead looked very promising indeed.
I had tackled up the #4 Mod with a Rio Trout LT line to match, tapered leader and a good length of tippet and on the business end a single nymph (2704 Pheasant Tail Mary Barbless size 18). One thing I would suggest above all and this was apparent from the outset was to go to as light a tippet and diameter as you dare.  0.10 mm (6X) was the order of the day and if one of the big slabs made contact then it was all down to me and my angling skills.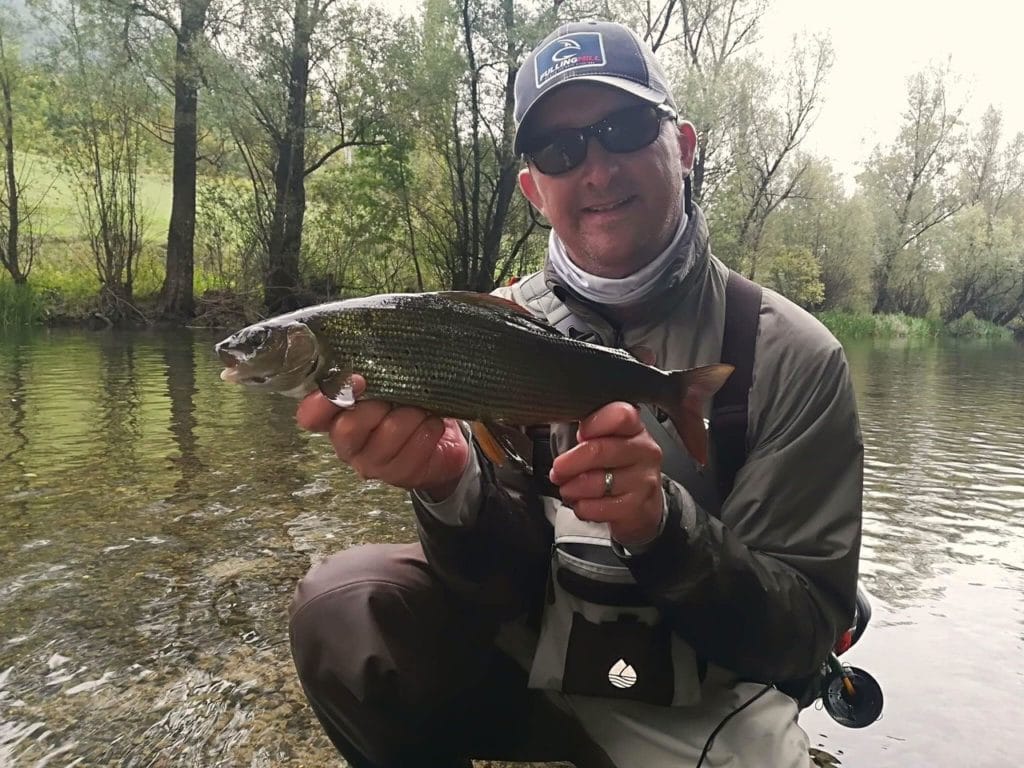 Fishing a single nymph upstream accounted for a few smaller fish but it wasn't until I had been shown the "Bosnian "style that things started to get going.  It's a really straightforward method casting upstream and then putting in a big upstream mend in.  This creates a bow of line and as the current takes it you need to feed out more line and mending as you go.  The nymph moves through the layers imitating the natural nymphs trying to make a bid for the surface in readiness to hatch. Takes can happen at any time, from the moment the fly hit the water and with the long leader set up, anything between 12-18 ft the fish would smash the single nymph.
This was a good chance to get your eye in before the hatches started and late morning a solid Grayling took the Pheasant Tail. Happy Days!
Nymph Suggestions:
Pheasant Tail Hotspot Barbless (2708)
The French Nymph Barbless (2110)
Pheasant Tail Micro Nugget (2712)
Czech PT Copper Barbless (2058)
SR Skinny Quill Olive (2756)
Ribnik Dry Fly Action 
The river is renowned at this time of year for its exceptional hatches, it didn't let us down.  Fishing a section through with a small nymph I had taken several grayling and trout, the odd fish rising here and there.  We were spotting fish in good numbers along the whole river, but this particular section was relatively slow in pace and covered with Ranunculus so more difficult to target any individual large fish. Then as the morning started to warm into the early afternoon the dinner bell rang, it was a hatch of Blue-winged olives that I will never ever forget. It was though someone was stood on the bank throwing in tiny stones down the full length of the river.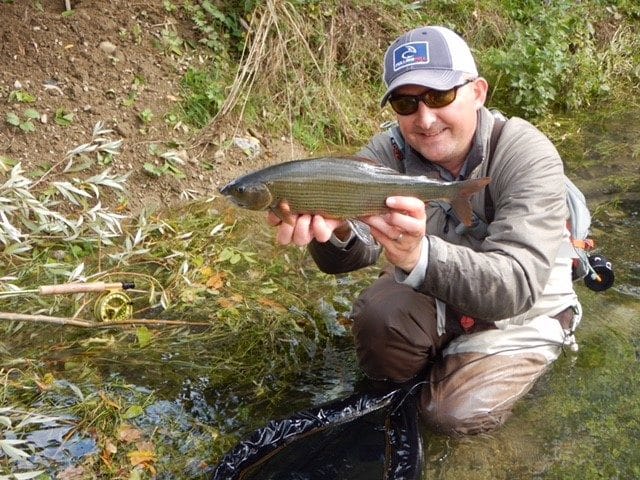 I was shaking trying to get the size 18 olive emerger tied on, the tippet was again as light as I dare go and after degreasing the line with Fullers Mud I was ready.  Fishing downstream dry was the approach and with the activity all around it was surely going to be like taking candy from a baby.  First drift down the fly was refused, so I went to #20 and bingo fish on! A nice grayling slurping the offering. Mita one of the guides was on my shoulder at this point had suggested to change the fly rather than to apply FM High Glide as I had been doing.
It paid dividends and another decent fish graced the net.
The hatch lasted for over an hour and the group accounted for many a grayling, the biggest pushing 50 cm and plentiful trout. My advice when fishing the dry would be to go as small and as light as you can, long tippet on the end of a tapered leader.
A memorable few days on the Ribnik, superb hospitality and fishing to match.
Dry Fly Suggestions:
Quill Plume Tip Dry Barbless (1088)
Drop Arse Ant Barbless (1092)
JL Upwing CDC Barbless (2725)
JL Mole Cul Barbless (2727)
BWO Split Wing Dun Barbless (2883)
BWO Thorax (1867)
River Pliva 
Mid-week we packed our kit and took a couple of hours drive to the Pliva River. The river is much wider and deeper than the Ribnik, the Grayling and Trout not in the same numbers but what it lacks in numbers it certainly makes up for it in the sheer size of fish. Plentiful huge Trout and Grayling, some of the biggest I've seen for sure.  After settling into the accommodation it was down to the river, single nymph was the order of the day and swapping over to the dry as and when needed with a flurry of hatches producing fish.  Once again we had stunning surroundings and a majestic river for the rest of the week.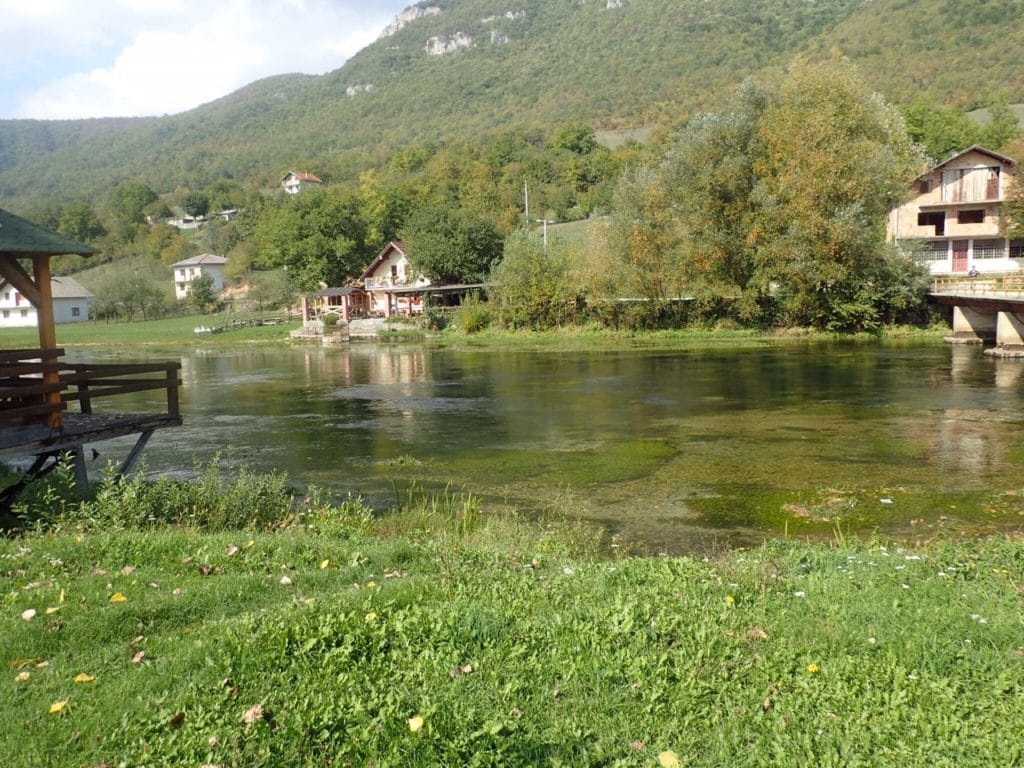 This river like the Ribnik was crystal clear and more time was spent sighting the larger fish tucked in behind the river weeds and boulders and on station. The tactics adopted by the Bosnians on sighted fish was to try them first with a ceramic nymph, this is short line nymphing in most cases and you can watch the nymph track past your quarry or be taken by the fish. I had spotted a decent Grayling tucked in and on the feed, both myself and guide Renato slowly worked our way out, first off the Ceramic and no joy. I changed the nymph several times, orange hot spot, larger tungsten bead then back to a smaller nymph.  We were both puzzled as to what it was coming out of its lair to feed on every so often, then after about an hour and many fly changes Renato passed me a size 12 Sparkle Orange (846).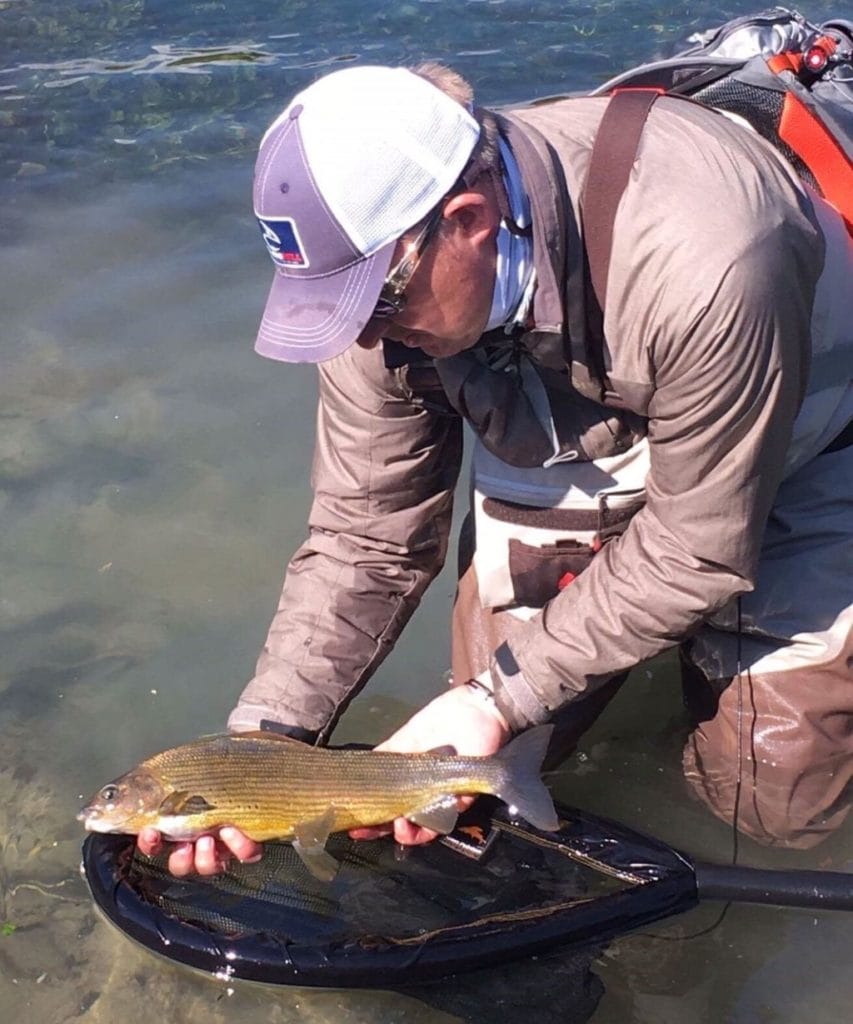 The first run past and the Grayling had a look at the fly, then I plopped the nymph a little further up on the next cast and as I watched the nymph drop and fish into position and what I thought would be another blank, the Grayling turned and followed the nymph downstream. It must have chased the large nymph a good two meters from where it was stationed and it engulfed the fly. I couldn't believe what I had witnessed, neither could Renato. I have never seen anything like it in all my time fishing, it does help when you're in crystal clear waters. These fish are dirty fighters and will do anything in a bid for freedom. A good scrap and a decent grayling hit the net, the Pliva Grayling have a golden colour to the underbelly and is truly a stunning fish, one I will never forget.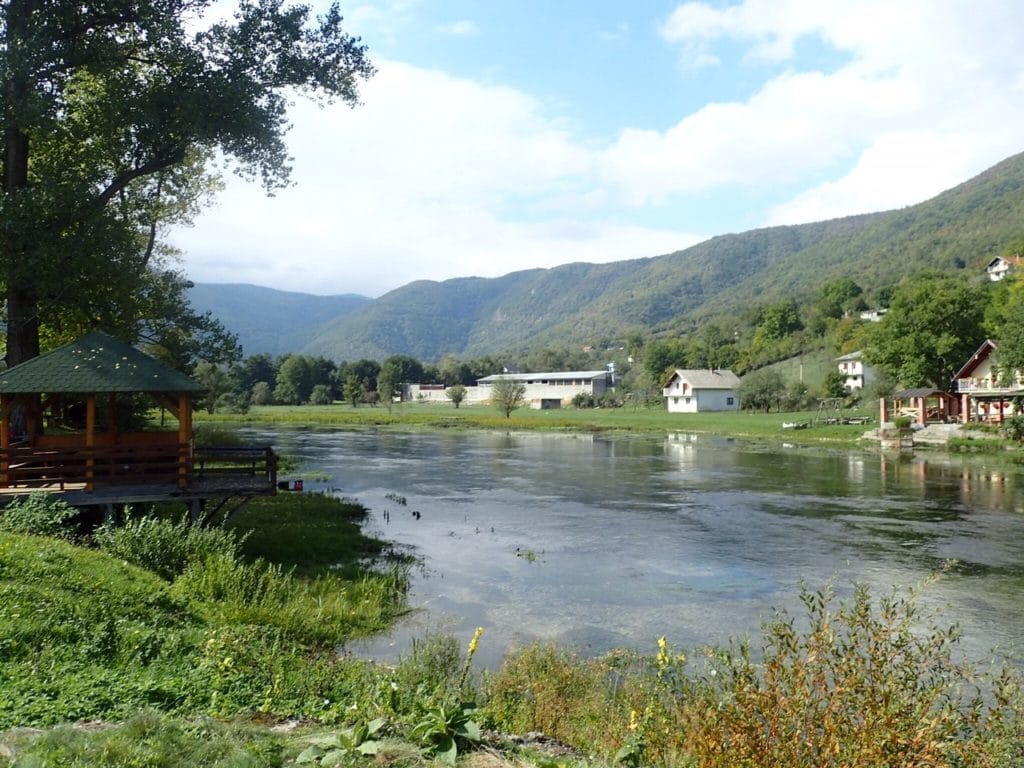 The week continued in the same vein with the group catching plenty of big fish, the real lunkers 4lb plus will have to wait for another day.  None the less the whole week was magical, a great group and the Bosnian hospitality really made the trip.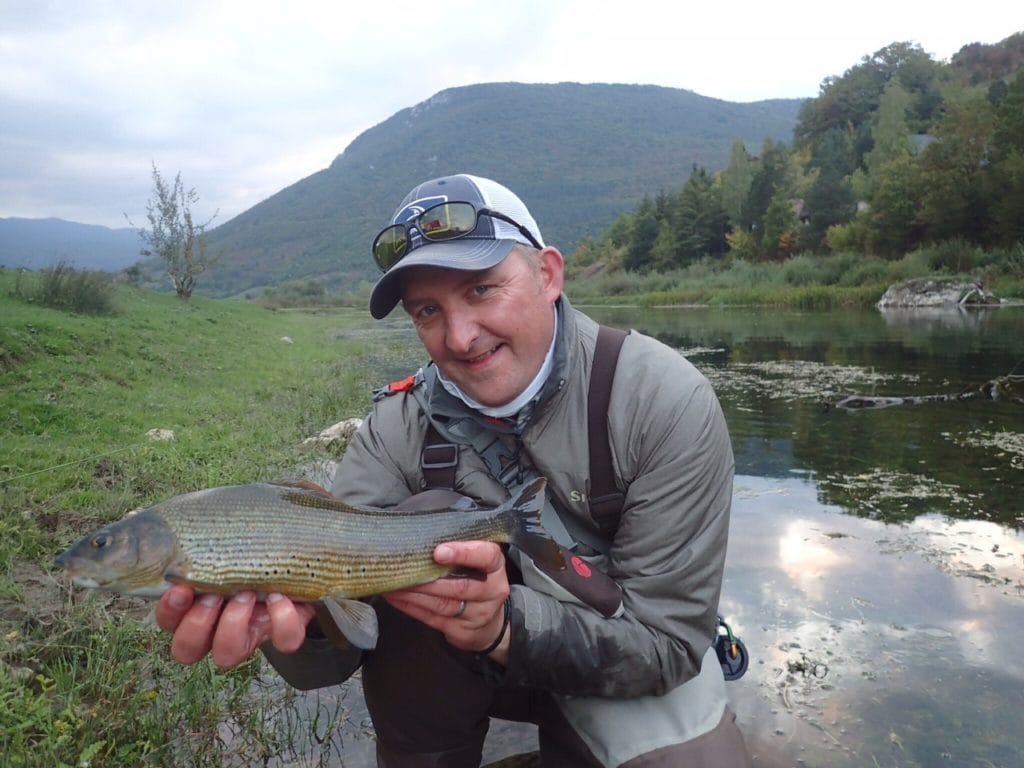 Bosnia really is a fascinating country to fish in, beautiful countryside and rivers and, of course, plenty of fish to target. The fishing is enjoyable yet challenging as big trout and grayling have seen it all before but perseverance and the learning of some Bosnian methods will often unlock some success and maybe one or two new personal bests. If you would like to know more about fishing in Bosnia then get in touch with myself or Aadvark Mcleod who will happy to help in search of that big fish.
All the best and here's to Bosnia 2018!
We are running a series of Aardvark McLeod exclusive weeks in 2018, the dates are:
3 – 10 June 2018
22 – 29 September 2018 (with Phil Ratcliffe)
29 September – 6 October 2018
20 – 27 October 2018
If you are interested in joining one of the groups or finding out more information about fly fishing in Bosnia please do not hesitate to contact Alex Jardine or call our office on +44(0)1980 847389.