Brazil, Kendjam THE next big thing?
Jungle Fishing Kendjam Brazil Peacock Bass, Wolf Fish
We are approached with new destinations on a regular basis and often it's a case of evaluating whether it suits our market. This is very much a case of separating the wheat from the chaff and once in a while we come across something really special, which helps us remember why we love what we do.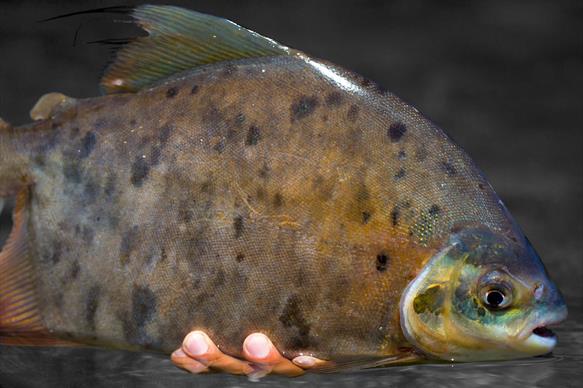 For me, Tsimane in Bolivia was one of those places. The fishing was immense, but it was more than the fishing, it was the overall experience.
Reflecting on Tsimane left me somewhat sad. I could not imagine or expect that anything similar could ever be unearthed again. Kendjam in Brazil was to be my saviour and I firmly believe it is THE next big thing.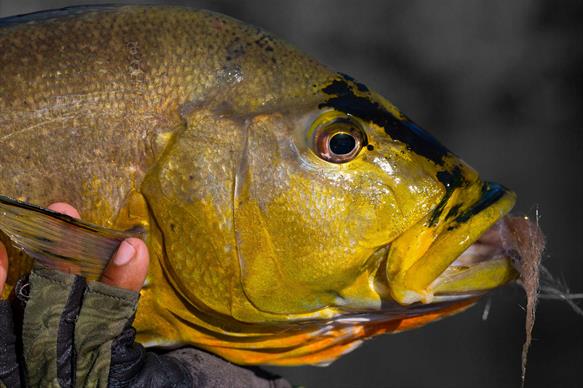 Kendjam is truly off the beaten track. Indeed, the last visitors before our exploratory trip was National Geographic (Click HERE). It is based around the Iriri River, which is unique as it largely flows over granite and this gives it the clarity needed. You fly to Manaus and from there, a private charter takes you to the community landing strip which is based some three hours South East. Following the introduction to the tribe you are taken on a boat journey downriver to the first camp. The journey is spectacular, especially if you are a keen birder as the sky is alive with sound and colour. You are based in individual safari style tents for the duration of your stay with toilets and running water. There's a separate dining tent where breakfast and dinner is served. Due to community laws, no alcohol is allowed. Wildlife abounds but very little is looking to maim or eat you. No-see-ums and mosquitos are few and far between; the jungle is surprisingly friendly. On the flip side the river is full of life with plenty of fish looking to eat your offerings.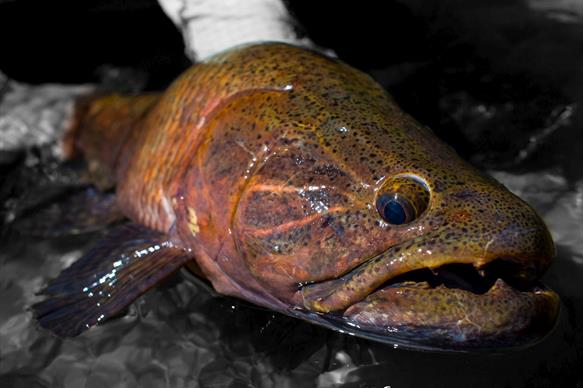 Highlights of the fishing are the technical differences each species demand and also the variety of species present. There are three species of pacu, each with different feeding habits; some looking for leaves, flowers and fruit, others looking for dead drifted weed – all are immensely powerful and great fun to target and catch. You then have peacock bass; a fish that really epitomises 'the take'. They are strong fighters, but it is the take that makes peacock bass special. If the bully of the river is more your thing, then you have the wolf-fi sh (tararira) to target. An impressive fish, but certainly not the brightest! Also present are matrincha (yatorana), which you can target on terrestrial dry flies and are superb on lighter rods. Beyond this already impressive line-up you have vampire fish (payara), picuda (a barracuda type fish), piranha, catfish along with some other species that are currently not targeted, but certainly could be. With all these species present it is more like a saltwater destination than a freshwater one, which makes this a destination that appeals to both markets.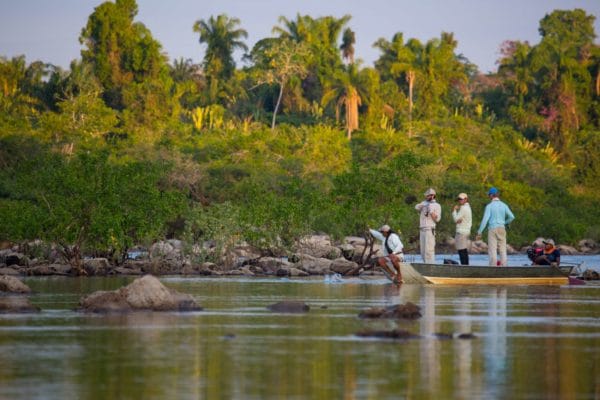 Jungle Fishing Kendjam Brazil Peacock Bass, Wolf Fish
If you would like more information then please do not hesitate to contact Steffan Jones or call our office on +44(0)1980 847 389.