Rio Marie fly fishing peacock bass Brazil
The Rio Marie (Rio de Gigantes) is located inside a far-reaching Indigenous Territory, approximately 500 miles northwest from Manaus. Manaus is the operation's base point and the most important city in Brazilian Amazon.
The fishing operation has access to an area of more than 2 million hectares. This untouched environment has more than 800 kilometers of of waterways, more than 180 known creeks, 60 lakes, and three major tributaries.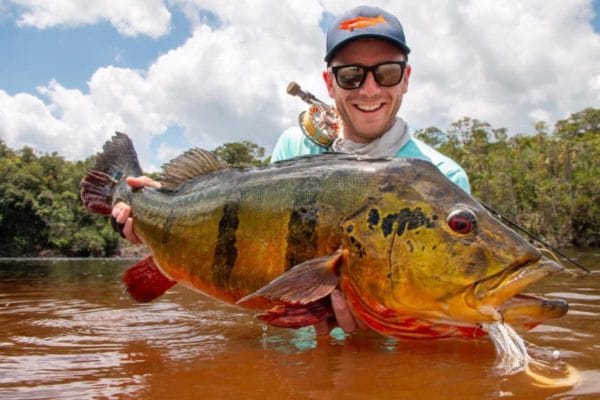 LOCATION
The Rio Marié is born in the Northwest corner of the Brazilian Amazon near the Colombian border. It is a tributary of the upper Rio Negro which has the largest drainage of "black" water in the world. Covering approximately 710,000 km² of land the area is one of the most preserved regions of the Amazon Rainforest.
The fishing grounds encompass a vast array of virgin waters which boast a healthy population of giant peacock bass. For anglers, this translates into the very real opportunity to consistently hook and release much very large peacock bass on the fly.
The high level of protection in the Indian Territory that surrounds Rio Marie's has ensured the area is almost completely un-impacted by modern man. This is a wild, remote and stunning area with an extraordinary mass of unique flora and fauna.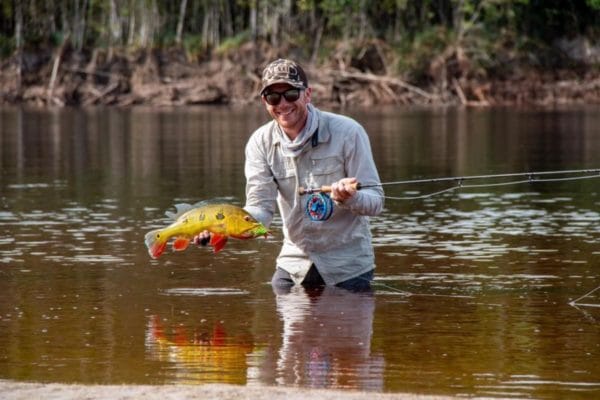 PROGRAMME OVERVIEW
The week at Rio Marié runs from Wednesday to Thursday (Sep-Dec) and Saturday to Sunday (Jan-Feb). Most US guests will reserve flights to Manaus out of either Miami (American Airlines) or Panama City (Copa Airlines), but there are flights also from Recife/Fortaleza with Europe hub and Rio de Janeiro/São Paulo/Brasilia Airports. Upon arrival in Manaus, you will pass through immigrations and customs and be greeted by our host staff at the airport.
ACCOMMODATION
The Untamed Amazon is the very first vessel in the Amazon with 100% Solar Power Generation for all electricity use. The system has 96 state of art solar panels, generators and 3 tons of Hitachi Solar Batteries. All boat space was planned to promote a unique and remarkable experience.
The Untamed Amazon has 3 floors. The lower floor is a restricted area for staff and facilities.
The main floor has 6 suites available to Marié guests (5 double and one single). Each suite accommodates two people, in super single beds. There is a private bathroom in each suite, air conditioning and good space for clothes storage.
The upper floor is the perfect place to relax after a long fishing day. Here there is a spacious living and dinning room, and a open lounge where drinks and appetisers are served. Outside are also two large jacuzzi's for up to 10 people.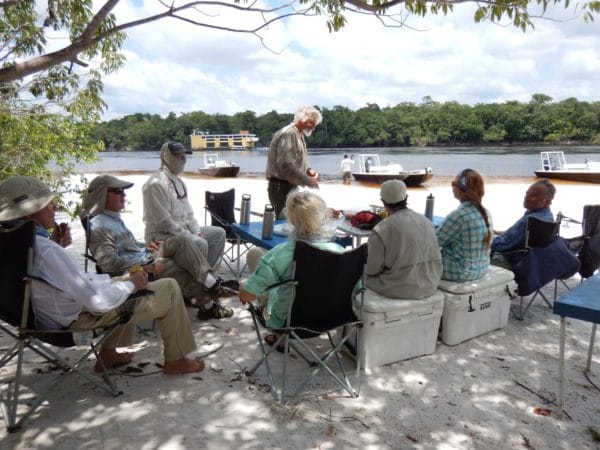 2020/21 SEASON PRICE
The cost of the 2020/21 season is US$7,325 plus the Indian Reserve Fee of US$670. This is based on a shared room and guide. Non-anglers may attend for US$4,980 plus the Indian Reserve Fee.
2020/21 SEASON AVAILABILITY
The availability is changing frequently. As such, please contact us for the latest availability.
MORE INFORMATION ON RIO MARIE?
If you would like more information then please do not hesitate to contact us by EMAIL or call our office on +44(0)1980 847 389