Pirarucu Catch Report Week 6
The water has continued to drop, which means that the fish are now more concentrated than before. This week, we landed a great mix of large smaller fish. It is always surprising how acrobatic and powerful the smaller fish are. The fight seems equally as intense but does not last as long as the larger fish. During the week we caught a total of twenty four arapaima between five rods, with the largest being over two meters in length.
Total number of fish landed in week
24 Arapaima
72 Aruanâ 
Largest fish landed
Pirarucu 197 cm
Aruanâ 81 cm
Tambaqui 50 cm
.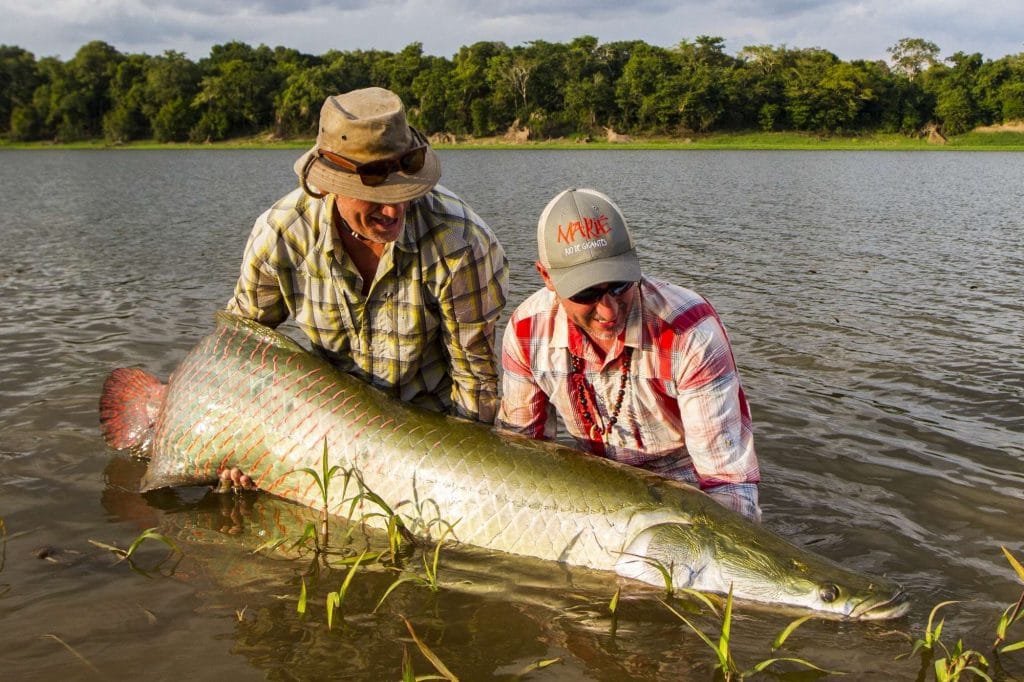 Pirarucu Catch Report Week 6
Rain during the week has, at last, brought the water level up, allowing us to travel to areas that we could not access when it was low. The rain has also helped to freshen the fish up that have proved to be extremely hungry. Without a doubt, the highlight of the week was a giant fish that pulled the tape to two meters thirty centimetres. We of course, saw many smaller fish but spent much of time trying to catch specimen arapaima. Doing this proved incredibly successful for Douglas, who landed three arapaima over the magic two-meter mark.
Total number of fish landed in week
16 Arapaima
44 Aruanâ 
Largest fish landed 
Pirarucu 230 cm
Aruanâ 85 cm
Tambaqui 54 cm 
If you would like more information then please do not hesitate to contact us by EMAIL or call our office on +44(0)1980 847 389