Rio Marié has exclusive access to more than 500 miles of  the only catch-and-release, "fly fishing only" river in Brazil. With more than 15 species of peacock bass, regular encounters with fish over 10 lbs and a realistic change of a trophy peacock bass of 20 lb, this is a remarkable fishery.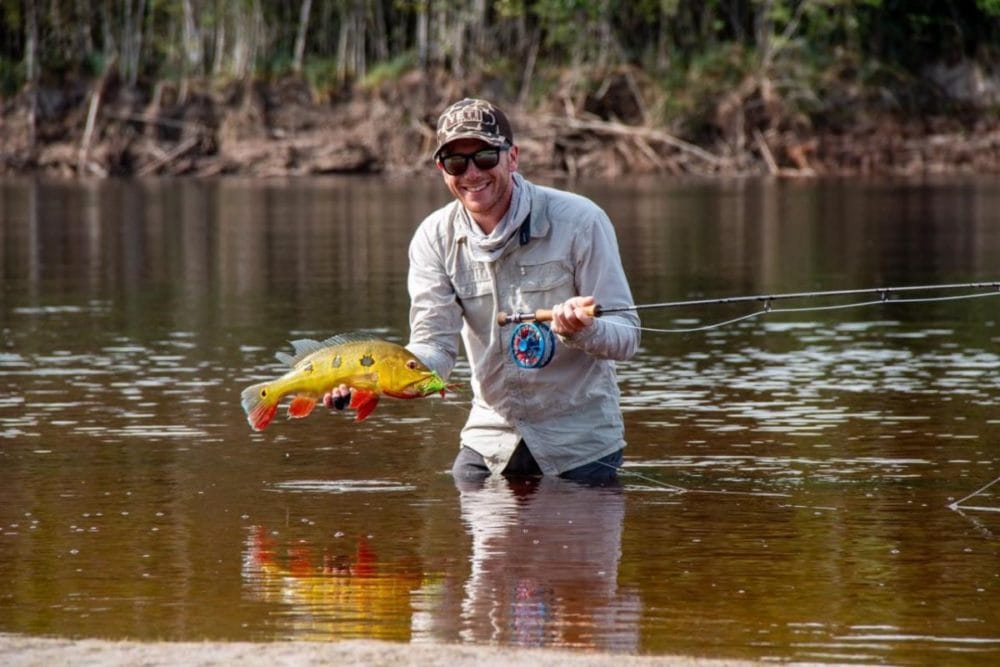 Rio Marié 2019 Season Fishing Report
Week 3: September 5-12, 2019
Conditions 
Throughout the week the weather remained warm between 32 to 35ºC. With the exception of one day of rain, the sky was mostly overcast with the odd patch of sun. The day of rain did little to increase the height of water which has been slowly dropping. Due to low water on the Turi River most of the efforts were concentrated upstream from the mothership on the Rio Marie.

Fishing Conditions
The fishing conditions over the course of the week remained excellent. Lower water provided good conditions for sight fishing the beaches with good numbers of peacock bass holding on the shallow sandy drop offs.The drop in water allowed for fishing at the mouth of some of the lagoons, here stripping back streamers was especially effective.
Although most of the bigger fish were caught in deeper water on either the main river or in deeper pockets of the smaller tributaries. A well placed cast to a trophy spotted by Cassio on the last day produced a huge 90cm, 23 pound temensis.
Fishing Stats:   
Butterfly peacock bass: 265
Temensis caught: 38
Eight over 10lbs, three over 15lbs, six over 20lbs
If you would like more information please contact Steffan Jones or call us on ++44 1980 847389. Alternatively click HERE if you would like us to contact you.