Keep an eye on this page for the Xingu River 2023 season fishing reports which include highlights and statistics from the season. The Xingu River is the best payara destination on the planet and an amazing environment with lots of runs, rapids and pools with very consistent fishing. As well as payara there are more than ten other species anglers can target on the fly such as peacock bass, wolfish, matrincha, pacu, bicuda, and surubí.
Xingu – Week 6: 14 to 21 October
After a few weeks of ecotourism programmes we were back to hosting anglers this week. While we await the rains in this area, the river levels are beginning to change with rains in headwaters giving relief to a climate that is extremely harsh for fishing.
Peacock bass fishing was good at the beginning of the week and fishing with poppers and sliders made for some fun days. There was a slight decrease in action as the water level rose.
Matrinxas and pacus are still active, with fishing improving on rainy days.
The places to target wolfish didn't change much. Streams and their mouths continue to be the preferred place to wait for some prey to pass by. The payaras began to move gradually but catches remained low until the end of the week. All guests had the chance to face these elusive opponents.
We are still recommending 10 or 11 rods with fast sinking lines. Custom tip 462 grains continue to be the preferred choice of guides. Dark flies and peacock bass-type colours, always with trailer hooks, continue to be the most effective for now.
Don't forget to bring your light equipment with a floating line. A number 7 rod is a great alternative to use during the day and try other species such as matrinxas and peacock bass.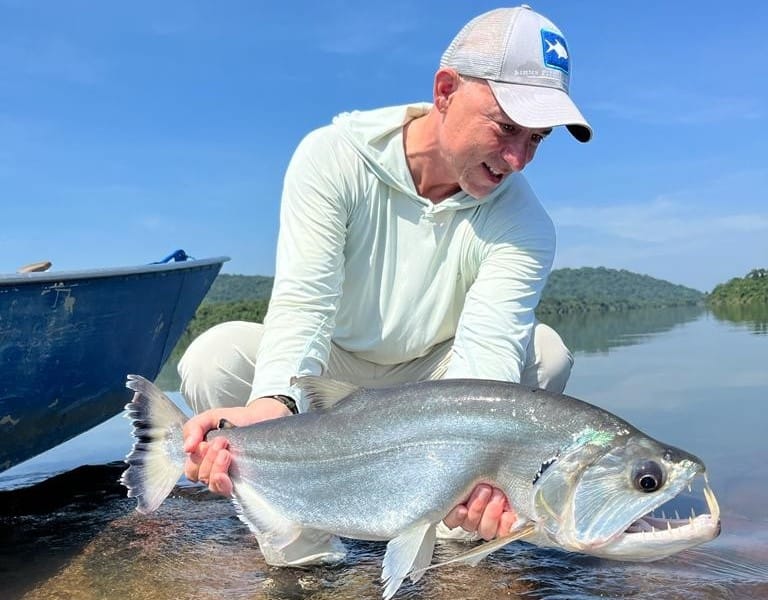 Fishing stats:
Total number of fish landed in the week – 200
Total payaras landed: 15
Biggest fish landed in the week:
Vampire fish: 90cm
Wolf fish: 70cm 
Peacock Bass: 59cm 
Mantrinxã: 50cm
Pacu prata: 24cm
Bicuda: 80cm
Xingu – Week 3: 2 to 5 October
While waiting for the rains, the river level continues to drop and the water temperature remains high. The conditions for fishing for payaras continue to be adverse, but on the other hand tucunare, matrinxas and bicudas do not seem to care about the conditions.
This week we had fishermen from Israel, Russia and Brazil who were focussed on different species which allowed them to have a week full of success and learning, leaving the elusive "vampires" aside.
Our great friend Alex Atala brought a group of friends to see the beauties of Kayapo land. Some of them were having their first experience of sport fishing and together with our great team of guides, they had an unforgettable experience.
Yoav managed to capture a 70cm bicuda and then an impressive 64cm tucunare. A wonderful session for him.
The water and drought conditions mean that the fauna is close to the river. This allowed us to see monkeys, coatis and various animals, and even an impressive encounter with an anaconda.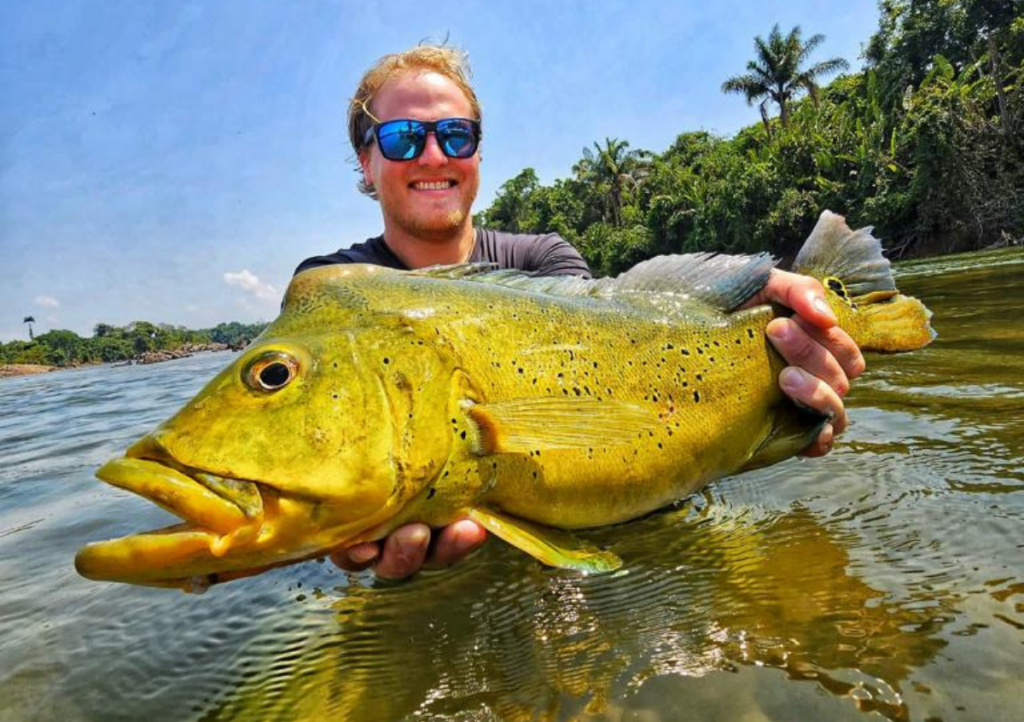 Fishing stats:
Total number of fish landed in the week – 200
Biggest fish landed in the week:
Vampire fish: 87cm
Vampire fish 'machete": 85cm
Wolf fish: 65cm
Peacock bass: 64cm
Mantrinxã: 48cm
Pacu prata: 24cm
Bicuda: 76cm
Xingu – Week 2: 17 to 21 September
Besides some nice sized peacocks being caught among the creek's entrance, some trophy bicudas were caught and a few were missed!
Dominic had a nice 82cm bicuda at the end of his tippet and he managed pretty well after a nice fight landing this fish. Patrick had his first wolffish at the end of the creek and it ended up with a nice picture of their double catch with Dominic who also caught his wolffish simultaneously.
Emily seemed to be the payaras queen, landing the most payaras of this week. Well done!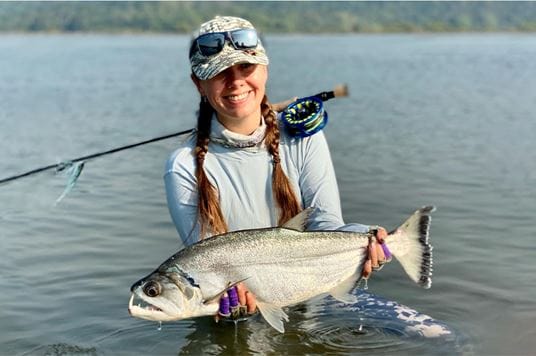 Fishing stats:
Group: 8 anglers
Total number of fish landed over this week: 65 (payara, peacock bass, bicuda, matrinxã, corvina)
Total payara landed: 9
Total payara missed: 20
Biggest payara landed in this week: 7lb
Biggest fish landed in the week
Payara: 7lb
Peacock bass: 55cm
Mantrinxã: 47cm
Bicuda: 82cm
Corvina: 53cm
Wolffish: 80cm
Xingu – Week 1: 10 to 14 September
The water levels were low and clear for week one of the 2023 season. We had sunny days and a temperature averaging around 32ºC. The water is still a bit warm as the rain hasn't started so finding payara was not an easy task, as these fish prefer rising and cooler water.
We had to go deep to find the best opportunities for the payara which seemed to more active during late afternoons, often just before the sunset. Luckily our guests understood the situation and were happy to let casts sink deep knowing this method was the best way to make it happen.
It was a pleasure to have these four anglers at the house opening our 2023 season. They were the first guests to make the combined trip "Kendjam – Xingu" trip. Despite tough conditions due to the river level and lack of some rain, they kept their enthusiasm to keep trying for the payaras.
Landon and Avery did such a great job landing a 14 and 15lb payara, respectively, nicely done guys!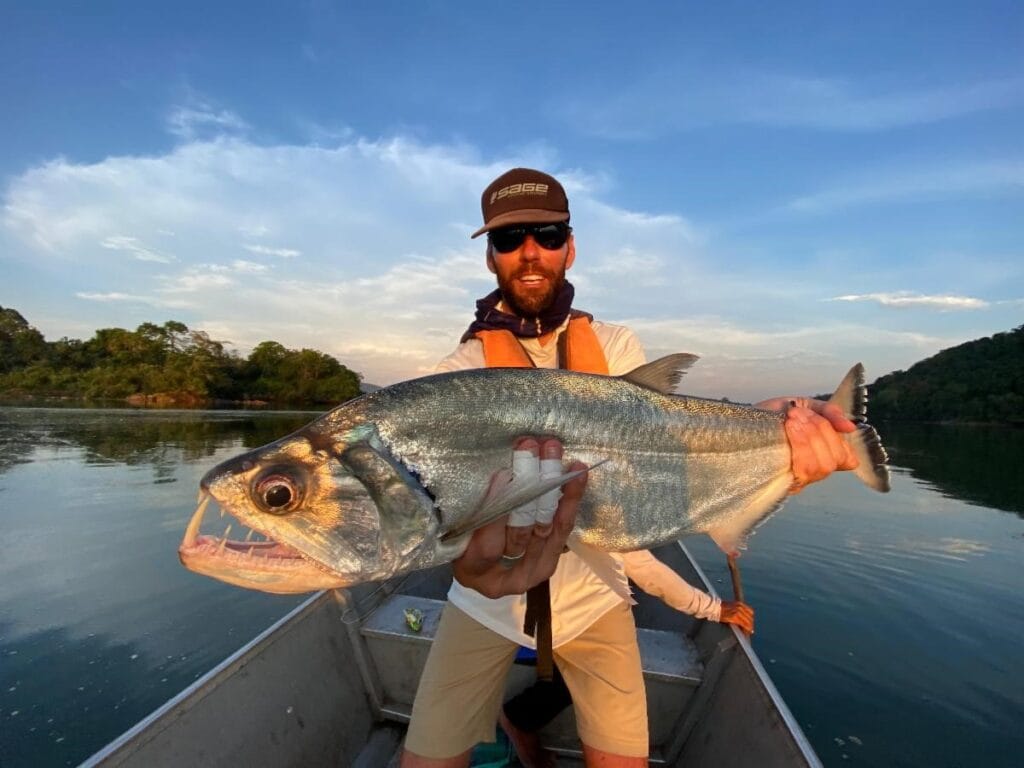 Fishing stats:
Group: 4 anglers
Total number of fish landed over this week: 38 (payara, peacock bass, bicuda, matrinxã, corvina)
Total payara landed: 13
Total payara missed: 28
Biggest payara landed in this week: 15lb
Biggest fish landed in the week
Payara: 15lb
Peacock bass: 57cm
Mantrinxã: 46cm
Bicuda: 60cm
Corvina: 53cm
If you have found these Xingu River Lodge 2023 fishing reports interesting and would like more information then please do not hesitate to contact us by EMAIL or call our office on +44(0)1980 847 389