In 2005 I was involved in the letting of three weeks at Brevyeni, a tented camp, situated in the lower reaches of the Ponoi River on the Kola Peninsula (Russia) immediately downstream of its neighbour Ryabaga camp. We had mixed success in this wild and remote spot on the edge of the tundra so it was interesting to return in June 2012 with a party of four friends.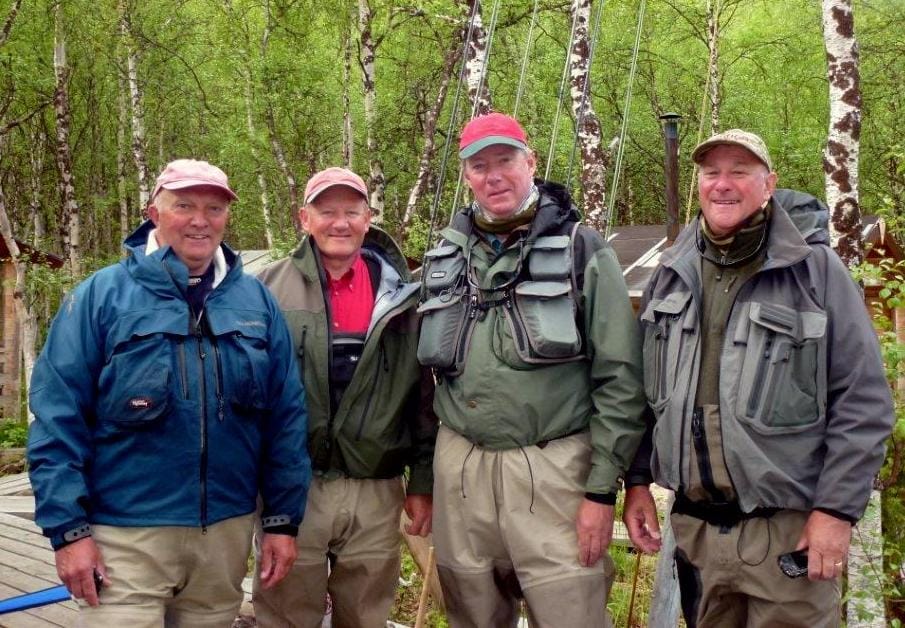 We all met up in Helsinki Airport having travelled from various different ports of departure in the UK and spending a night in in the Finnish capital. It was then all aboard the chartered Finnair Fisherman's Shuttle up to Murmansk where we saw many familiar faces and caught up with old acquaintances from previous trips. On arrival in Murmansk we queued as usual to get through passport control but the process was considerably swifter than Heathrow pre Olympics or Russia of the mid 90s. We were then whisked away in a minibus to a nearby bit of waste ground that masquerades as the helicopter landing field. We encountered the remaining members of the group who had overnighted in Murmansk. Within ten minutes we were loaded up and the Mi8 (that ubiquitous Hip transport helicopter to old Cold War hands) lifted off heading East. The chopper, which recently had undergone major refurbishment, had two additional long-range fuel tanks and we Brevyeni Boys (including one lady fisher) were the only passengers. We were all expecting the usual refuelling session at Lovozero but just over two hours later we were vectoring into the LZ by the Brevyeni burn a few yards from the mighty Ponoi.
We were greeted by the friendly camp staff and guides and our kit was loaded into a six wheeled Polaris and delivered to our accommodation. The Tents of 2005 are long gone and each guest has his or her own cabin with electric light and wood burning stove. The cabins are tastefully appointed with carpeting and curtains (in June it does not get dark) and a decent sized towel and bathrobe are supplied along with a glass and bottle of spring water on the bedside table. Large American sleeping bags with liners are invitingly laid out on a comfortable bed.
The old shower block has been replaced and four new cubicles provide steaming hot water with amazing pressure considering one is in the middle of nowhere! The camp now has flush WCs with their own electric lighting although for the seasoned fisher of the early Kola years there is still a good old long drop for nostalgic contemplation. The central mess hut is well appointed with easy chairs and the walls are adorned with photographs of heroes holding bars of silver (including Comrade Medvedev). Various albums and books of a piscatorial nature are scattered on the sideboard. A well-stocked bar was a welcome sight and the dining table was to see a few late nights as the week unfurled.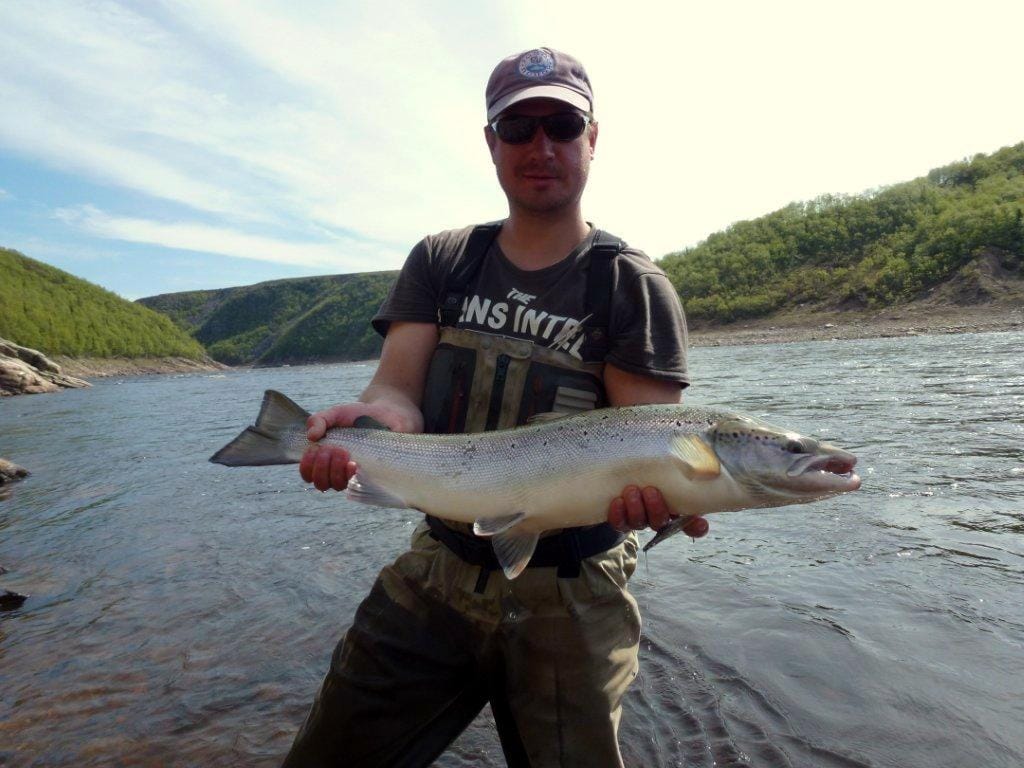 After the customary briefing and a good, wholesome early supper we sallied forth to the Home Pool and surrounding water which can easily accommodate a party of eight rods without it turning into combat fishing. I managed to persuade the Camp Manager to ferry half the team to the opposite bank so we had even more space for our two hour stint. I wandered upstream as far as I could go until a wall of rock precluded further navigation. After half a dozen casts with my 13' Hardy I was into a fish and I landed a 7lber a few minutes later. A little local knowledge is no bad thing – I recall a friend hooking a fish in pretty much the same spot seven years earlier. It was his 40th birthday trip and I have a great shot of him playing the fish from the same rock (unbeknown to us he was perched on the rock as his waders leaked badly!) My co rods mostly had similar success that first evening – some landing a couple with three being the best score and a couple failing to trouble the scorer. We were advised that a fast sinking tip would do the trick with a size 6 or 8 fly or a tube around 1.5". Certainly this proved the case on the first evening.
The following day I persevered with various sink tips and a size 6 and 8 Green Highlander and by tea time I had only had a couple of knocks. A change of tactic was definitely in order so I went deeper with a bigger, brighter, longer tube and straight away caught a couple of fish. Morale was restored and Dave, my fishing partner and fellow witness of the Acha bear incident a few years earlier, were happy with our combined tally of seven for the day. The following day we headed to the top beat feeling slightly worse for wear after interviewing too much local vodka and some particularly unsavoury grappa our Italian colleagues had produced the previous evening. I grabbed my fast sinker only to be told that the sink tip would be sufficient. Not one to argue with the head guide and thrilled at the thought of not having to go deep I obeyed instructions and had four fish in the morning and a couple in the afternoon. Dave took four for the day so we were thrilled with our combined score of ten. He slunk out after dinner and put at least one more in the book whilst I crept off to my pit.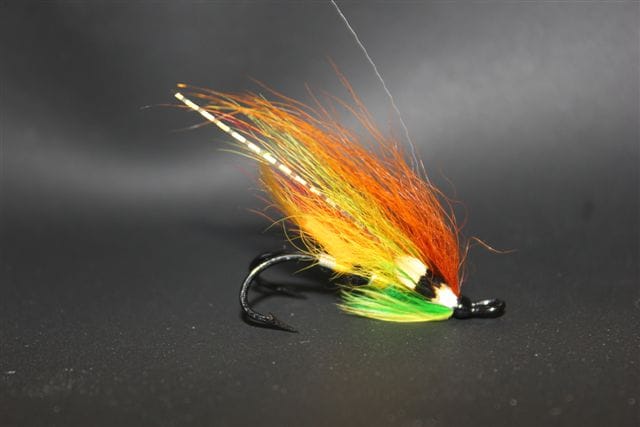 As the week progressed the water temperature rose and the river dropped. Midweek there was torrential rain overnight and the river steadily rose by three feet by the end of the following day. Although the sink tip remained the weapon of choice we had success on the fast sinker and our Italian friends had action on the bomber on a full floater. The Camp Manager even caught on a hitched rubber legged tube. I experimented after dinner one night and rose a fish on the full floater with a size 12 Silver Stoat. He obligingly came again to a size 8 Silver Stoat and measured 37".
The Brevyeni section of the river is much more dramatic than some of the upper reaches of the system. The river carves its way through the taiga and tundra and is almost canyon like as it meanders round the bend past the camp pools. There is quite a lot of fast water with some turbulent rapids for fish and boats to negotiate between fishable slower glides. Like most Kola rivers when you see structure beneath the surface or a slight bend in a section of water you know you are probably covering a lurking fish. They do not show much at Brevyeni – you may only see a couple of jumps a day but the fish are definitely moving through. The four of us, who had all fished the Upper Ponoi camp together for a number of years, landed 104 fish for the week. A couple close to the 20lb mark along with some strong fighters in the region of 15 to 18 lbs , numerous 9 to 12 lbers and the rest mainly 6 to 8 lbs. The average for the four of us was 26 fish a rod which was exactly our expected number. They may have averaged 41 at Ryabaga but you are paying another $5,000 for the privilege. You don't get a single cabin –you get a shared tent and there are 20 odd fisher folk and an army of guides, cooks, generator men, pilots, doctors, masseuses and assorted log choppers wandering about. At Acha they averaged 55 per rod which is fabulous but the bulk of these are taken on the Home Pool. The camp there is comfortable but the management is poor and has been going steadily downhill for a number of years. You have to contend with Russian spin fishermen on certain beats, local villagers on others and you quite frequently find you are sharing the camp with Russians who are spinning for the pot as you strictly obey the catch and release rules. I noticed the top rod one day took 17 – the four of us above know him well and we can guarantee that he probably only fished a section of water 25 yards long all day –  hardly fun!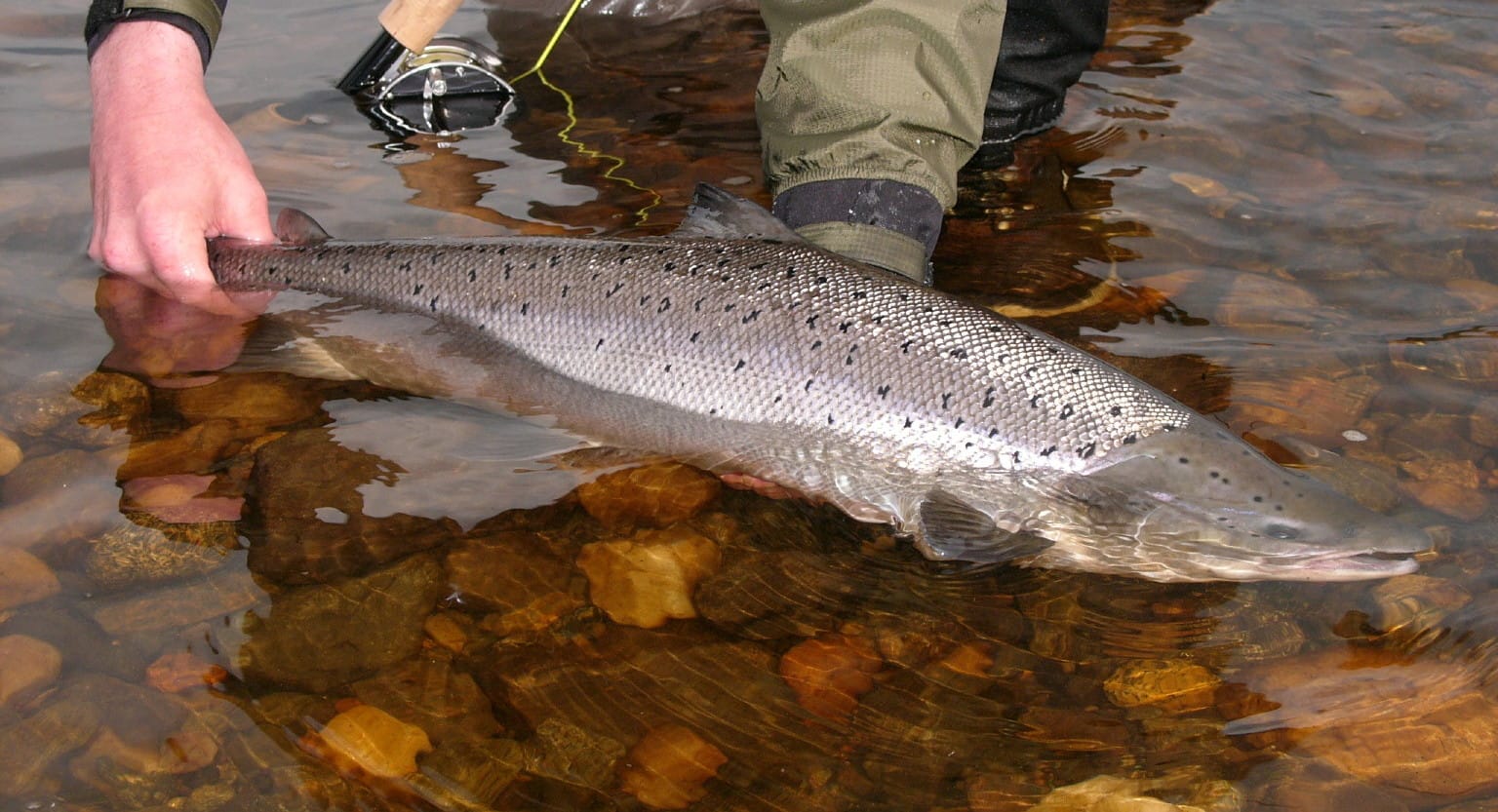 So the moral of the story is as follows: if you want a comfortable small camp with excellent food and plenty of hot water and helpful staff at a sensible price with an expectancy of 20 to 25 salmon per rod for the week Brevyeni is a good place to go. It is a wild old spot too and you will not see another soul all week. You will though probably encounter peregrine falcons, whooper swans trumpeting away above you, red throated divers doing what they do best, bramblings, redpoll, white tailed eagles soaring above you and the odd moose- sadly no gyr falcons this year. However the camp has satellite telephone and internet access so one could discover how poorly we play football (if you are that way inclined). For the fisherman who likes to work for his fish trying to read the water and experiment at differing depths and adapting to variable conditions Brevyeni is a terrific place. It is unpredictable and some people say the fish all run straight through and don't stop. Well there were 104 that did stop and countless others that made offers and the four of us all had at least six or seven fish that we lost.
We had a happy time in 2005 as the equivalent week was a 40th birthday celebration with a team of seven good mates and the top rod took 25 and least (skilled) successful had eight or nine for the week. Seven years on we had an equally amusing trip in a much improved camp with better food, more knowledgeable guides and more water. Our top rod had 38 and our least successful took 16 and the conditions could have been a lot more favourable. For a hassle free trip, both in terms of transportation and the intimate group with minimal camp staff, Brevyeni is a great fishery. You are not going to find an alternative wilderness destination anywhere else for the price where you have a genuine expectancy of 25 fish and a realistic chance of a 20 plus pounder.
For more information about the fishing on the Ponoi including the Brevyeni Camp visit our webpage. You can also contact us either by email [email protected] or call +44 (0) 1980 847 389