I have been desperate to get back to Northern British Columbia since the last time I was here in 2007. The wild rivers flowing through these treed valleys are stunning, along with the steelhead that inhabit them. This year has been the third largest run of steelhead since 1956, so I was full of anticipation as I boarded the Air Canada Jazz flight from Vancouver to Terrace yesterday morning. The flight was at 0740 and considering most of us had been bouncing around since 0300 due to the time change it was a welcome relief. There are only so many times that you can plan your line and leader systems!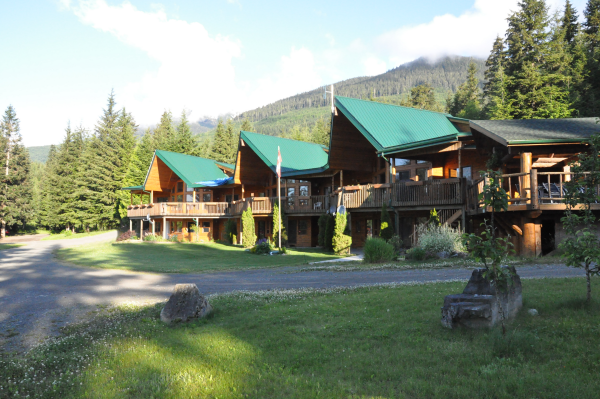 On arrival in Terrace Dustin and Chad from Nicholas Dean Outfitters were there to meet us. It was great to see them, even though I had only seen Dustin a month ago when he came over to the UK to be on our stand at the Game Fair. The temperature was a cool 14 degrees as we boarded the trucks and headed the short 15 minutes to Yellow Cedar Lodge. The last time I fished with Dustin he was based out of another smaller lodge, and Yellow Cedar is a big step up. This stunning Canadian Log lodge is located on the banks of the Skeena just West of Terrace. The lodge has 11 large rooms with two king sized beds in each on two floors, large dining area with a licensed bar, recreational room with pool table and TV along with a small gym and full sized hot tub outside for those that fancy it. Pretty luxurious, and we were all impressed.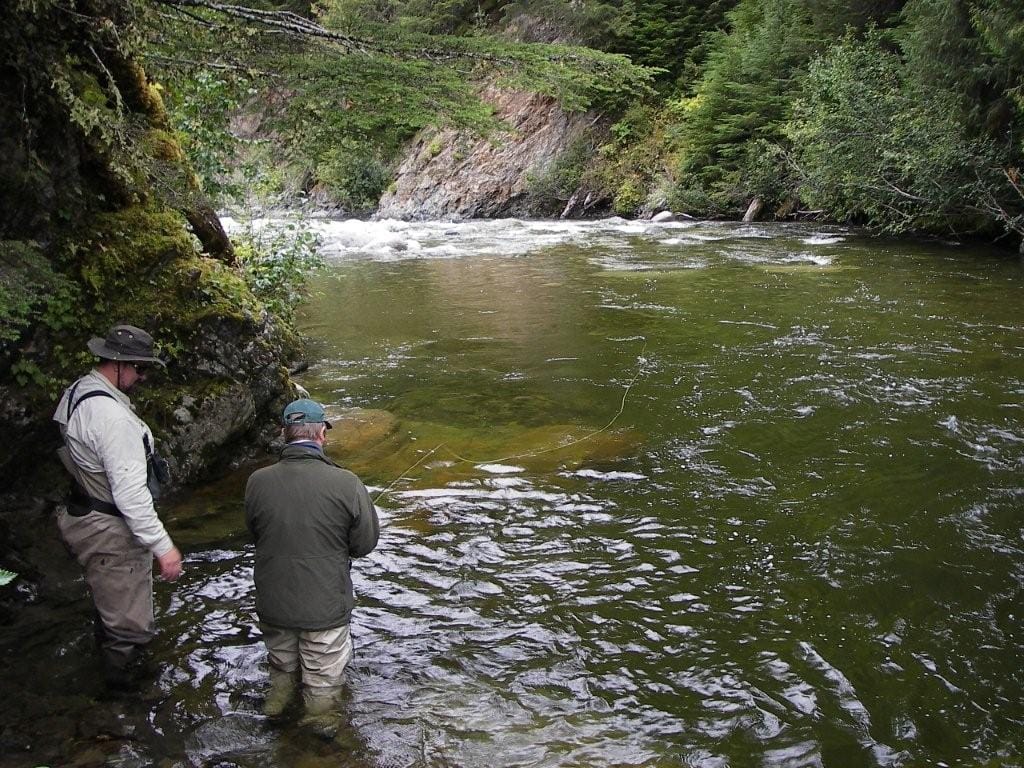 As soon as Chad had handed out our licenses then we split up into pairs and headed out. Alistair Robjent and I were fishing with Dustin and shortly we arrived on a small tributary of the Skeena above Terrace. This small stream flowed through a deep valley and the water gushing through a boulder course and looked more like a small trout stream. Small steelhead up to 10 lbs or so manage to negotiate the waterfalls and head up river, so small rods and light flies were the order of the day. Our main target was to try "raise the ghost" and try and make one of these small fish come up and take a dry fly. The first pool only produced a couple of small wild rainbows and we hiked downstream through the forest and along the river course over the rocks and boulders.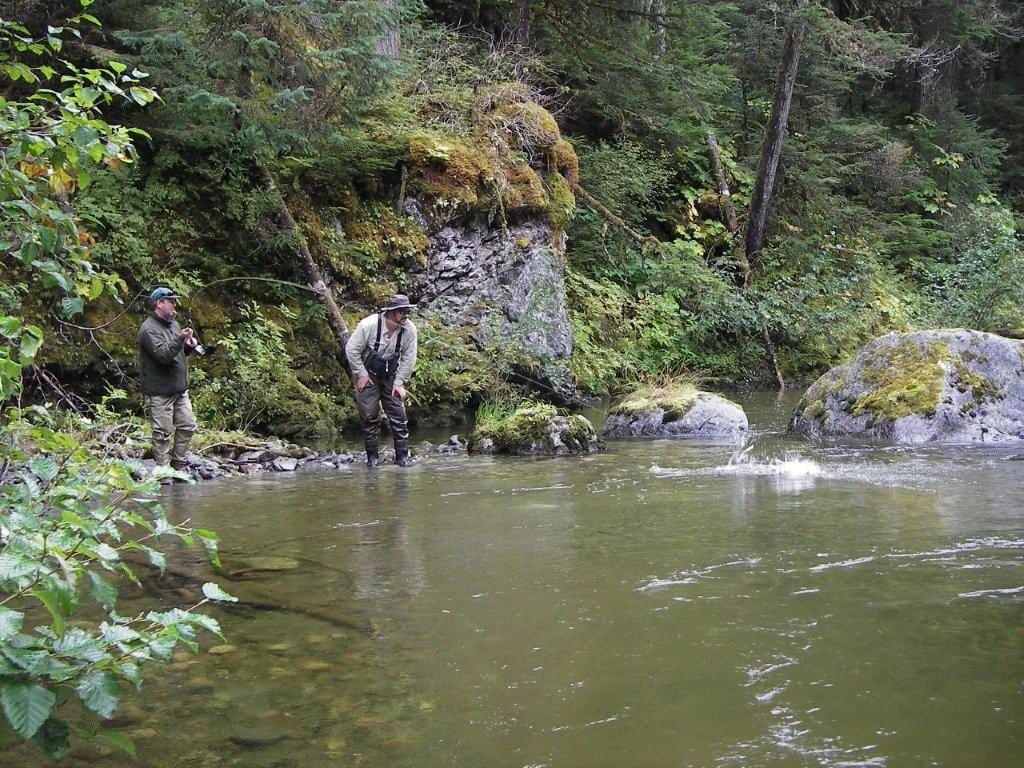 Soon we came to a lovely pool with a tight neck opening to a slow pool below. I started at the top end with a large Elk hair sedge, while Alistair went with Dustin further down and began flicking a fly out to the cliff face. There was a small hatch of olive coming off and the odd fish was rising to them. Dustin changed Alistair's fly to a "Copper Wulff", one of his own patterns, which Alistair covered a rise with. The fly skidded across the surface and about half way across a steelhead of about 10lbs came crashing out after it. I had a perfect view from where I sat and I was enthralled. He cast out again, and as the fly skittered downstream below the large boulder they were using as cover the fly disappeared in a ring and the line went tight. A small electric charged fish came out of the water as it felt the hook and battle was joined. On light tackle and in the confines of the small stream the fish tore around before Dustin deftly landed it. Alistair's first steelhead and on a dry fly. Perfect. Dustin beckoned me over and I joined them.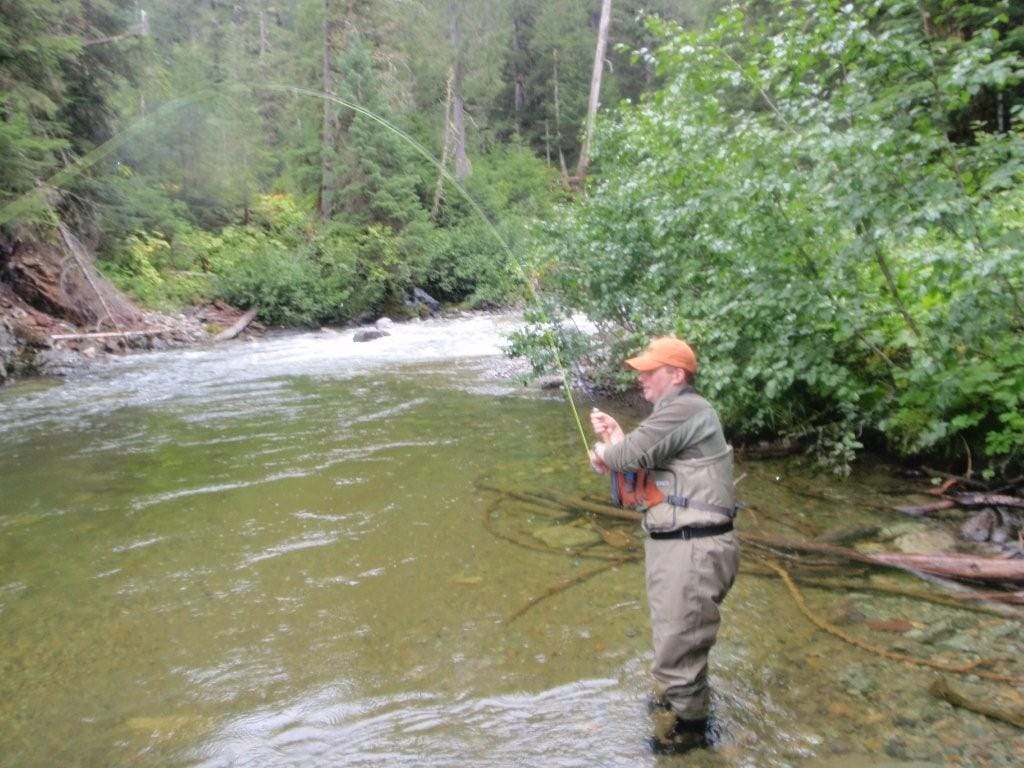 He put one of the same flies on for me and after a couple of misses I too was stuck fast to an angry steelhead on dry fly. It is one of the most enjoyable ways I think I have ever fished for them, and to see them come up and hit a dry fly is incredibly exciting. Both Alistair I moved a couple more, but failed to connect. We moved down stream to a couple of further pools, but did not succeed in landing anything further apart from a few more beautiful little wild rainbows. Alistair did hook one more on a black leech, but it threw the hook in mid air. We hiked back up stream and had one more crack at the same pool we had caught fish in. This time I was going to try an upstream dry fly. I put the fly up and over a white rock that I could see clearly in the current and saw a grey shape dart across. The fly travelled a little further before there was an eruption from underneath as the fish came bodily out of the water to crash the fly. I struck, but too early and pulled the fly out if its mouth.. gutted. To catch one on a dead drifted dry fly would have been fantastic. The rain had settled in by now, and the light was beginning to go so we began the hike back up to the truck and home for dinner. What a way to start!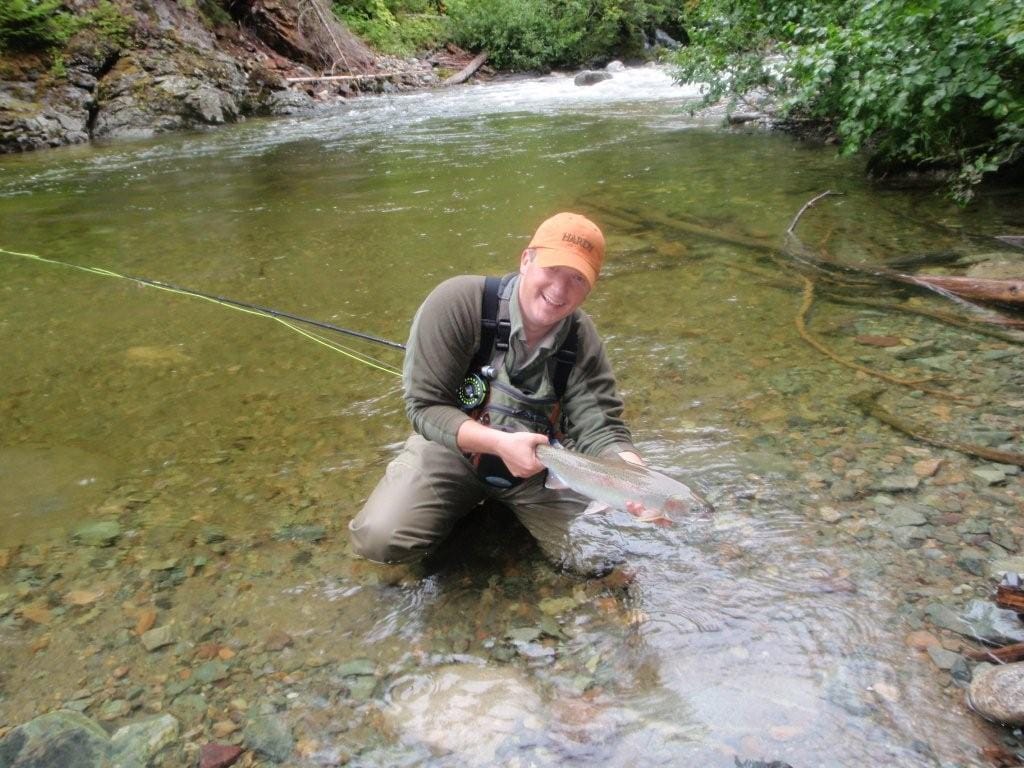 When we arrived back at the lodge Alf already had a delicious dinner on the table, and Jonathan Paterson had caught a lovely 12 lbs Coho from the main Skeena opposite the mouth of the Kalum River. Many of the rivers had suffered a little from some heavy rain last week and were looking a little dirty. However, the weather for the next few days was better, so we are hopeful we will see the Kalum and Kasicks in better form, and hopefully the Copper will come good in a day or so.