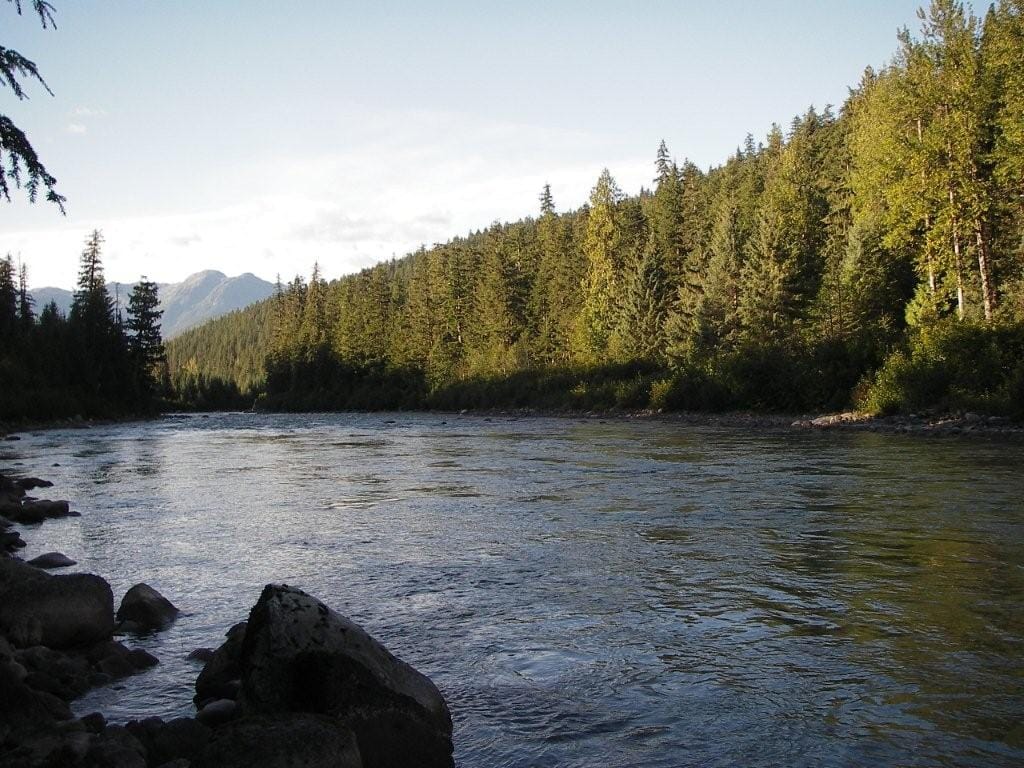 We had breakfast at 0600 and scrambled out the door early as the weather was looking very promising. Alistair and I were to head to the Copper River today and I was excited as this was where I had caught my 18 lber the last time I was here.  The drive up took about an while, most of it on logging trails and avoiding logging trucks on their way down. We packed up the gear and started hiking down through the woods and some fairly thick foliage. After about 45 minutes and some rather hot and sweaty walking we finally popped out onto a stunning pool with the sun still pushing down the opposite hill. It was a little cool in the shade, but I decided to try a waking fly and fish on the surface.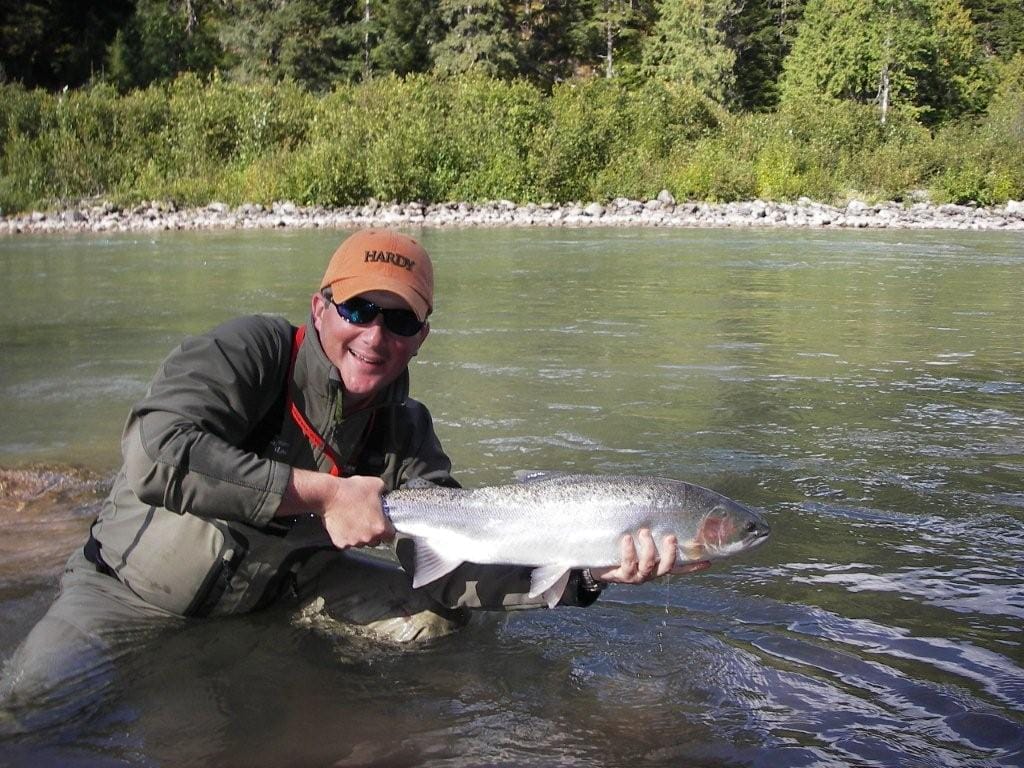 The fly glided round beautifully, leaving a little V-wake like a hitched tube fly until it was almost directly below me and moving between two rocks that had created a little tail. There was a faint dibble and the fly disappeared.. I was too late on the strike. A small bull trout. I cast the 13' Hardy Angel again and as the fly came over the same spot a fish tore out of the water showing its crimson flank and grabbed the fly before careering across the pool. I cranked the line in until the fish was below me, but he had other ideas. The steelhead went through a head shaking frenzy before launching itself into the air again and the fly came unstuck. I was left feeling slightly shaken, but now very awake. Dustin patted me on the back before heading up to where Alistair was at the top of the pool. I finished the tail of the pool and connected with another fish, a bigger one this time of about 14lbs which again charged off across the pool, tail walking and cart wheeling. After a few minutes it too became unstuck. I was beginning to feel a little disheartened. Again I cast into the tail of the pool, this time with a pink fly with a bead head, and as it came down in front of a large rock I connected again. This time I eased up a little and I managed to finally bring one to the bank, A lovely hen steelhead of about eight pounds.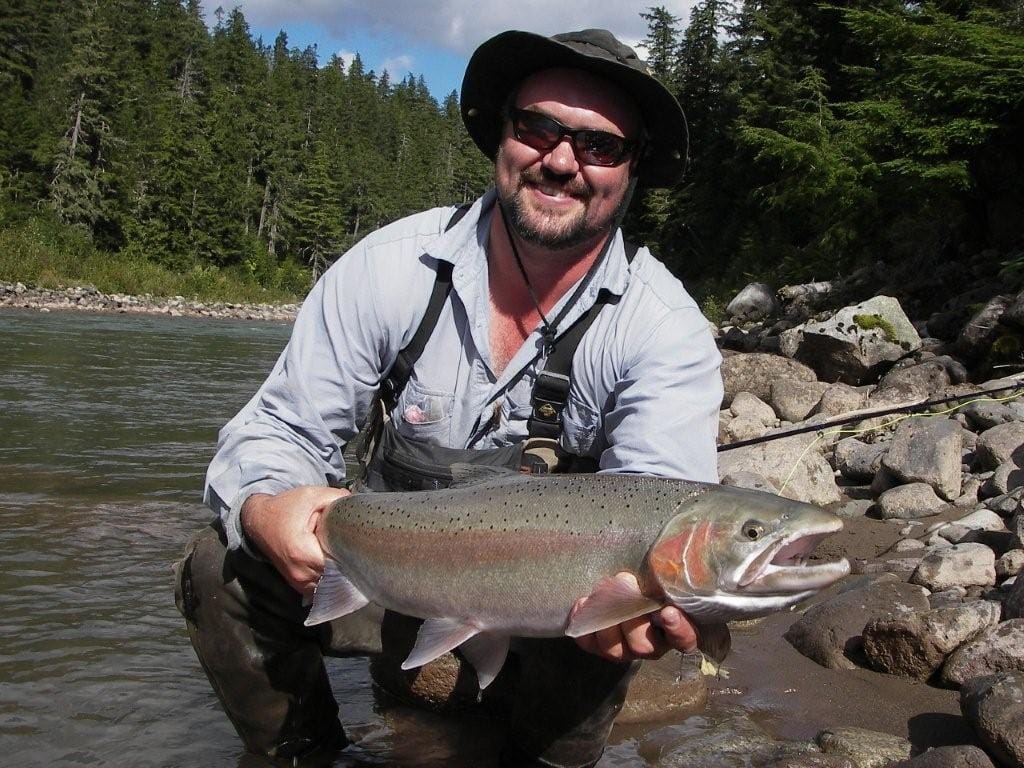 Alistair then yelled that he had just hooked and lost one that chased his fly across the pool. He changed his fly again and cast in between two large boulders and was rewarded with a rod wrenching strike from a larger fish that began to crash around. After about 15 minutes he brought it to the bank and Dustin managed to grab it in his bear paw. We taped it at 33 inches long with a girth of 20 18 inches and estimated it at 17 lbs. Alistair's best fish to date and he was beaming.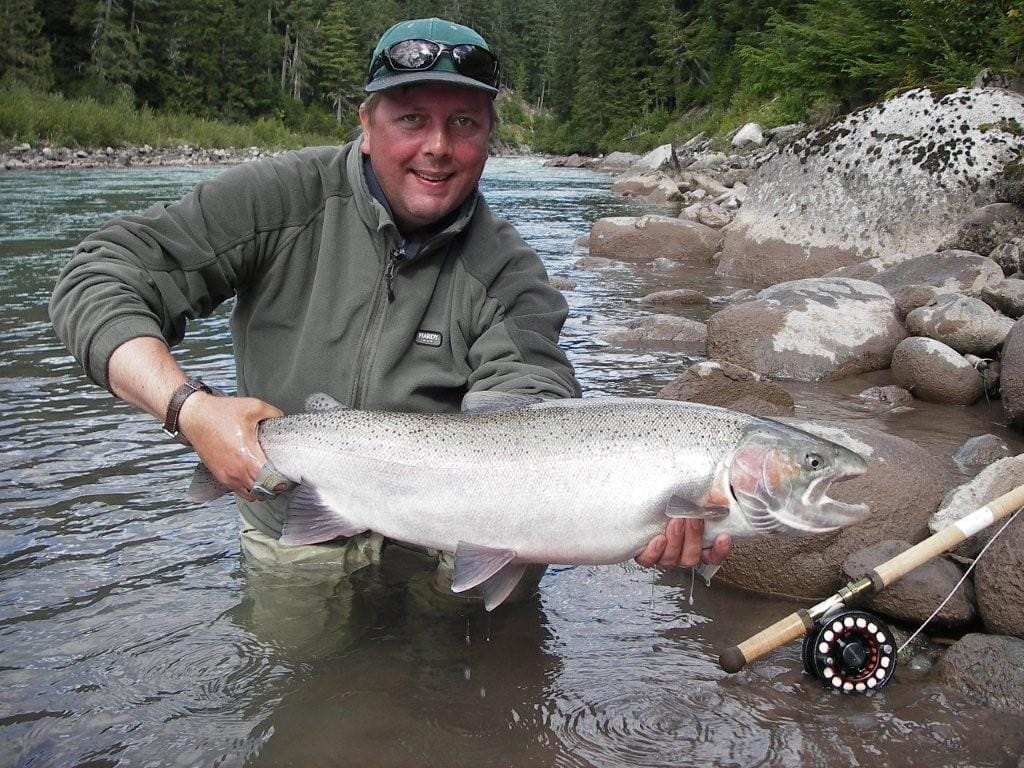 As the sun began to hit the water on the opposite side we noticed a hatch of insects and small sipping rises going on over there. Dustin began to get very excited and explained those were steelhead taking green drake Mayflies, and e might have the opportunity to catch them on upstream dry fly. The thought was mind boggling, and this is one of those very rare phenomenon that one reads about. The three of us linked arms and waded through the heavy water at the tail, and set up the single handers that we had brought with floating lines and some Elk Hair green drake Mayfly patterns that Dustin had tied he called the "Copper Mayfly". Alistair was up first, and almost as soon as he stepped into the water a fish rose above him. He was in his element as he cast upstream and dropped the fly a foot above its head. A nebb rolled over and inhaled the fly and he struck. Normally one would think this would be some small trout, but this was a 9 lbs steelhead that went ballistic. He did managed to pull it down the pool so as not to spook the others rising freely up the bank, and after a hysterical struggle through the rocks at the tail Dustin landed it. Awesome. My go.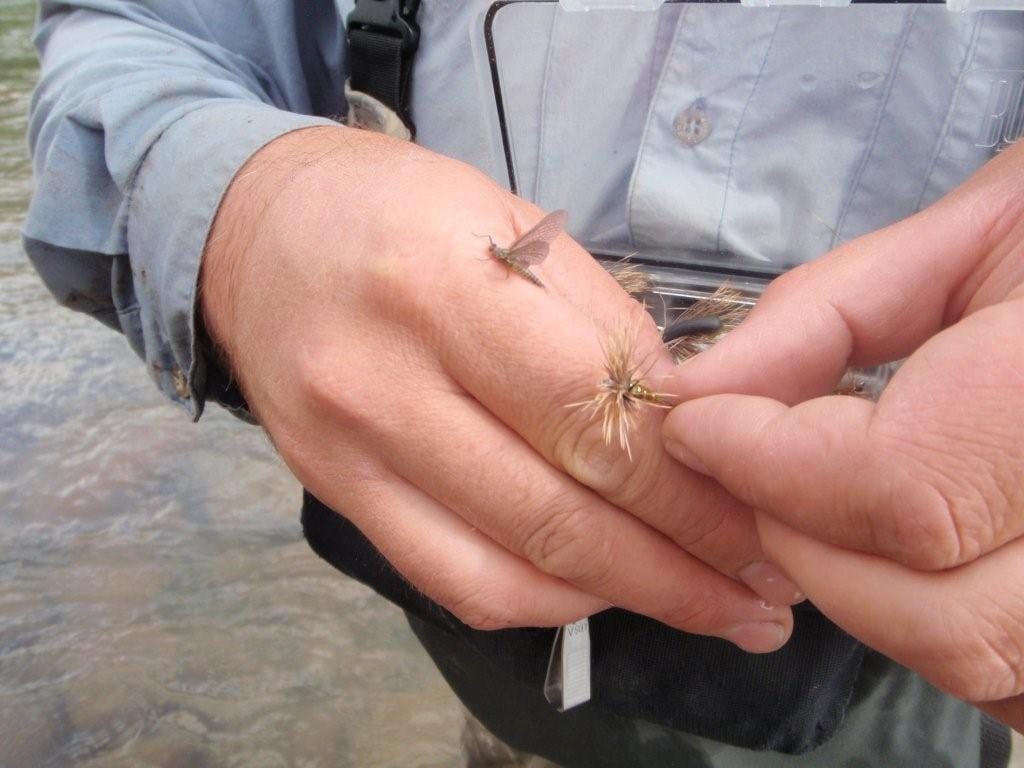 Another fish rose about four feet further up and I cast upstream, letting the fly kiss the surface. The fish slashed sideways and I struck and the steelhead went vertical immediately before again charging around like a tarpon. With the single hander I found it much easier to apply maximum pressure and angles against it. Again, a fish of about 10 lbs. We took another two in quick succession as we worked up the bank, one of Alistair's being 14lbs, which is quite a fish to take on upstream dry fly. We were all slightly in a state of shock that this was actually happening. We asked Dustin to have a cast as well, and he too smacked a nice fish.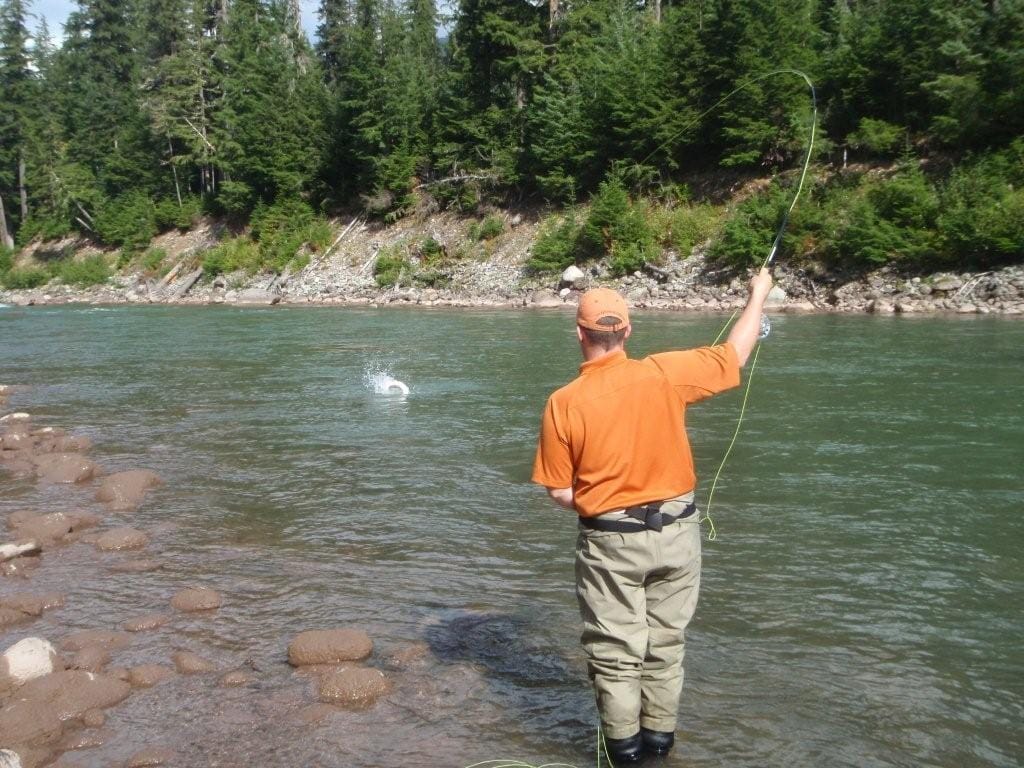 Alistair then tried the Robjent's Daddy long legs, a pattern of his developed for the chalkstreams in the UK which after a little perseverance also produced a cracking fish.  I then turned around and started fishing downstream with the waking fly again, and had a really savage take about halfway down where the fish came bodily out of the water as it hit the fly, inhaling it in mid air! This steelhead behaved more like a tarpon as it charged away from me leaping like a mad thing as it went. A lovely 12 lber. I carried on to the lower part, and flicked it down the other side of a large boil. This fish just rolled up sideways from behind it eyeballing the fly as it came up and sucked it down before going down like a submerging submarine. I hit it hard on the strike and all hell broke loose as it felt the hook. These fish were so angry and aggressive it was extraordinary. It was little like being attached to a raging bull. There was a yell from up the bank as Alistair also connected and unbelievably we were into a double hook up on steelhead. Dustin was just chuckling to himself as he helped land both fish. I should also add this is no mean feat as he does not use a net as all these fish are released. It is a question of gingerly bring them in and trying to get a grip on them which is not easy. If they are laid on their side then they remain calm, but as soon as they are turned upright they go bananas.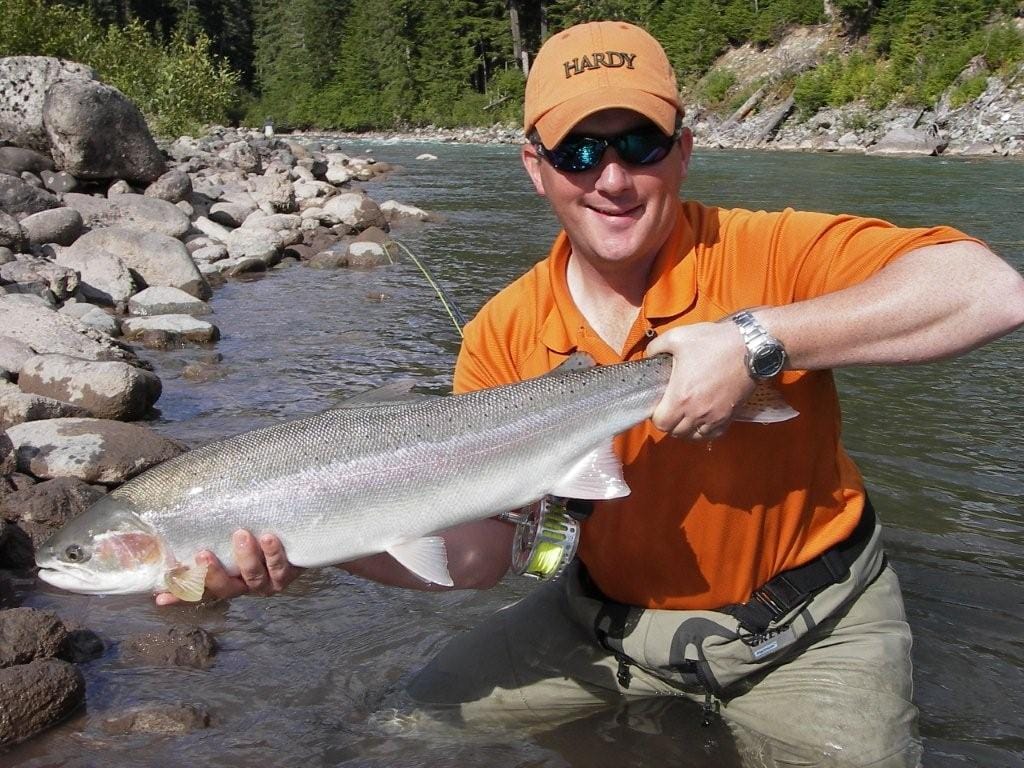 We began to pack up as the day had vanished in a steelhead frenzy. All three of us were not quite sure what we had done to deserve a day like that, but I am quite sure I will never have the fortune to experience it again. Catching steelhead up to 14 lbs three feet from the bank on a dead drift dry fly has to be one of the high points in my angling career. We had hooked 20, and landed 16. We began the long slow climb up to the truck through the woods which was a tough. I was feeling knackered by the time we got back, but it is always in my opinion worth hiking into areas like that. I felt I had worked for it.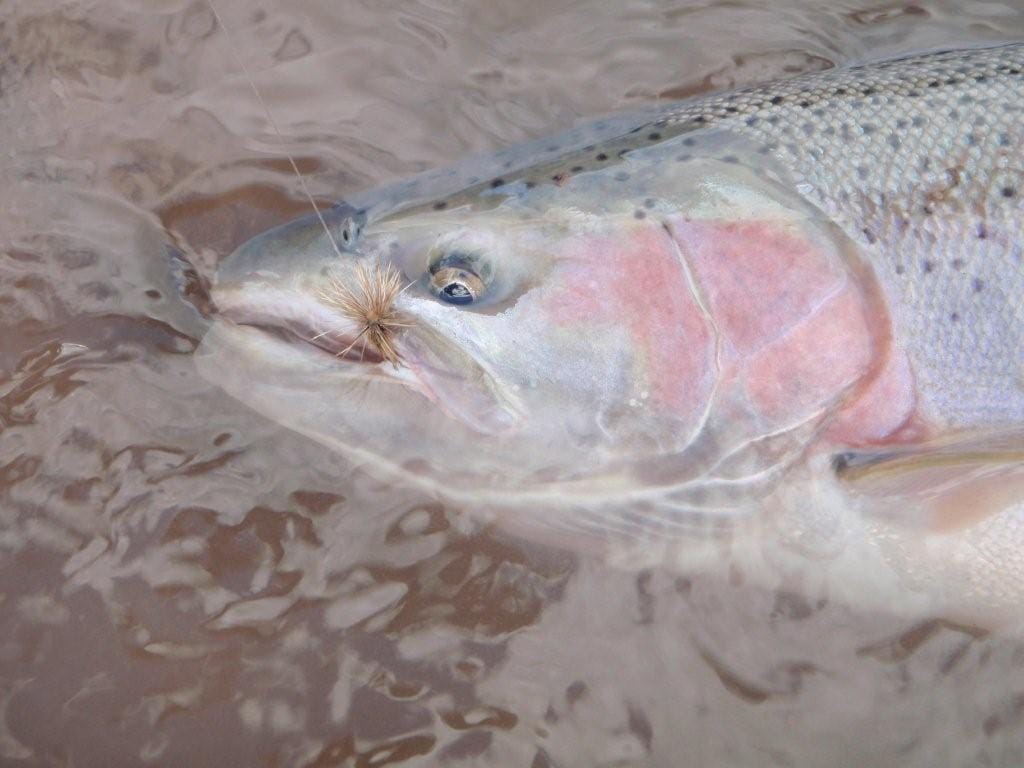 Arriving back at the lodge the other members of the party had also had a good day. Godfrey and Sebastian had taken a helicopter up the to the Copper River above us, and also had some phenomenal fishing with Godfrey  landing three and Sebastian two large fish, with a few others lost. The Sankeys had a tougher day on the lower part of the river drifting as one of the side streams had blown out and coloured the water from them. The Patersons had hooked four on the Kalum and landed some Coho, so every one had action.