Fishing continues to be excellent and we couldn't ask for better river conditions.  Perhaps we were getting a little spoiled with higher than normal water levels since the beginning of the season. The weather's been perfect for fishing, not too warm with regular weekly precipitation. Last week's fishing was great with plenty of fine fish landed including loads of grilse. We're seeing plenty of grilse this season, it's been our best way to predict the following season. When our rivers receive a good grilse run the following year has always been a great salmon year.
For more details please about Camp Bonaventure or Salmon Lodge contact us or call on ++44 1980 847389.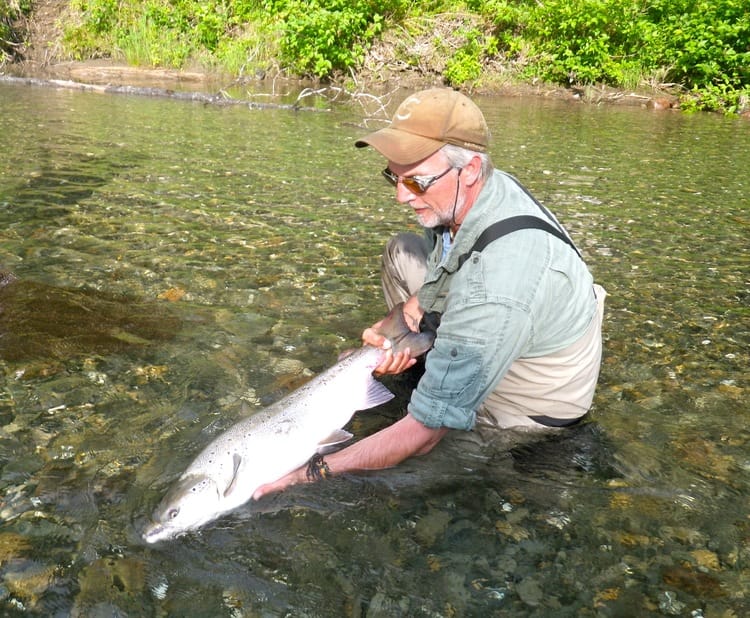 Last week rainfall and frequent thunder storms gave the Bonaventure and Grand Cascapedia a considerable rise in water, just what we needed to keep conditions perfect. The Bony and Grand are flowing at mid-June levels. The Petite Cascapedia didn't receive the same amount of rainfall but just enough to keep the water where we want it for this time of the season. The Petite is still at mid-June flow. Higher water means we're still using our canoes which is making our guides very happy. The ability to travel with our boats allows us to locate fish outside the pools such as smaller runs and in-between pools.
The Bonaventure is flowing at 42 Cubic meter per second up from 30 last week. Fishing on the Bony has been excellent with good numbers of salmon and plenty of grilse landed each day. The Petite Cascapedia is flowing at 24 cubic meters per second, for this time of the season is 12 is the norm.  The Petite is fishing very well, with nice number of salmon in the river and cool water temperatures, we're doing very well on the Peitte.  The Grand Cascapedia is flowing at 30 down from 90 at the beginning of the week, the normal flow for this time of year is in the 12 to 15 range. The Grand has been giving us some nice fish everyday including some to write home about!
The hot fly's for the week have been a mixture of dry's and  wets.  With higher water levels we are back to using no 4's and 6's and some bigger spey fly's as well. In the wet fly department the Black Bear, John Olin, Green Highlander, Nagli and McPhail Piglets were the big producers. The Green Spey and Grey Heron were responsible for a few nice salmon as well. Dry fly's continue to be the flies of choice with our regular line up of Green, Dark Brown and Blue. . The sizes that are working best are number 2's, 4's and 6's.
For more details please about Camp Bonaventure or Salmon Lodge contact us or call on ++44 1980 847389.