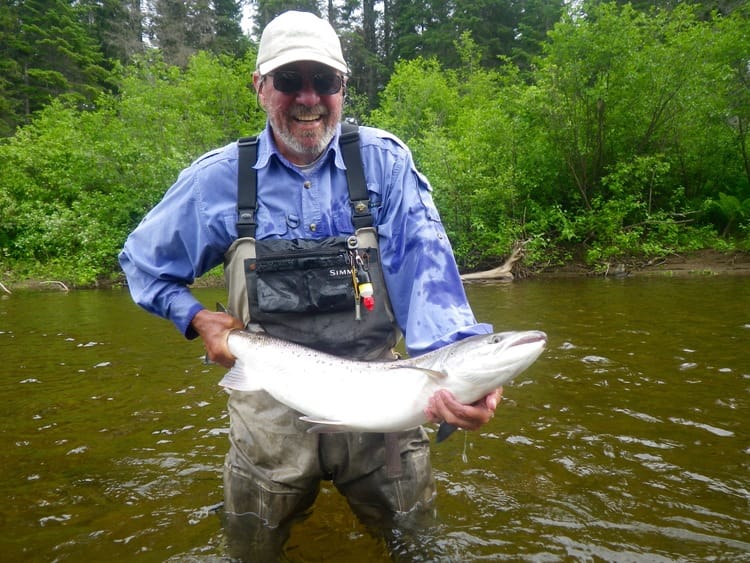 What more can I say, great conditions and great fishing and very happy guests. This past week was a the perfect week to spend at a salmon camp. Our salmon are plentiful and our anglers are all happy, catching fish and having a wonderful time.
June was a very rainy month and our water conditions remained slightly above normal which was great for fishing. So far July weather is closer to what we are used to seeing and our rivers are beginning to flow at normal levels for this time of the season. Water temperatures have risen a bit over the past week and we're beginning to catch a good number on dry's, always a favorite especially in crystal clear water.  We have fish in all our high and medium water pools and the numbers are increasing daily. Every evening we've been seeing good numbers of fresh fish jumping in our pool in front of the lodge, fresh silver bullets on their way up river. The new moon on July 15th will give us the high tides and bring our next major run of fish.
The Bonaventure is flowing at 23 cubic meters per second, perfect for this time of the season. The levels and water temperatures are excellent.  The Petite Cascapedia is flowing at 18 and fishing very well. The Petite saw a nice run of fresh salmon during the high June tides . Most pools on the pools are holding fish and the water temperature and levels are perfect. Our guides have been floating the upper sections and are seeing some huge salmon. The Petite Cascapedia is our smallest river but the fish are huge!  Fishing on the Grand Cascapedia continues the been excellent, the flow rate is at 33 after a bump in water levels this week.  Like the Bony and the Petite water levels and temperatures are great.
Flies of choice are a mixed bag, wets, dry's and tubes  are all working well. Quoting one of our guides "with all those fish, one of them is going to bite" Free floating dry's have taken the most, Forest Green, Dark Brown and Blue Bombers  in sizes 2, 4 and 6. In the wet fly department, the Silver rat, Undertaker, Blue Charm and Green Highlander have been doing very well. Some of Davie McPhail's new piglet patterns are really working, these are new patterns we received this year and are big performers. Wet fly sizes in 4, 6 8 is the best choice. Medium and small tubes in various patterns are also a good choice.
So far this has been a great season and comparable to 2011 when our rivers were full of fish. One never knows what each year will bring. One thing is certain, every year we've experienced a good grilse run, the next year has always been a good one for salmon. We have plenty of grilse!