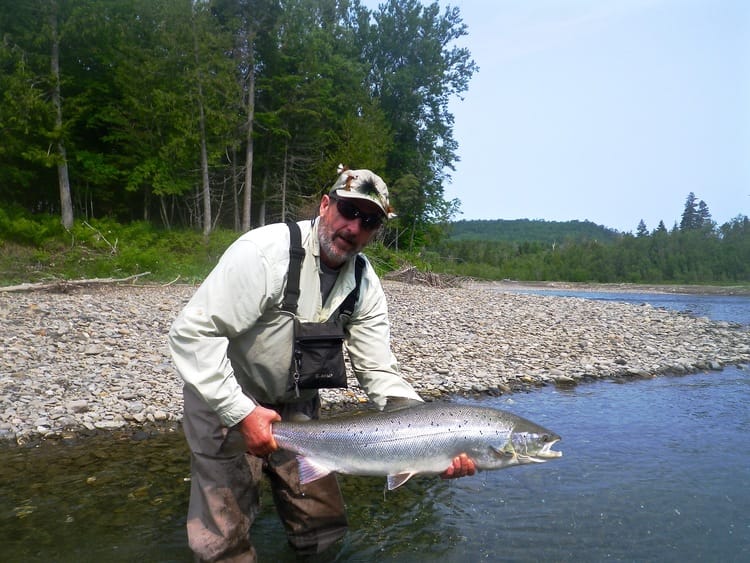 Rain, rain and more rain, we couldn't be happier! The weather man has been kind to salmon fishermen.  Normally at this time of the season we're praying for rain and cooler temperatures, not this year. Regular precipitation and cooler weather is keeping our rivers in excellent condition.
The Bonaventure couldn't be in better shape with a flow of 32 cubic meters per second. Last week's rain brought the Bonaventure back up to early July levels. We are back to travelling with our canoes and the guides are loving it. Fishing continues to be excellent and everyone's catching fish. We are seeing fresh salmon coming in on every tide and our lower pools are still producing fish on a daily basis.
The Petite Cascapedia needed a little rise in water levels and we received just the right amount or rain.   The Petite is flowing at 30 cubic meters per second, perfect for this time of the season. Fresh salmon are coming in on every tide and most of the pools are holding salmon, it's been a great year on the Petite.
The Grand Cascapedia has had a fantastic season since opening day and nothing has changed. Last week's rain moved the Grand from 17 cubic meters to 24  and conditions couldn't be better, cool water and plenty of it. Like the Bony and the Petite the Grand Cascapedia is receiving a continuous run of fresh salmon and fishing is great. The water conditions at the moment should keep the Grand in perfect shape for next week's anglers.
Many patterns have been working well and getting the job done. Before the rise in water we were using smaller fly's and some hitched tubes as well, they were all producing. The patterns of choice have been the Undertaker, Night Hawk, silver Rat and the Black Bear Green Butt. Straight Tubes and hitched tubes are still doing well and were responsible for some nice fish this week. Dries are always The favorite at this time of the season, As always Green, Dark Brown and Blue are the best choices.
The next full moon is on July 30th and the bigger tides begin on the 29th, can't wait to see what the salmon Gods have in store for us.