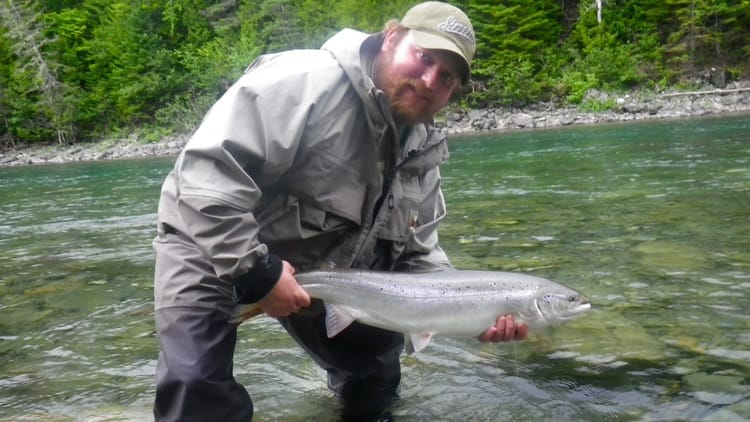 We're half  way through July and our fishing continues to be awesome.  We are having a fantastic season with great conditions and fabulous fishing. When everyone's are catching fish you don't have far to look too far to see smiling faces.
Water levels on the Bonaventure are exactly where they should be for this time of the season running at about 21 Cubic meters per second. The cooler than normal weather is great for fishing and its maintaining our water temperatures in the 50 degree range, a little cooler than normal which is great. Fishing on the Bony has been great since the beginning of June and continues to produce good numbers of fish every day. This week's high tides brought in a good run on every tide and our lower pools are on fire where we've been releasing six to eight fish daily.
The Petite Cascapedia is also doing very well, the water flow is slightly low at about 15 Cubic Meters. The water temperature is also excellent  in the 50 degree range, just perfect. Salmon runs on the  Petite have been great with plenty of fresh run salmon this past week. Along with salmon we have been catching a good number of big trout, some up in the 6 to 7 pound class.
Fishing on the Grand Cascapedia remains excellent, like the Bonaventure we are having a simply fantastic run of salmon on the Grand. Water conditions and temperatures couldn't be better.  The flow is slightly above normal for mid-July running at about 27 Cubic meters per second.
The flies of choice this past week have been a mixed bag,  The guides at Camp Bonaventure told me they were catching most of the fish on Dry fly's while Salmon Lodge guides tell me they were more successful on smaller lightly tied  wets. Mario, our head guide at Bonaventure  says "you can throw anything at them this year, they just want it"  Bombers in Green, Brown and Blue are always working, size 2, 4 and 6 have been doing the job. In the wet fly department, the Undertaker, John Olin and Black Ghost were responsible for most of the fish. Sizes 6, 8 and even 10 are the recommended hook size. Hitched tubes are doing very well, especially when a fish is being difficult.
We are fortunate to have had another great week of fishing. It seems that this year everything is working perfectly. The weather man is calling for five to six days or rain, showers and cloudy weather, couldn't ask for better fishing conditions. Too bad for sun seeking tourists but its got to our turn sometime!