In September 2017 Steffan travelled to Canada to visit both Camp Bonaventure and Salmon Lodge in pursuit of Atlantic Salmon. He was faced with very low water conditions, but the experience made up for the tricky fishing…
An Atlantic salmon angler tends to be quite a specific type of person. I am not sure if I would categorise the character as patient, optimistic or just downright stubborn. Either way, if you fish for Atlantic salmon often enough and enjoy it, chances are you fall into the same category.
It is difficult not to enjoy salmon fishing even if you're not catching, because the environment in which you usually place your cast is wild and beautiful. Even the casting is fun and a day can be spent honing a particular cast or just playing with different permutations as you progress through a pool. However, the tug is most definitely the drug, and this is what keeps us coming back for more; even if that tug does only materialise one in every thousand casts!

I am very much an angler that fishes the seasons. I am not besotted with one given species and understand that better fishing may be found for different species at different times of the seasons, so will flit between them as the season dictates. I enjoy nothing more than chasing brown trout in the spring, sea trout in the summer and then salmon as the mood takes me. However, it is the autumn when the salmon get my full and undivided attention in earnest, as by this time the trout and sea trout have had their fair share of action.
Swinging a fly for salmon is always full of anticipation and expectation. You never know when the line will draw tight and all those fruitless casts fade into insignificance. It may have been hours or even days since it last happened, but that one fish resets the clock and optimism levels are boosted once more.
We lack the clarity in our waters to see the salmon, which adds an extra air of mysticism to proceedings. Experience or reading the river tells us where we should be placing our cast, what fly and what depth, but after that we're very much in the lap of the gods. Indeed, our fishing and fishing methods have rather been honed to reflect this, with a searching style being apparent rather than targeting an individual fish.
I once saw an image taken on the Bonaventure River in Quebec, Canada, of water so clear that it looked like the angler fishing from a boat was floating in the air rather than being on the water. My mind instantly began dreaming of what it must be like to see and target individual salmon on such water; seeing their reaction. How they might be teased with different offerings, but also how often the same must occur closer to home. We don't witness the visual aspect unless there is a boil or a close encounter.
When it comes to the great salmon rivers of the world, two Canadian rivers will always appear on the list; the Bonaventure and the Cascapedia. The Bonaventure because of its water clarity, which is difficult to fathom without witnessing it for yourself as it has over 150 ft of clarity – the third clearest river in the world, apparently. Then the Cascapedia for its large salmon, where 30 and even 40 lbs salmon are recorded each and every season.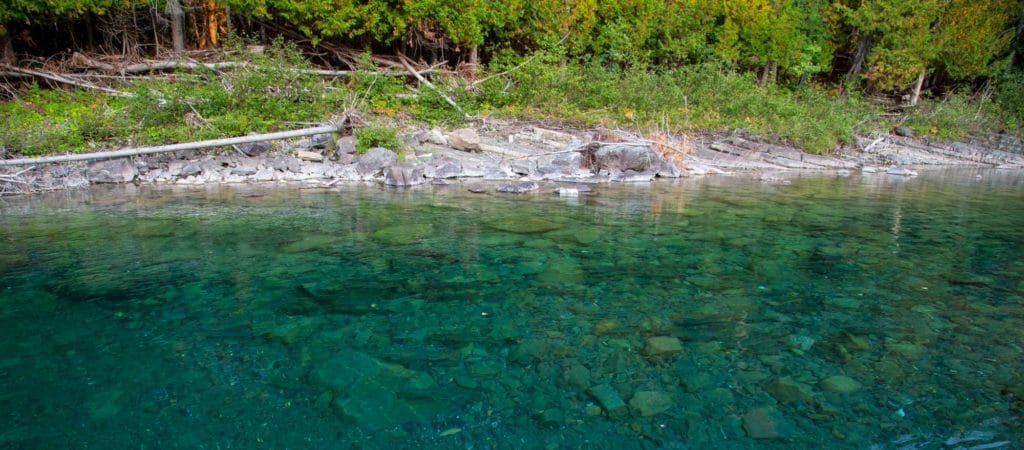 We have represented two great lodges covering these rivers for many years, with Salmon Lodge mainly covering the Cascapedia and Camp Bonaventure covering the Bonaventure. Recently they added a third lodge to their portfolio; Salmon Club, which is perched overlooking the Bonaventure River. Due to this addition, a trip was needed to see this but to also reacquaint ourselves with the other operations too, as a lot can change in a very short space of time.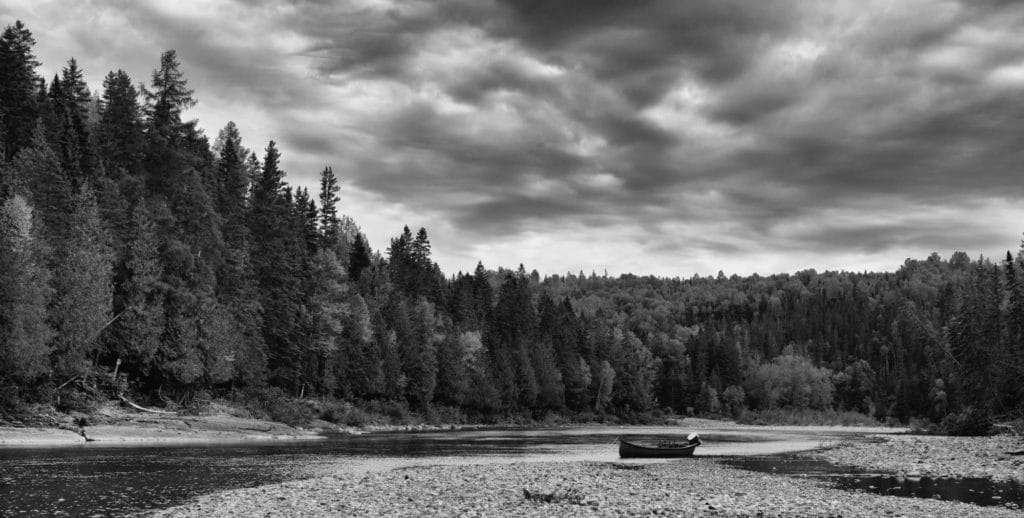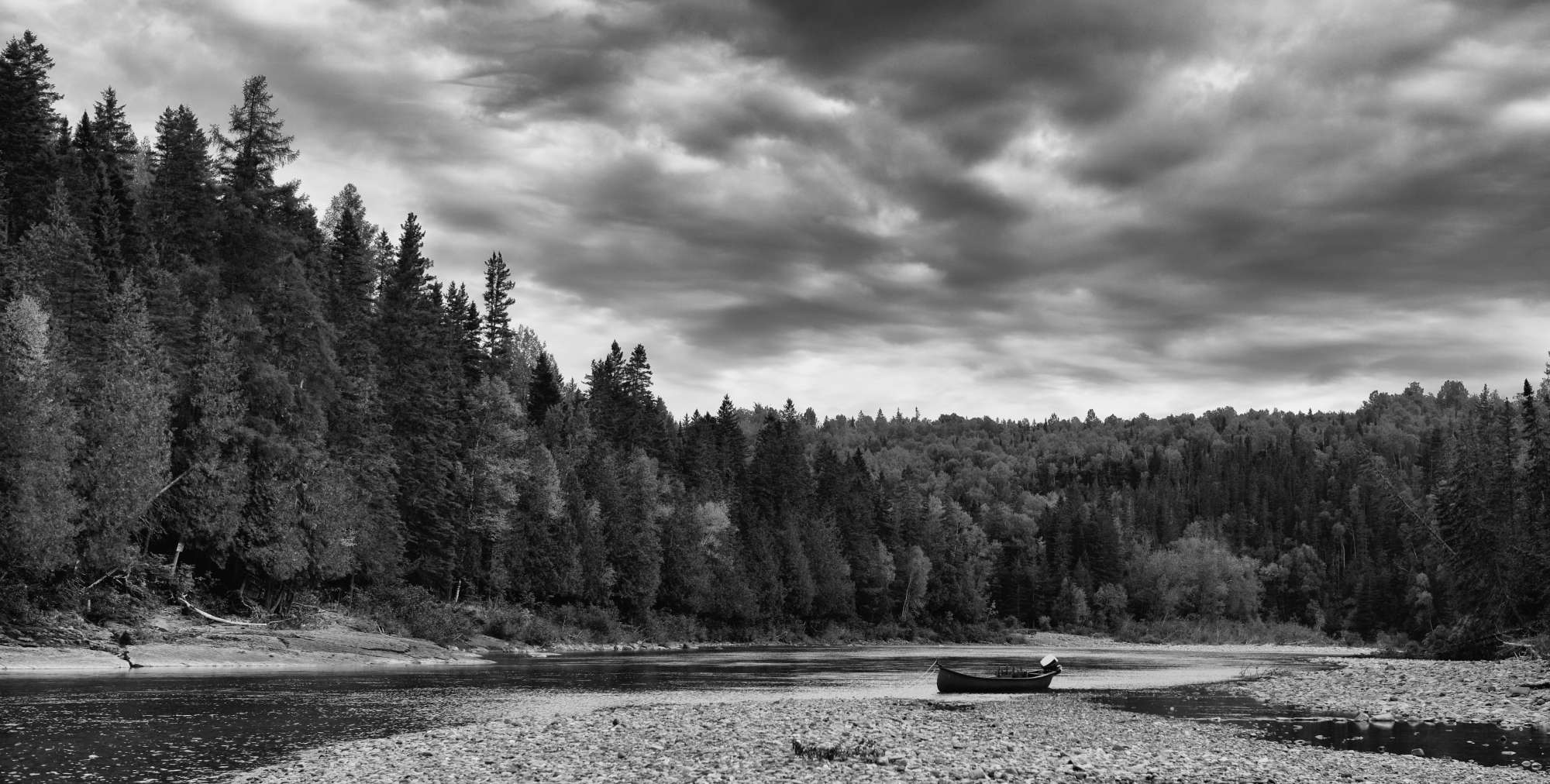 September can be a fantastic time to visit. There are some fresh fish running, but there is a great head of fish that have entered throughout the season too. With the colder weather drawing in and spawning time approaching, such fish will often become aggressive, which makes for great fishing, even if the fish have been sulking on the riverbed for weeks. The colours on the trees are worth the visit alone, as the autumnal hues begin to take hold, almost in correlation with the breeding colours of the salmon.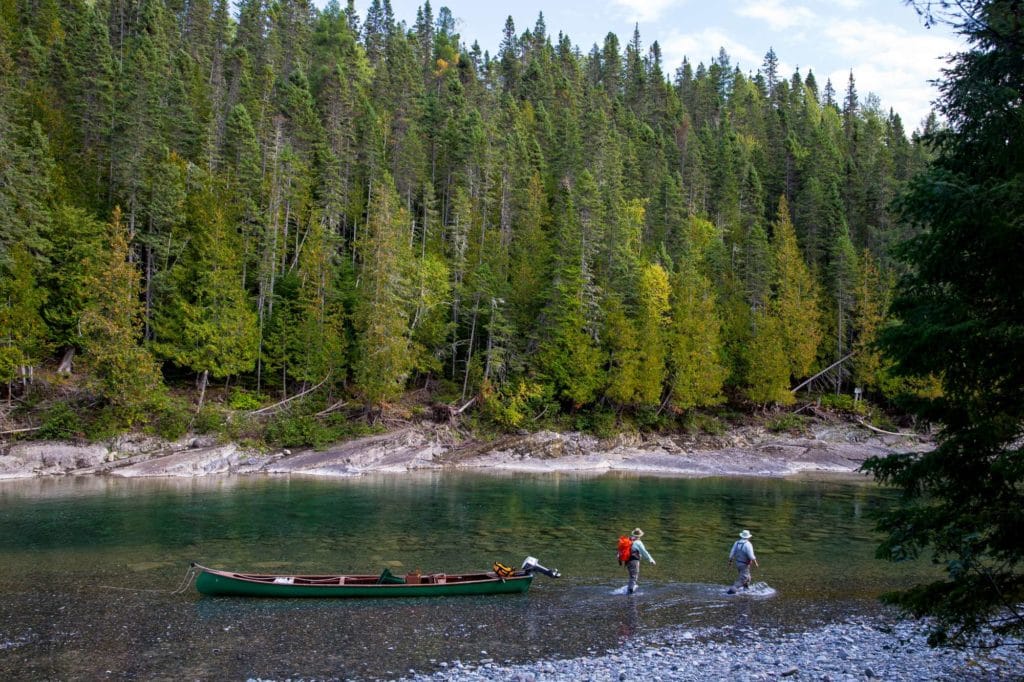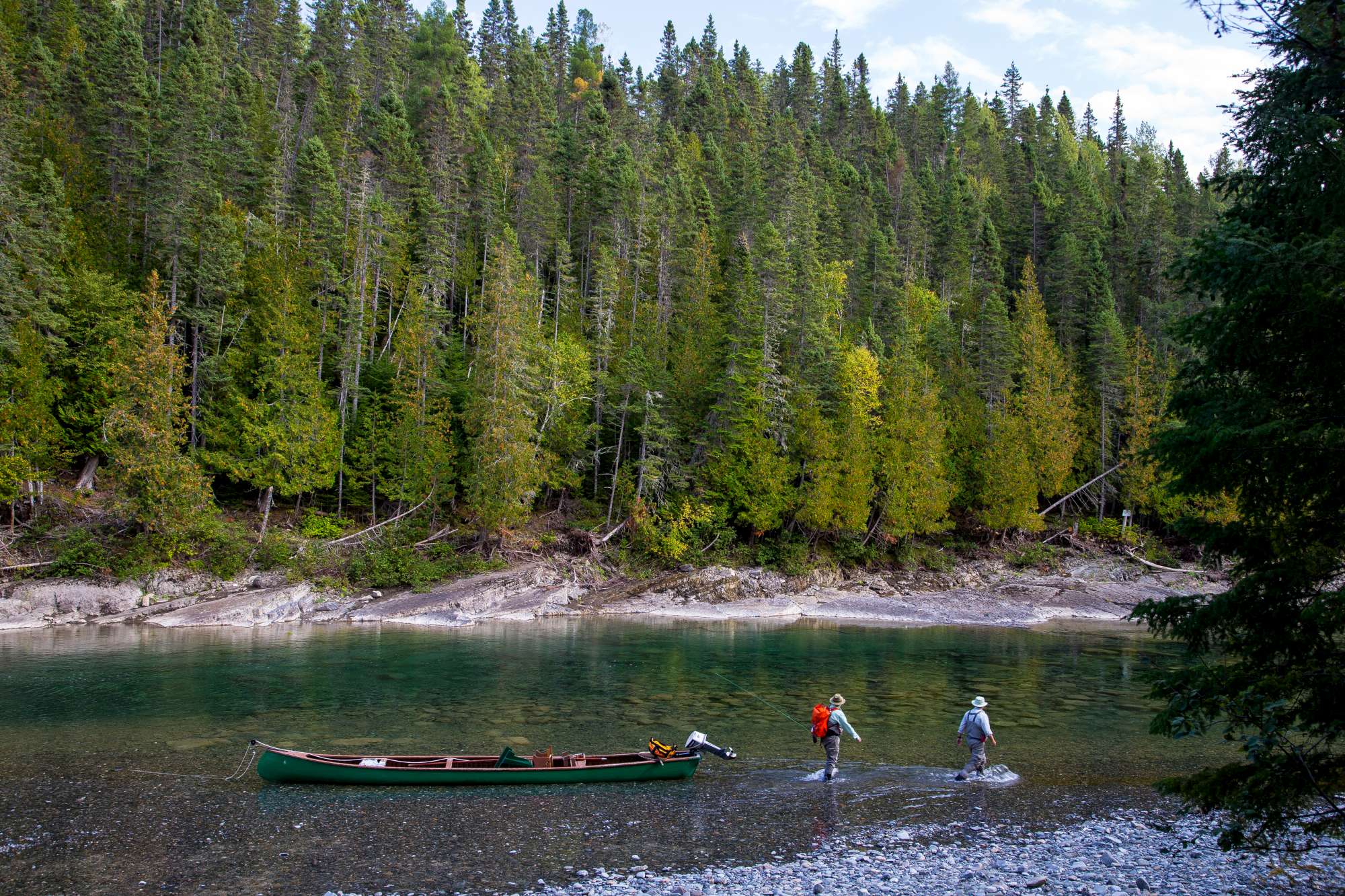 Accessing the lodges is very straightforward. A direct flight to Montreal with either Air Canada or British Airways (7hrs flight time) then a connecting flight through to Bathurst (90 minutes) in New Brunswick the same day. The return leg is the same too, with no overnights needed in Montreal. Perhaps not a bad thing as working off the airport prices in Montreal it is a painfully expensive place! The airport itself is easy to navigate, is of a high standard and is full of excellent places to eat, drink or just relax – a few hours are easily killed, especially given their free wi-fi service. Security is very straightforward too, as long as you have remembered to do your ETA! Do not travel without doing so and we would advise you to apply for it before booking your trip.
Do not expect the same when you arrive in Bathurst, well, except for the free wi-fi anyway. It's a very small regional airport with just a couple of flights a day. On the plus side, it's very straightforward; it would be a challenge to get lost. Depending on your arrival time you will either have a transfer awaiting to take you directly to the lodge or you will overnight in Bathurst; there is an ample supply of taxis outside the terminal waiting to take you to your chosen hotel.
During my stay I had a full day before transferring to the lodge. As such, I chose to overnight in central Bathurst at a Best Western establishment. For those with a short overnight there is the Atlantic Host Hotel, which is located less than five minutes from the airport and is a great choice; it has a decent restaurant so is self-sufficient – a bonus, as it is a further 10 minutes by car to the town itself.
Bathurst is 'different' and this is coming from someone that lives in the wilds of West Wales. As someone who has a degree in Town and Country Planning it left a lot to be desired and did give me palpitations at times. It is really disjointed and has no real heart. I was staying in what was meant to be the town centre, but there was nothing really built around it to indicate that this was the case. It is pretty enough, but a couple of hours would suffice and given a day you will start dragging your heels. The town was built around two large industries; a paper mill and a copper/lead/zinc mine. However, the former closed its doors in 2009 and the latter in 2013. Since then and the unemployment that followed the population of Bathurst has been declining, which perhaps explained why the town lost its heart – times cannot be easy.
If you are there for a day, night or just a few hours there are some saving graces and a walk around the town is nice enough, especially given its waterfront location. I did manage to find a fishing shop, which is owned by a lovely gent named Jack who is all too willing to share his time and knowledge with you. His shop and Jack as a person reminds of Jean Williams' tackle shop in Usk – Sweets; those that have visited will know how unique this shop is, very much how fishing shops used to be. Anyway, do call in to see Jack if you're in town, he will always have an open door for you; www.facebook.com/JacksFlyShop
Transfer time from Bathurst to the lodges takes around 2 ½ hours to Salmon Lodge and 3 hours to Camp Bonaventure. The drive passes quickly and you see some wonderful countryside; there are a lot of trees! You also travel over the Matapedia and Restigouche Rivers, which are notable salmon rivers. These form the boundary between New Brunswick and Quebec, with both lodges being located in Quebec. You will also note the time difference during your travels; Montreal is -5hrs GMT, Bathurst is -4hrs GMT and the lodges are -5hrs GMT. It gets confusing…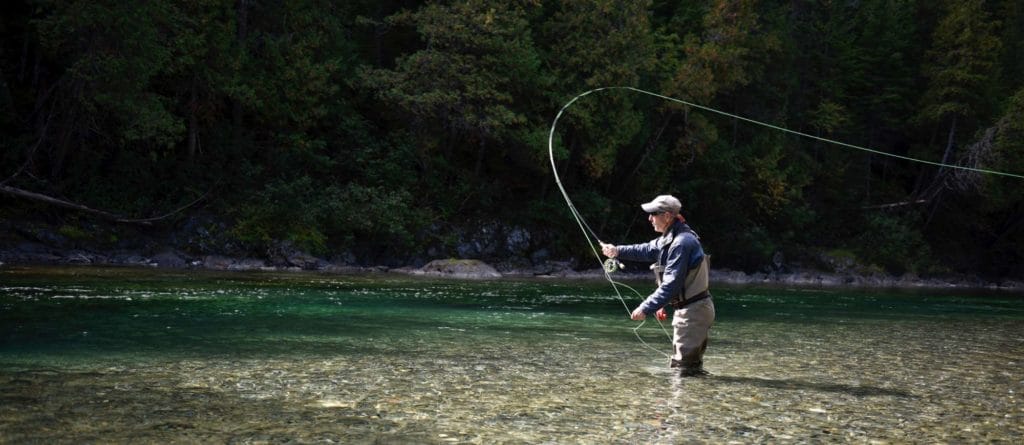 My fishing stay was to begin at Camp Bonaventure. As soon as you arrive at the lodge there is a hive of activity, all surrounding queen bee; Johnny. At the heart of every good lodge you will find someone like Johnny. They are what make the cogs turn. They are present from first light to last light and keep smiling no matter how big the challenges that day, how bad the fishing, or demanding the guests. They don't see it themselves because it comes naturally to them; a lot of what they do is who they are and it cannot be taught.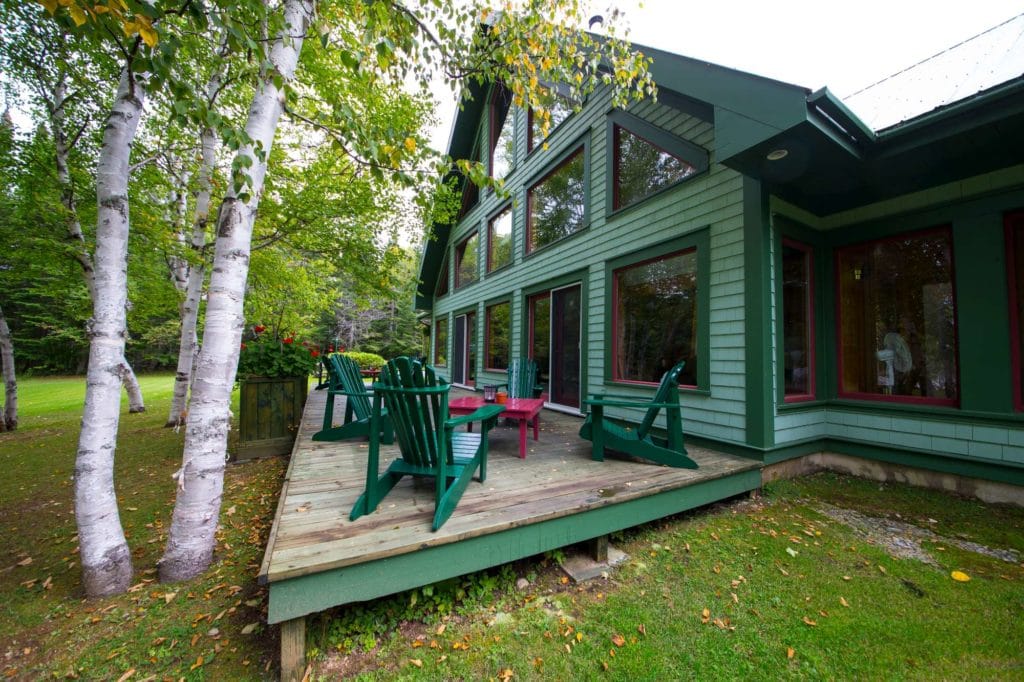 The lodge is homely and you are instantly made to feel part of the family; another sign of a well-run lodge. The location is fantastic; you can venture out onto the decking and view the Bonaventure a stone's throw away. The lounge has a bar area, which is stocked with soft drinks that are free of charge. There is also wine included with dinner, but for those wanting something a little more upmarket, a beer or even a whisky, then you are more than welcome to bring your own or they will stop at a local store on the way to the lodge, which has a fantastic selection. The lodge does not charge corkage.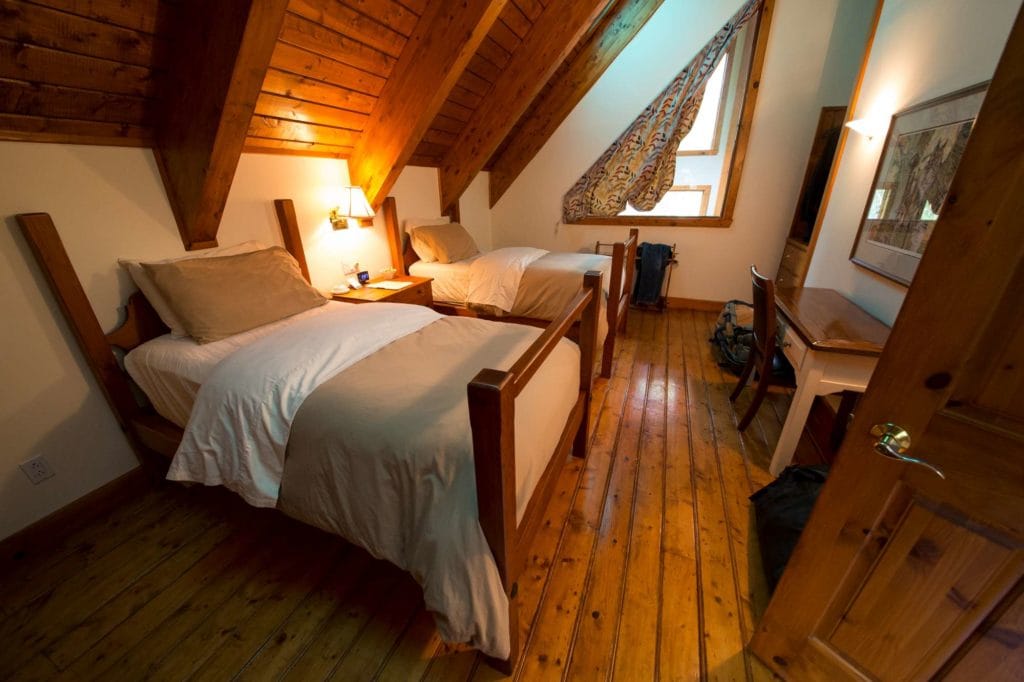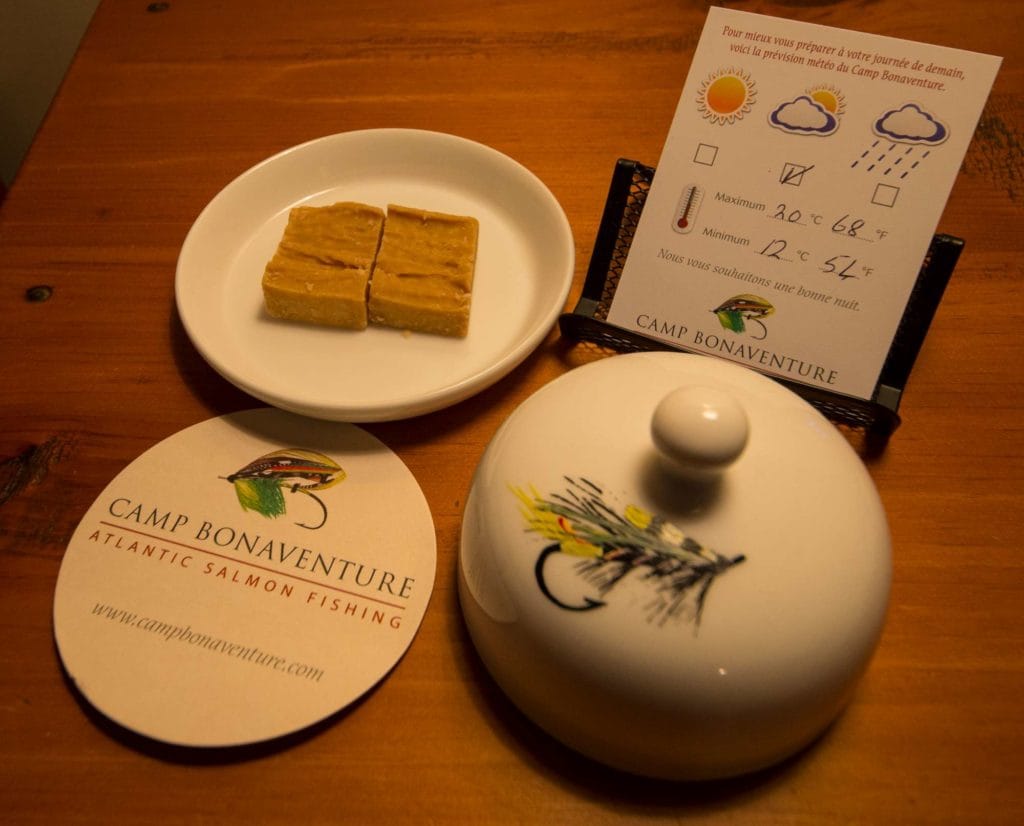 The wader room is bigger than most flats I have visited! They designate little sections of the room for you upon arrival, so that you know where to hang your waders for the week ahead. They also have great rod storage facilities, whereby you can leave your rods erect for the entire stay rather than disassembling each day; the guide vehicles have rod carriers for transport to/from the water. Next door is a very well-equipped fishing shop, stocked with virtually every salmon fly under the sun. They have clothing, reels, leader material and more, so anything you forget can be quickly covered. Truth be known you could turn up without waders, boots and rods/reels and the lodge would fully cater for this to a high standard. Something to consider for those looking to travel light; let us know far enough in advance though to enable us to arrange and reserve this for you.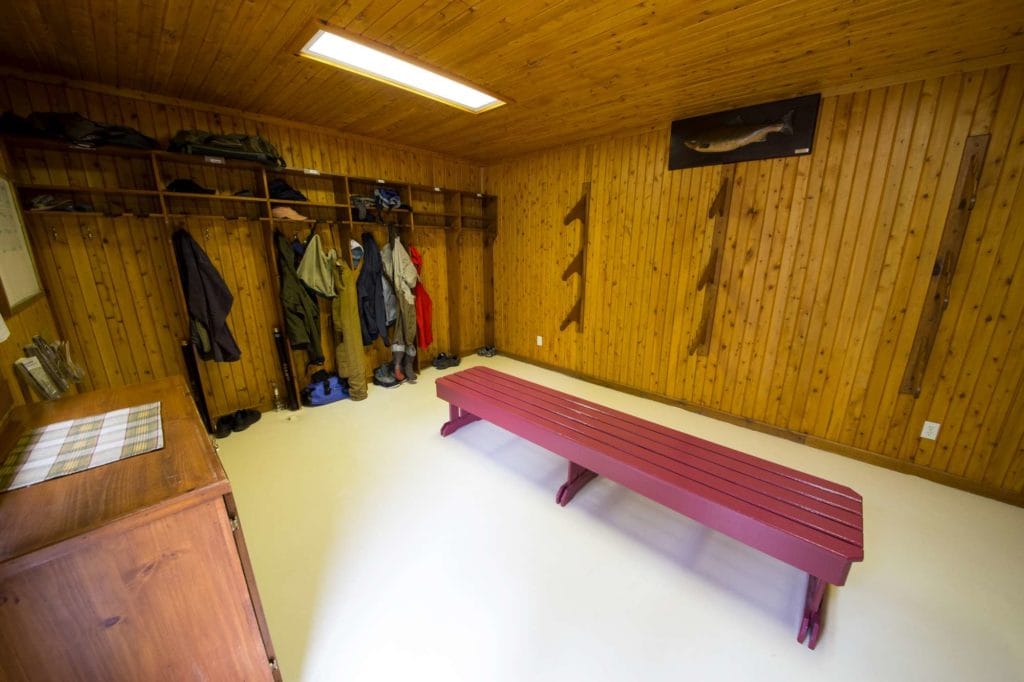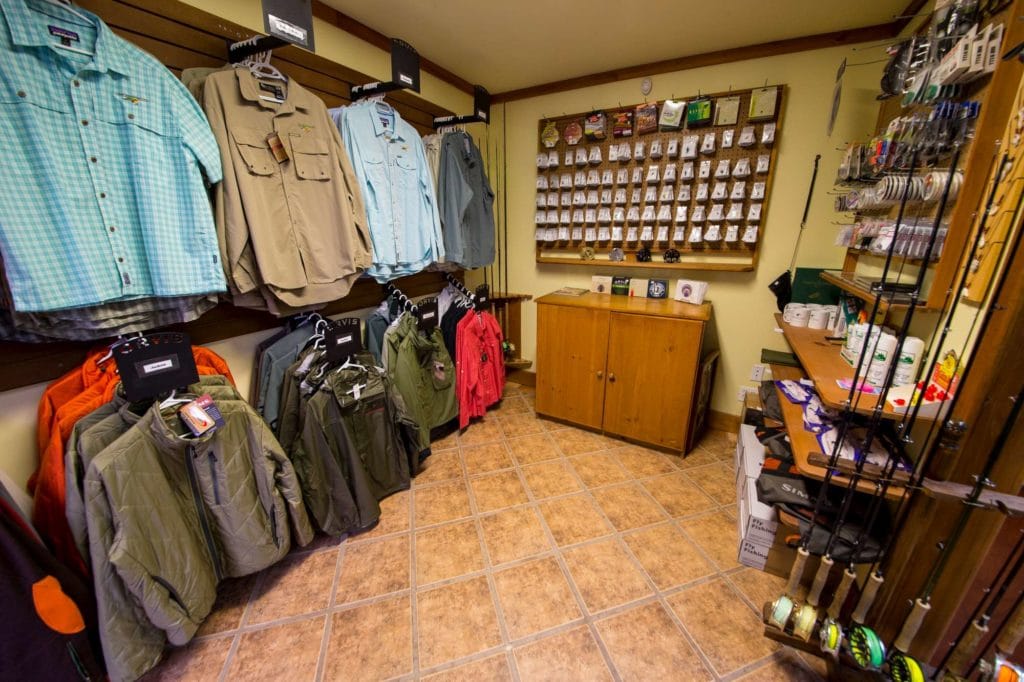 Nothing can prepare you for the clarity of the Bonaventure. I often hear the term 'gin clear' coined, but you understand that is misused or overused when you witness the clarity of the Bonaventure. You can literally count every pebble on the riverbed. With 150ft or so of clarity they would take some counting…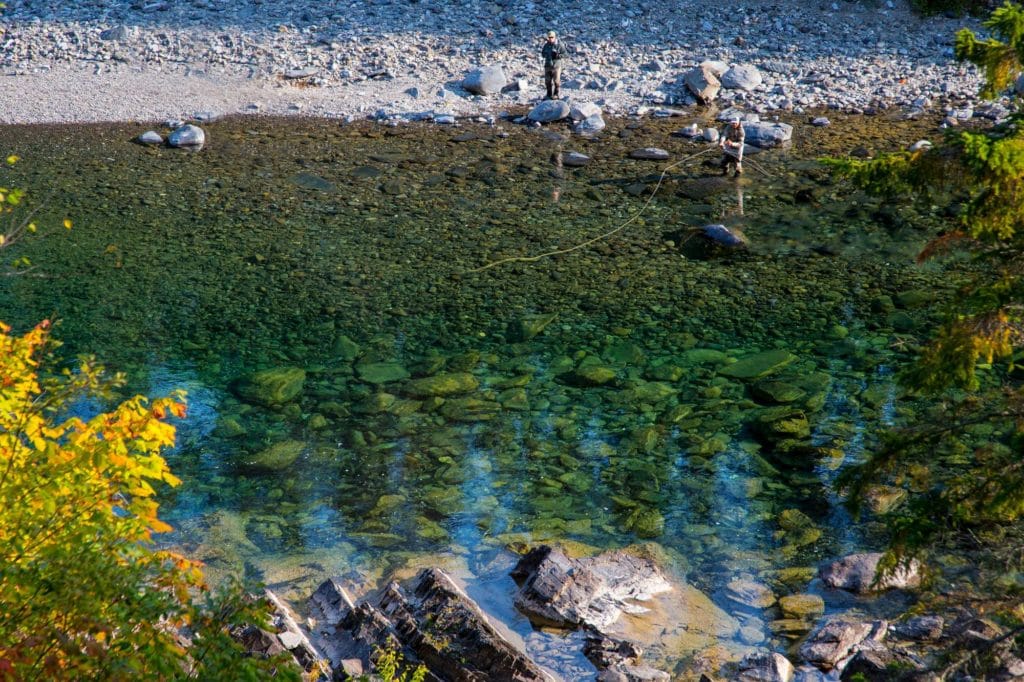 Needless to say with such clarity spotting fish is not really an issue, certainly not in calmer areas anyway if you have an elevated position. This is the attraction; seeing a fish react to your fly is an amazing experience. The other added attraction is that there are very few grilse; most fish are 10 lbs and above, with some of over 20 lbs being clearly visible; the Bonaventure is not renowned for huge salmon, but more big fish are turning up over recent years.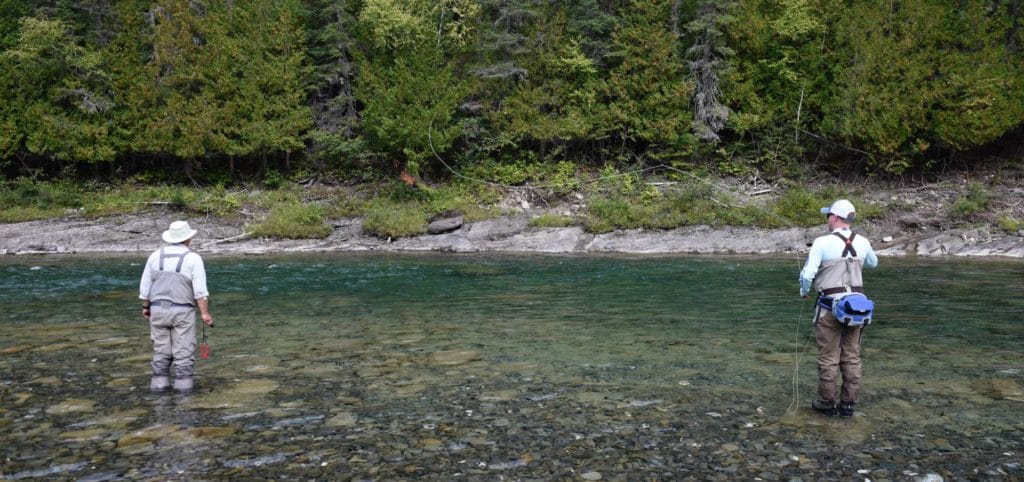 Bomber / dry fly fishing is what makes this area truly unique. Indeed, seeing the salmon first and the style of fishing whereby you target individual fish is more akin to trout fishing than classic salmon fishing. However, the flies are very different and quite specialised. When you first see them you do question their effectiveness as they are totally alien and unlike anything you would have seen or cast to a salmon before. They have, however, been refined over decades so you do well to put your trust in them. These are fished dead-drift too, rather than skated. Indeed, if they do begin to skate more often than not they lose their effectiveness.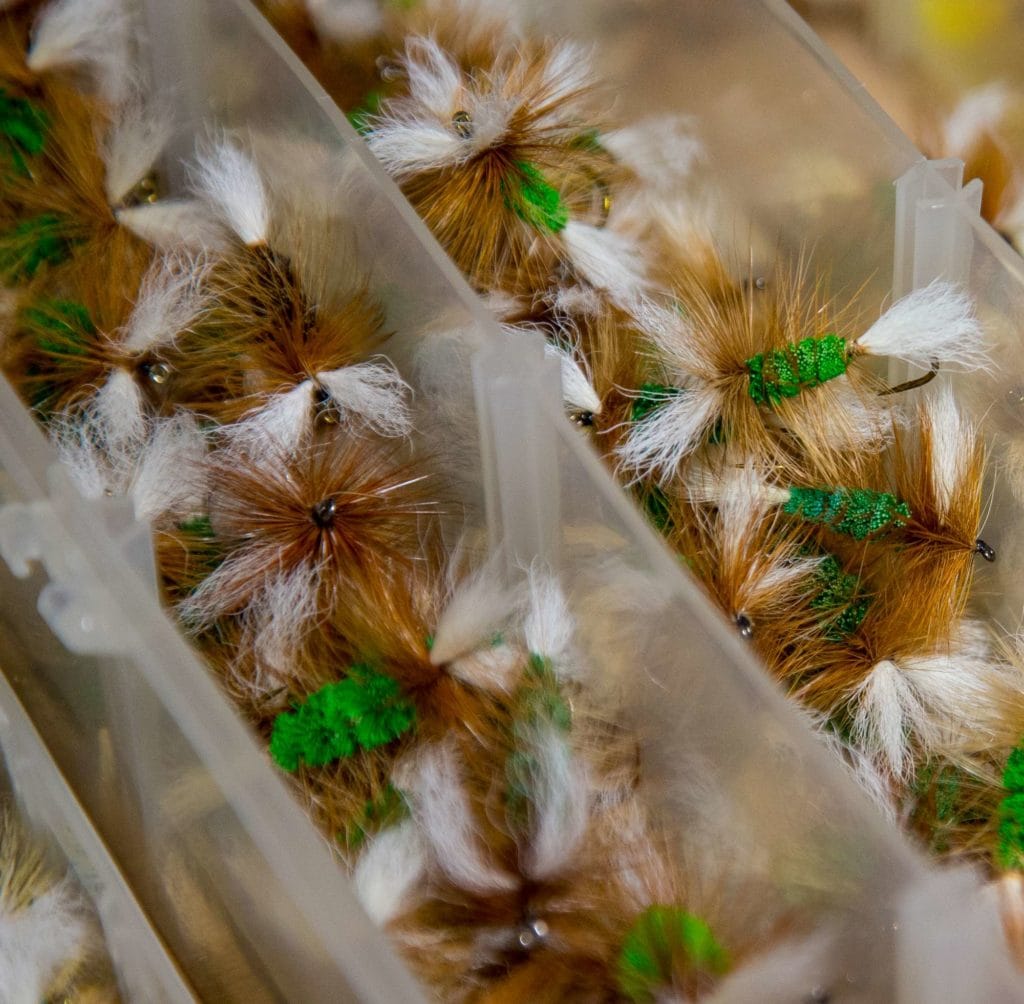 I have no doubt that you could catch more salmon during your stay if you pulled sunrays, red frances or other wets, but you can do that virtually anywhere else in the world. Also, such flies are definitely not as much fun as targeting individual fish with a dry and seeing their reaction; perhaps on the fourth colour change – it amazed me how they would totally ignore the first three bomber colour changes then attack the fourth like a ravenous wolf. The guides will also carry what you need and some will be adamant about using theirs or having a particular tying style; let them indulge in such fine tuning, as they know best.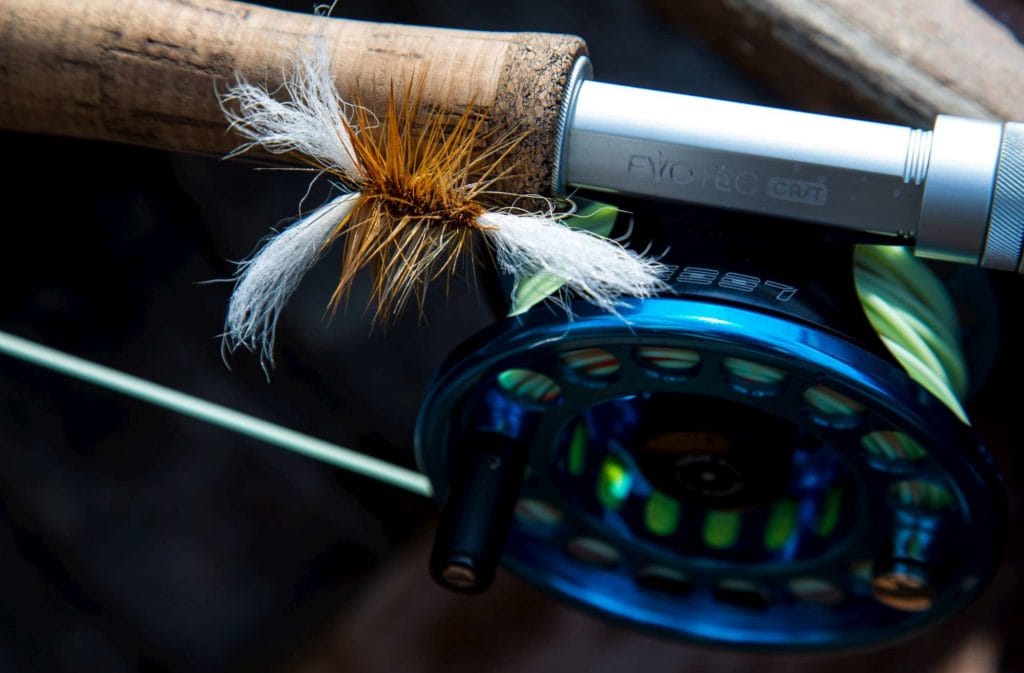 Seeing is believing. To be honest I was really sceptical about a large salmon lifting off the bottom to take a dry, until one did. Its head emerged like a gigantic trout, neatly intercepting and drawing away with the offering. They reject the fly fairly quickly, so as soon as the head begins to go down you must strike immediately. It was fun to then watch the salmon battling in the crystal-clear water, using every rock, stick and obstacle to its advantage; again, not something you can do at home. You learn a lot in a very short space of time and I'm sure lessons are learnt that are applied on home rivers.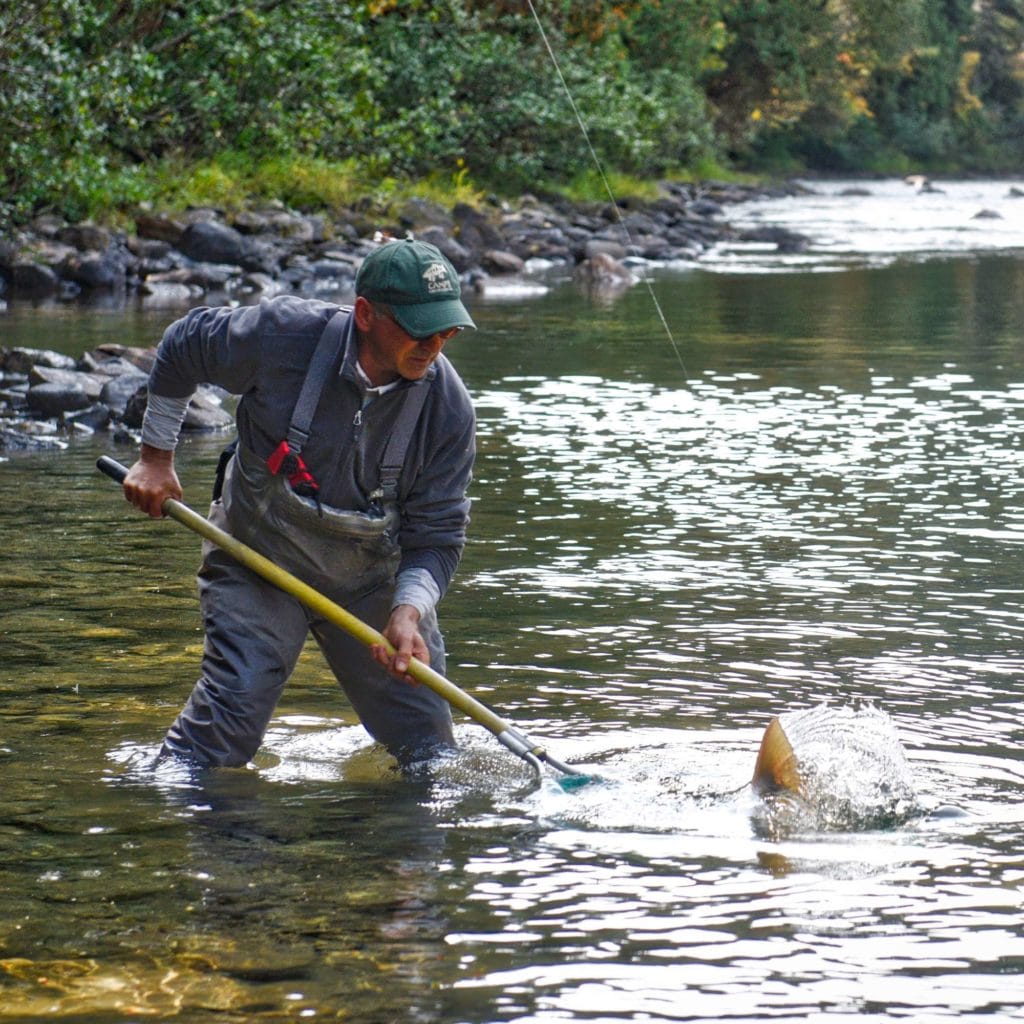 The river was dreadfully low; the lowest levels in 40-50 years in fact. This made the fishing tricky, very tricky. However, there was no doubting that the fish were there as you could see good numbers in most pools. It was not about numbers given the fishing style and good sport was had with very few hook-ups. You could 'work' the same fish for half an hour with an array of bombers, some getting a reaction, others not even deserving a flick of the tail. Sometimes the salmon would lift 2-3ft to begin the interception, only to then sink back down to its resting spot. Truly heart in the mouth moments.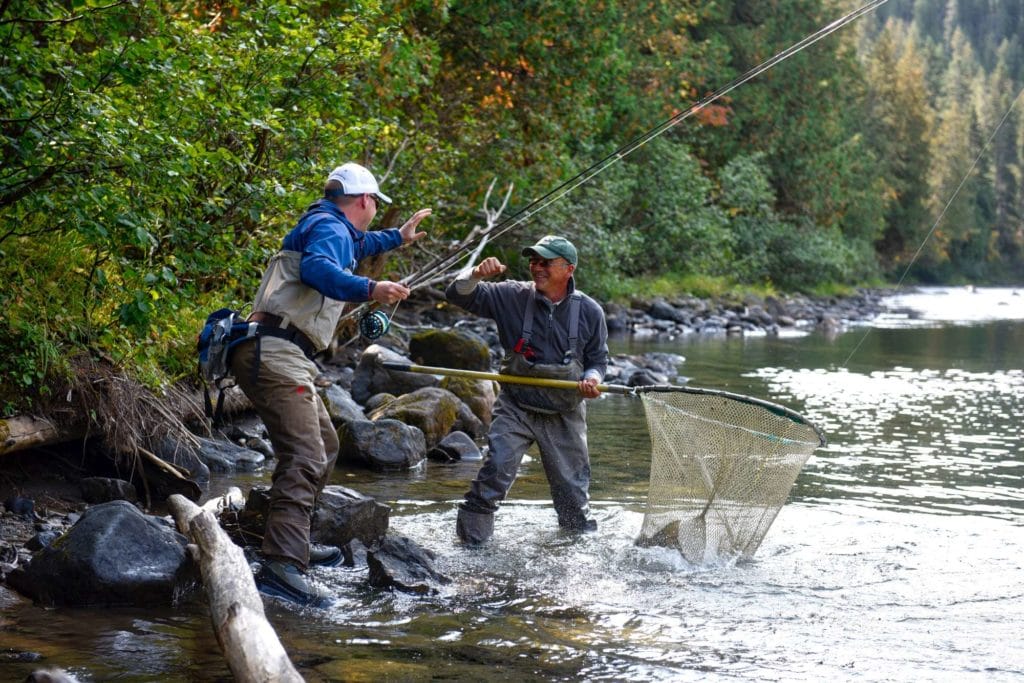 There is a lot of casting! The drifts are short, so it's pick up, couple of false casts then back again. Single handers are best for this and a #7 or #8 is perfect. It is also definitely worth bringing a switch or short double handed rod to swing flies with as they do have a place. They can be easily transported then left in the boat or on the bank when not in use.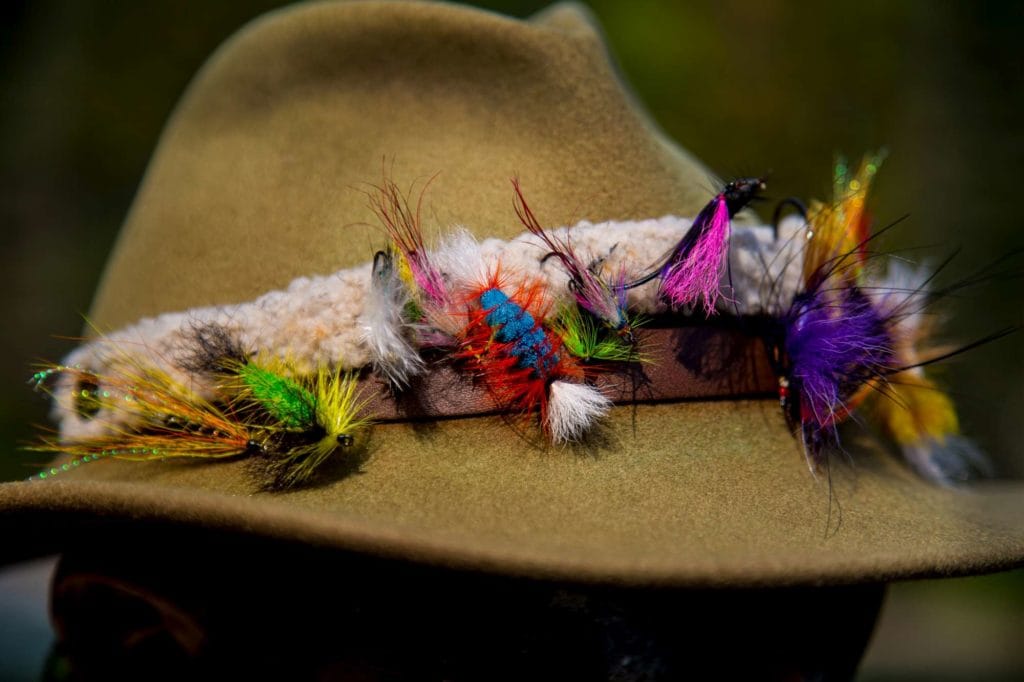 The fish don't really spook, not like I was expecting them too anyway. They sulk and hug the bottom, but don't really scatter around the pool in distress, unlike what I have witnessed in crystal-clear Icelandic rivers. This was a bonus as then they did not raise awareness of our presence to the next fish in a domino fashion. As such, you may spend half a day on one pool – the pools are long – as you work each fish individually and methodically.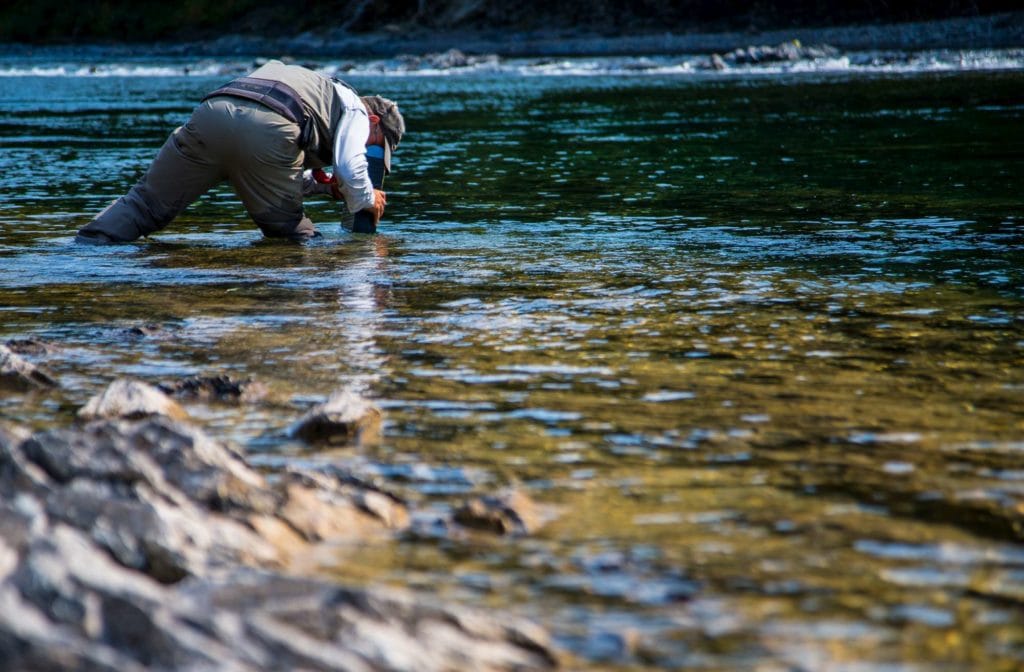 Between the Bonaventure and Grand Cascapedia you have the Petite Cascapedia. It's not actually that petite and was probably my favourite river of them all during my stay; the size and character just suited me. It's a clear river, clearer than the Grand but not as clear the Bonaventure. The run size is not huge, but it does produce some very big fish; I certainly saw fish in the high 20s if not low 30s during my visit.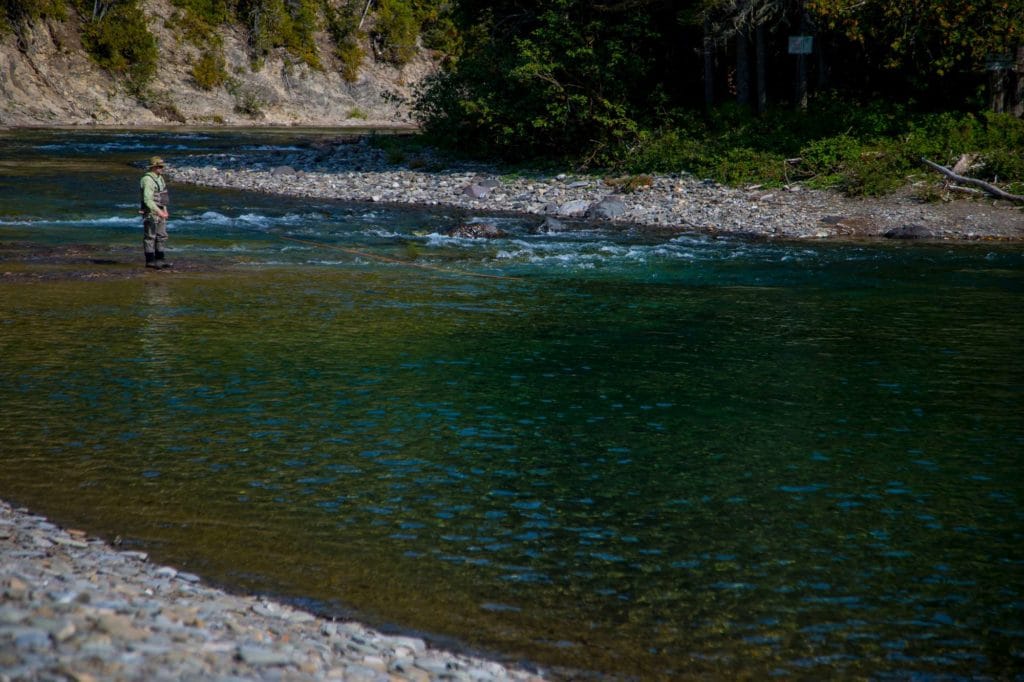 The great thing about staying at either lodge is that given advance warning you should be able to fish all three rivers during your stay, regardless of which lodge you are staying at. I would recommend this as the character of all three are very different. On a return visit you may choose to refine your choices to just one or two, of course.
I lifted three fish on the dries on the Petite in the same pool, but none connected, unfortunately. As such, I resorted to the wet fly and managed to land a beautiful fish of around 16 lbs on a sunray, losing another shortly after. Great sport in anyone's book, and this was under incredibly poor conditions; it did make me wonder what the sport would be like given favourable conditions. A good reason to return…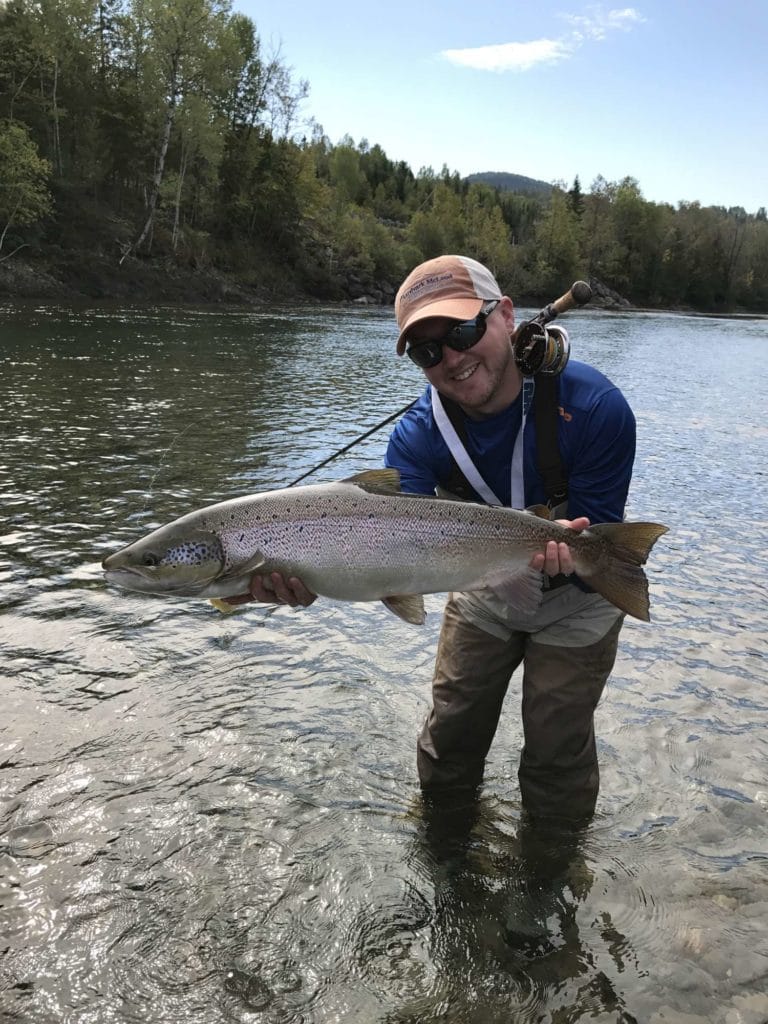 Glenn LeGrand is the person that oversees both lodges. He is a gent and someone that has always been a joy to work with, even before meeting in person. He has been in the business for a very long time and knows what it takes to bring a first-class operation to the table. No stone is left unturned. He has an incredible eye for detail but is also still willing to listen; you usually get one but not necessarily with the other. Glenn was keen for me to see Salmon Lodge during my stay, which he kindly facilitated for my final day and evening.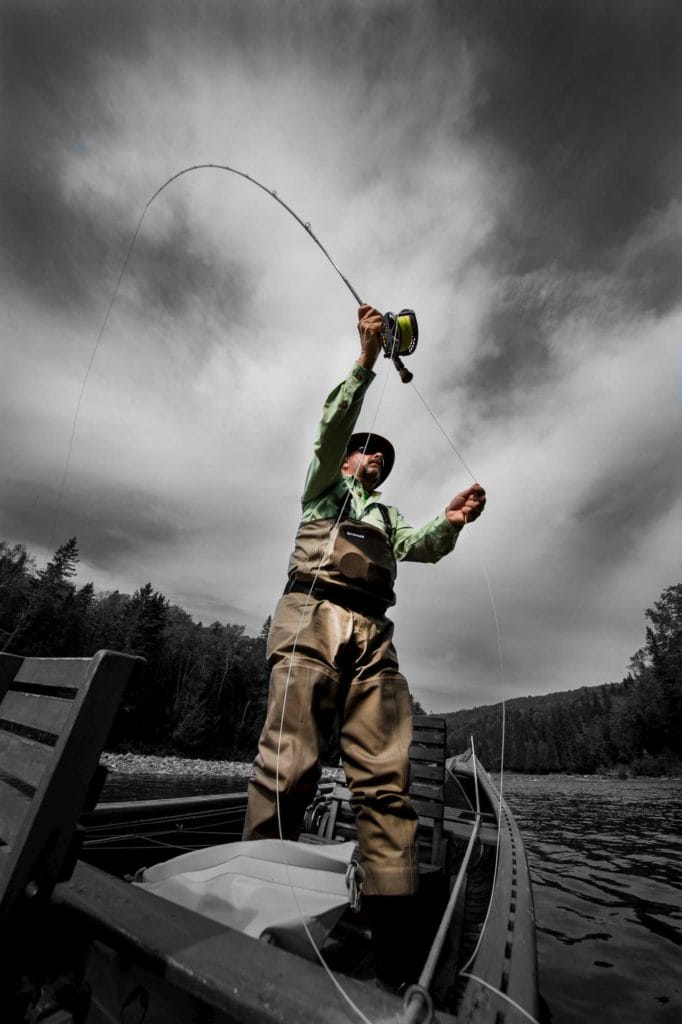 Salmon Lodge is totally different to Camp Bonaventure. Both are run to the same exacting standard, but both appeal in different ways and to different people. If you are a small intact party then I would definitely recommend Salmon Lodge, whereas an individual could still blend in very easily at Camp Bonaventure. There is also a lot of history surrounding Salmon Lodge and it is probably the place to go for those looking to hunt out a monster on the Grand Cascapedia, with a bend of the river opening up to a stunning vista immediately below the lodge; the setting is dreamlike and one that will get you salivating upon arrival. Not a bad place to enjoy a glass of choice following a day on the river either…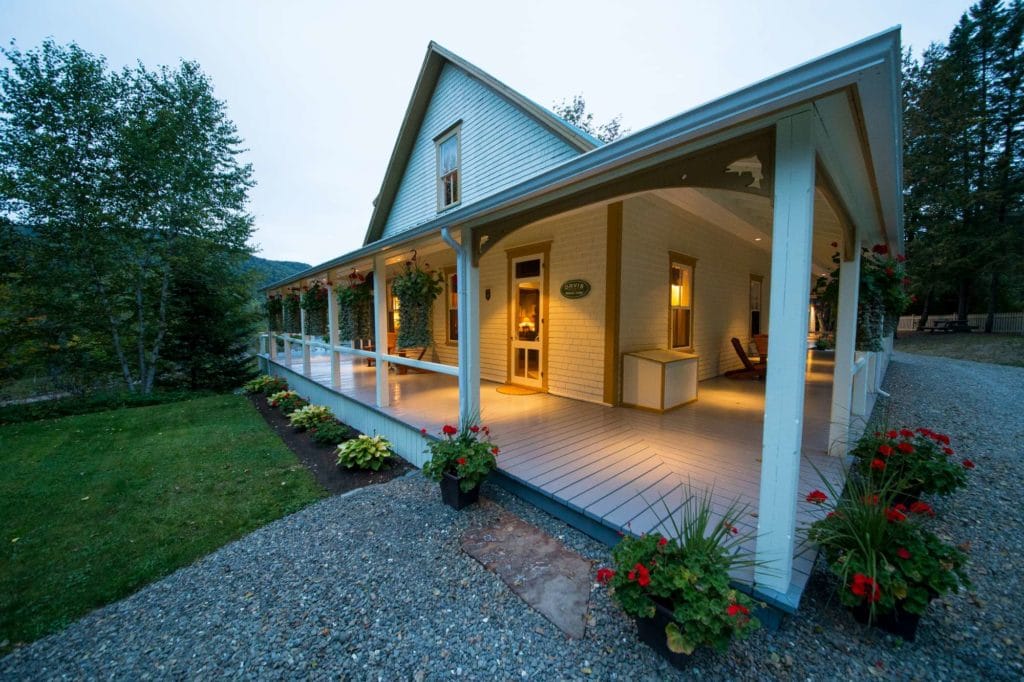 The rooms are very well appointed and I can't say that I have visited a lodge with a finer view from a bedroom window. I totally understand why the lodge (both lodges in fact) have an 80% repeat booking rate.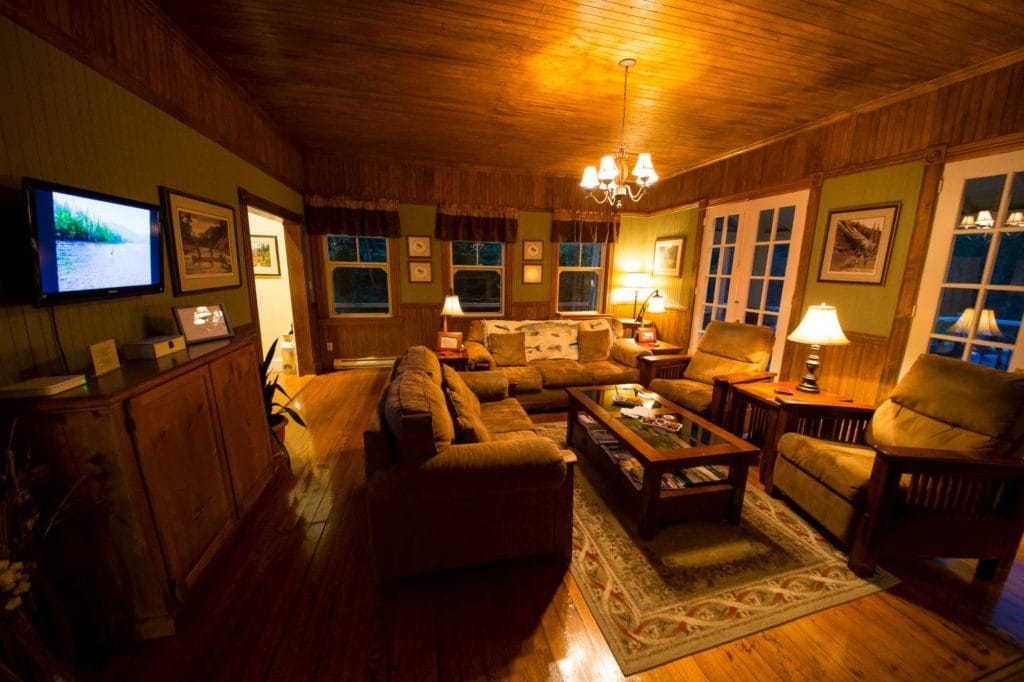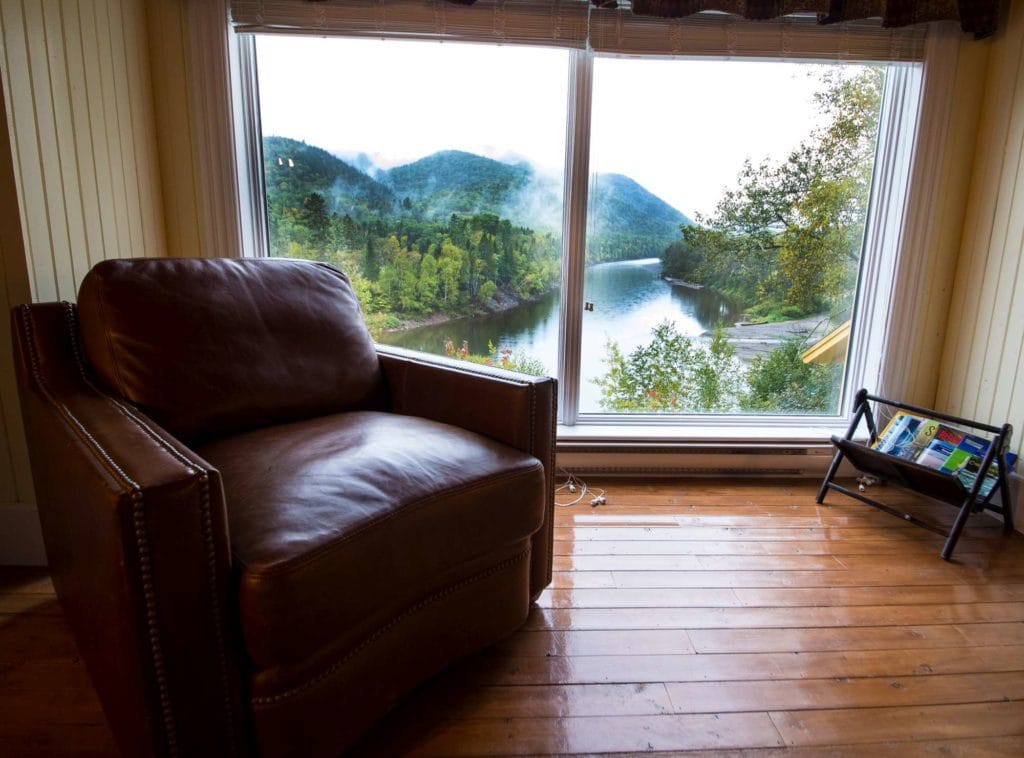 The Grand Cascapedia is clear, but not as clear as the Petite or the Bonaventure. It carries a light peat stain, which has tainted the riverbed, so even when the river is running clear is still looks a little murky; this is deceptive, as it will always draw you into fish a much larger fly than is actually needed. The fish are looking up through clear water, whereas you are looking down towards a darkly stained riverbed.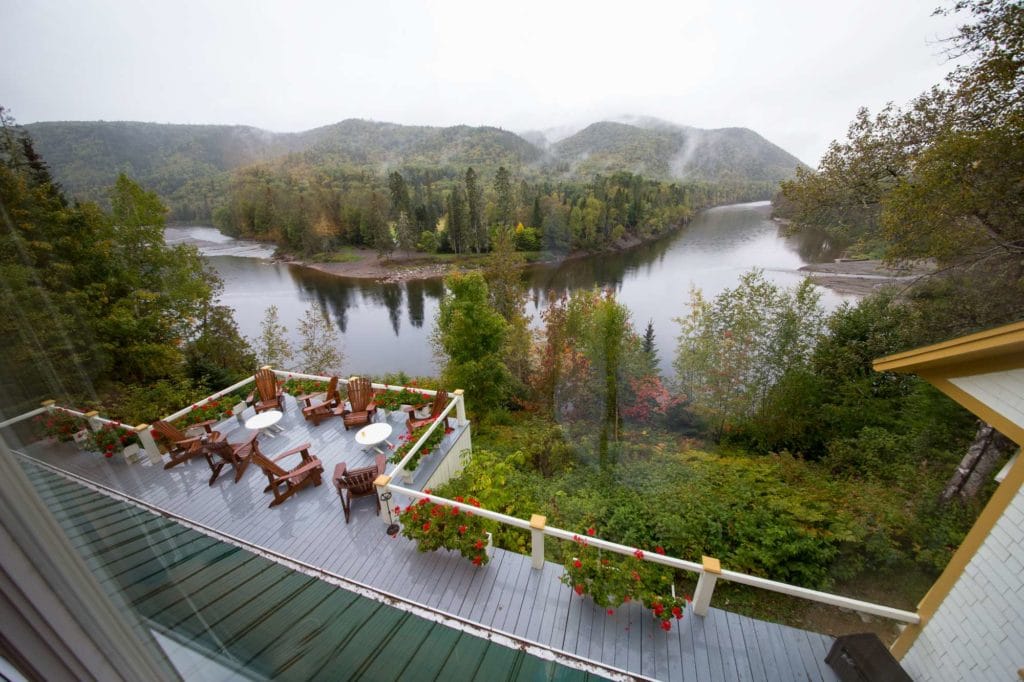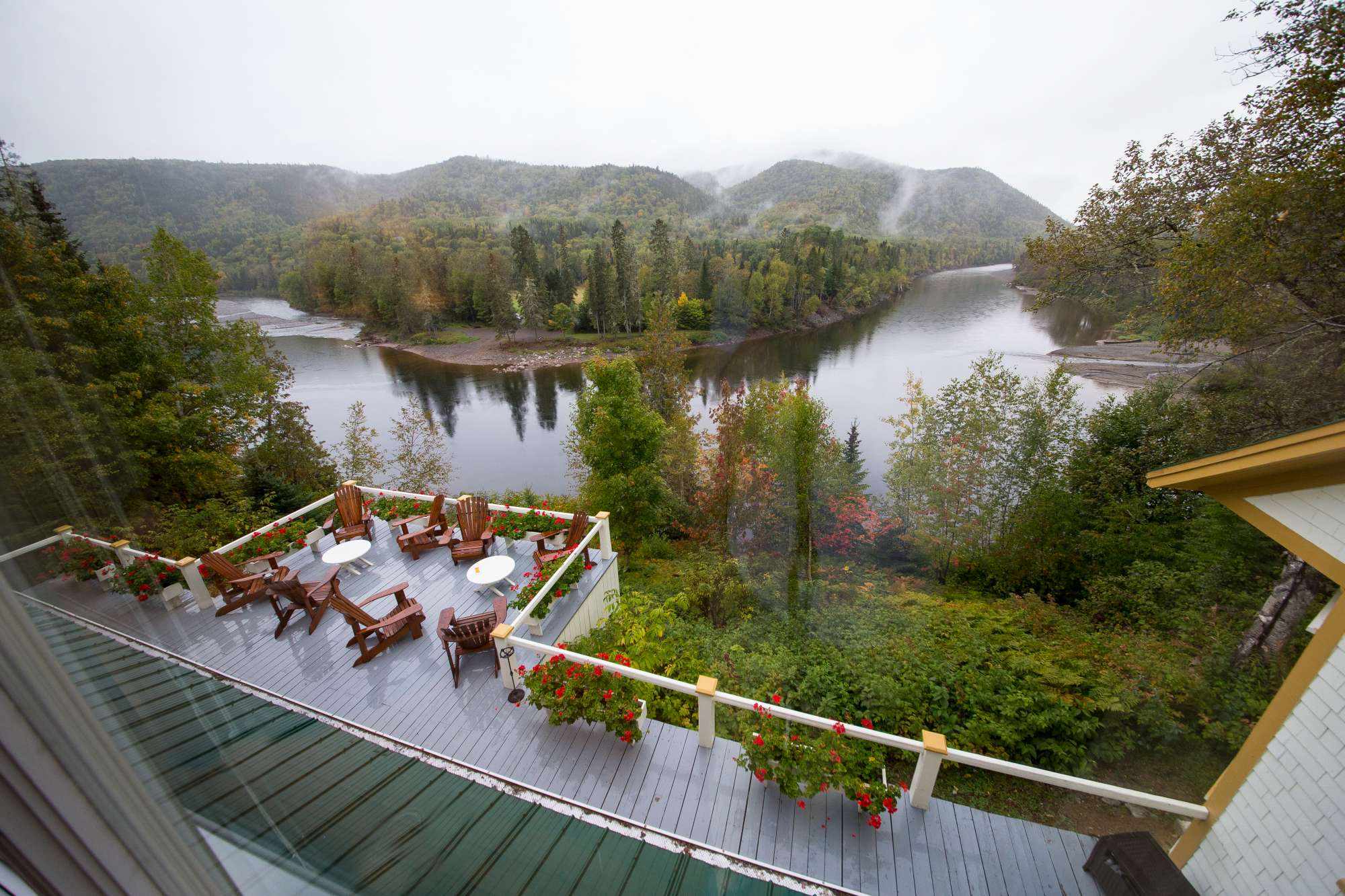 Dry flies are fished here as the fish can be spotted clearly enough. Indeed, salmon of over 30 lbs have been caught on dries. Standard wets are also fished and the styles are fairly similar to that of Camp Bonaventure. Again, the lodge is well equipped with everything you are likely to need.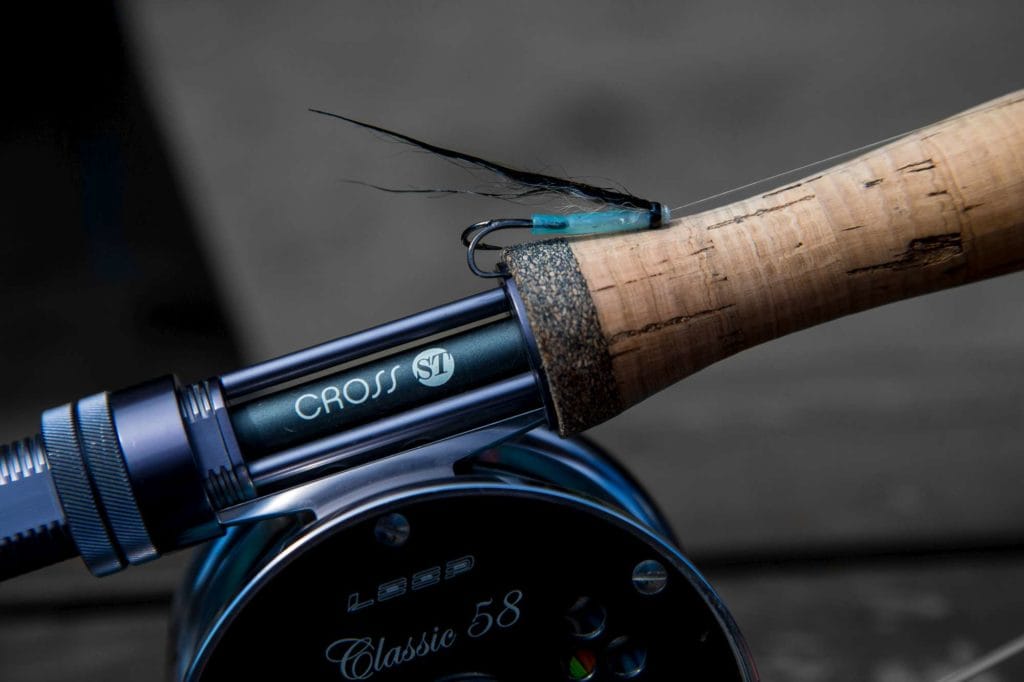 The Grand Cascapedia is a big river. A lot of it can be fished from the bank, but boats are also frequently used to cover the wider sections of the river. These are also beneficial if a large fish is hooked and decides to try and return to sea! There are two major rivers that form to create the Grand and both these tributaries can be fished too during your stay. Indeed, they offer fantastic fishing, especially for those that prefer a slightly smaller and more intimate system. Needless to say, there is a lot of variety on offer and you should get to fish different water on each day of your stay.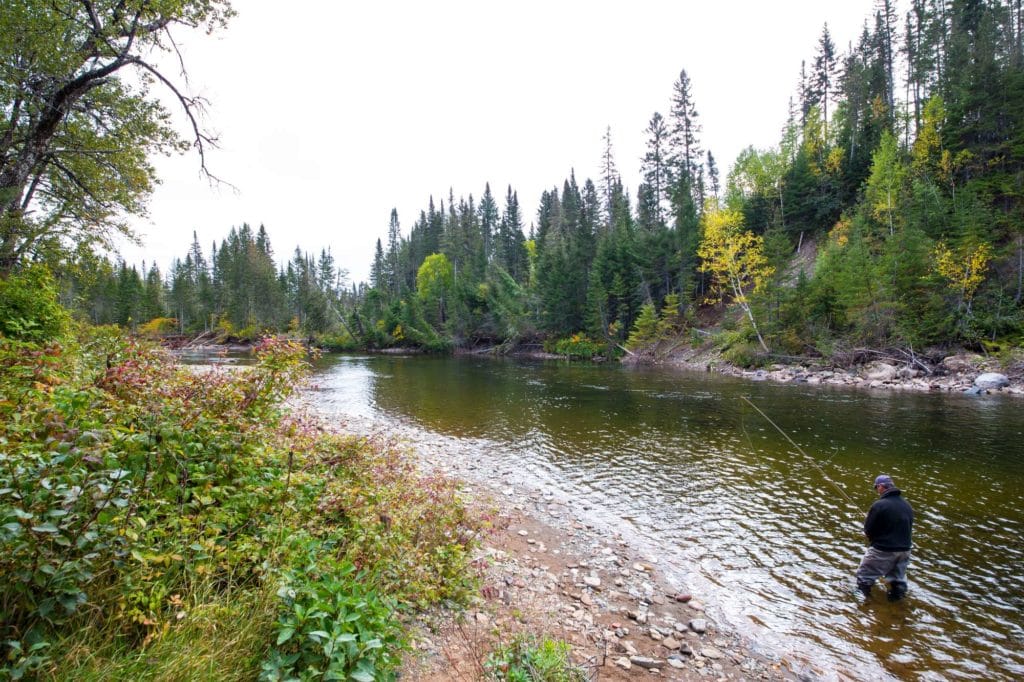 Such trips seem to end far too quickly; time flies when you're having fun. The week was incredibly tough, but this did not detract from the experience after all you knew you were covering fish and everything beyond that is always a gamble when it comes to salmon fishing.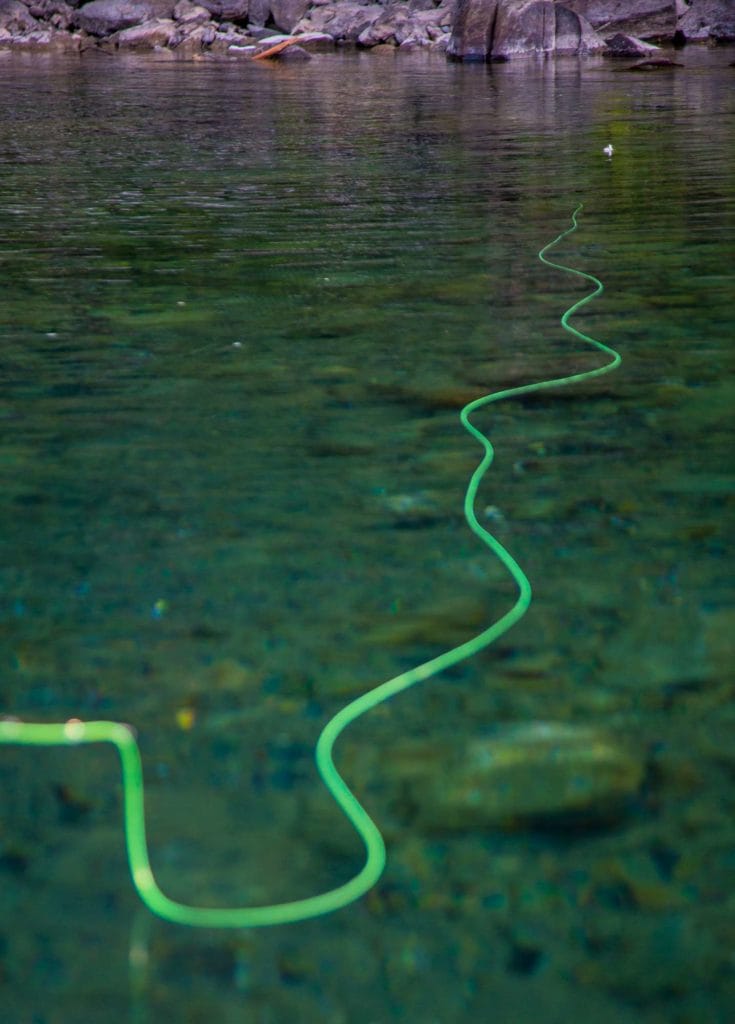 Would I recommend a visit? Most definitely and I would welcome the opportunity to advise you on where and when as there is something for everyone on offer. I cannot compare it to anywhere, as it really does pluck the best from many other experiences; the size of the fish found in Norway or Russia, the clarity of the water to be found in Iceland and then the quality of the lodges that you would do well to find fault with.
Looking at something new for 2018? Definitely put this on that list.
Need more insight or a taste of what's on offer? Take a look at the following video:
If you would like more information then please do not hesitate to contact Steffan Jones or call our office on +44(0)1980 847 389.