With fewer and fewer places in Europe able to offer the opportunity to hook a really big salmon we have noticed a slight shift in focus from our queen of the river, the Atlantic salmon to the bully of the pacific coast, the king, or chinook salmon. What is it about king salmon that makes them such an incredible target on fly? There's absolutely nothing like the pull of a king as it slams your fly on the swing. Takes can sometimes be so aggressive that they nearly rip the rod right out of your hand. It is the feeling of being totally helpless as you watch backing melt off you reel, and realising that there may be a possibility that this fish is so big and so strong that it's not landable. After all, with kings averaging 20 lbs to 35 lbs in the Skeena and Kitimat river systems, and the very real possibility of seeing fish 50 lbs and over, this can very easily be described as 'big game fly fishing.'
Starting in late April and early May, spring kings start entering the Skeena and Kalum rivers and are a welcome addition to fresh steelhead migrating at the same time. However, the window to target these spring fish is often very short, about a three-four week season, depending on when the spring freshet sets in – usually around 25th May. The summer king season on the Kitimat, Copper, Skeena and Kalum rivers is much longer and lasts from 10th June through to 20th July and even later on some rivers. It is in this period that the big, mean fish of summer ascend the rivers and it is time to look for them with flies bordering on the gargantuan.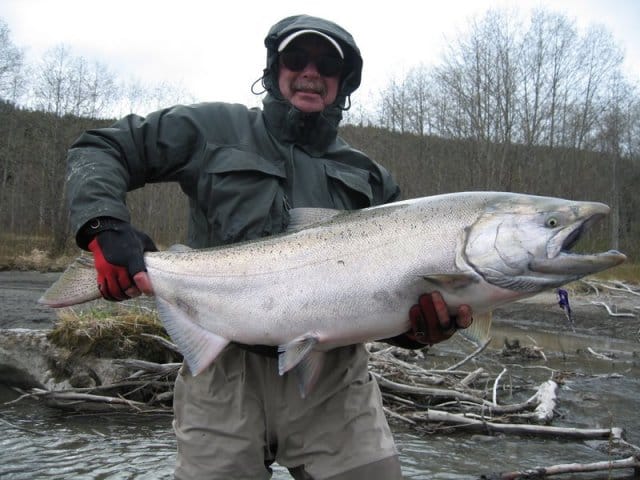 The first to recover after its spring freshet, the Kitimat River is a meandering, braided river that empties into Douglas Channel near the town of Kitimat. On the upper river fish often hold on edges and seams where side channels enter the main current, and casting bead head or large Intruder style flies is often met with smashing takes and long, searing runs. It's a particularly woody section of river so you are likely to lose a good number of fish, as they're not entirely stupid – they often head right for the gnarliest tangles of tree root wads and midstream debris. Those you do land will be hard fought battles that leave you shaking. The lower Kitimat – larger, broader and with a more gentle gradient, is king salmon heaven. Only a few miles from the ocean, chinook enter the lower river in waves, and you'll often see them porpoising as they move their way up the pools. With several pods of fish moving upriver each day, one of the best tactics is to find that perfect run that's ideally suited to fly fishing and simply wait for them. You may have a few casts to make between fish, but there are few places on earth where you'll find brighter, fresher fish. And these fish are often in the 35 lbs to 45 lbs range, and up to 60 lbs.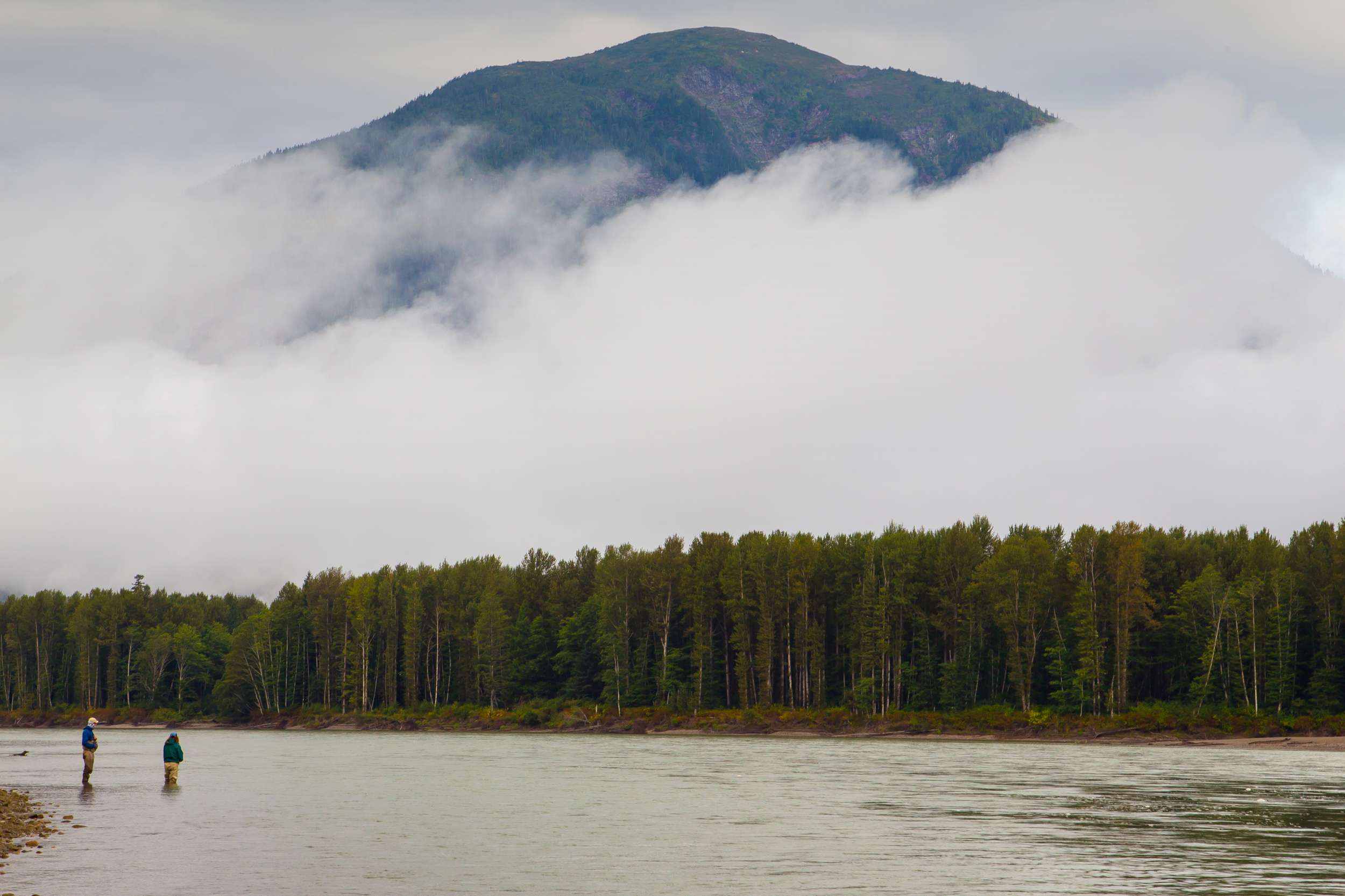 The Copper River, in contrast, is a higher gradient river with large, cobble sized boulders lacking the woody debris so characteristic of the Kitimat. Long, classic pools and runs with soft inside seams just above a fast, rough section of water is where you'll find Copper kings. They too can get very big indeed. Copper kings average slightly larger than Kitimat fish, at 25 lbs to 35 lbs, and almost any day in prime time there is a possibility for a fish at 50 lbs or larger. When fishing the Copper it's always a good idea to have a reel with slightly more backing than you might on others, because these fish like to explode out of pools, requiring you to give chase in a mad dash.
Given the right water conditions, the Kalum and Skeena rivers can also be prime king slamon fly fishing waters in their own right. The big, broad Skeena is the superhighway for chinook and other salmon migrating upstream, and they'll pause briefly in long, bouldery pools, particularly where the clean water of tributary rivers adds influence. The Kalum, often high from bank to bank, has several excellent runs, and its fish tend to hold on calm pockets and seams off the main current. After hooking a fish on either the Kalum or Skeena, get ready to jump in the boat because that might be the only way you'll land them. It might interest you to know the Kalum and Skeena River kings are literally some of the largest fish in the world and have been caught on conventional tackle to 99 lbs. While landing a fish that size on fly gear is unlikely, it does tickle one's imagination… Overall, the Skeena hosts an incredible number of fisheries each year and while we all absolutely love targeting steelhead in remote coastal rivers and seeing them sip dry flies off the surface, there are few moments that compare with the electrifying grab of a fresh, chrome bright king just in from the salt. After all, they aren't called 'kings' for nothing…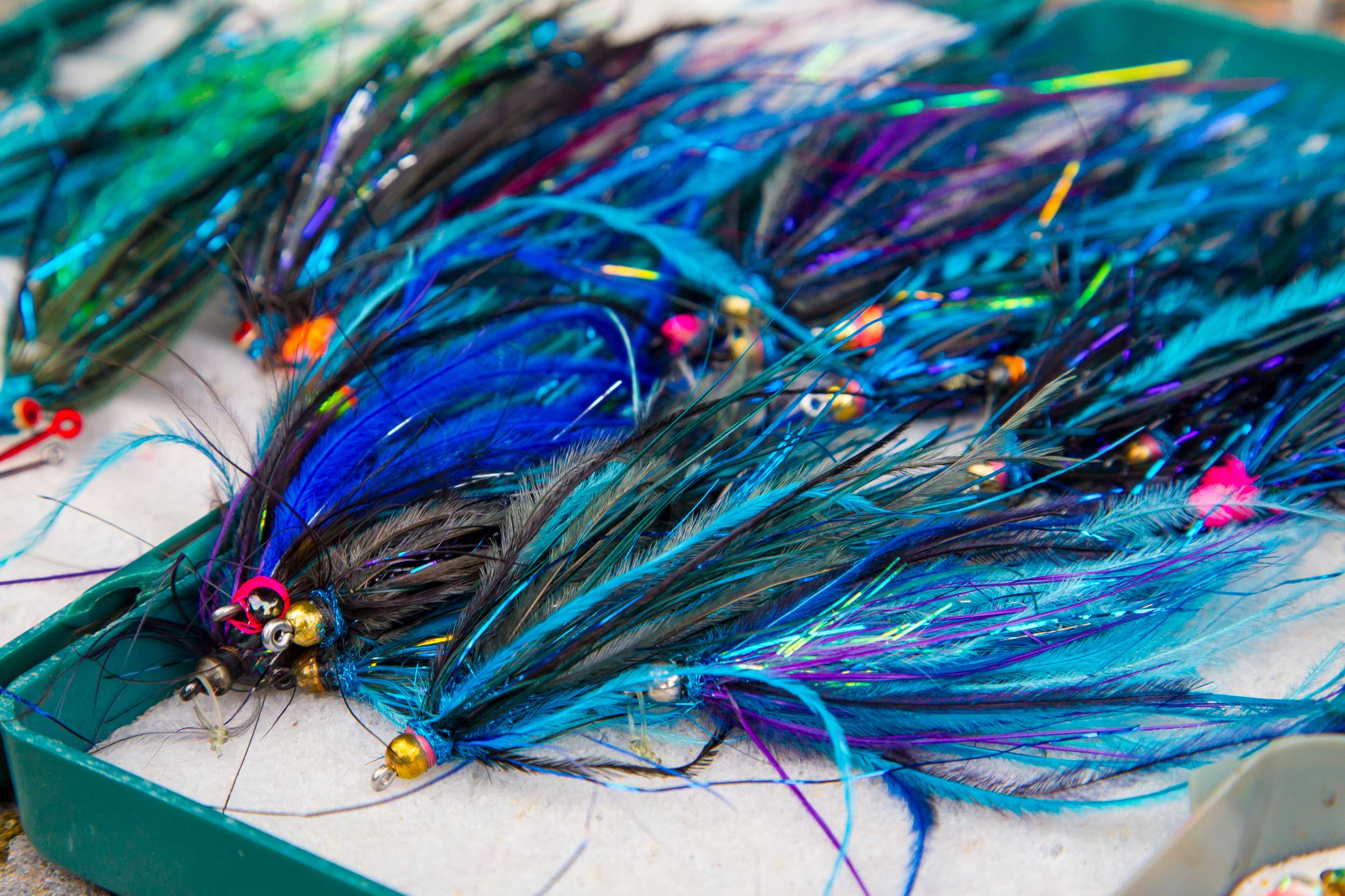 Of course, when targeting big, mean fish, you need stout rods, reels and terminal tackle. Unlike their Atlantic counterparts, kings keep their heads down and to consistently catch them you need to sink the fly to their level, in water three to eight feet deep. This means sink tips, 20 lbs to 25 lbs Maxima Ultragreen, 9 to 10 ft single handed rods, or Spey rods 13 to 15 ft long, rated for a 9 to 12 wt line. High capacity large arbour reels with a good drag system are standard tools for the job. While you'll want to match the size of your flies and colours to the prevailing water conditions, flies in the three to eight inch range are the norm. Chartreuse, blue, purple, black, orange and pink are favourite colours to entice these Pacific monsters. If you were alone on a prime piece of king real estate with only one fly, we recommend it would be a two toned chartreuse, heavily weighted Intruder style fly around six inches long.
If this has sparked our interest we still have some prime king salmon space available on the Skeena system and after the shock of Brexit and our weakened exchange rate you may find the prices pleasantly refreshing:
1 – 8 July: 4 rods
8 – 15 July: 4 rods
15 – 22 July: 2 rods
A 7 night / 6 day trip CAD$6,360 inclusive of taxes and licences.
The complete package including international flights to Vancouver, overnight at the Fairmont Vancouver and internal flight to Terrace is £5,680 (subject to change until ticketed). That is good value for the chance of the elusive 30 lbs+ salmon.
For more information please contact Peter McLeod or Steffan Jones or call the office on 01980 847 389.