Steelhead Salmon fly fishing British Columbia Canada
Fishing for steelhead, coho, chinook, chum, pink salmon and more, all from one lodge. Fish the mighty Skeena or the revered tributaries such as the Kasiks, Kalum and Copper, to mention just a few. Nicholas Dean Oufitters operating from Pioneer Lodge offer this and much, much more.
The guides at Nicholas Dean have been fishing the Skeena River including the myriad of tributaries in the area (Copper, Kalum etc.) and remote coastal rivers for wild steelhead and Pacific salmon for decades.
They have one of the longest fishing seasons of any lodge in North America. With over 54 rivers, lakes and salt water estuary destinations the guides have the unique ability to plan a different experience daily. From long line casts and big water on the Skeena River, to small gin clear streams, sight casting to Steelhead and coho, or skating a dry fly across a coastal river pool.
They also offer different modes of access from rafting, drift boat, hiking, jet boat or helicopter. Even when bad weather makes fishing conditions tricky in one area, you will simply be moved to another watershed.
Canada; Steelhead fishing British Columbia
Looking to fish in the prime of the 2019 season? We have fantastic autumn space that should not be missed. This includes mid and late August availability, which is great for those looking to target multiple species during their stay through to prime September space, which is highly sought after because this is usually the best time to visit for steelhead and coho.
2019 season availability
Please contact us for availability and suitable weeks based on what you would like to pursue.
Price to include 7 nights' stay, 6 full days guiding fishing, fishing licences and tax: CAD$6,934 per rod.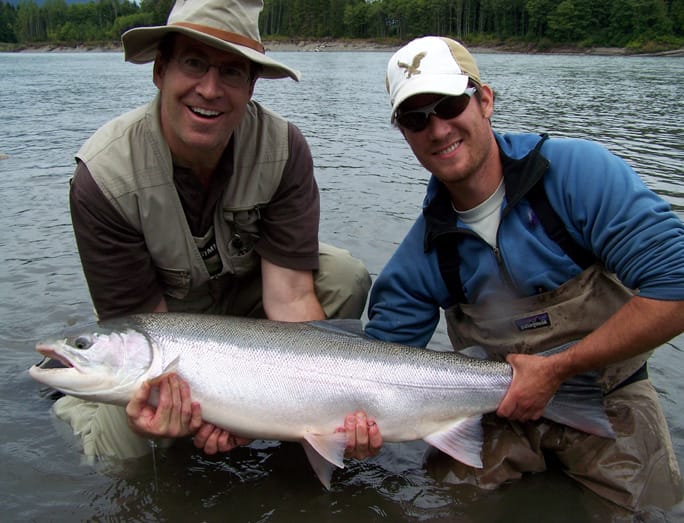 Steelhead Salmon fly fishing British Columbia Canada
If you would like more information then please do not hesitate to contact Steffan Jones or call our office on +44(0)1980 847389.