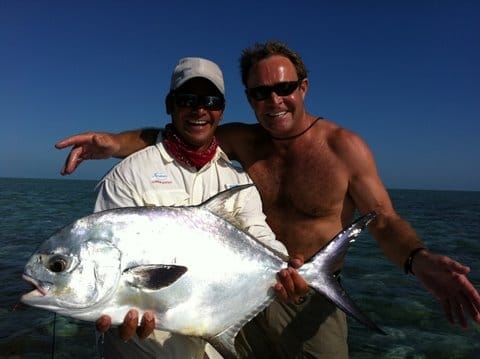 I have just returned from my 12th and 13th weeks visiting the excellent fishing destination at the Cayo Largo Fishing Club in Cuba. These two weeks did not disappoint with an abundance of flats' species caught and released by Aardvark McLeod guests.
Over the twelve days fishing nine permit were landed with others lost, the usual follows and the ubiquitous cheeky bonefish stealing the fly from under the permit's nose at the last moment! There were three Super Grand Slams for the fortnight and five Grand Slams. The biggest tarpon landed was about 50lbs with one of at least 80lbs jumped that went on to snap the line. The biggest bonefish was approaching 10lbs with the majority being in the 3 to 4lb bracket.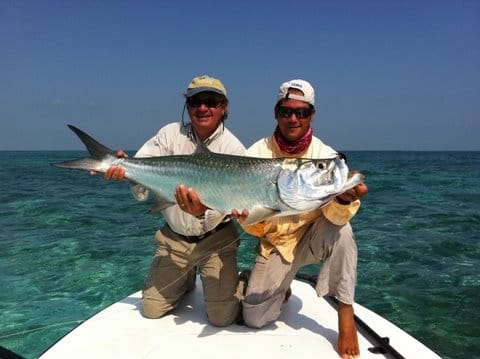 The Avalon permit fly that was devised by Mauro and subsequently fine-tuned by him and Robert Jolly has now accounted for 183 permit since its inception. It works best when cast just beyond a stationary ray when a permit is spotted in its vicinity or on its tail. If the ray is moving with the permit following then the fly is cast a couple of feet ahead of the ray. All very simple in theory but not made any easier by a bouncing skiff, a tiresome wind and intermittent cloud cover!! Rods had the opportunity most days to have at least five or six attempts at permit. Since my first visit over ten years ago the guides have perfected their techniques and now know where to find permit on differing tides and flats.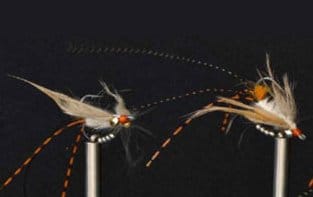 The beauty of Cayo Largo is that you have great variety in a days fishing. If you have failed at the permit you can pick up your bonefish rod and catch a couple then grab the #10 and try and hook a big jack or jump a tarpon. A 30 lb barracuda was hooked and landed on a #12 with the non wire leader miraculously remaining intact. Snapper from 6-12lbs put up quite a tussle too. For the inexperienced there are plenty of free taking bones to get the eye in on. So it is a great destination for all standards of fishermen and women. The six fishing sectors are well rested and the six Casa Batida boats have the free run of 140 odd square miles of cayos, flats and channels. There is no commercial fishing to speak of other than a couple of lobster boats.
The Hotel has now been open ten years and many of the original staff are still there. The food has improved over the last couple of years and the bar now includes some half decent, heard of whiskies. There is an excellent quick laundry so there is no need to take too much clobber. The set up at the Fishing Club has improved enormously too with each rod being given a fly box and selection of bone, tarpon and permit flies. A welcome cerveza, mohito or soft drink is ready waiting for you on your return from fishing along with a tasty small pizza to revive you.
A great trip and the vast majority of rods have indicated they will be back next year or the following. A big thank you to Mauro and his team of guides and staff.