May is often considered the prime month in the chalkstream fly fishing calendar as it sees the weather warm up and the start of the mayfly hatch. As of the 1st May all of the chalkstream beats and estates across Hampshire, Wiltshire, Berkshire and Dorset are open.
It has proved to be another interesting month, fly hatches have been muddled with showings of a whole plethora of flies from hawthorn and grannon to iron blue dun and blue winged olives. Several caddis have also enter the fray including cinnamon sedge and micro black caddis. As has been in previous seasons, there has been a good showing of alder beetle that te fish seem to love along with big emergences of black gnats and the odd daddy long legs. We have seen more rain than the previous months, usually arriving in short sharp showers, garden rain as we call it. Whilst this has had little effect on overall flows it has caused some unfortunate anglers to have slightly more coloured water than usual as it runs off the dry and dusty ground. Hopefully we will see some rain over the next few months to bolster flows as we move into the summer and autumn seasons.
Below is a quick run through current river conditions, recent fishing experiences and the season outlook. If you are yet to book you mayfly and summer dates get in touch soon as space has been going quickly.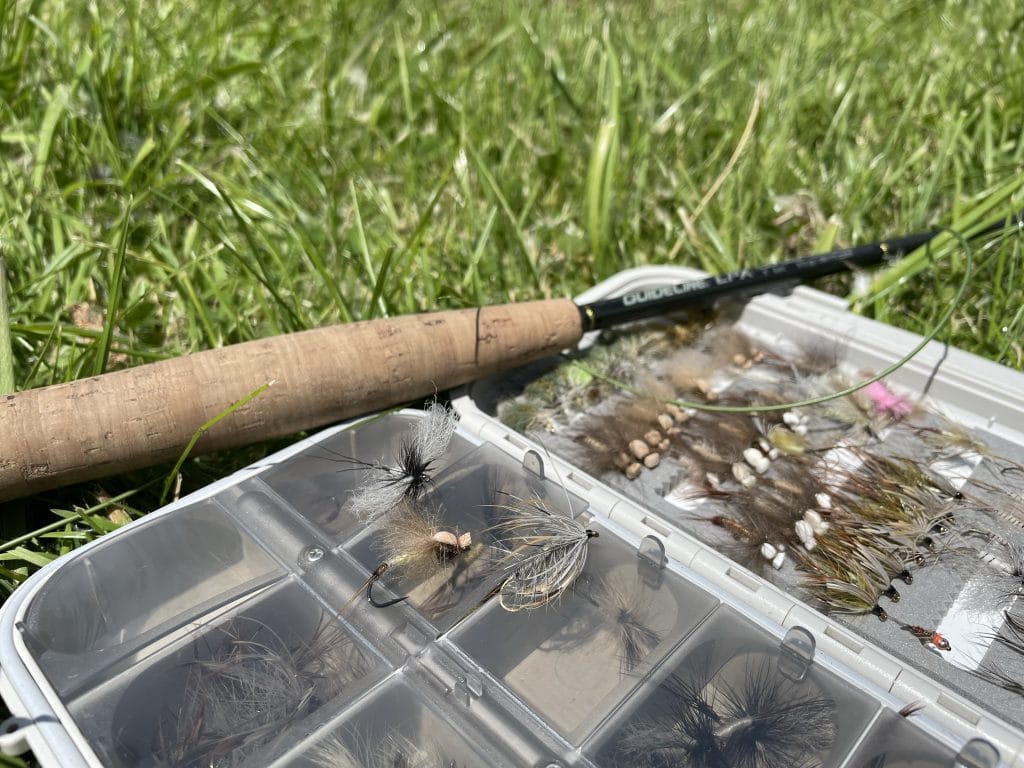 River Test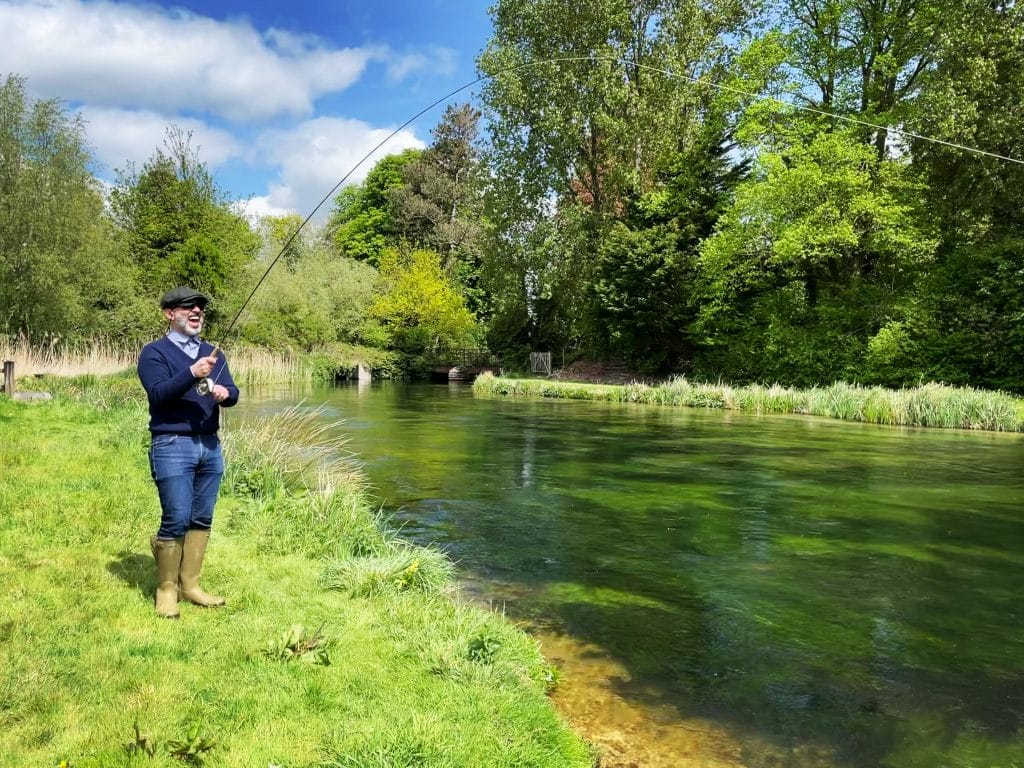 The River Test has our most diverse selection of beats during the trout fly fishing season from small carrier beats through to much larger sections of main river. Throughout the whole river the flows are steady and running very clear for the time of year.
The lower river saw the mayfly kick off quite early this year with some good fishing days in mid-May, but the hatch – like elsewhere – has tapered off earlier than normal. That said good fish have been present for those willing to stick at it and keep an eagle eye out for rising fish.
Higher up the river, the mayfly hatches have seen us through to the end of the month but things are definitely drawing to an end much earlier than we would hope. Anglers should not be deterred though as increased hatches of iron blue dun and blue winged olive are beginning to show. This does mean that those fishing smaller flies and lighter tippets are finding better reward.
River Anton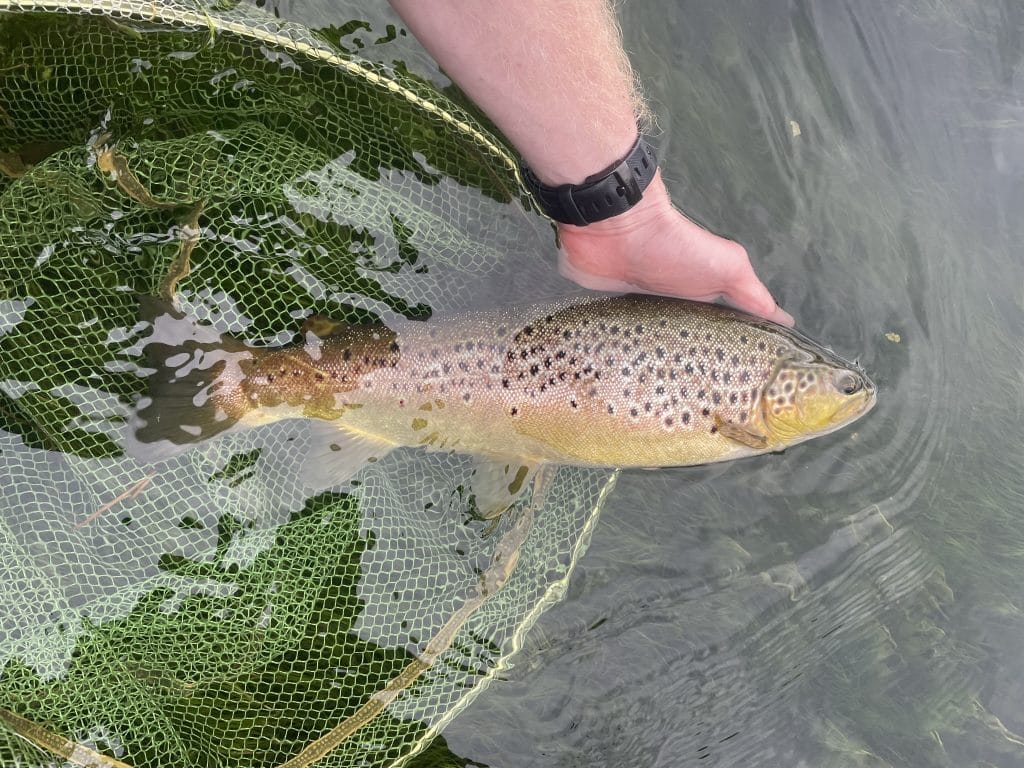 The River Anton definitely sits up there as one of our favourite rivers. It is a consistent river through the season and it too boasts great mayfly hatches.
The river has seen many of the same hatches as the main River Test, and fish have often been found rising freely in the afternoons. As normal, the mayfly hatch did come to the river slightly later than the main Test, and this has meant that group later in May have had some memorable days fishing. Bright conditions have made for some tricky fish even amongst large mayfly hatches.
River Wylye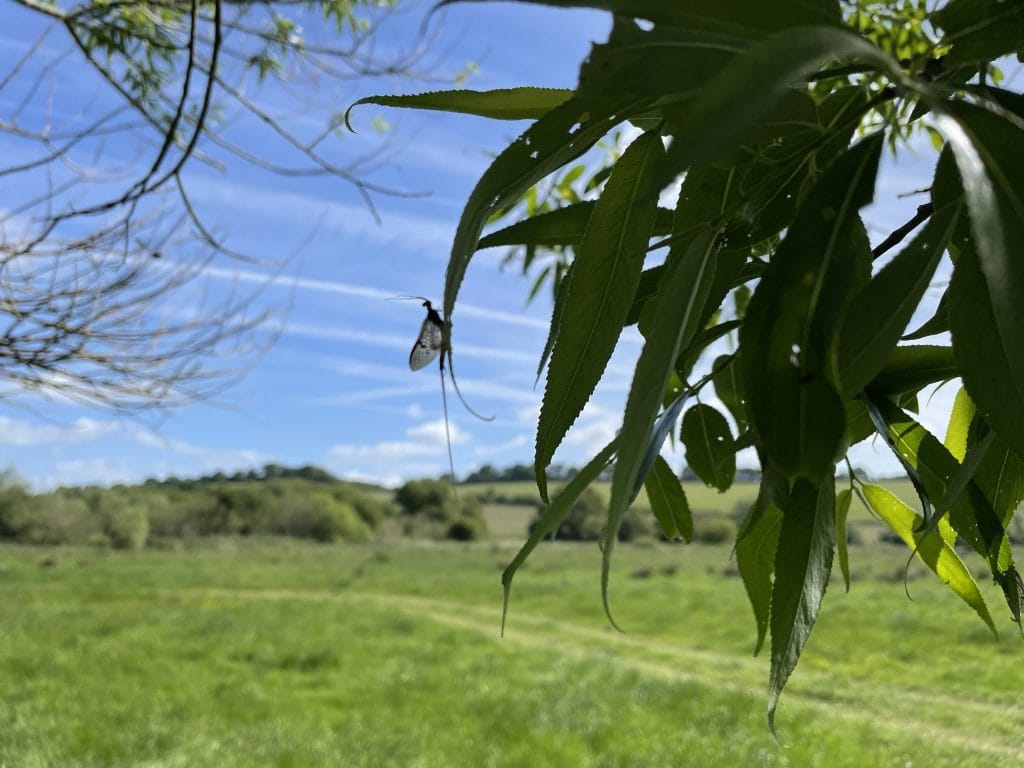 The River Wylye has definitely moved towards it prime fishing conditions now. It is a typically slow starter in the spring, but with some warmth and good fly hatches the fish are now very active.
With much of the willow seed now clear, the fish have been able to focus on good showings of mayfly along with iron blue dun and blue winged olives. Whilst never the easiest fishing, those happy to patiently wade up the river have been rewarded with beautiful free-rising wild brown trout.
Over the next month or so the river continues to produces some great fishing, with the continuation of mayfly and also great populations of smaller olives and caddis.
River Nadder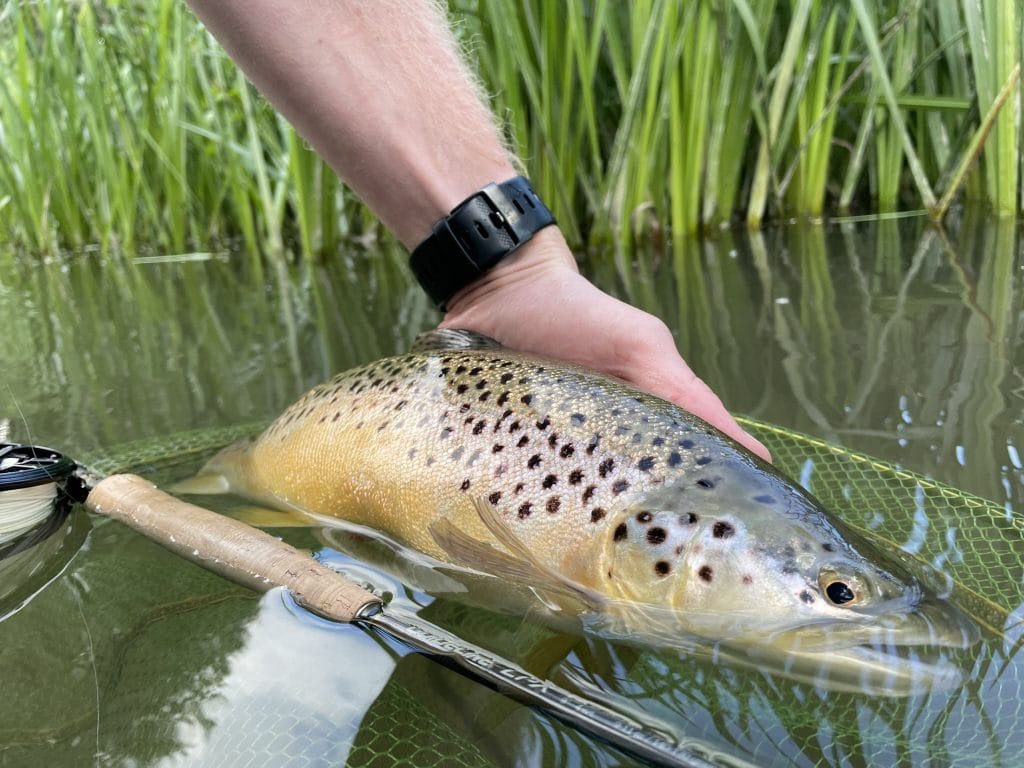 The River Nadder has experienced a mixed month, with the river more susceptible to intense rain showers. This has lead to some days when the water has been quite coloured, that said the freshening rain has given the river fresh life and we have had some great fishing days.
The mayfly fishing has been great, often building in the afternoons to a peak in the evening with trout appearing from their many hiding holes. We expect the mayfly to continue a little longer on the river and again look forward to the summer prospects on this fun river.
River Frome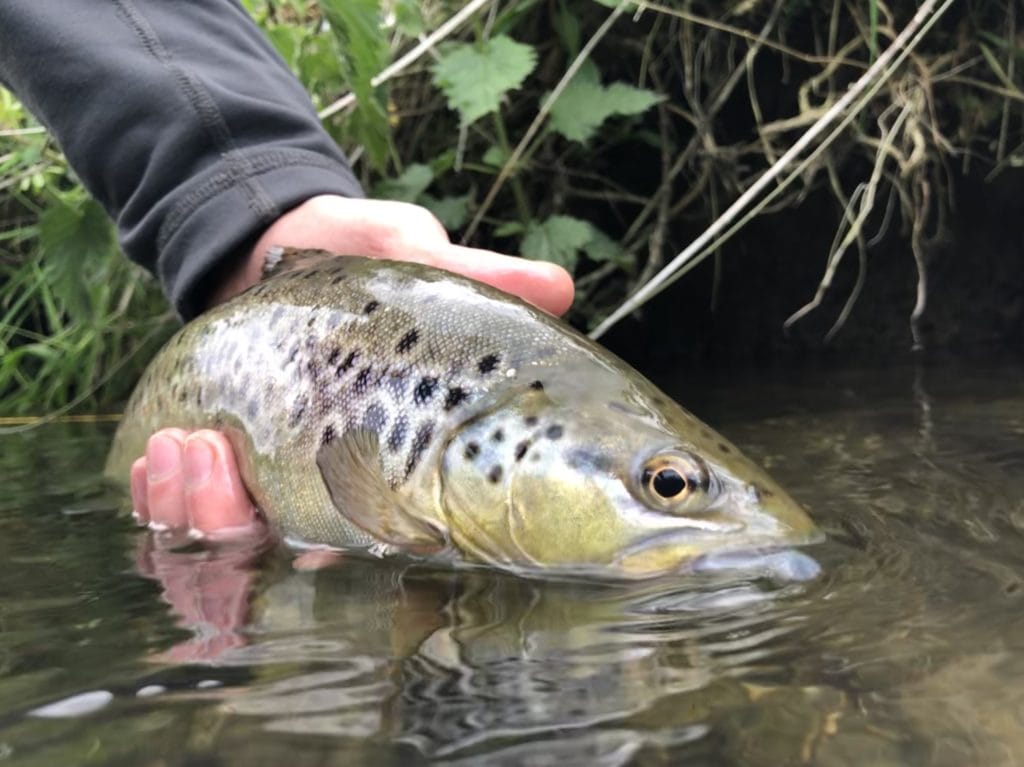 The River Frome, although widely known for its grayling fishing, is a fantastic wild brown trout river too. The river once again showed its impressive mayfly hatches, luring out many of the bigger trout that this river has to offer.
It is never the easiest river to fish, but if you are looking for a beautiful location with wily wild brown trout you can spend many happy hours wading its beautiful valley.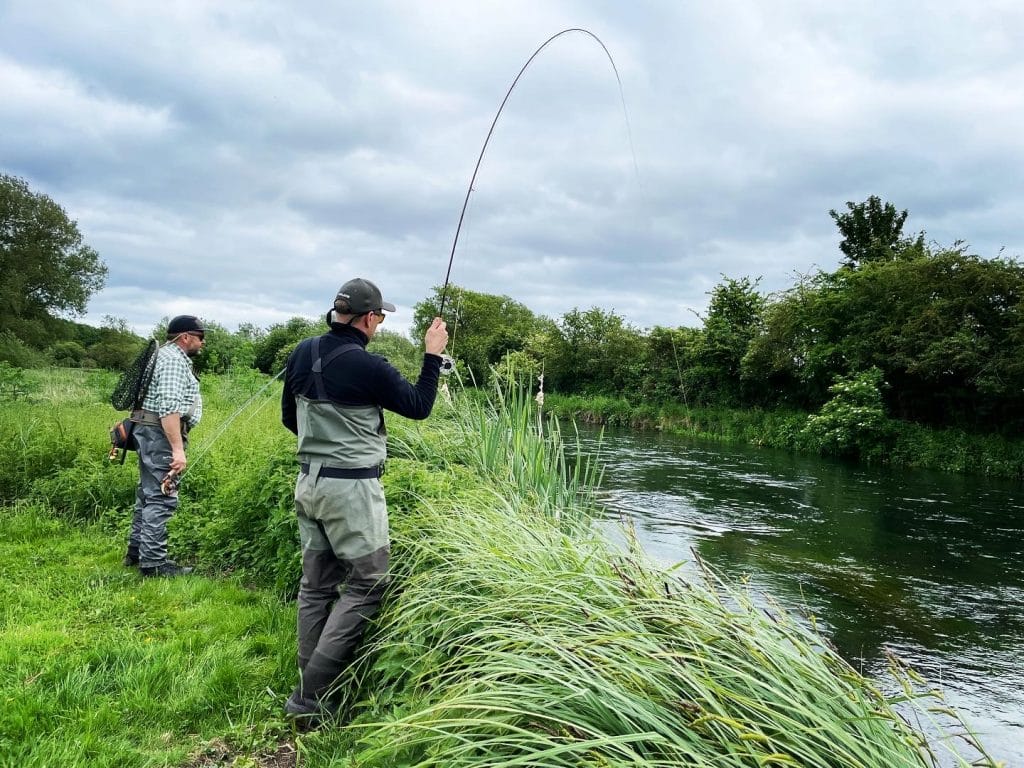 ---
For more information, further chalkstream fly fishing availability or to book one of these days please do not hesitate to contact us by EMAIL or call our office on +44(0)1980 847389.