Mayfly Time
If any of our upwinged flies could ever be described as pretty it surely must be the little Iron Blue that hatches in May and then again in September and October. Small but unmistakable, with dark inky blue wings and so often hatching during blustery rainy weather exactly like we are experiencing at the moment.  Many a time I have seen these flies hatching at the same time as the very much larger mayfly and many a time I have watched as anglers persevered with large patterns to be totally ignored by rising trout.
For some inexplicable reason trout often prefer to feed on these smaller flies ignoring the lager mayflies floating above their heads, at a quick glance when viewing the river and rising fish it is all too easy to assume it is mayflies that are being eaten. Not so, a little time spent in closer observation will reveal all.
Hatches tend to be very localised, in some years I have not seen a single Iron Blue and in others the surface of the river can be covered in the flies almost giving the appearance of a carpet of velvet, this happened most recently on the river Anton but I have seen equally impressive hatches on the river Test downstream of Stockbridge.
The artificial imitations have a small red or claret butt just by the tails, which I have never quite been able to understand as the dun does not have this characteristic. Never the less most of these patterns are effective especially in sizes 16 & 18.   This was Harry Plunket Greene's favourite fly for the Bourne Rivulet. In 16 years of fishing this stream never once did I see any of these flies but the artificial was consistently successful.
[one_half]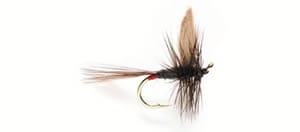 [/one_half][one_half_last]

[/one_half_last]
Don't let the showery weather put you off booking ,  you may be lucky to witness a hatch of these iconic little flies if not then the much larger mayflies will guarantee some sport. Limited opportunities still available over the coming weeks.
For more information contact Alex Jardine or call our office on +44(0)1980 847389.