A mayfly double first for me last Saturday 7th May. I heard the first cuckoo of the season and saw a solitary mayfly.
Yesterday evening I spent some time chatting to my river keeper friends in the rivers Test and Avon valleys to find out what is happening on their respective patches. From both catchments the same answer came back that although the mayfly advance party were making an appearance there had not yet been any substantial hatches. The small number of flies that have appeared have been ignored by the fish although the bank side sparrows and chaffinches are beginning to take an interest.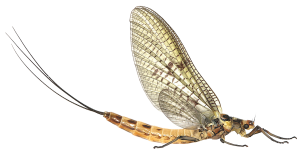 One keeper who maintains an upper Test beat reported a very good hatch of hawthorn flies yesterday the first he had seen this year. In the main as last year these flies have not appeared in any significant numbers although a well presented black gnat can always produce a response.
Another keeper on the middle Test reported that although his river was very quiet during the day his beats were coming alive in the late evenings with fish rising to small sedges.
As this run of very warm weather continues and we move towards the third week of May we can expect to see the start of the main hatches of mayfly
Hatches of medium olives have continued on the middle reaches of the Avon above Salisbury.
There is still some limited prime mayfly dates available on either one or two rod beats.
For more information on chalkstream fishing please contact Alex Jardine or call our office on +44(0)1980 847389