There is a saltwater fishing destination I have wanted to fish for 20 years, Kiritimati also known as Christmas Island in the central Pacific. The island is located 3 1/2 hours flying time south west of Honolulu and is where many of our modern saltwater fishing methods were conceived. At just over 250 square miles it is the largest atoll in the world and most of the Seychelles Atolls we fish would fit inside the lagoon there three times over.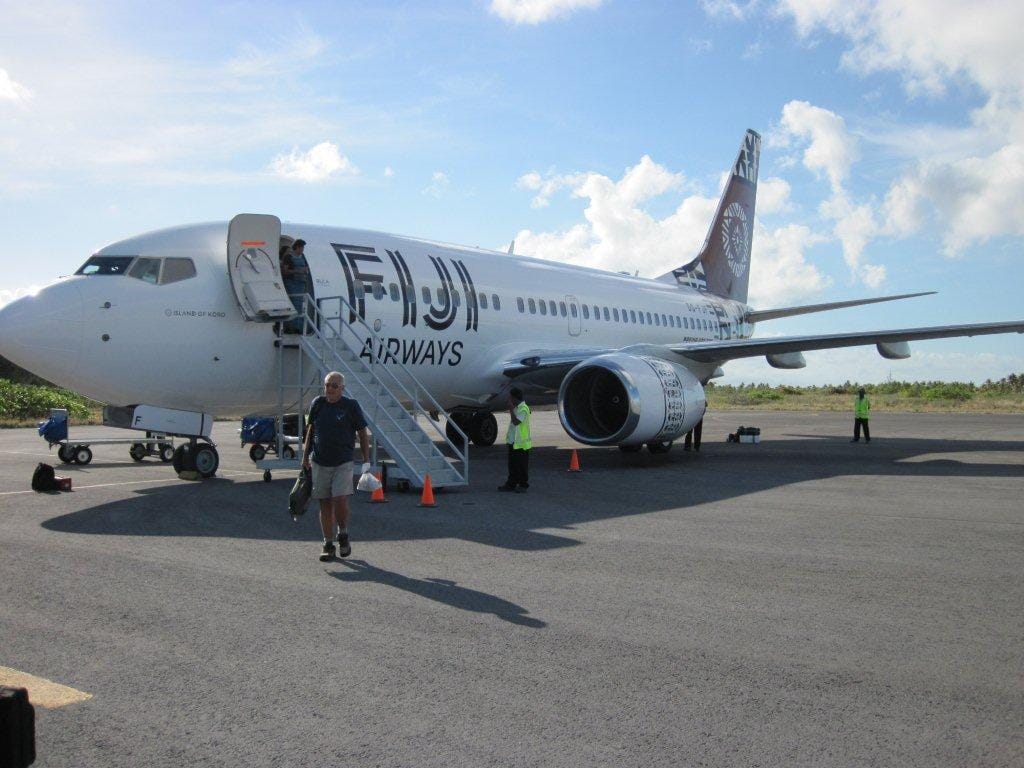 Our journey began on a stormy October morning with a British Airways flight to Los Angeles followed by a connection to Honolulu. After some 15 hours flying time we finally had our feet in the sand on Waikiki beach in Hawaii at the fantastic "Outrigger Reef on the Beach" hotel – a short 20 minute taxi from the airport. The following morning we boarded the once a week Fiji Airlines 737-700 to Christmas Island… the following day… the international dateline can be confusing! As we came in to land over the lagoon I was astonished by the size of it. At over 12 miles across the entire lagoon was a wonderful criss cross of flats, channels and islands. A piscatorial playground and I could feel the excitement building.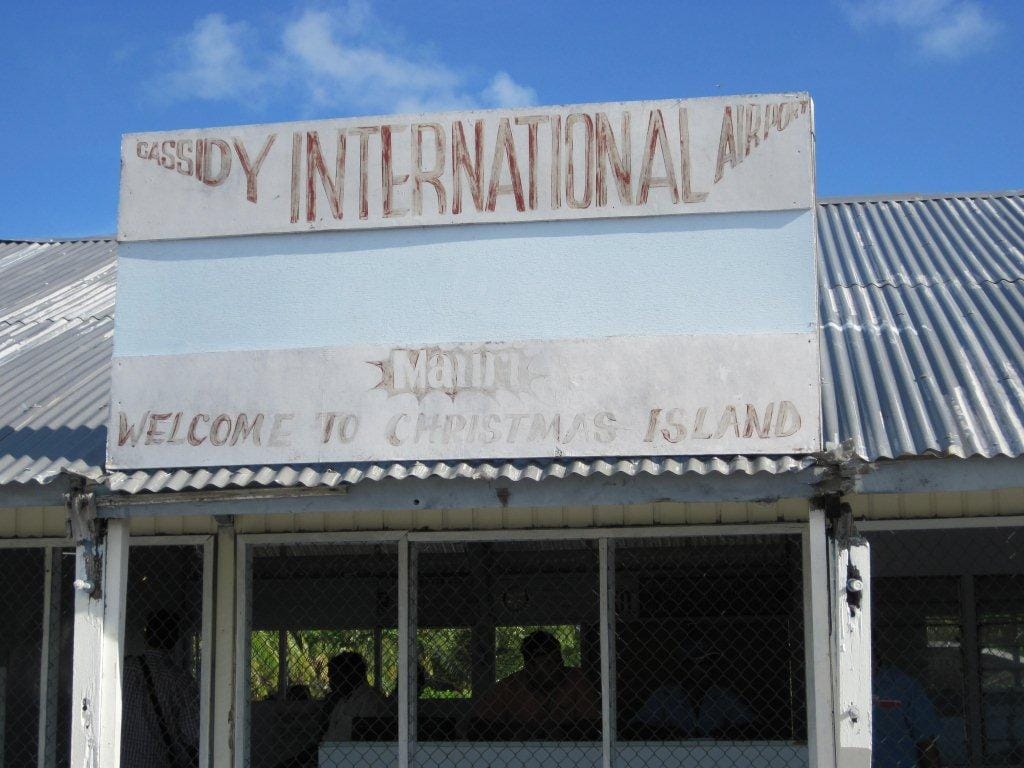 On arrival at "Cassidy International Airport", little more than a corrugated iron Nissan Hut remaining from the British era", the team was met by head guide Simon Corrie and driven to Ikari House in London in the only mini bus on the island which takes approximately 45 minutes. Ikari House is one of the newest operations on the Island and owner Jacob Teem has made sure it is shaping up to be one of the best. We drove past both other operations on the island on the way and it was immediately clear the distances they had to drive to get to the dock every morning. Ikari House is located a mere three minutes from the dock cutting out huge amounts of road travel.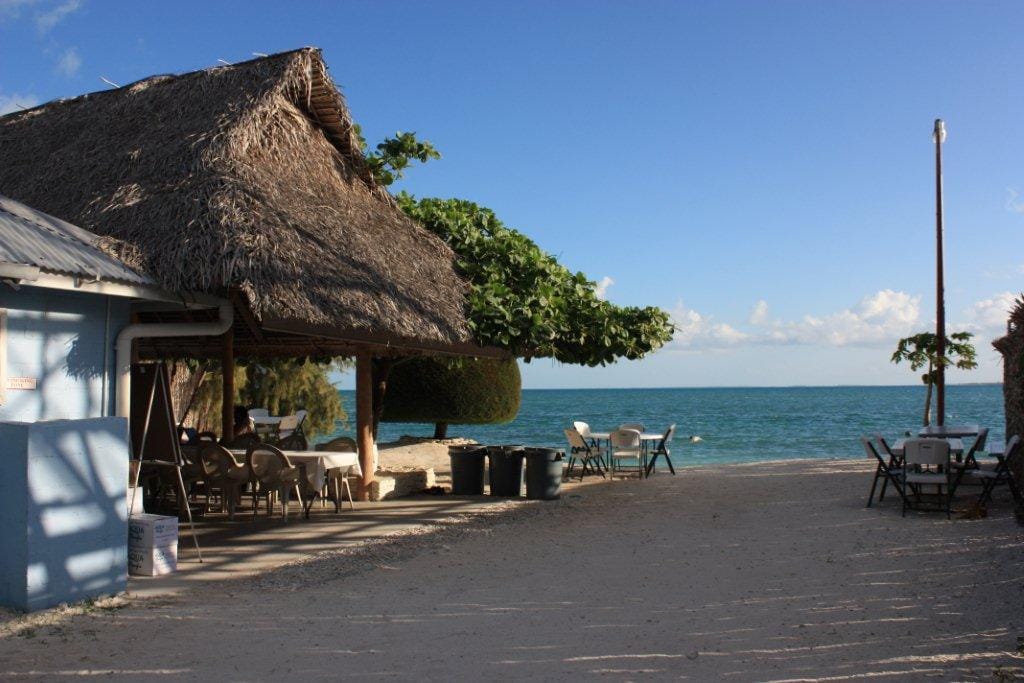 We settled into the brand new rooms, each with its own ensuite bathroom, hot water and air conditioning. Each room has its own outside area equipped with work table, chairs to put your boots on, drying horse, hose with spray gun and bucket and proper rod racks.The lodge currently has a capacity for 10, but this will increase to 16 once the other rooms are completed. The principal reason I chose to fish with this operation was the guide team and the boats. Jacob has invested in three fibre glass hulled pangas each with brand new Suzuki 100 – 140 Hp four stroke engines along side two recently commissioned traditional Christmas Island outrigger style boats. I understand there are three more fibre glass boats on the way.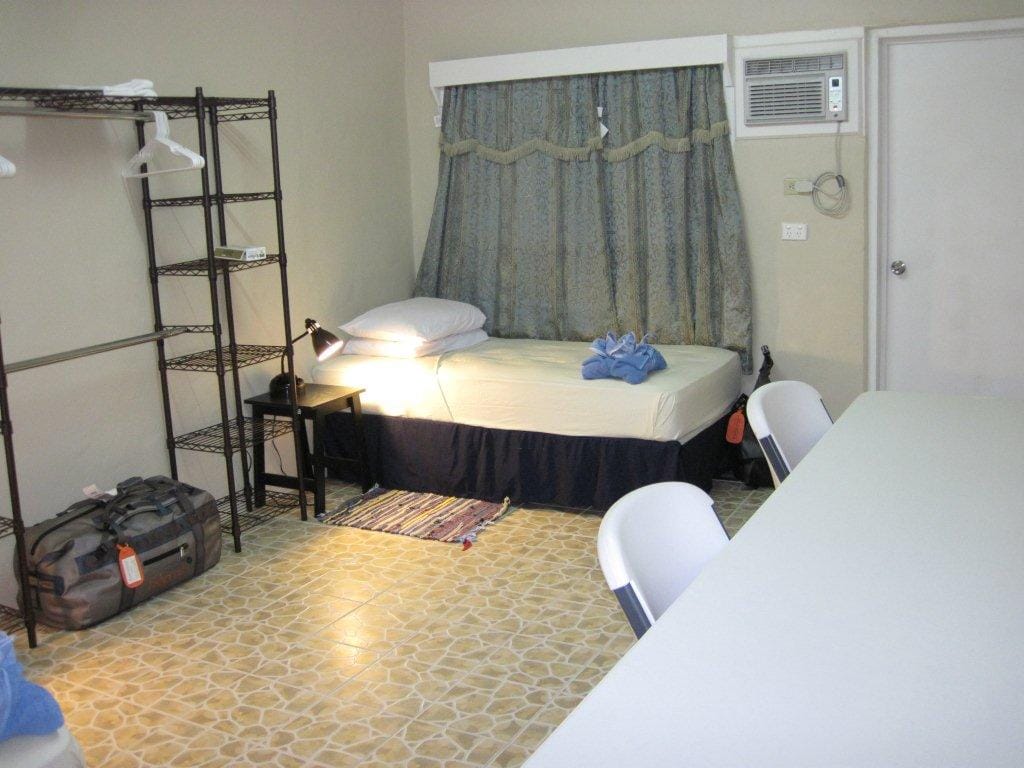 Day 1
The first morning it is always difficult to contain the excitement and as usual I could not stay in bed beyond 0400. I was to fish with Chris Rundle who I have not fished with since Cuba in 2008 and Nathan as our guide. He too was up and about. The previous evening Simon had told us that the tides were right for the Korean Wreck area located far down on the south eastern side of the island. I had read much about this area as a GT hotspot as there is a 300 metre or so corally ocean side flat between a high sand beach and the edge of the reef – perfect environment for large GTs and ocean side bonefish. The downside is it takes 2 ½ hours to drive to from London. It was the first day and every one was keen so four groups headed down there leaving Geoff Glibbery and Mike Fletcher to fish the lagoon. We took the bus and one of the trucks making the journey considerably more comfortable.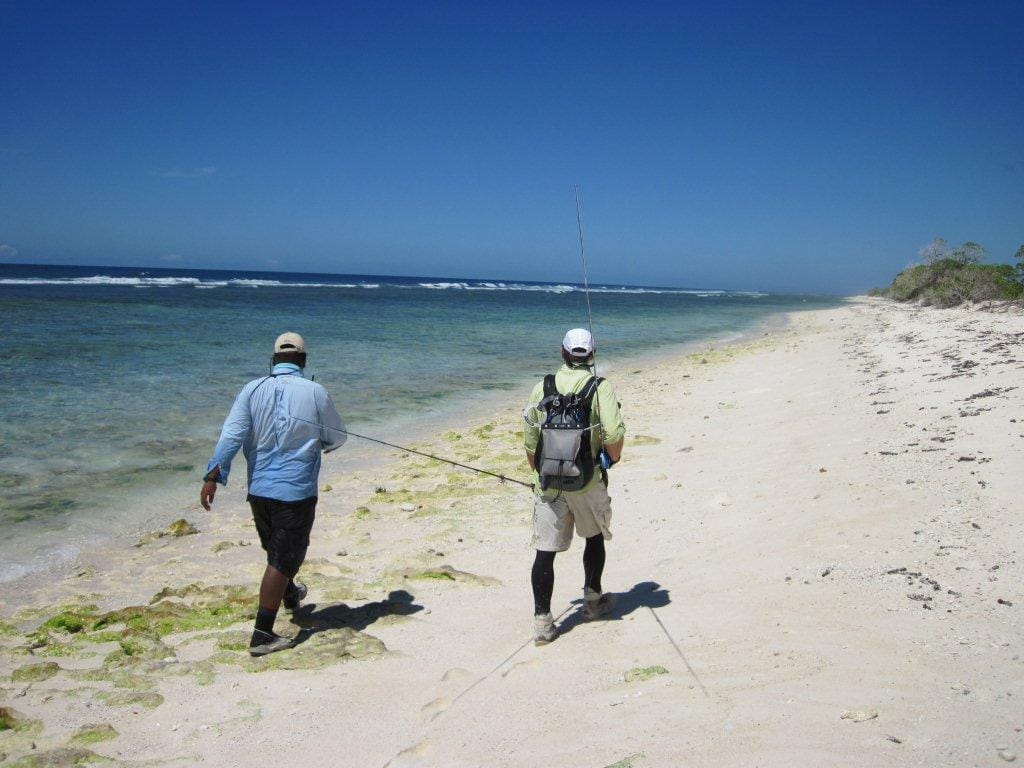 Arriving on our section Chris and I immediately saw bonefish nosing in from the surf side as the tide was just pushing, some very large and into double figures. I struggled to begin with on traditional bonefish patterns, but Chris caught a nice fish on snapping shrimp, closely followed by a decent 5 lber. I switched to a Cuban Shrimp and immediately intercepted a nice 4 lber that took a lot of string on my Hardy Proaxis 7 weight. It quickly became obvious that these fish liked to chase flies, and it also prevented the fly hanging up in the coral. As we stalked down the beach Nathan suddenly saw a huge GT of over a metre cruising up tide. I put Chris in for the shot and as he ran up the beach stripping off line he waded out into the deeper water to try and intercept. I love this kind of shore fishing and I ran up the beach to higher ground to help guide him in. Chris managed to put in a couple of great casts, but the fish had already started to head for the surf and I am not sure it saw the fly. Chris was shaking like a leaf!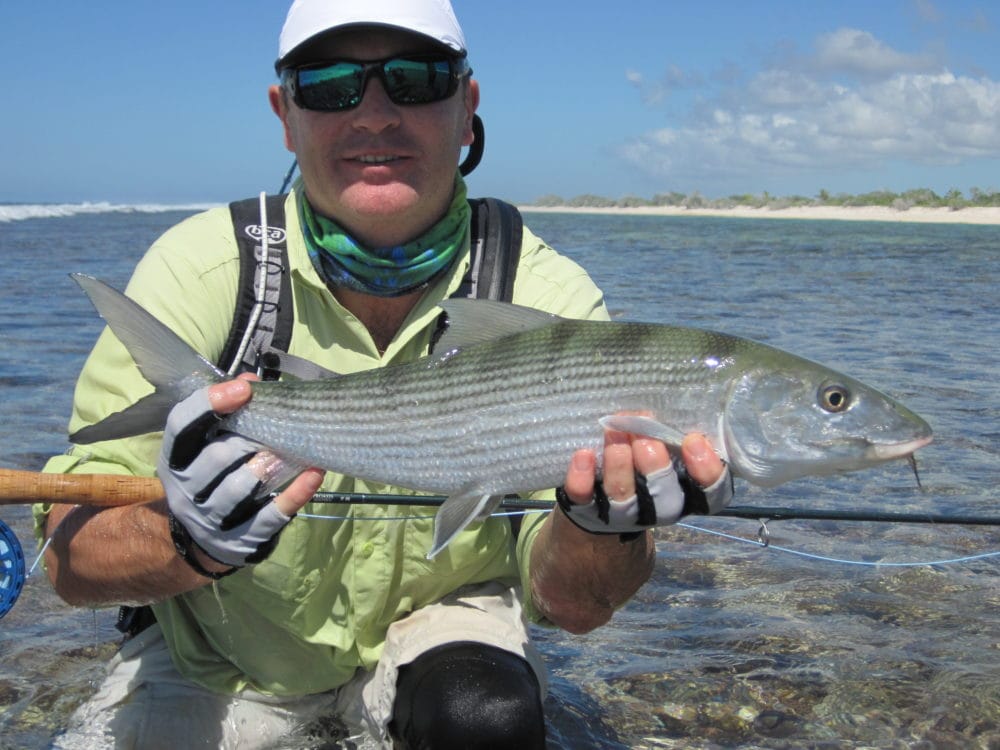 By lunch time we had spotted a few other GTs and a huge number of massive yellow margin triggerfish. I was immediately struck by the sheer size of them, some like small footballs. Although I had a couple of follows and nibbles I failed to hook up. Chris and I had lunch with Lianne Frost and Chris Bobby before doing another very long walk up another section of coastline. The tidal rip was flooding over the reef and was unfortunately making the water cloudy and visibility poor. By 1600 we were done and hopped in the bus for the long ride home. Arriving home we discovered the Mike and Geoff had done well with nine bones, Chris and Lianne caught a few each and few other tiny reef species, I caught a couple of bluefin trevally. Tess provided an excellent supper of lobster and steak and everyone turned in early as the time difference was kicking in.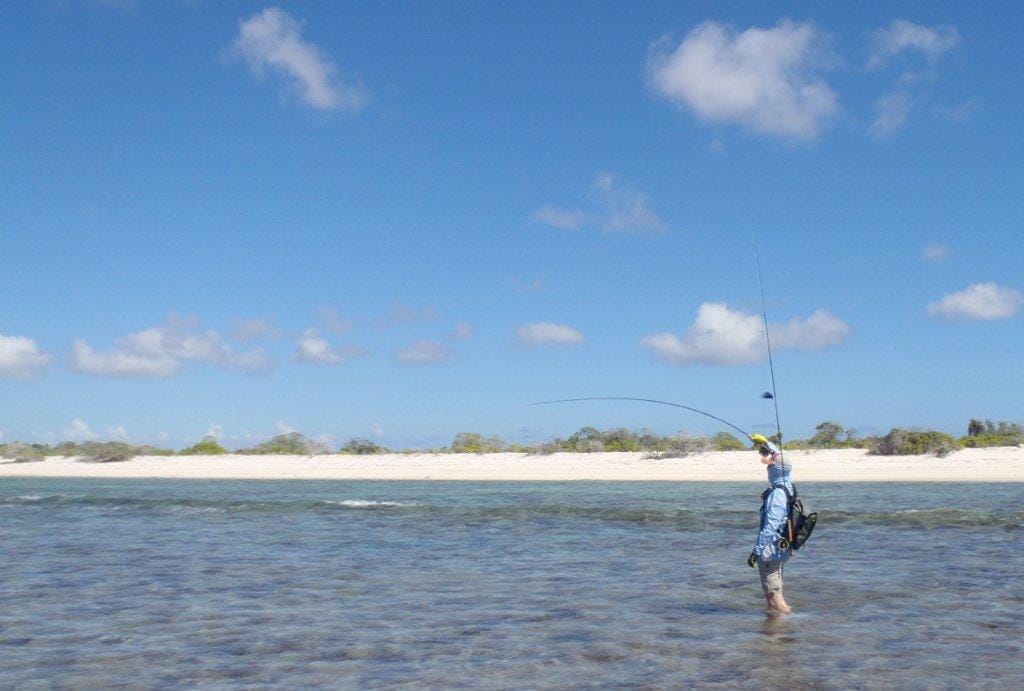 Day 2
As the second day dawned clear and sunny I partnered with Nick White and Teannaki as our guide. Our vessel, one of the traditional Christmas Island outriggers called "No Name" powered by a new 40 hp Suzuki four stroke outboard. Teannaki had been head guide at one of the other operations called "The Villages" for 9 years and has been guiding on the island for over 30 years. His knowledge was like a book I could delve into. We motored round the corner to a huge flat called Motu Upa on the dropping tide. I waded for two hours and in that time had 20 shots at triggers or more, some of them simply huge and well into the mid teens. I caught two bonefish of a nice size on a sand prawn, and had one encounter with big GT, but typically I had the wrong rod in the hand. The fish was almost blue and at least 60-70 cm. Due to the size of the lagoon it is normal for you to have an entire flat to yourself on Christmas Island. I met up with Nick and Teannaki two hours later. Nick had caught some bones, had a shot at a GT and seen four more GTs. We bounced over to Orvis flat. I had countless shots at yellow margin triggers in the deeper channels lacing the flats. Again, good eats but either through my slow reactions or the hook being in the wrong place I just could not seem to go tight. The tide was flooding and I picked another couple of bonefish on an orange Xmas Island special while Nick landed four bones and lost a couple with plenty of shots. Teannaki told me it takes six hours for the tide to flood the lagoon, then a further 20 minutes of slack before it changes.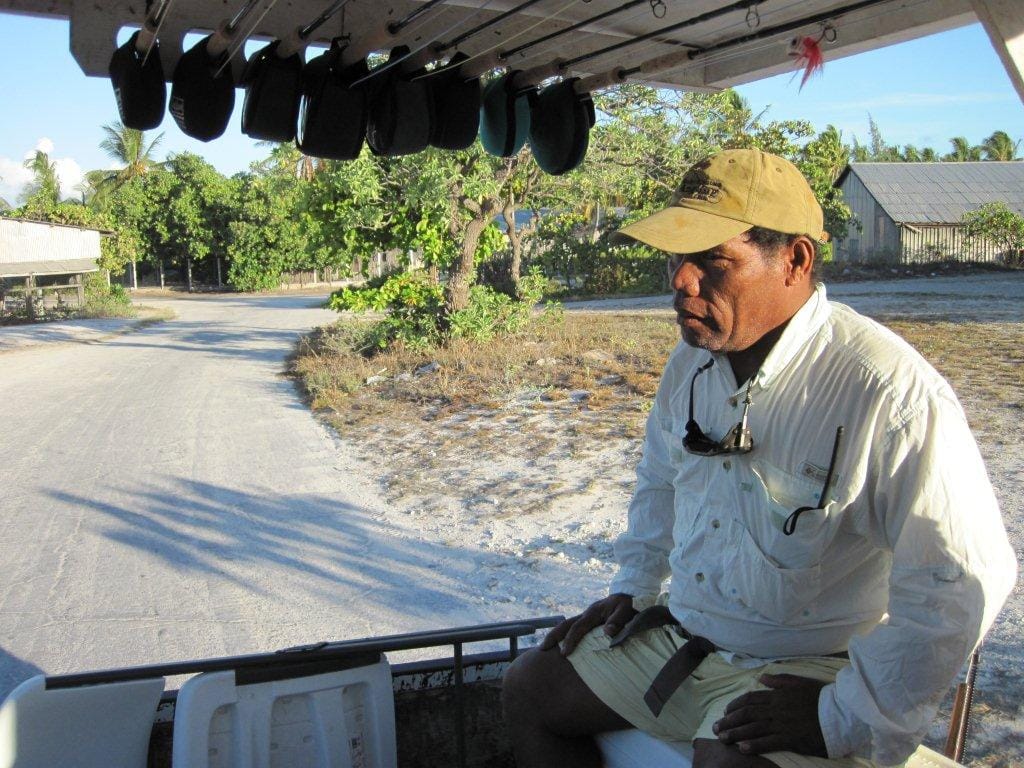 Nick and I had some lunch on board while moving over to Paris. We fished the reef side in front of the small lagoon on the push. There are two channels that go past a rocky headland, and the surf in front is a perfect hunting ground for GTs. Nick and Teannaki moved over to one of the channels to intercept fish entering the lagoon and I moved straight out to the surf line. As I waded through the surf I was nearly knocked off my feet by a GT of about 30 lbs surfing the waves which must have been attracted by my splashing. Unfortunately it was already spooked before I could get a shot of with the NYAP popper I was using. I waded over to the other channel and found a small school of grey mullet. Just on the edge I caught sight of a very GT like dorsal fin. I put the popper out and the GT immediately hammered it, but the hook came free before I had a chance to tighten up. I joined the others who had seen four trying to head down the channel, but Nick had not managed to hook up. We gave the beach edge a quick look see and saw two more fish cruising the edge. Teannaki took us to one more spot on Orvis flat that has a raised sand bar on it surrounded by baitfish, a typical GT snack bar. We hunted for a while but nothing showed up so we called it a day. Nick and I had seen plenty of fish and turned the bow for home. It goes to show sometimes not to be too focused on species and just fish for what is in front of you.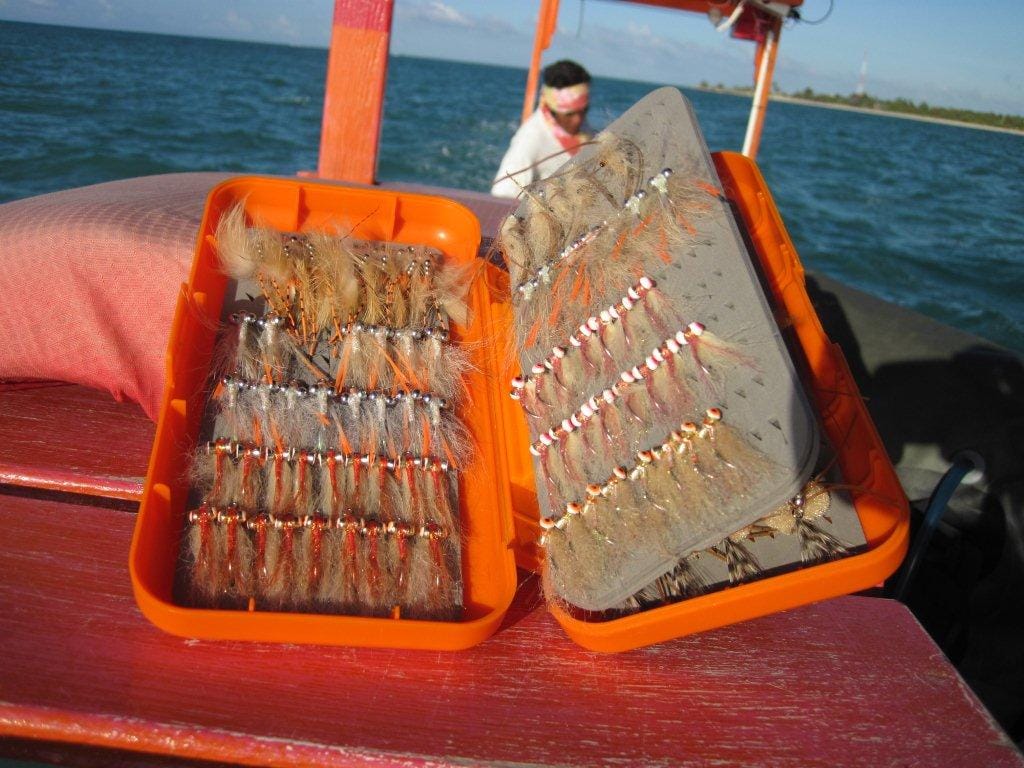 Day 3
This was the first morning I had not immediately woken at 0400, so I was finally beginning to settle into the routine. Today was my chance to fish with Andrew Wood and we had Simon as our guide. Our ride was "No Name" again. It was a little like fishing from a motor home, large and comfortable with steps down to the flats. Very civilised! As the tide was on the drop but still reasonably high we began on a series of pancake flats very similar to those of Los Roques on the inside of the lagoon. Our target, triggers and GTs. On the first flat I spotted and caught two bluefins of a few pounds on a spawning shrimp that gave me a great fight. I am always astounded by the pugnacious attitude of bluefin, and their colours always leave me in awe. Simon bounced us to the next and Andrew caught a lovely moustache triggerfish of 4 lbs and lost a yellow margin around 6 lbs that dove off the side of the flat and cut him off… as they do. Swine trigger fish…  Our last stop for the morning was a flat called Te Ren, nick named "Trigger Flat". Lianne and Chris had seen huge numbers of triggers the day before here and had countless shots. This morning was no exception as Andrew and I also saw huge numbers, but the dropping tide and very crunchy coral made stalking them very tough and I certainly spooked most of them before being able to get a shot. As the tide had crept down our calves we had to wade around the edges in the deeper water just like the Los Roques pancakes to try and creep up on them. I finally hooked a really nice moustache trigger on a snapping shrimp which powered off the edge, ripping of line before cutting me in the deep. Arrgggggh!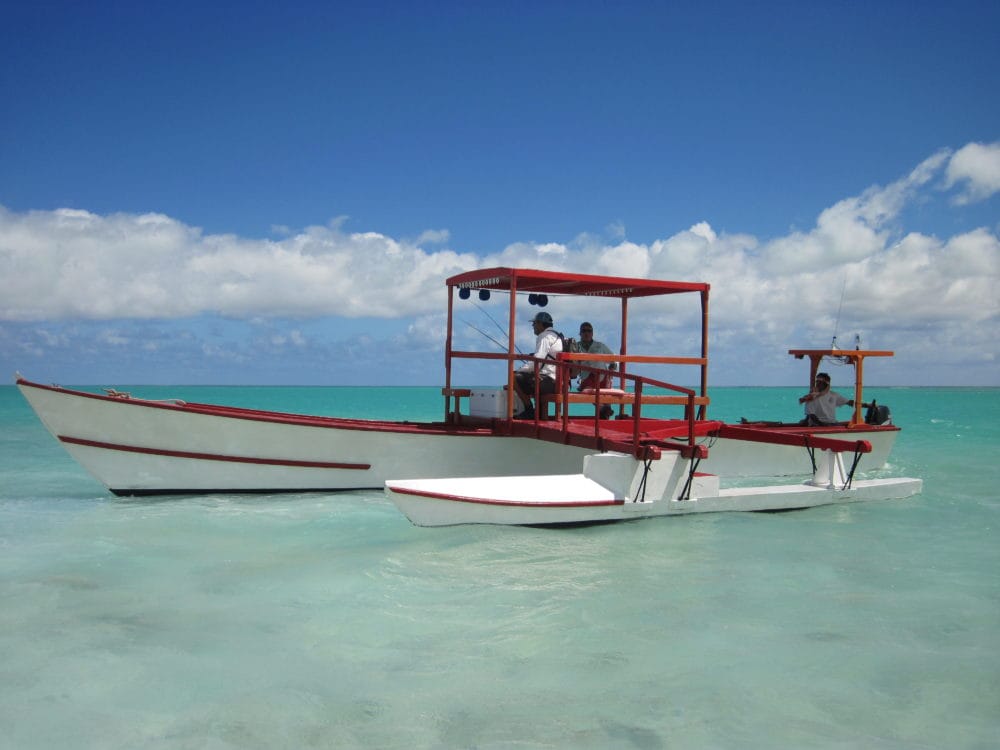 Having seen GTs in the mouth the previous day we ran over to the coral headland at Paris flat again and fished the surf. This style of fishing is not everyone's cup of tea, but in my opinion it is THE way to catch GTs. We saw five GTs surfing in the waves which I always love, one of them a real bus definitely over a metre in length. Typically I caught the smallest fish in the pack of 5 lbs that swallowed the NYAP popper, and bit me as I tried to unhook it. Not so much of a GT but more of a T.. There I was worried that the 6/0 NYAP popper was too much of a mouthful for the smaller fish!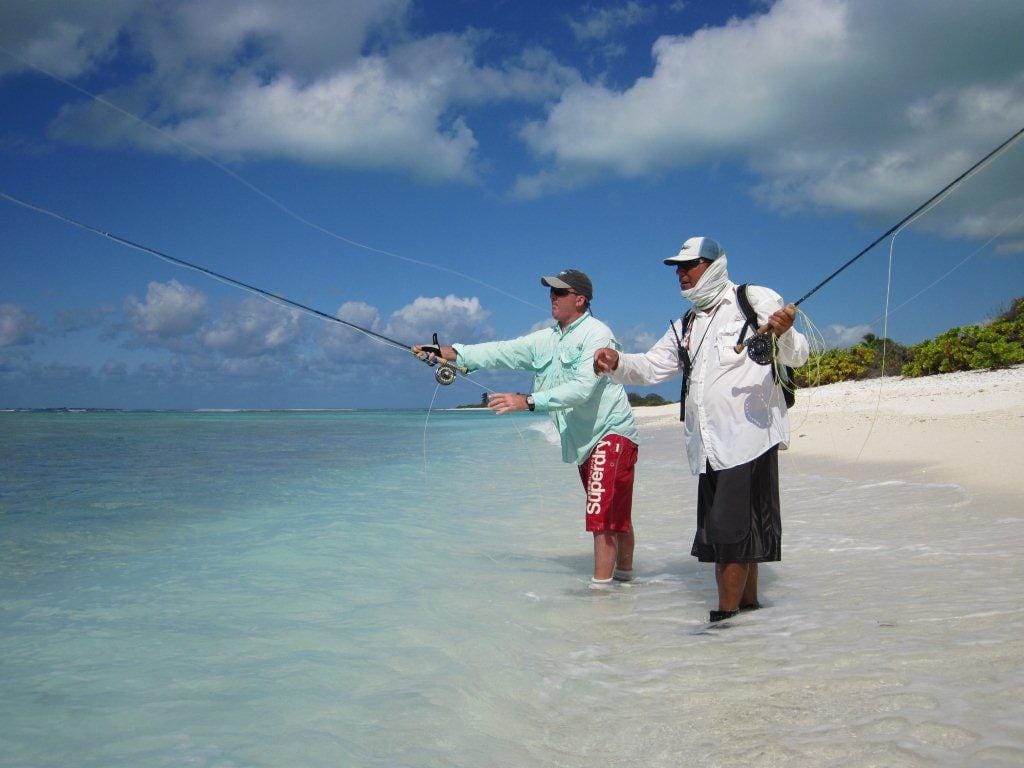 I then caught another round the back of Cook Island bird sanctuary although the tide was too big on the beach by then. Simon suggested we go check over on the GT breakfast bar, but Teannaki had beaten us to it. We fished one more sand bar that also congregated baitfish, but there was not much going on the full tide and the light was rubbish making spotting almost impossible, so grabbed a cold beer and headed for home. The dinner conversation was bubbly that night as other members of the group had really got amongst some numbers of decent bonefish and seen more massive triggers. I continued to whine about missed triggers. Having had total success with them on Farquhar in April and thinking I had cracked I was being taught a sharp lesson in humility by the "professor".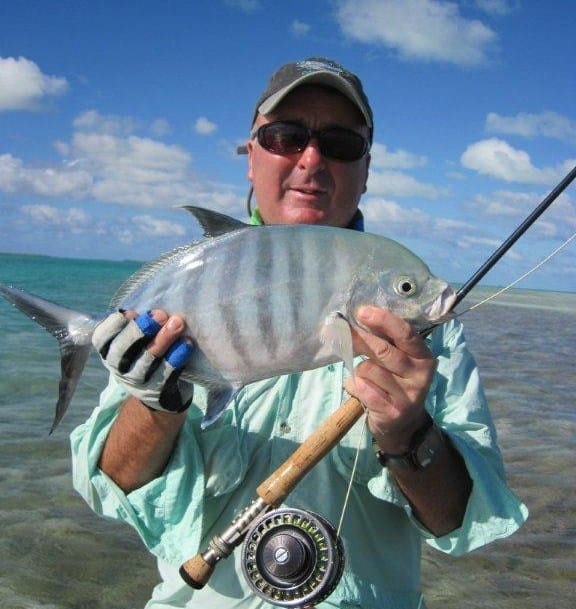 Day 4
The morning dawned with the usual sun popping up into the sky like a yoyo. The wind was still blowing from the South west, and I partnered up with Geoff and Tyrone as our guide on "Wai Knot". This was my first day on one of the new centre consoled fibre glass boats which have revolutionised the way that Christmas Island is fished. "Wai Knot" is the smallest and has a 140 hp Suzuki 4 stroke outboard engine. Their design is very similar to one of the Venezuela pangas offering a very smooth ride along with shallow draught. Areas at the back of the lagoon can now be fished effectively as there is no access by road and this has opened up new areas to fish.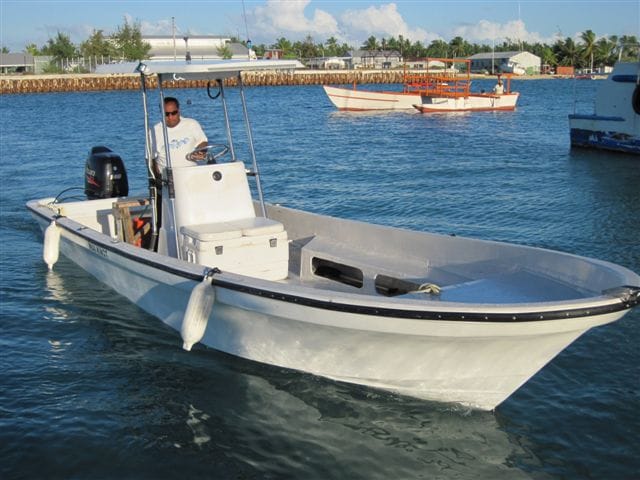 We buzzed right to the back of the lagoon in short order to escape the wind in only 30 minutes. The sun was behind a line of cloud making spotting tough and much of the lagoon had been churned up by the opposing forces still on the dropping tide. We began on two small laval Islands, looking down the edges for triggers and bones, finishing on a long spit stretching off the bottom. I did not see too much but when I tried some blind casting of the bottom with the NYAP popper the fly was instantly mobbed by frigate birds driving me bonkers. Finally I was too slow and one grabbed it before dropping it on a mate and I hooked up. It flew just like a kite but I managed to land it with some difficulty and using my Kevlar glove unhooked and released it with little damage to either of us. Okay, so no more fishing there!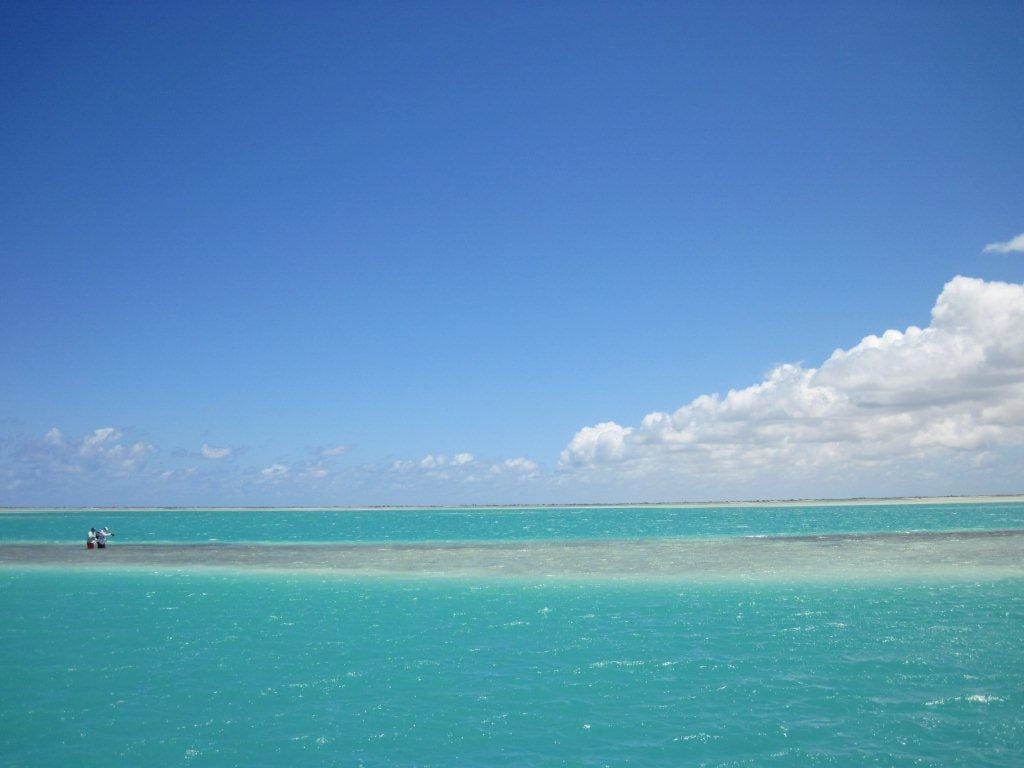 Geoff and Tyrone saw some good bones off the bottom of their island and Geoff had some good shots. I moved to another island and spent the morning hunting and walking, bouncing from island to island and wading across the channels. I picked up a few bones here and there, saw a couple of big GTs that showed no interest, a massive cuda patrolling the edge and finally happened upon a wonderful high laval shelf with a stunning sandy edge dropping down to turquoise.. I now understood why we were back here, this was what it was all about. There was a continuous stream of big single bones coming up tide, feeding as they went. I spooked a lot of them, even ambushing them with the fly on the bottom.  I changed to a 15 ft leader, 11.6 lbs tippet and started getting serious interest, fish pouncing on the fly. Putting a cast out without getting the line stuck on the coral was a struggle, Cosmoledo all over again! Yes, a stripping basket would have been helpful, did I have one – no… I hooked a couple of really nice fish in the 5 – 6 lbs bracket but one broke off on the take and the other just fell off having bolted for the deep… I was vexed and lady luck was not shining on me. Maybe I was just fishing like a Muppet. I finally managed to land a nice one, but had to hang over the edge to land it without falling in, and luckily I was all by myself so no silly pics! It was an experience I shall file in the memory banks, and that fish was a small triumph. Slightly reminded me of an experience with a trout and hanging off a bridge in my formative years, but that is another story…
After lunch I spent 30 minutes with Tyrone and found some triggers on a coral edge. I hooked two lovely yellow margins and….. lost both of them. Swine triggers! Being utterly sick with my efforts and total ineptitude I sent Tyrone back to Geoff and took myself for a very long walk along "9 mile flat". Okay, it is not called "9 mile" for nothing, and I was fast moving, scanning the edge the entire time. I am still flabbergasted by the sheer size and diversity of the lagoon here and I was doing my best to see as much of it as I could.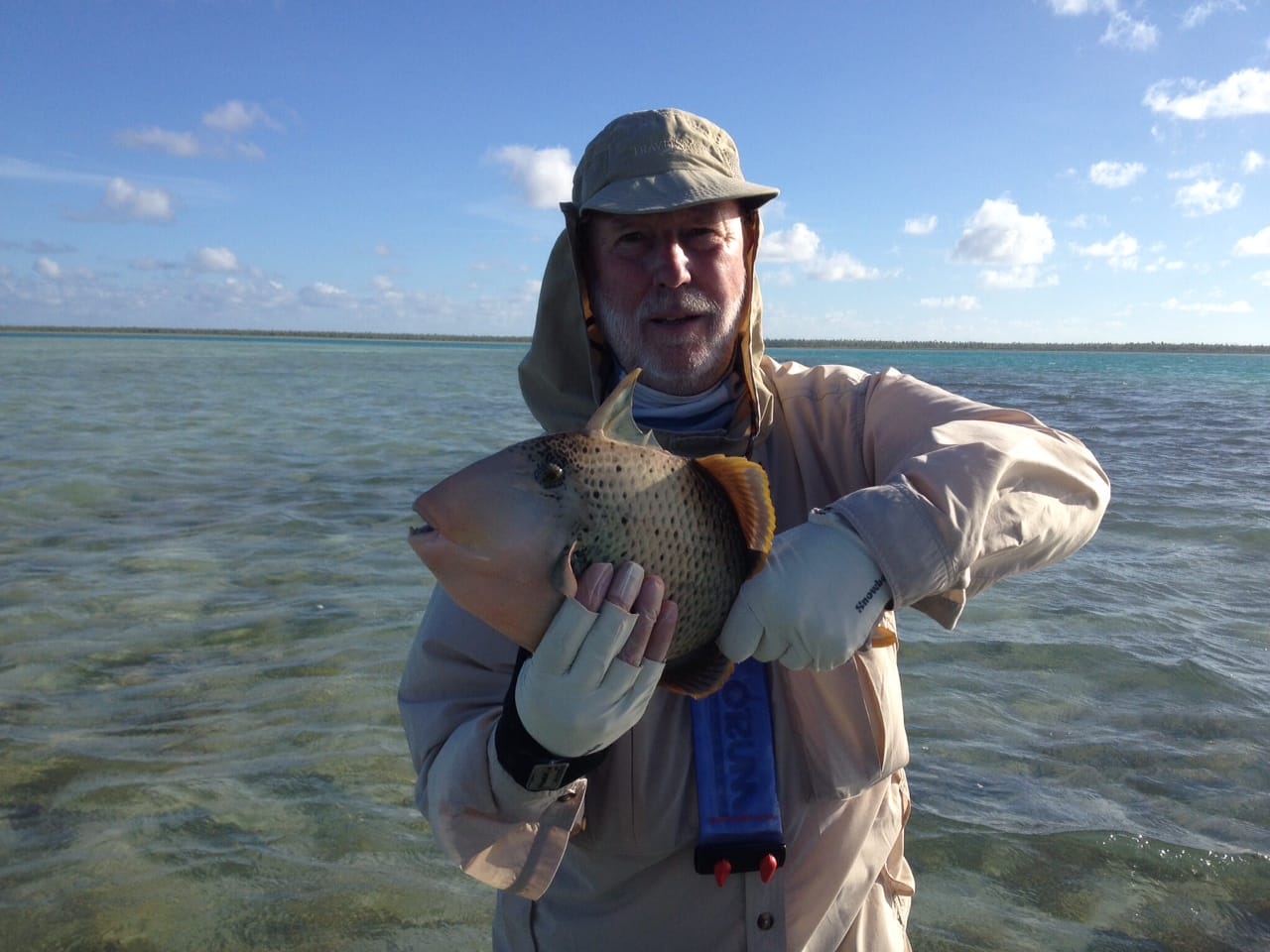 When I began the tide was right out, most of the flat high and dry and apart from some close calls with more triggers along the edge not very eventful. Many of the edges were very cloudy still so and a few hours later with a fast rising tide I hailed the boat and I called it a day. I covered a lot of ground and got a good feel for the flats. Neverthless today had been tough with conditions not in our favour.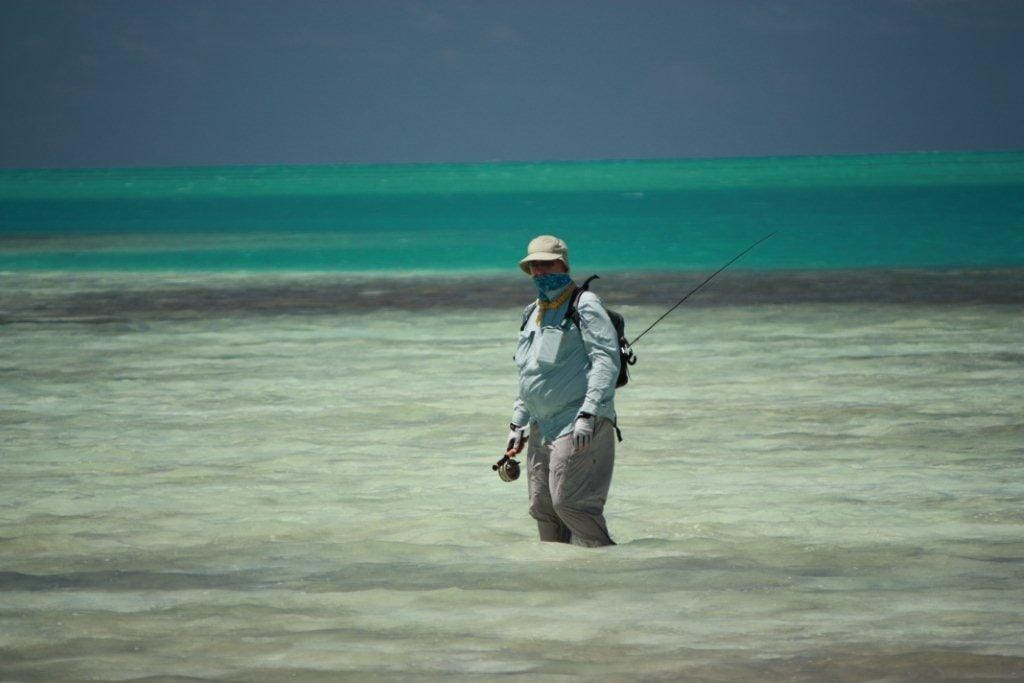 Day 5
Milkfish were on my mind when I awoke. There had been much debate across the dinner table about the fabled milkie, and four of us were keen to investigate. I took Mike along with Simon as our guide. I explained to them that Wayne Haselau on Alphonse had once told me that milk fishing is a state of mind. You have to actually believe that you are going to catch one – that one fish out of a school of hundreds will single out your fly and eat it. We had heard stories of huge schools of milkfish on Christmas Island and it was time to put money where my mouth was.. even so I did not get the impression that Mike or Simon shared my confidence. Mike had never caught a milkfish and was very keen to.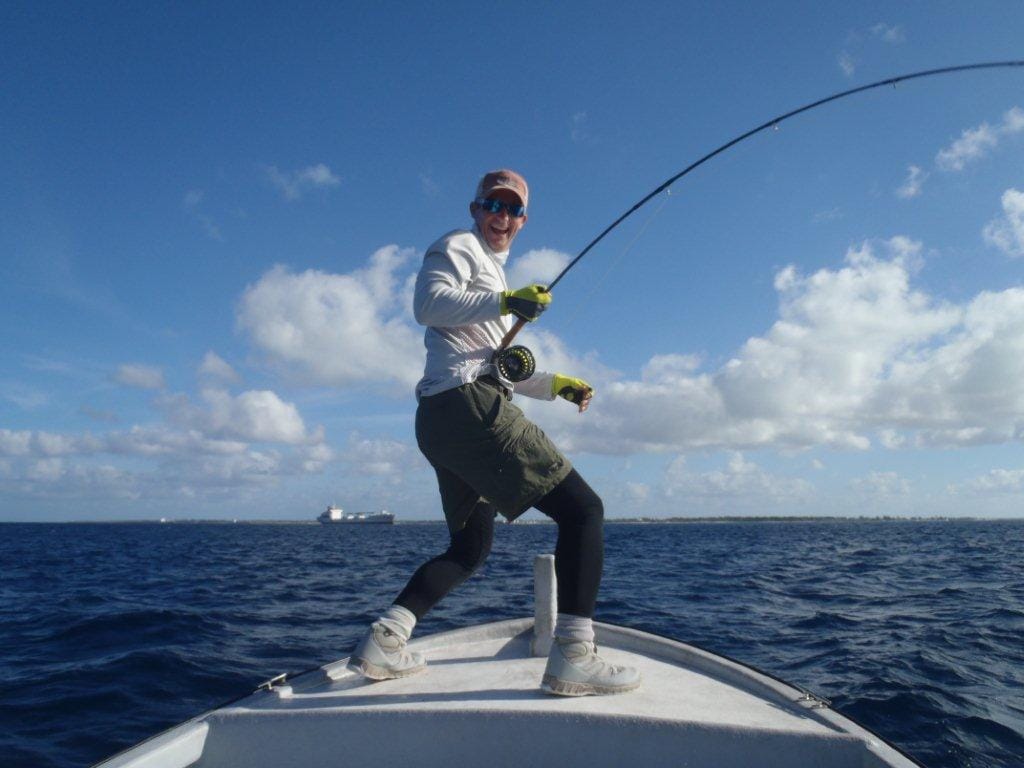 As we headed out of the harbour and towards the channel that leads out of the lagoon nothing prepared for me for what I was to see…. HUGE schools of milks of all sizes feeding with their mouths out of the water and milling around. Perfect. I set the drift up with the sun behind us, cut the engine and the boat drifted nicely down the side. Simon was still sceptical. Five minutes later I hooked the first one which went berserk and jumped six feet in the air, and their faces changed.. I felt a glimmer of belief..  The line sang out if the rings, reel screaming in protest at the break neck speed of that giant tail. Suddenly everything went slack and the fish was off. However an encouraging start on the first drift.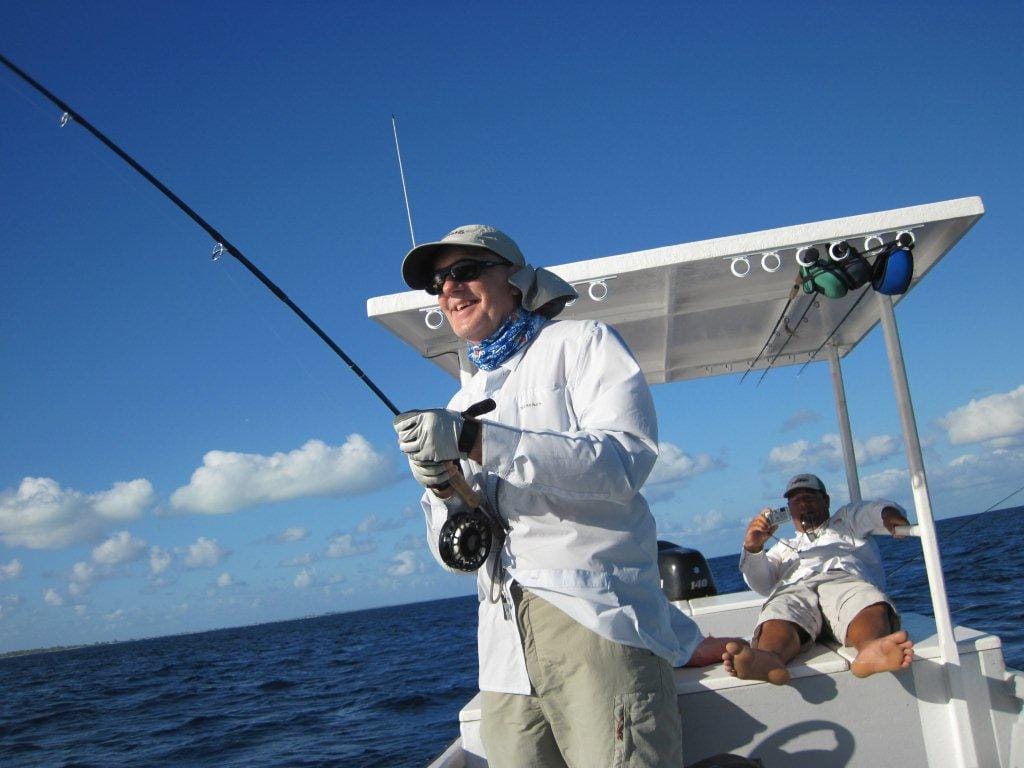 What ensued was hysterical chaos for the next hour and half as we hooked seven and landed three. Mike landed his first after a fantastic battle and was beaming from ear to ear. He had actually watched the fly go in, a fish move to it and just eat it on the surface before striking. A convert!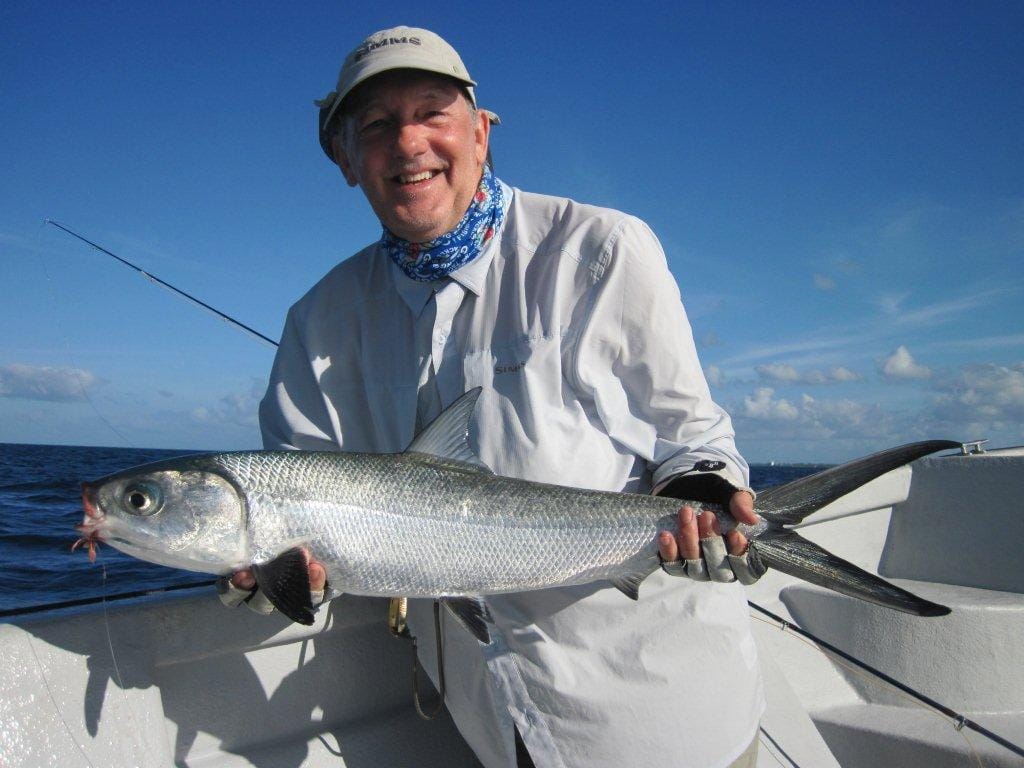 I then hooked and landed a fantastic fish of maybe 18 lbs that really made me sweat with multiple jumps like a tarpon. Milkfish come out of the water like a broaching polaris missile, a bolt of silver arching across the skyline before plunging back into the foam.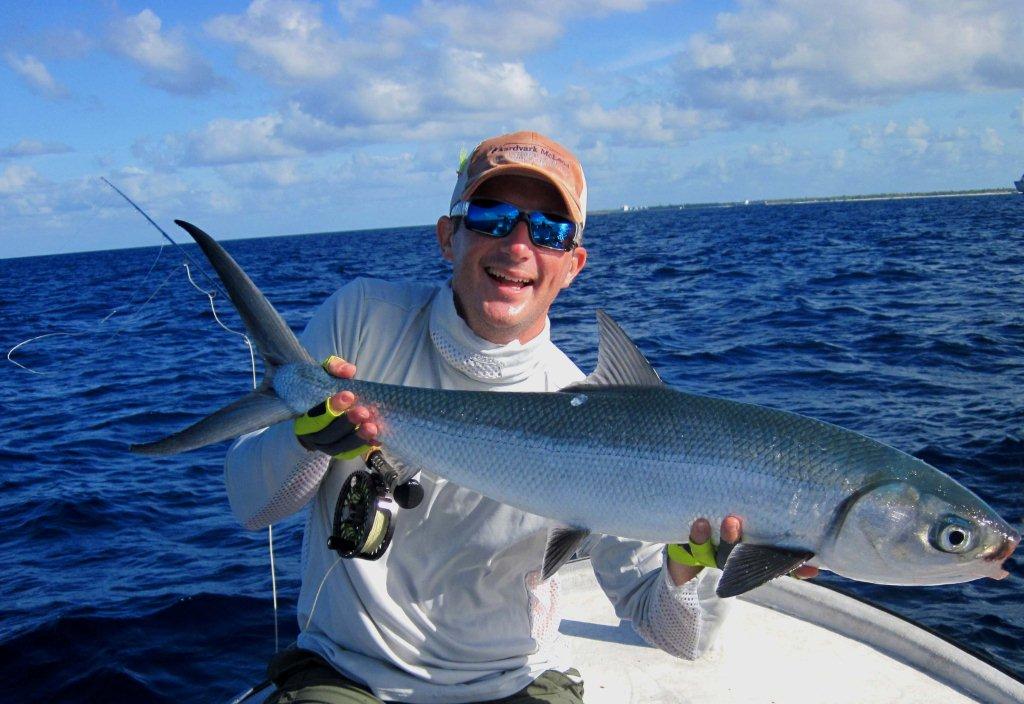 Having released it I handed my rod to Simon and told him to have a crack. He had to experience this to truly believe… He cast out to the line of feeding fish. The fly submerged, a fish moved to it and he struck… away it went. So, first cast, first hook up and after a frantic battle and much giggling I netted it for him. First cast hooked and landed, a great achievement!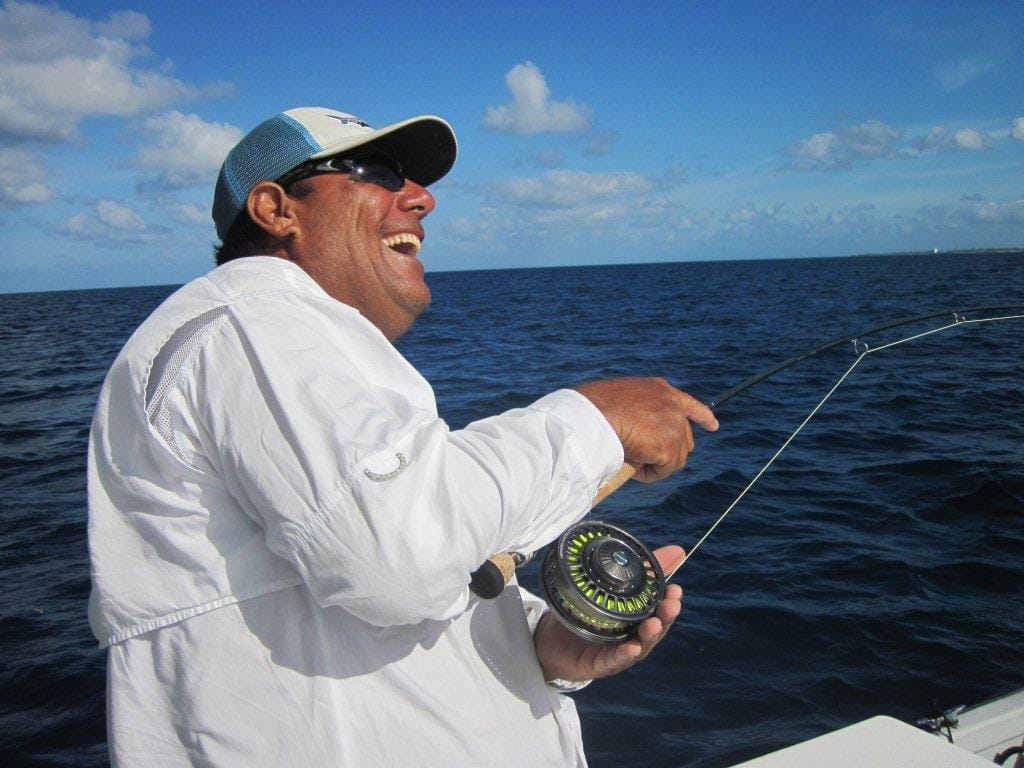 I felt like a missionary who had converted two unbelievers. He was muttering to himself quietly, interspersed with maniacal giggling, wild eyes and a slightly demented expression on his face.. I suspect that having guided on Christmas Island for over 20 years a whole new dimension of the fishery had suddenly been awoken in front of him. I have learned the techniques from some of the best in the in the Indian Ocean and it was hugely gratifying to share the techniques with them. He has christened the area "McLeod's Milky Bar".. does that make me the Milky bar kid?? Oh no…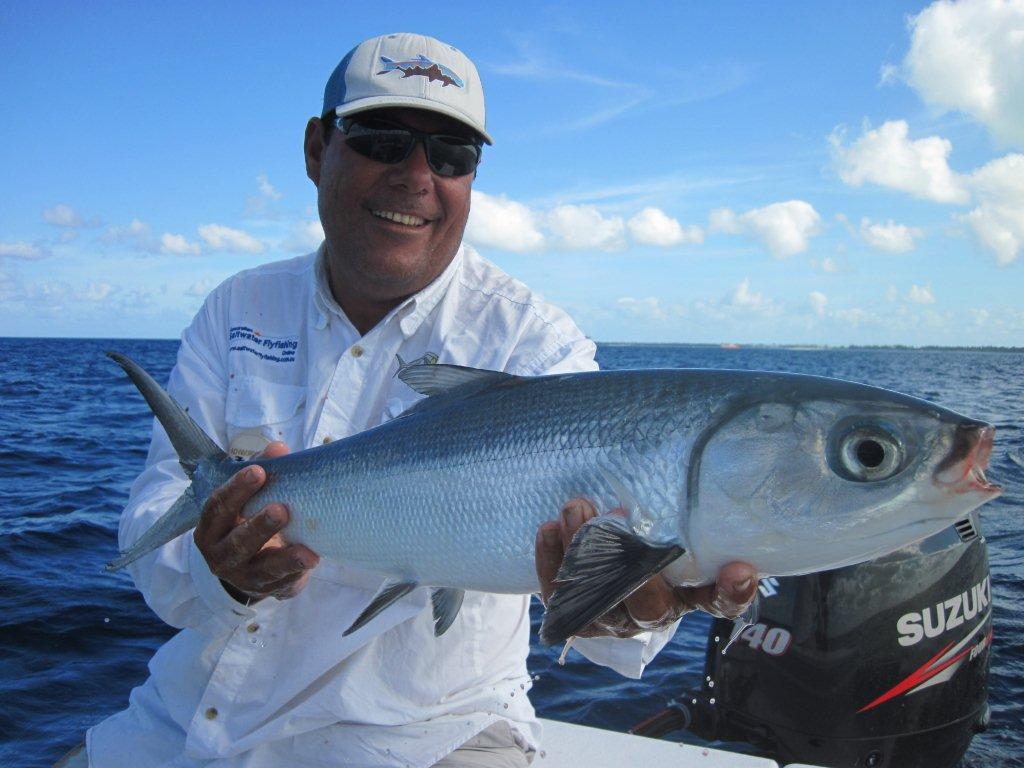 After further giggling the school went down, so as we were already offshore Mike and I thought some dredging was in order. Simon took us to spot down the coast which had doggies, but the wind was up and tough to maintain a sensible drift over the drop off. I cut my 600 grain line off and that was the end of that. I tried the popper a little but no success. Mike caught one small job fish and we moved back into the lagoon to Moto Upua. The water was very deep by this point, and I found one huge trigger which had to be pushing 10 lbs tailing on the edge. I cast a beaded shrimp fly at it and began to strip. It charged it immediately like a small bull before arching across the flat, line searing through the water and disappearing down its hole. With the water up to my chest, the tide pushing in fast and all by myself I tried to pry him out but I was on a hiding to nothing. All I could do was pull and it snapped. Gutted. Swine trigger… the story of my week. Mike offered little sympathy, merely remarking that he had caught five on the first day and did not see why they were so difficult.. ha! Ha!.  I must point out at this point I have never seen so many and such large triggers as here. The lodge has just submitted a moustache trigger for a world record at 14 lbs 8 oz… hurumph.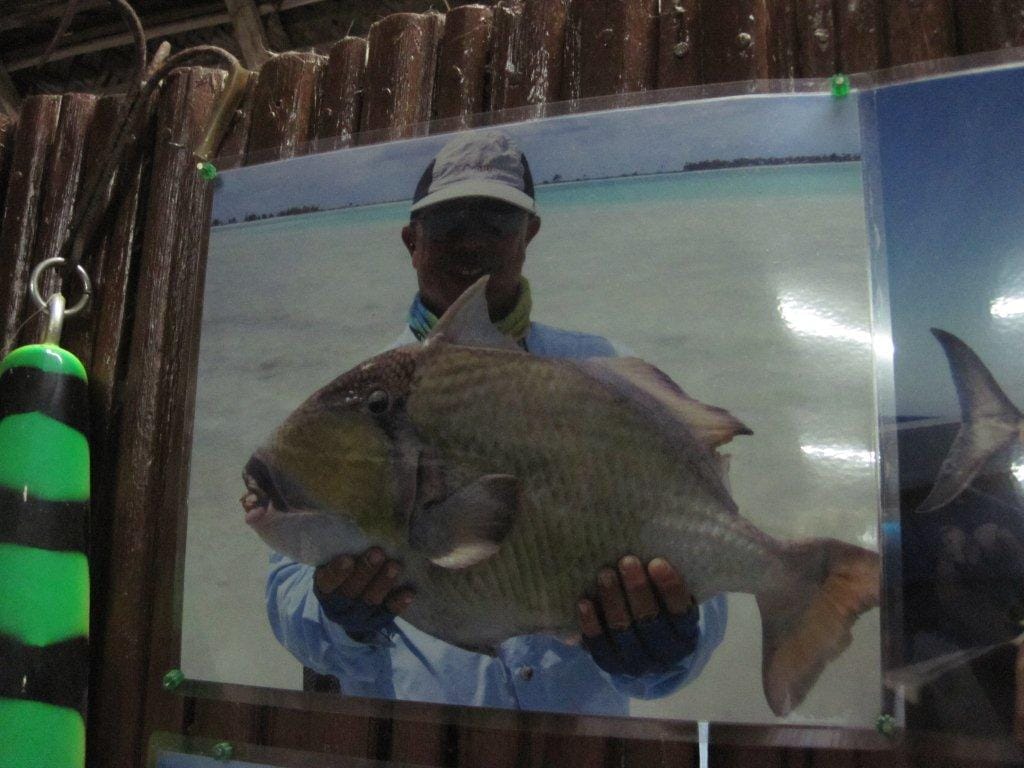 We moved to a big pancake flat at the back of the lagoon, but the sun, tide and wind were all in different directions on a fast pushing tide and it was very tough. I caught one small bonefish, lost another decent one that had actually been following my boot trail as a food source, and the day was done. Mike and I celebrated with beer on the way home and relived our milk success… and through most of dinner!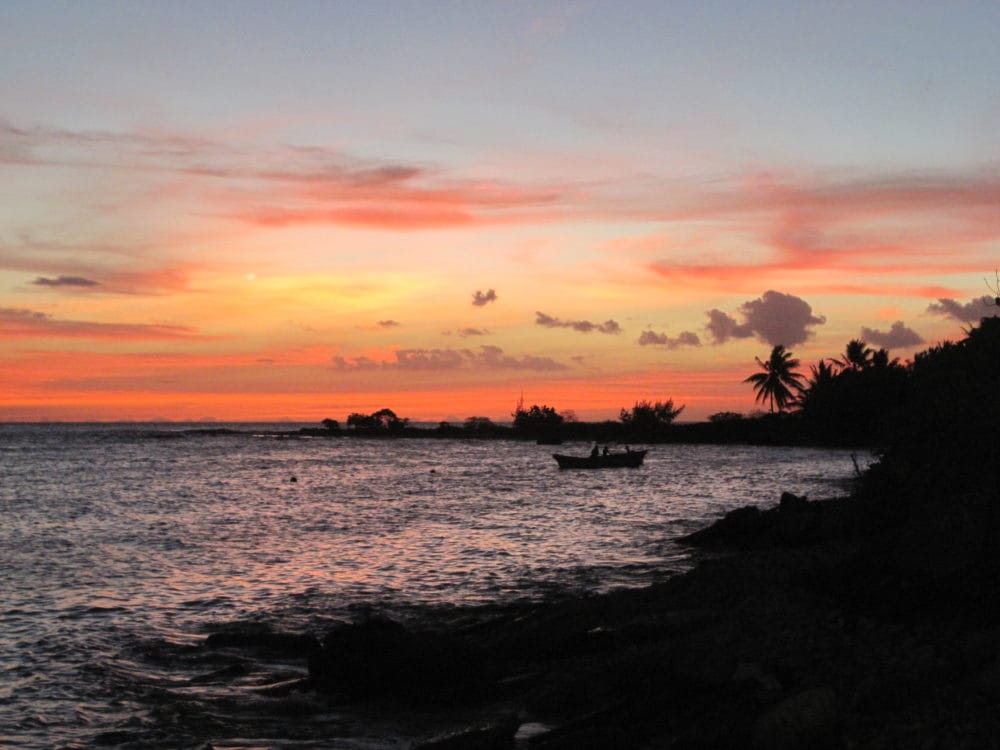 Day 6
The last day dawned clear with less wind. Bill Hayes from the US was looking for a partner to go bluewater fishing with so I volunteered. Nothing ventured nothing gained, and as Bill had been out a couple of days earlier and caught three sailfish up to 80 lbs on the fly and raised a big yellowfin tuna I thought it sounded interesting and another facet of the fishery I should experience.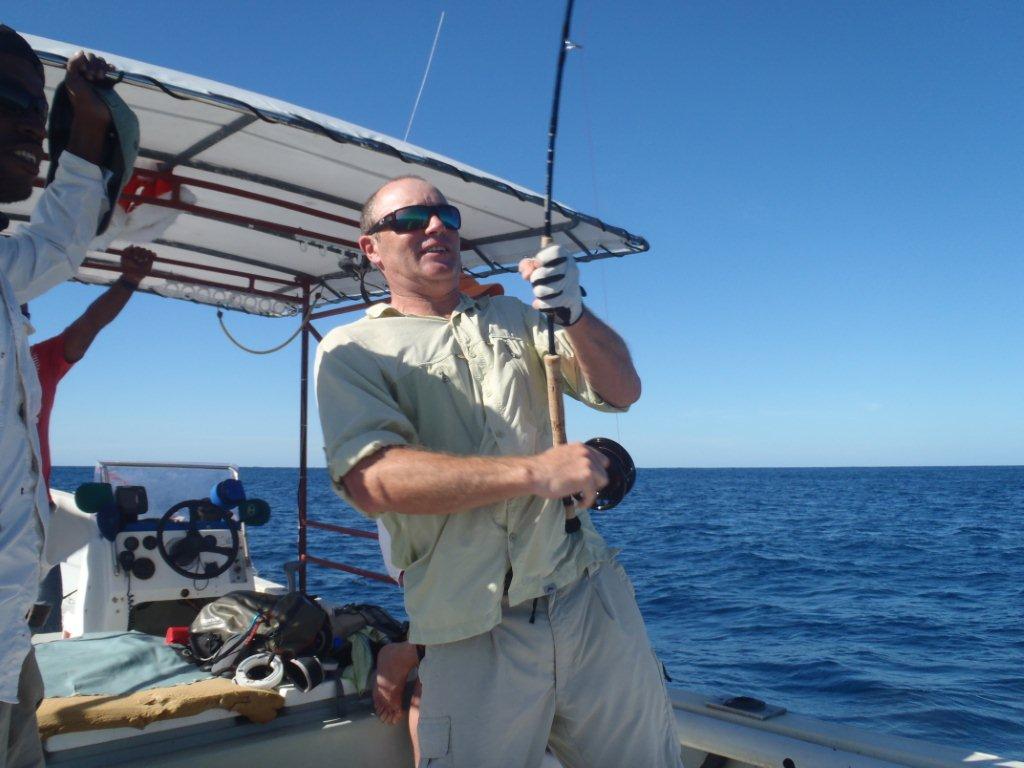 First we stopped off at the Milk Bar and had a quick go at the schools as Bill had never done it. He hooked one in the first 15 minutes and after some voracious runs and a couple of jumps they parted company. The sun was coming up so we set the teaser spread and began to troll around the side of the island down past Paris and Poland to where they had raised the sailies previously. Now I have to say I have never been very lucky when it comes to bluewater fishing…..  and this was no exception. The ocean was a perfect iridescent blue colour, but despite seeing birds working, bait jumping and all the usual good signs we raised nothing all morning so headed back into the channel to hop out and fish for GTs in the surf break again.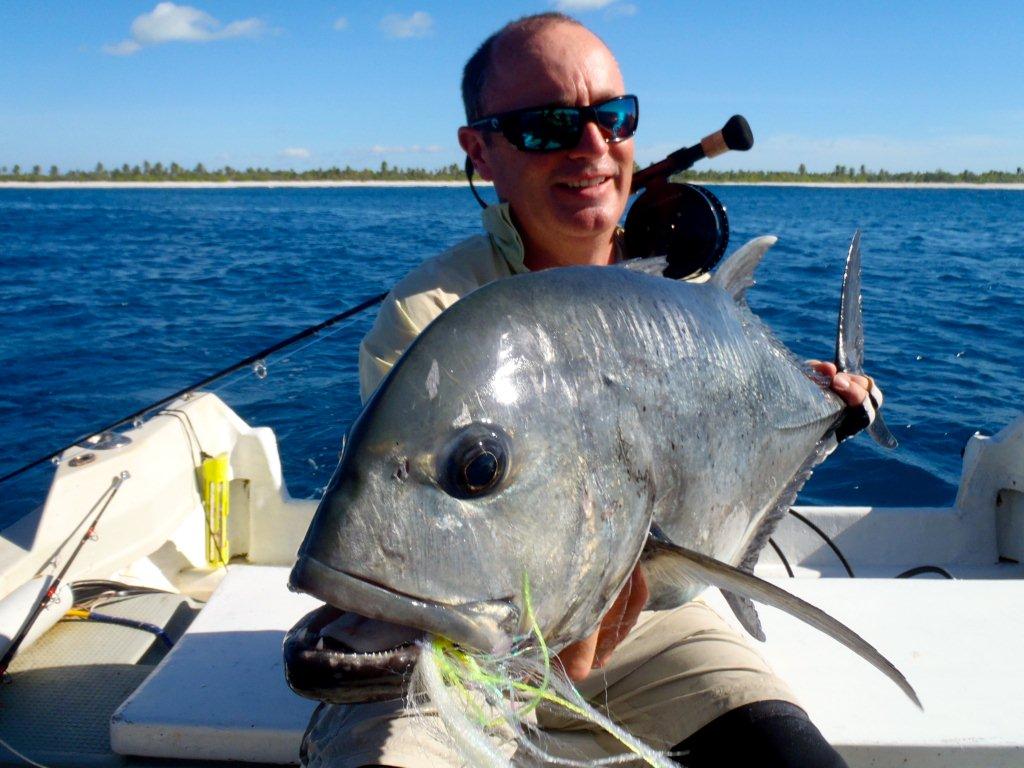 Moving to the bottom low of the spring tide I found I could wade out further than I had been able to at any time so far and could nearly reach the front of the reef. As I waded along through the surf I saw a number of small black tip sharks, one of which decided it wanted to come and try a little singed Scottish ankle as an appetiser.. The three foot black tip whipped in, and I used an interesting technique taught to me by Keith Rose – Innes on Cosmoledo.. I jumped on his head. (looking back on it now, I wonder if he was pulling my leg..?) I am not sure which of us was more surprised, but all I can say is the shark should be grateful I have lost some weight or it would have been crushed. Needless to say it left in a huge hurray and left me and my popper well alone to hunt GTs. As I waded through one coral garden a huge blue shape flashed past but was already heading for the surf before my popper landed in its tailwash.. C'est la Vie. Further round the surf edge I hooked and landed another small GT of about 8 lbs, again on the NYAP popper. It really is the ideal surf fly as it does not become entangled in the coral as the surf crashes across you and save huge aggravation if you can't stand on higher ground. Well, not the largest I have landed, but certainly rewarding and a nice way to finish off the week.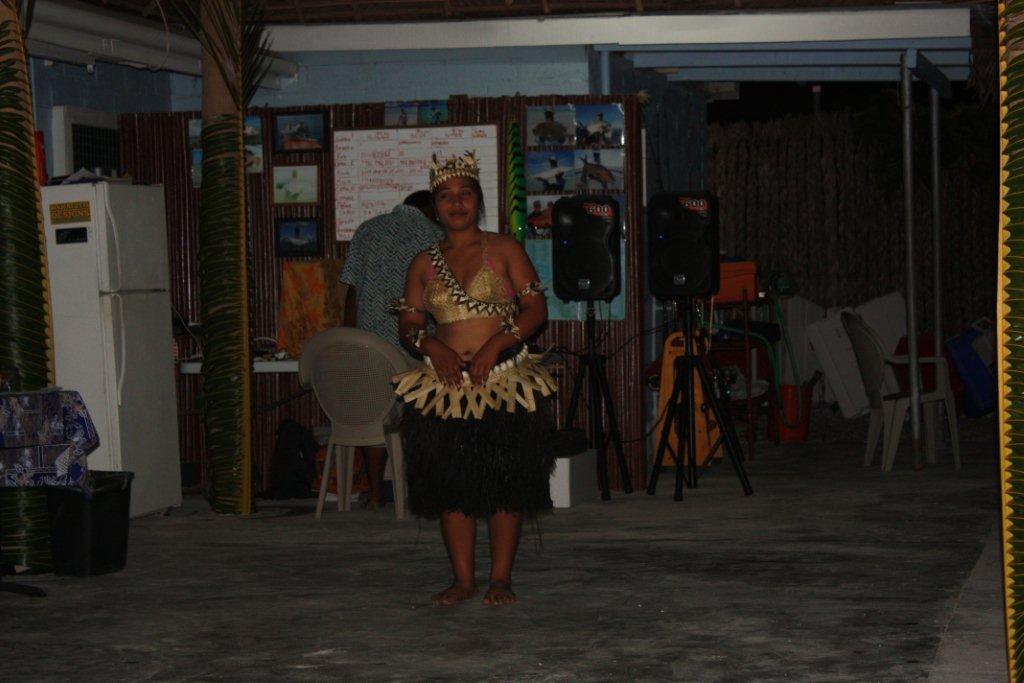 That evening Jacob and staff gave us a fabulous farewell with a traditional whole roasted pig, Kiribati dancing and finally singing by the staff which was truly special… oh, and rum… quite a lot of rum….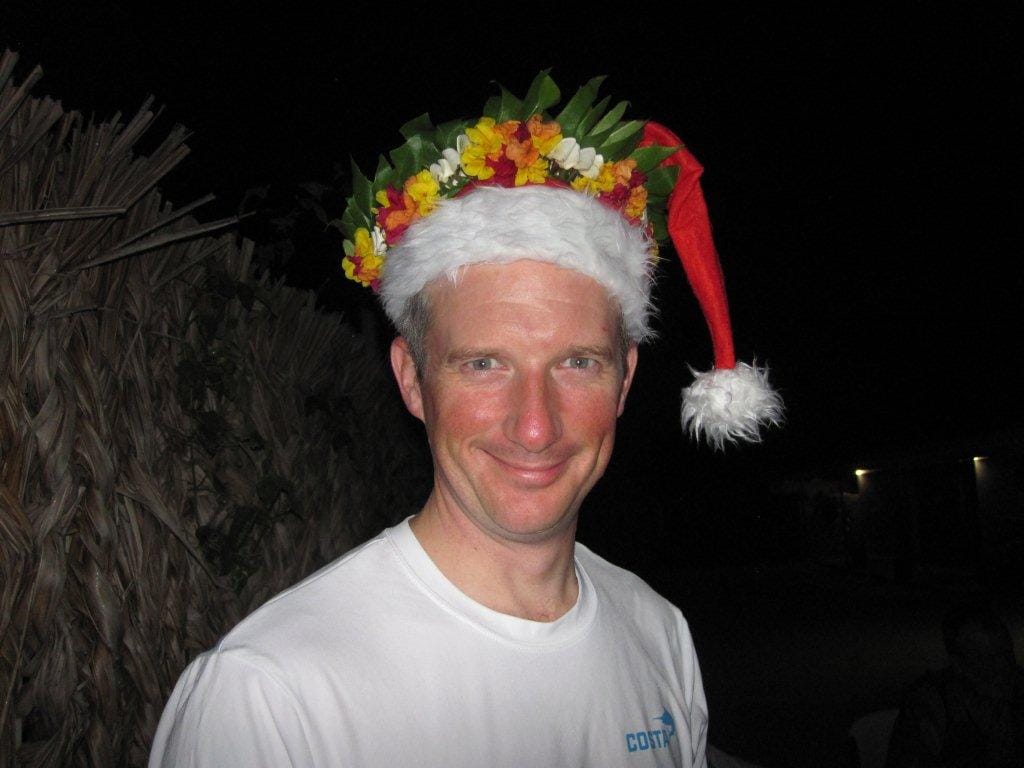 So is it worth travelling to the other side of the world? There is no denying the time difference is challenging, but we had a truly fascinating week. It was lovely group who I would like to thank for catching a lot more fish than me and keeping the side up. The fishery itself is vast and I really feel that we barely scratched the surface. You could spend a month there and still not have fished the same spots. The operation at Ikari House I suspect is head and shoulders above the others in terms of accommodation, food, boats and guiding, and when they finish the whole palapa sitting area and new rooms it will be unique on the island. There is no need for the long drives in trucks to either the fishing or the dock and moving around is painless. There is a huge variety of flats environment from coral edges, to turtle grass to white sand, and there are certainly the numbers there.
The GTs are a little elusive, but I put this down to the huge area you are trying to hunt them in. Yes, as a group we were quite focused on them, and when I go back I think I will take my own advice and fish for what ever comes round the corner rather than focus too much on GTs. I would certainly go back just to fish for triggerfish (swine triggers…) as there can be no doubt it is the best trigger fishery I have ever encountered plain and simple. I may have not landed that many but the others were much more successful with a good number of mixed species over the course of the week. The numbers of bonefish are certainly there, and as for the milkies, well, this could be the next major milk fishery. I think also I would fish it on a neap tide rather than springs as the size of the lagoon counteracts the usual advantages. I would also like to say the food was excellent throughout the week and Tess and her girls should be highly commended.  Jacob and Simon bent over backwards to see our whims were met, no matter how small. I shall return swine triggers… and I might stop at the milk bar for a snack..
If you would be interested in further details or an itinerary then please contact Peter McLeod or alternatively call our office on +44(0) 1980 847389.