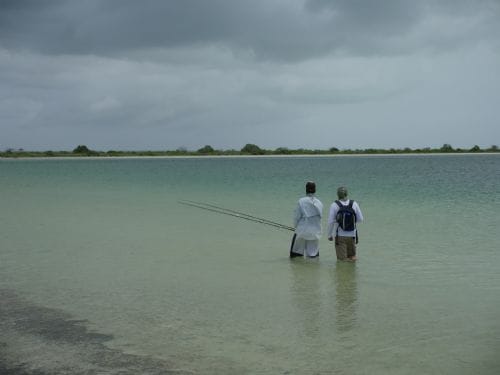 A year in the planning and accumulation of gear finally came to a head – Christmas Island 2015 was now a reality!
CXI is suffering a terrible run of Westerly weather, which is unusual in that it brings rain. This meant that straight off the bat the guides were telling us that it would be difficult to see fish and at first they were correct; but given that most of our party are avid trout spotters [sight fishing being the backbone of our summer trout angling] we managed far better than the Aussies we met from other lodges who had relatively low fish number days.
Day 1
Guide: Pedro
Location: "Y" Flat or something like that.
We got off at CXI after 4.5 hour flight ex Nadi. Yes, its that close. Got settled in, changed, applied sunscreen, got hydrated, got going. We jumped in one of the old outrigger boats and headed across the lagoon. First impression "how about this heat?". [We'd come to miss that heat]. Weather was nice enough, but full of cloud in the sky – welcome to the tropics minus the blue skies! Pedro got us going and soon Jase had his first bone, a small model but success! He then hit another that came in on the edge of vision and he cast to. Soon I hooked a neat trigger that ate my bonefish fly, the first of a number we'd cast to with mixed success. It bored off to the left, then bored off to the right, all completely unstoppable. Then found a neat hole that he buried himself in. Ehem. Soon after, Pedro helped me with spotting bones. We cast to a particular concentration and soon had my first bone. Then another and another, 6 fish in that little session.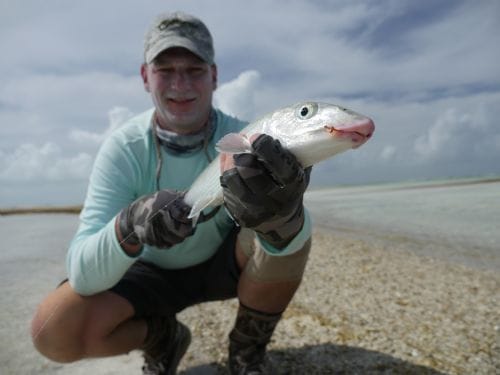 I was soon focusing on a big bone when Jase came running, yelling for his #12 which the guide was carrying. He and Pedro took of'; Jase had spotted what the guide called a 30kg GT and got a cast in, the fish followed but turned away… we were pretty encouraged by day 1. Lessons learned: always carry your big rod, when you need it you need it fast. Take a fly patch, Ease of grabbing new flies is paramount and when wading it can be hard to access fly boxes and stuff [I had mine in a waterproof pack]. Keep applying sunscreen; my legs turned a funny shade of red…
Day II
Guide: Tyrone
Location: Huff Dam – Back Country [Milkfish farm area]
Getting to the fishing spot required a 90 minute ride on the truck. [We later found that we could access the same spots via a 30 min boat ride, and that the access which was supposed to be allowed only once a week via Fisheries land was a bit of a tall story. Dunno why they'd say stuff like that.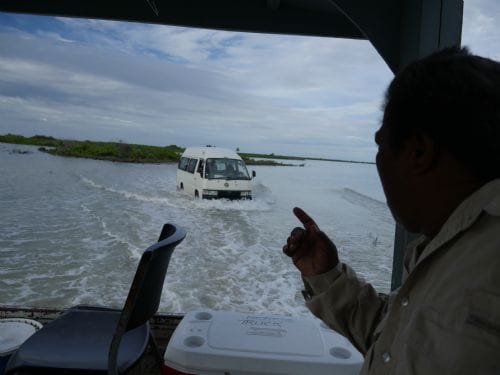 Anyhow the drive was an adventure in itself! Jase had first session with the guide and did well, taking a nice bluefin trevally and lots of bones. I wandered off on my own and had the very devil of a time trying to locate fish under the broken clouded sky. Rain squalls smashed through. I found a patch of water that was rippled by more than just the wind and began to cast into it; 4 bones in 4 casts brightened the day somewhat. I hooked and lost a good bluefin trevally [that looked black as he cruised the ledge] and caught a bunch of species like yellow perch, goatfish, bones and some ooglies.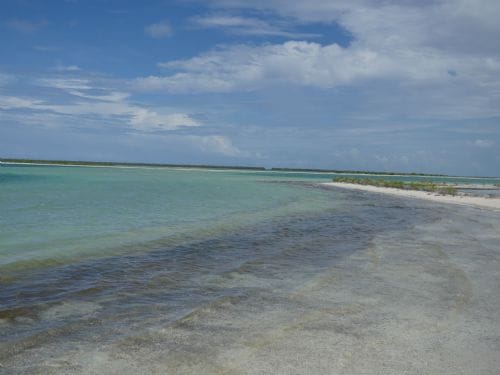 Later on I had Tyrone for the afternoon session and we went to a long peninsula that had a sand bar across to an island. I had my #12 on my back, my #8 in my hand and Tyrone carried my #10 [for medium trevs]. As we approached the bar I saw a massive bow wave and a behemoth GT came out of the depths. I said quietly to Tyrone "GT!!!  LOOK AT THAT MASSIVE BIG GT!!!! HOLY MOSES ON THE MOUNTAIN, LOOK AT THAT…." [you get the idea]. The people are very god fearing, but Tyrone understood and literally threw the 10 weight at me. I had a cast in front of that fish and he turned and followed the Fatboy before simply sinking into the depths. I was always going to be outgunned if I'd hit him… but still, there was no time to unleash the #12. I did catch a small GT of about 2.5kg on the #8 that ran me around like stink. Jase caught a neat golden trevally [Andrew in our party caught a honker of about 5kg also]. Little did I know that that would be my largest GT….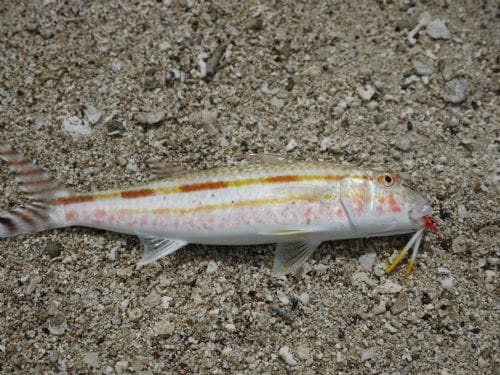 Lessons learned: ALWAYS HAVE YOUR BIG GUN LOADED AND AT HAND! use down time wisely, Jase and I would tie up new leaders each night and pack them in ziplock bags. This saved a heap of time on the flats over the rest of the stay. Don't drink Fijian over proof rum. Take spare rods; Seig had his #9 broken by a well meaning guide. He had another on hand. That would be the first of several rods busted, Bruce later broke his #12 high sticking a GT…
Day III
Guide: Tyrone
Location: All over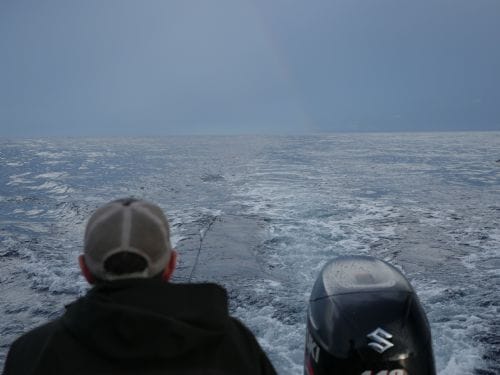 We asked to be taken out to see if we could raise tuna, or sailfish, or even marlin. We packed a set of boonie bird teasers and deployed them. The guides [we had 2 onboard with 3 anglers] were not exactly enthused by blue water fishing and it showed. After a couple hours of no action we asked to be taken in close to see if we could raise a GT on the popping rod the guides had brought. They really couldn't be bothered with that lark and in frustration I called it. Not before I cast an algae fly to some schools of large milkfish… and caught a snapper of some sort. The ride back was a bit quiet all round.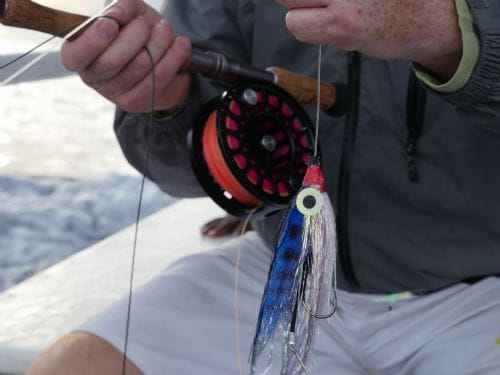 However when we got back into the lagoon I was soon happy again – I spotted my first [of many] tailing bones! The guide was off seeing to some business in the bushes and I was surrounded by tailing bones! Holy no way!!!! I had an epic session, despite the weather turning diabolically cloudy and windy. I caught my largest bone to date, and in front of an audience stalked, hooked and landed a neat trigger on the #8.
Lessons learned. Spotting bones in inclement weather means finding really skinny water. Anything over shin deep is an exercise in futility. Rain jacket very handy. When you have your big gun loaded and ready, you won't see a GT… also, tie lots of flies with bead chain eyes for the skinny water. The advice given to us mainly by Aussies was to tie lots with brass eyes in the #2 – #4 range. Without exception the guides selected #6's and #8's. Tie sparse. My flies were often given haircuts by the guides. Soon I was doing the same when taking flies from the box.
Day IV
Guide: Tyrone
Location: Orvis Flat
My diary starts as follows "Today was a b*stard…" We woke to rain and it stayed rainy. The streets were flooded, the wind blew hard and an intense storm arrived.  We fished the same flats as day 1, but by now I was switched on to seeing what I was looking at. I fished ankle deep water and took 32 bones, plus had many refusals and stuffed up a number of shots. The number of bones was staggering. I also caught a nice bluefin trevally but stuffed up the focus on my camera, so only blurry shots. Again we fished in rain jackets and today we pulled the pin as a wall of blackness approached the township of London in the distance. We made haste to get going but got caught in an intense monsoon like rain storm. There was no visibility. The guides huddled in the bow like drowned rats. Attan, our boatman had a light jacket and couldn't take off his sunnies as they were his windscreen. We knew we were lost out there as we trundled around for 40 minutes with the guys chattering away, then out of the gloom a landmark was spotted and we did an about turn.  We arrived back to a camp full of similar stories except most of the team had been home or almost home before it arrived. Mid 20 degree weather is cool for a person from Kiribati. The guides were not quite hypothermic from the rain, but certainly didn't like the temp at all. We became accustomed to what are normal NZ summer temps.
Lessons learned: Take a weather proof camera. I didn't pull the SLR out often on this day due to the rain.
Day V
Guide: Tyrone
Location: all over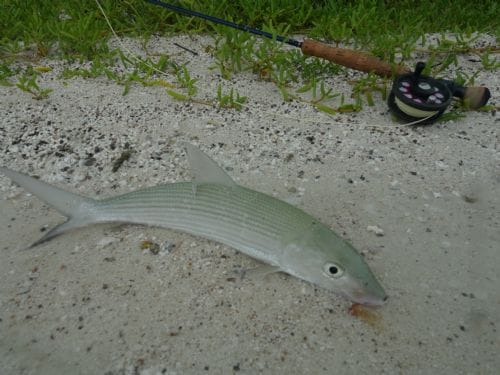 The team were offered the chance to go to the Korean Wreck, a legendary coastal location only truly fishable on the neap tides that we had timed our trip for. Jase and I decided to not go, and to continue our GT quest in the lagoon. We got unloaded from the boat and I gave Tyrone my bonefish rod and walked the edge of a deep drop off with the #12, pumping out cast after cast with a foam popper to see if I could raise a GT. I must have made a couple hundred casts over the next few hours, and didn't raise anything except a sweat. Then we changed focus and I spent a neat day walking the flats. I took 25 bones that day and lost 2 very big fish, one to coral and another that broke my tippet on the strike. We arrived back at base to mixed reports from the team; the swell had been pounding in and made life difficult for them. Seig had managed 2 GTs in the 5kg range but the rest had mainly tails of woe, of difficult line management as waves pounded in. Seig began to feel ill. We were pretty sure it was due to lack of hydration. The guys were all stuffed, that pounding surf had knocked them around a bit. In every respect Í felt I'd had a brilliant catching day.
Lessons learned: You cannot drink enough water while on the equator. I took electrolytes and a sports drink bottle and drank that plus another litre to 2 litres per day. Check your leader, often. I lost a big bone to a frayed leader – only checked after the fact. Learn to manage your line. You need to carry it coiled and ready to shoot, and away from the coral. Every surface is ugly on line coating.
Day VI
Guide: David
Location: Orvis and Smokey Flats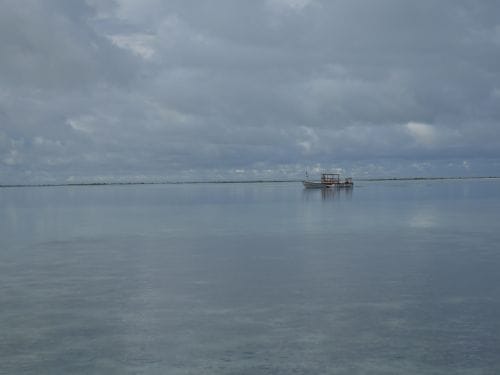 Tyrone had a day off to attend a village council meeting. David had a different style. The spotting was again, difficult but he put me in front of 3 big triggers, and several GT's. I got hooks in 2 of the triggers [and got absolutely murdered] and none of the GT's. The morning was still and I had an excited feeling in my gut that today was the day. GT's busted up in several spots and then suddenly a big bow wave was coming our way – I had a cast out in front of it and retrieved a big brush fly… no dice. I saw bones before David did and began to catch them; possibly his time off [he hadn't guided for a week] had curtailed his fish vision. I don't know. The afternoon session on Smokey flat was difficult. I was pleased under the circumstances to take a number of fish, whilst Jase and David had a real tough one. Jase later admitted that this was his toughest session of the trip. I simply had a vis window that allowed me to see multiple bones slide off a coral patch onto a sandy patch within range. The other guys were more on the dark coral itself. Huge storms passed by in the distance. We were lucky to not get a soaking.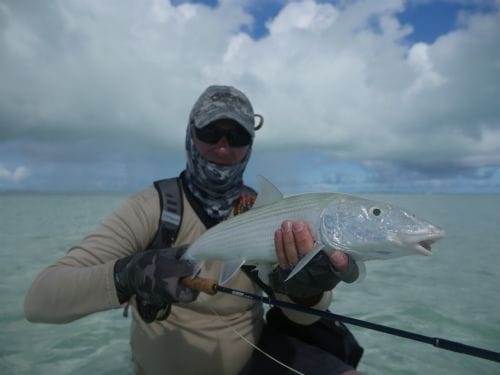 That evening, we had a special gift giving session for the guide's kids and other village children. It was hugely appreciated, and I believe, set us apart from the usual 'sports'. In fact in a number of ways our self sufficiency was appreciated by the guides as they got both downtime, and the occasional sneaky cast in. David when given the chance took less than 30 seconds to snare a bone from the time I handed him my rod and said you have a go'…. brilliant.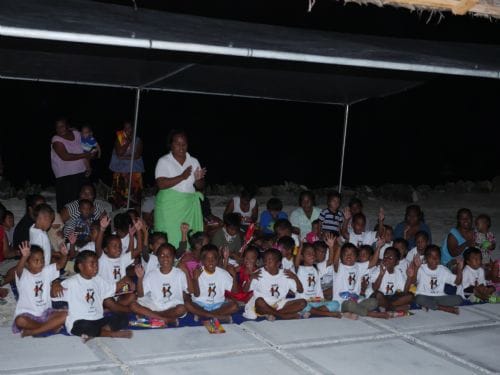 Lessons learned: Talk to your guides. Ask lots of questions. We fished where we did today because David knew that a rising morning tide on this flat was a signal for GTs to come and play. Koha is a language not understood by many. The yanks not in our group were stunned that we'd think to do bring gifts for total strangers. The yanks in our group who we'd asked to contribute went wayyy over the top and it really made their trip. A visit to the $2 Shop can make a poor kids year – Teresa brought a whole suitcase stuffed with little treasures – she earned that big GT from positive karma. If I could have taken less crap that I never used and stuffed more gifts in to my luggage, I'd have been richer for it.
Day VII
Guide: Tyrone
Location: Smokey Flat, Back country
This day dawned overcast again, common theme. Jase had Tyrone for the morning session. Because of vis I found some shin deep water and just stood there waiting. Jase and Tyrone seemed to be moving fast; I preferred my heron-like approach.
To me this morning's fishing was the most satisfying, it was very tricky and technical. First to spot fish, then to make a cast without spooking and finally to actually hook one. I landed only 2 fish but was super happy to have done so; spotting was simply that difficult. The wind gusted in throwing ripples that made spotting impossible so we set off for new surrounds. Orvis flat was beginning to flood on the rising tide and we were greeted with the waving tails of triggers. Let me talk about them for a bit. Triggers look like the dumbest of the dumb, but they are cagey and hard to hook when cruising. However when tailing they have their nose firmly in the feed bag and are busy crunching stuff so if you can drop your fly within a foot or 2 of their snout you're onto a winner. Little 2″ strips get their attention, then its tail up, snout down on the fly, a firm strip to set the hook then hang on!
I hooked and lost 3 in a row in ankle high coral. Then I had several moments of panic; as I walked a coral edge 2 GT's approached. They weren't huge but my heart started pounding; I threw down my pack and clawed at the elastic holding my #12 [actually breaking it in the process]. By the time I was ready to cast they were adjacent and I'd missed the prime opportunity, they then just drifted into the depths. I kicked myself, got repacked and had just got pack on back when 2 more approached! Or maybe the same fish on a beat. I had ample time to prepare the trap and had my fly out and in front of them like you would set a nymph for a cruising trout. At the first long strip the lead fish accelerated and I waited for him to inhale, but at the last second he turned away. I'd stayed on my knees to keep low, was fishing 60 lbs leader, everything was right… but something obviously wasn't.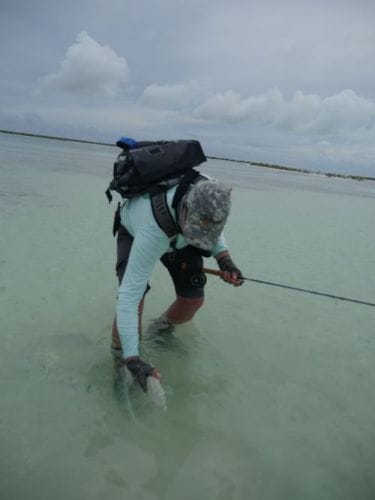 We then headed to the back country to take advantage of the tide which would begin to flood the flats. I had an utter ball, as bones cruised in from the depths to take advantage. With Tyrone along we made too much noise and his pace was too fast most of the time in my opinion, but we still caught a heap of bones. We also encountered a small GT busting up bait but that was over in a flash. This afternoon saw us surrounded by tailing bones in ankle deep water. It provided some great action.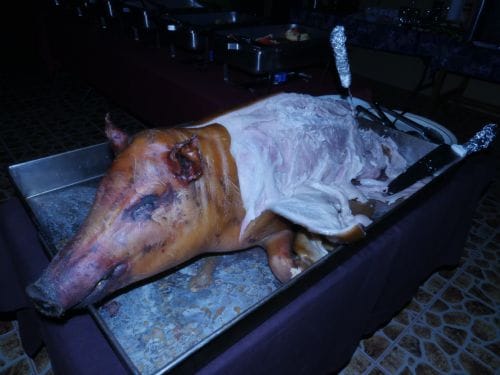 That evening the guides put on a performance and we feasted on a boar that the chef had whipped up. Local kids performed on pipe drum kits – it was spectacular!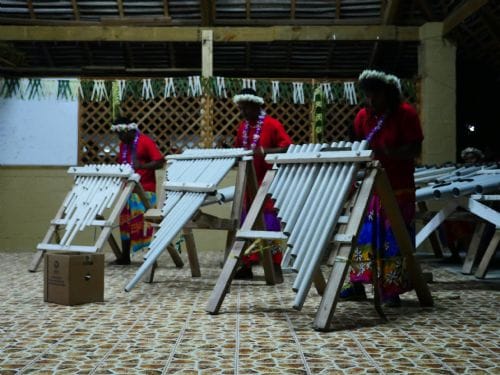 Lessons learned: take your time. The morning session was a blank for Jase and Tyrone, the guide admitting sheer frustration with the on going cloudy weather. I enjoyed success only by letting fish come to me, I'm sure if I was moving I'd have spooked them. Don't eat too much pig. 🙂
Day VIII
Guide: Tim [offshore GT specialist]
Location: Local blue water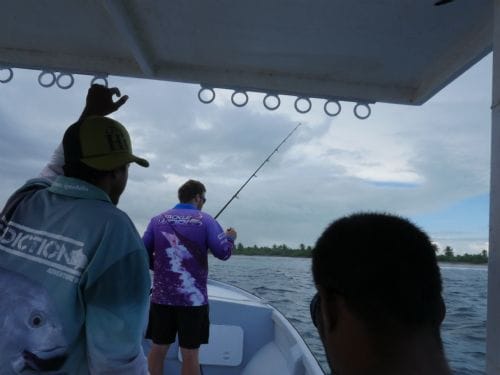 The previous evening we'd detected a change in the wind. The temp increased through the roof, yup it had gone to the 'normal' easterly. We had until 11am to fish, our evacuation to the airport was at 1. Clint the big Aussie unit had offered to tease GTs in on his popper gear. Given he'd caught over 40 GT's in 2 weeks doing that, we were grateful to accept his offer. The sky had cleared and we ran out of the lagoon in flat conditions, armed with #12's and popper flies. We were soon casting into rocky structures in the surf zone and it felt fishy. We took turns on the heavy popper gear and within an hour I'd taken on board 2 litres of water. We realised that this was the normal weather for CXI.
We raised 3 fish in the morning, but none close enough to get a fly in front of. We cast flies into all the reefy structures we could find. Jase and I gave Clint a rest and took turns on the popper gear as well. Even though fishless, we saw the potential for fly fishing when no wind was about. We returned to base under searing sun and blue skies. Jase had a play with the resident fish after we'd packed. We gave Moana a crap load of extra flies we'd taken, made sure our crew were taken care of with tips, and I donated my rain jacket to Tyrone.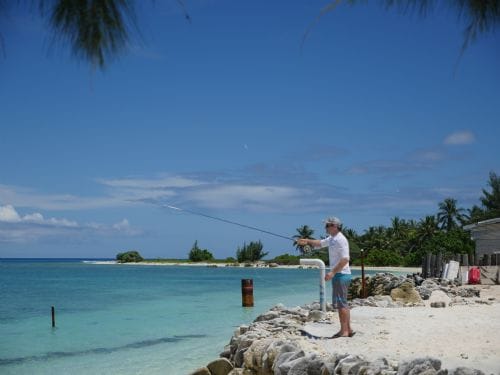 We all said 'what ifs' about the weather that had arrived, and Andrew expat described this as the normal weather based on his numerous previous trips. The spotting on the flats would've been insane, but such is life and we weren't complaining!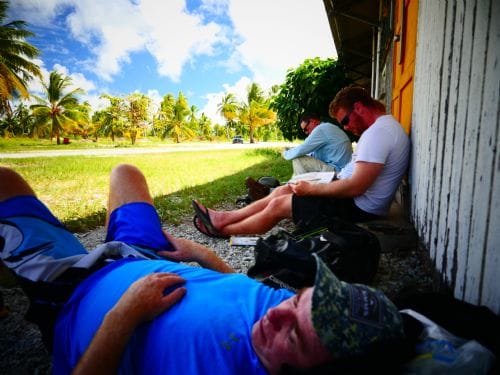 We said our goodbyes and got dropped at the airport where we checked in and then went to seek cover in the shade. It was HOT. After a 2 hour wait, we boarded the plane and were soon airborne.
Lessons learned: I found out that the focus had been changed on my camera [new to me so I wasn't overly familiar with it] so got a lot of just out of focus shots, which you may have noticed. Get familiar with the camera and shoot a zillion photos. Normal weather is 10 degrees on average hotter than what we got 6 out of 8 days – hydrate, hydrate, hydrate.
Use your spare time to save time on the water, make spare leaders at night, sort your flies at night.
Write a diary. There's so much I haven't said about the group's experiences [Zak hooking a manta and handing rod to his dad for example] that I have noted in my trip diary.
For more information or a detailed itinerary please contact Peter McLeod or call +44(0)1980 847389.
Make the most of meeting new people. The locals are very shy but are a fountain of knowledge. we met great people from all over the world; dog loving quail hunters from Texas [hoping for that invite!], folks from Wyoming, Cairns, California…
Final lesson. I'm going back. Of that there is no doubt whatsoever.