Cosmoledo Atoll Fly Fishing News 15 – 22 March
With last week's windy conditions persisting through to the start of this week, the first three days of the trip made for some testing fishing with wind speeds up to 26 knots. However with a new moon spring tide the team managed to pull off some incredible catches. Brian Sippy set the bar high on day one, landing his first few GT's and a few bonefish before lunch, a great start to any trip. He was not done just there as moments later a permit showed up and Brian managed to make the perfect presentation despite the gusting wind and landed his permit to complete the first 'Flats Slam' of the week.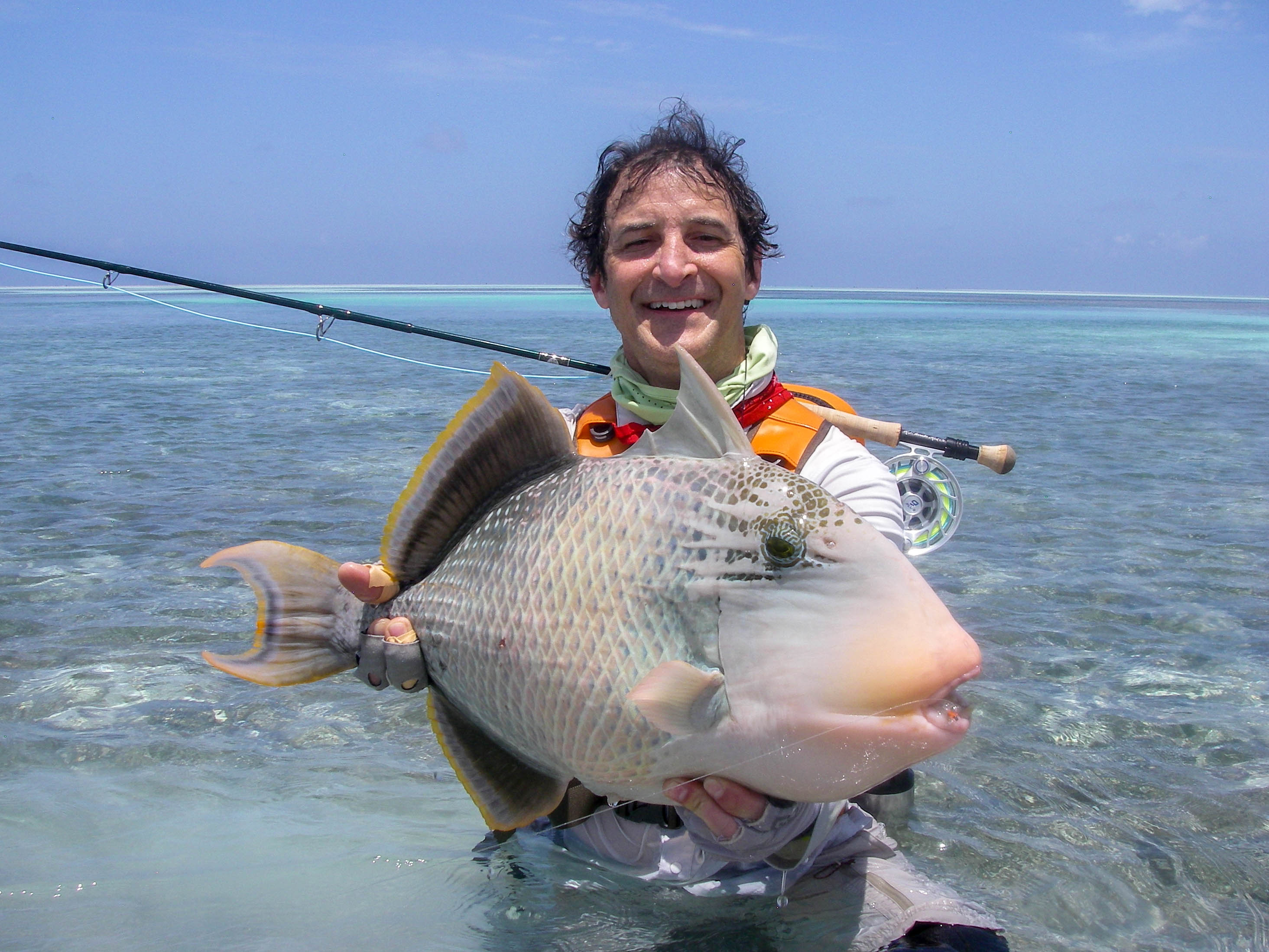 Tijan Robert, Michael Collins, David Goodall, and Jay Powers all slammed throughout the week. Tijan and Michael both had an incredible day where they both slammed twice over in the same day. Tijan managed over 20 bonefish and two yellowmargin triggerfish on top of all his GT's for his double slam and Michael followed suite with two moustache triggerfish.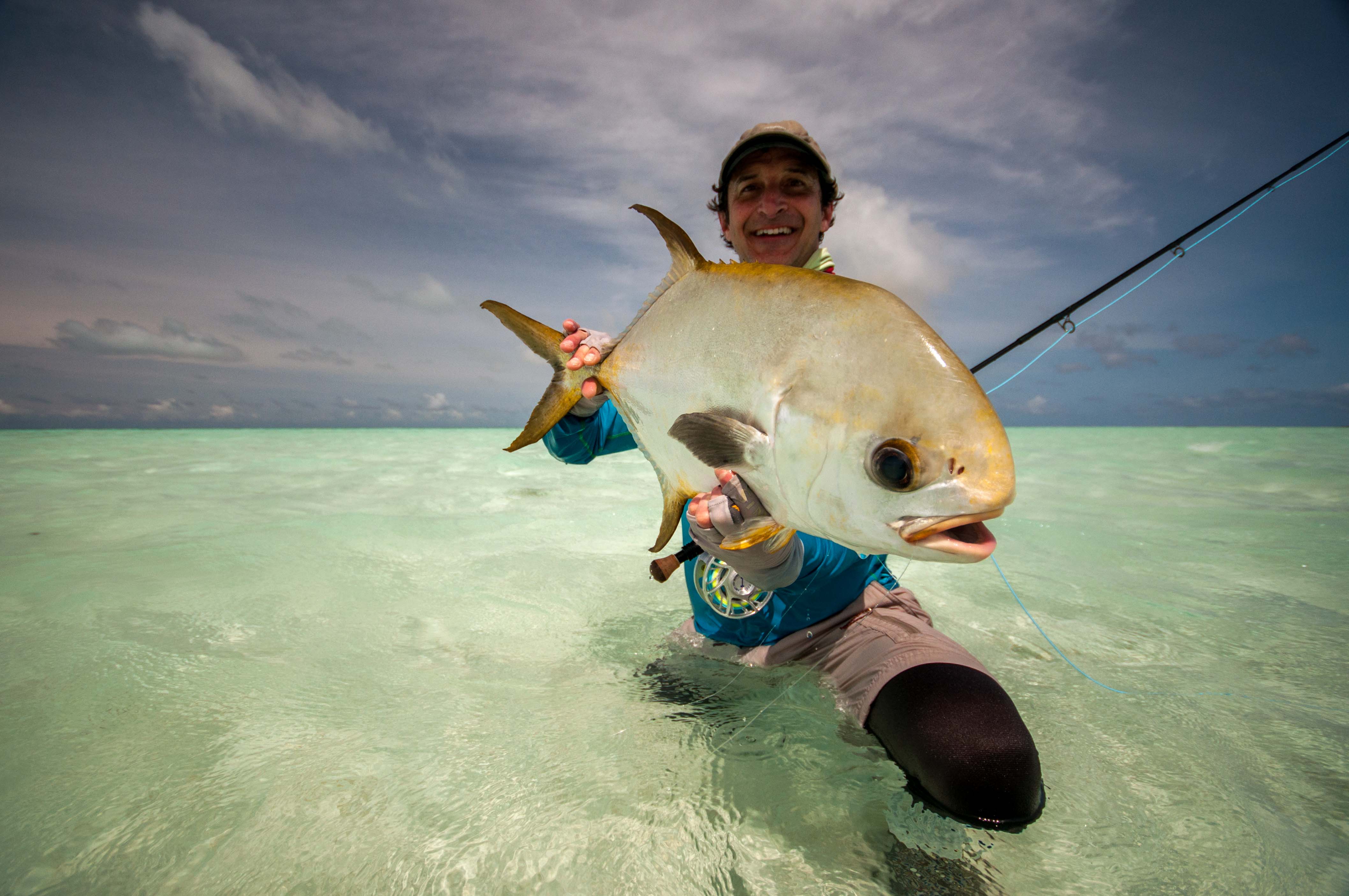 Michael definitely had the fish of the trip on the second day. Drifting through a shallow channel he spotted a massive fish holding high in the water column, he made his shot and his 8/0 brush fly was engulfed and after an intense battle, he landed his 115 cm trophy.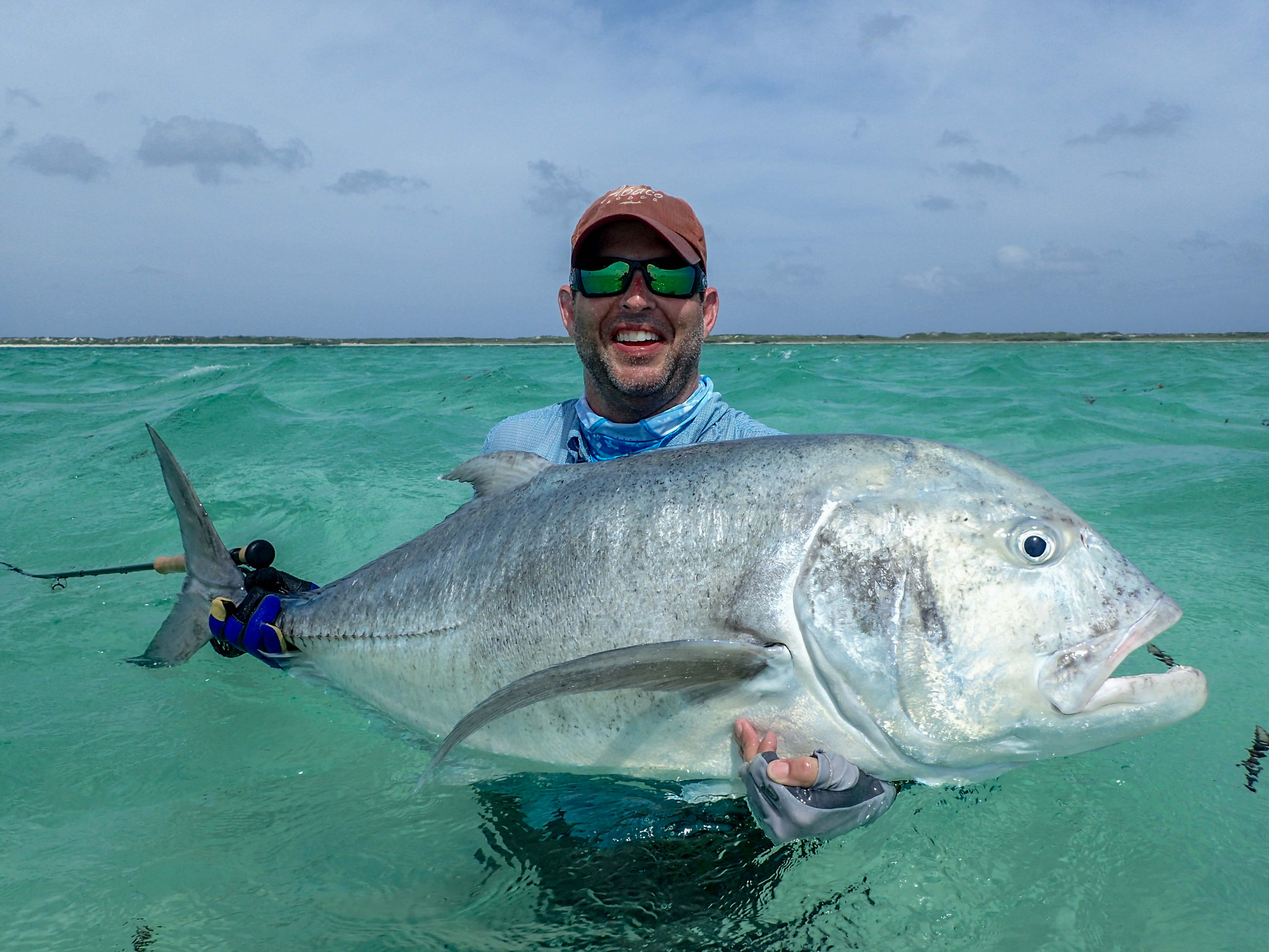 As the week went on the weather settled down and the fishing turned on. Triggers were around in good numbers and the team got stuck in. Lauwrence Lasky landed a solid 50 cm yellowmargin triggerfish to go along with his moustache from the previous day. He was also the only one to capitalise on the milkfish that made an appearance towards the end of the week, landing his first ever milkfish.
Cosmo really showed off its diversity this week with some crazy GT sessions, bonefish up to 71cm, hungry triggerfish, surface feeding milkfish and some great permit shots. Smiles all round made for a great trip.
GT: 105 (biggest fish 115cm)
Yellowmargin Triggerfish: 5
Moustache Triggerfish: 11
Bonefish: 114
Permit: 1
Milkfish: 1
If you would like more information please contact Charlotte Chilcott or Peter McLeod or call us on ++44 1980 847389. Alternatively click HERE if you would like us to contact you.
Alphonse Island Fly Fishing News 17 – 24 March 2018
Beautiful sunny skies, light winds and peak spring tides met our anglers this week making for some really exciting opportunities. At the start most anglers targeted shoaling bonefish on the dropping tide with catches of 20 plus fish being very common. Not only were the bones plentiful, there were also some trophies with the largest of the season landed by Annette Pizzie measuring 70 cm and weighing 8lbs.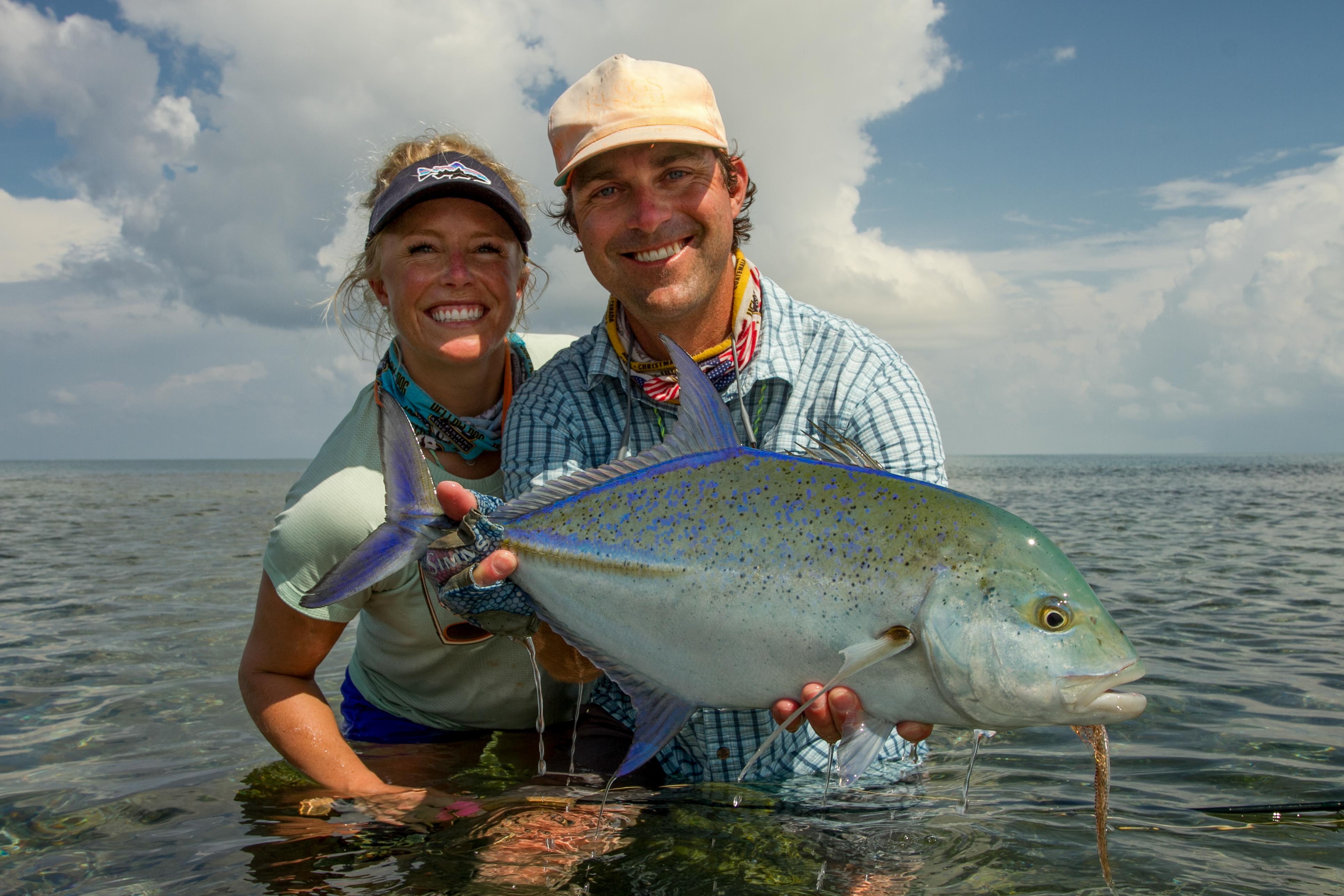 A solid number of GT's were deceived throughout the week with three caught by honeymoon couple John and Bessie Hudgens on the last day of their trip making for amazing memories. Like the GT's the rest of the species were out in great force allowing for Tappani Henriksson to achieve something that he will no forget for many years to come. A"Trigger & Flats Slam Combo'"consisting of a bonefish and GT, two moustache triggerfish, one yellowmargin triggerfish and a Picasso triggerfish. Another high point and congratulations goes out to John Dale who managed to land a majestic trophy of an Indo-Pacific permit measuring 63 cm whilst on on Tam Tam flat.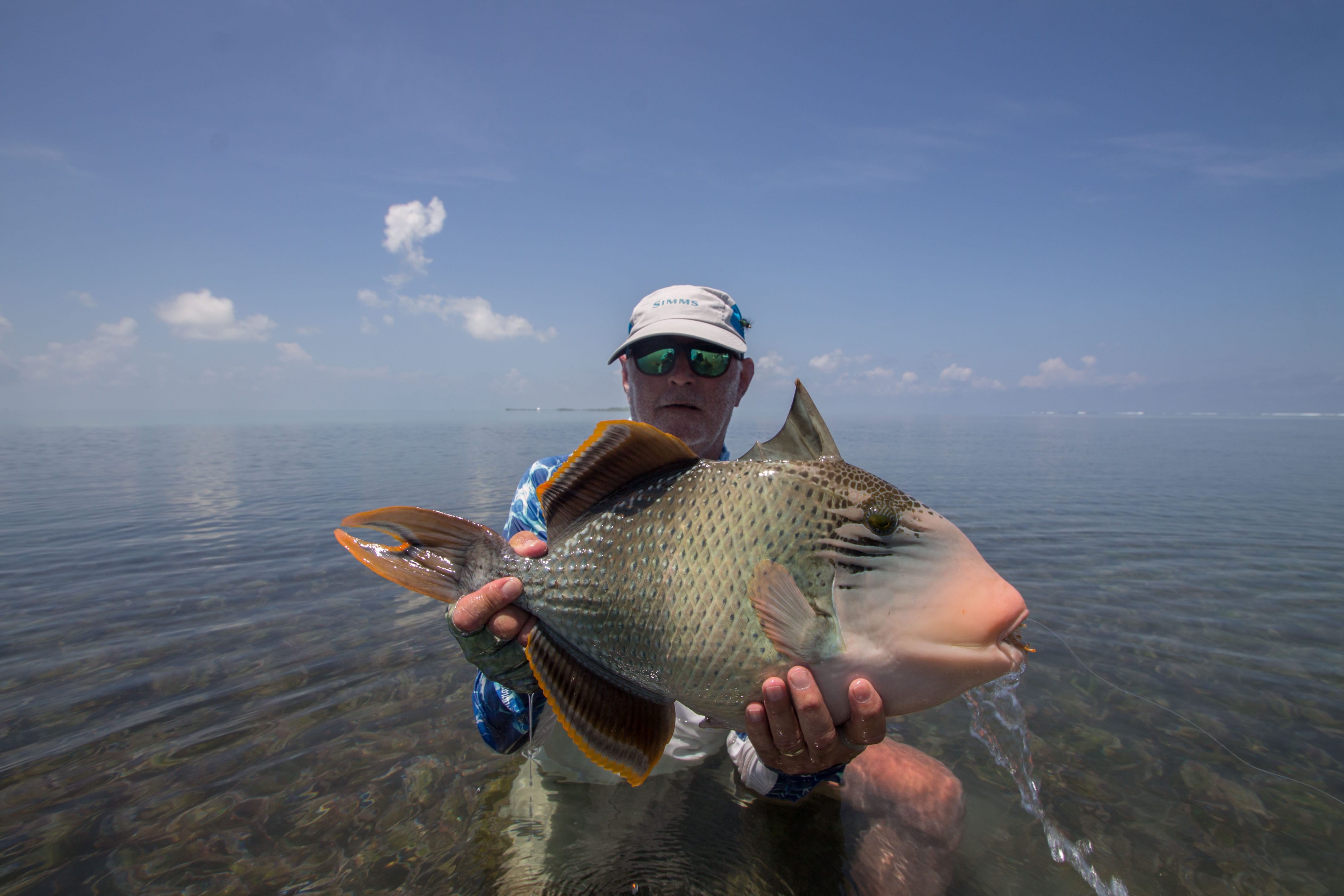 It's not often that we get to show how our conservation efforts have protected these amazing atolls. Professor Andy Danulchuk & Dave Peterson visited us to begin preliminary research on a a couple programs we will be instating in partnership with the Bonefish & Tarpon Foundation as of next season. To say they were astounded by how well preserved the fishey is and understatement and firmly cements the importance of conservation going forward.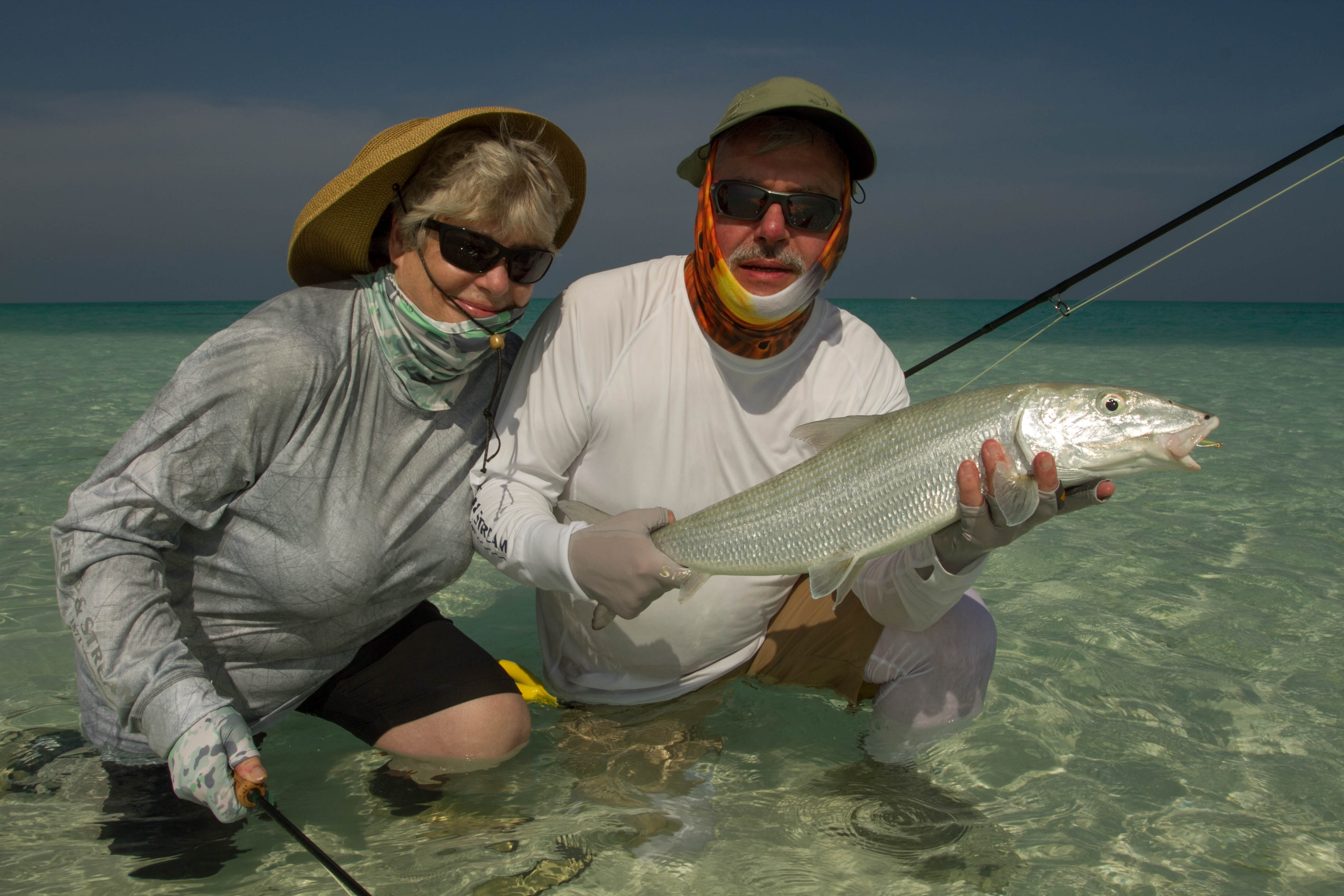 An excellent week of fishing was had by all!
Bones 532
GT's 8
Yellowmargin triggerfish 2
Moustache triggerfish 3
Indo-Pacific permit 1
If you would like more information please contact Charlotte Chilcott or Peter McLeod or call us on ++44 1980 847389. Alternatively click HERE if you would like us to contact you.