Two weeks fishing reports from Cosmoledo atoll, Seychelles for the weeks 23 February – 2 March 2017 and the subsequent week, 2 – 9 March 2017.
Cosmoledo Atoll Fishing News 23 February – 2 March 2017. Cosmoledo certainly stood up to it's reputation as being the GT capital of the world with 150 GT's landed by 8 anglers in 6 days with biggest fish measuring 120cm.
Our close friend and favourite export Jako Lucas brought a family of musky fisherman from Minnesota all the way to this remote corner of the Seychelles. We didn't know much about Minnesota, but now we know that it's cold, walleye taste pretty good and musky fishing is a second religion. We also know that musky and GT's are different and you can't "figure 8" for them. That's even if you're a really good musky catcher from Minnesota. But our new friends never the less learned very quickly. Jako brought some custom 11'ft 12wt Thomas & Thomas rods for those that weren't used to casting heavy single hand rods. They certainly helped and we soon had the ladies stretching good lines and catching GTs. By the end of the week there was some seriously impressive GT catching skills being displayed. That may sound like an offhand comment, but the ladies would have put some of our seasoned Cosmo anglers to shame.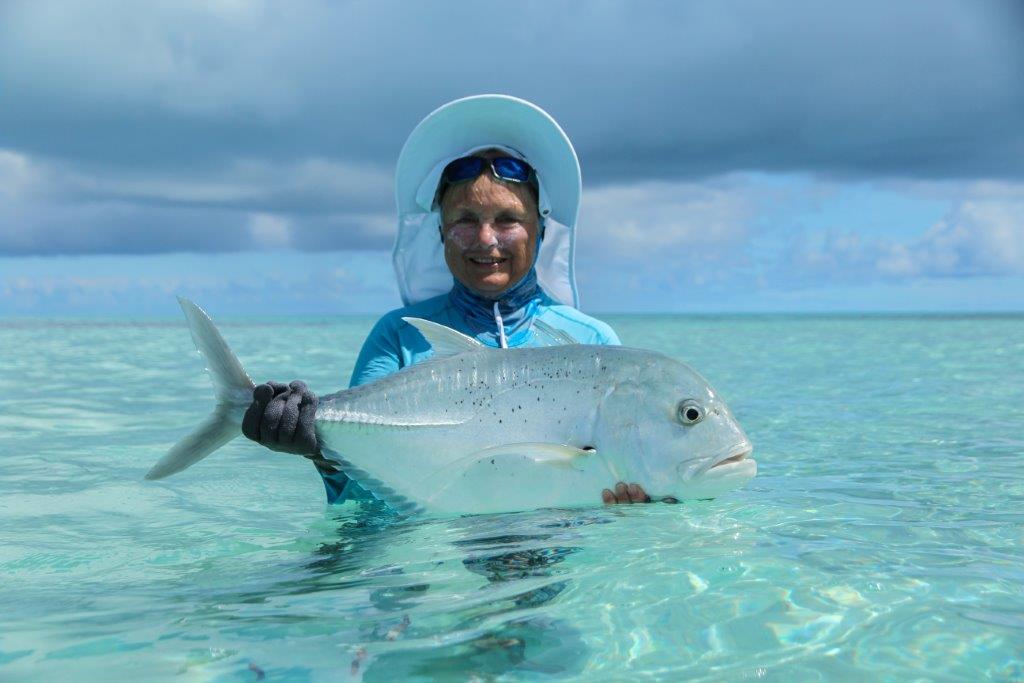 Jako being the gentleman he is held back and not only assisted in keeping everyone entertained but also helped with the guiding. After guiding on Cosmo for years and not being able to fish very much, he was finally rewarded with a massive 116 cm GT in the surf. Mike outdid him on the final day when his guide put him onto a 120 cm behemoth GT and needless to say, a fish of a lifetime.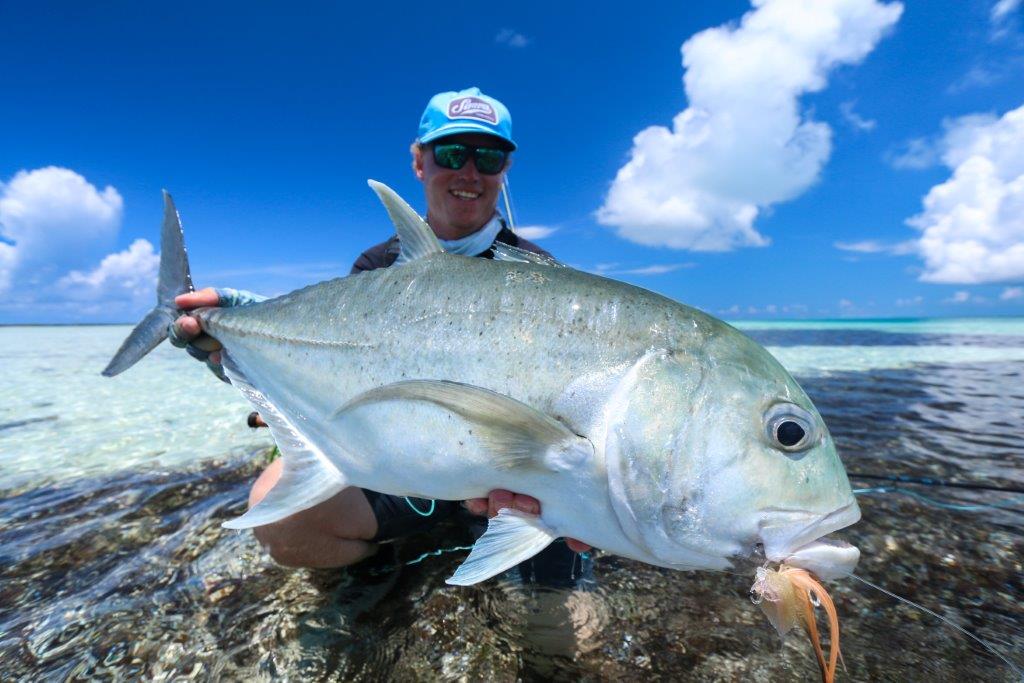 Other notable catches were three very nice triggerfish, one of which was caught by the
family's patriarch Paul Hanifl on a tan Alflexo crab.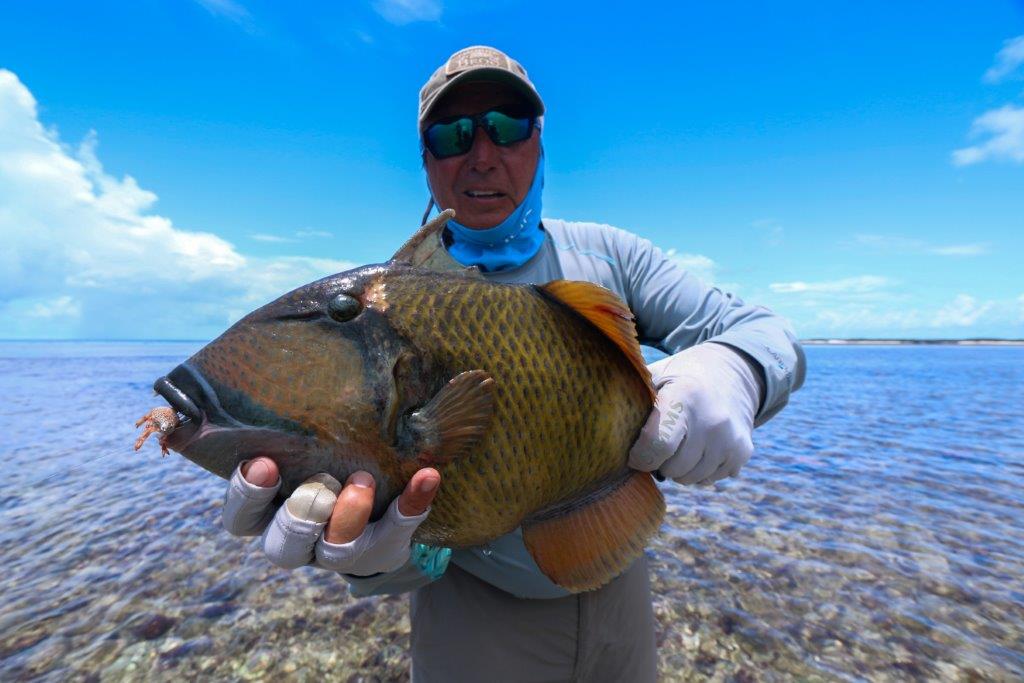 However, this week was all about the GT's and the guide team as well as the family worked hard to convert as many opportunities as possible. It helped that the weather was perfect, and the company excellent with many laughs and great stories shared by all.
Cosmoledo Atoll Fishing News 2 – 9 March 2017
This week's group of anglers were hosted by Tidehead FlyFishing, a husband and wife team from Idaho that have guided both Idaho and the Florida keys for the last 20 years. Sue Novik invited a group of guys who travelled all the way form various corners of the United States. Unfortunately there was a weather system that caused the incoming flight to be delayed by a day which meant the guide team had some time to make up. The first half of the week was challenging, with some inclement weather making fishing a little tough.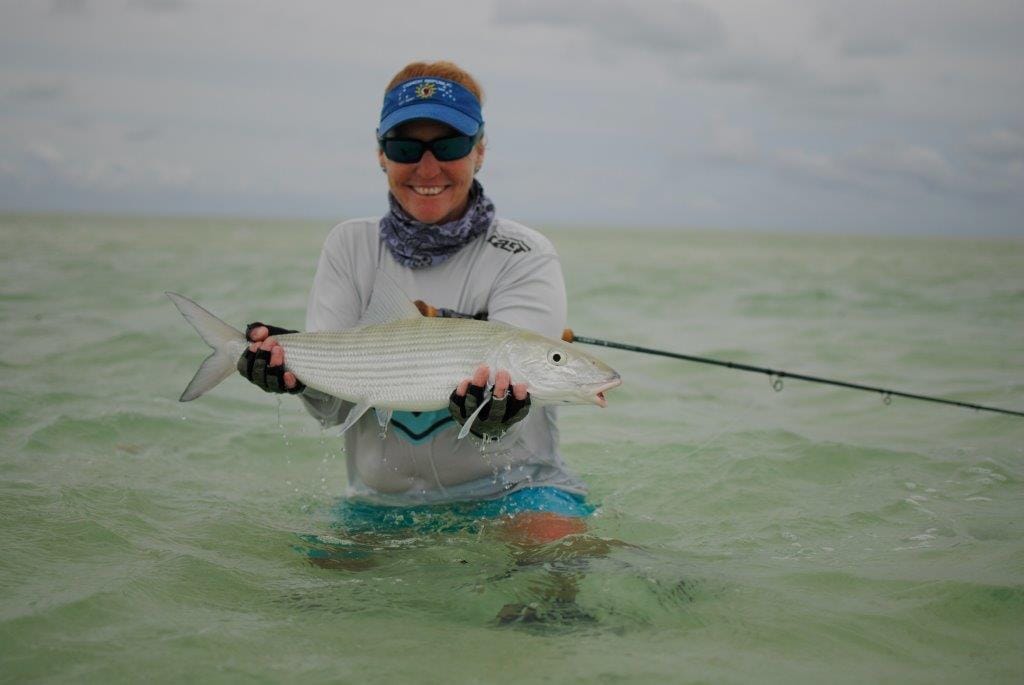 There were some big fish around though and Jim Harrisson Jr. didn't let the conditions bother him as he landed his 101cm GT. Sue unfortunately lost a monster that would have been the 'fish of a lifetime'. As the week progressed and the conditions improved the GT tally climbed. The total number of GTs landed was 77, a result the team was pleased with considering there were some days when there were 25 knots of wind and heavy cloud cover. There was also a bad case of the dreaded trout lift syndrome that spread throughout the group and could easily have halved the total. The guys did eventually pick up the strip-strike concept and I feel sorry for the next Idaho trout that gets subjected to the gill shuddering hook set the guides instilled in the Tidehead Team.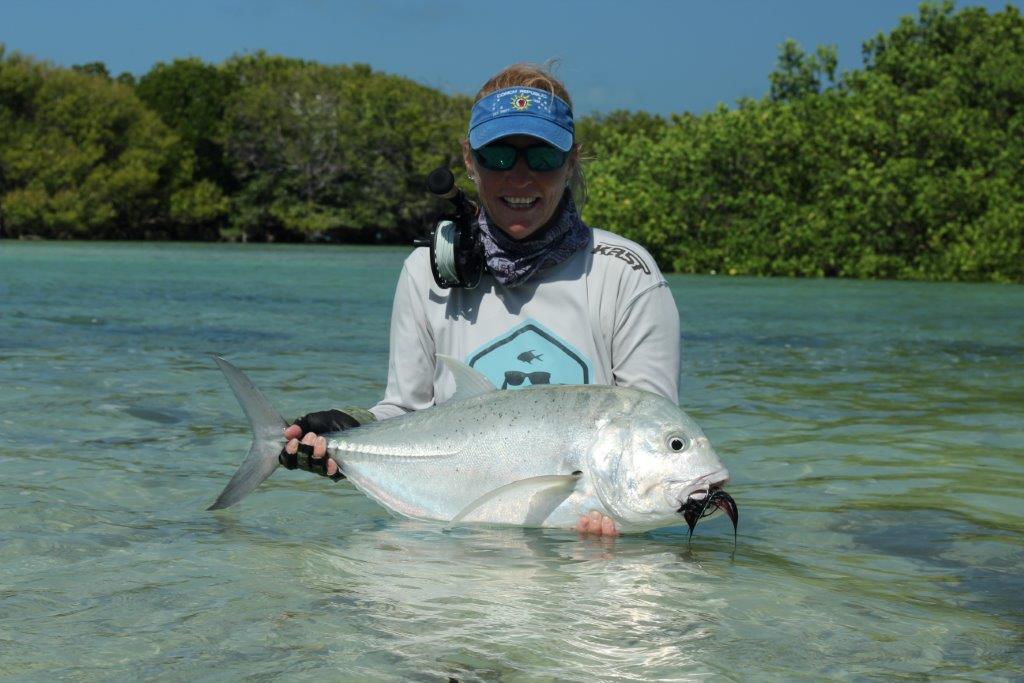 As well as GT's there were a few other notable catches. Ken managed two of the three triggerfish caught, landing one yellowmargin and one moustache in consecutive days. A very large indo-pacific permit was lost. No names will be mentioned here, but it was lost and it still hurts. The great fishing aside it was a fantastically fun week and the banter around the dinner table was at fever pitch. This was one of those groups that the guide team honestly hopes will come back soon.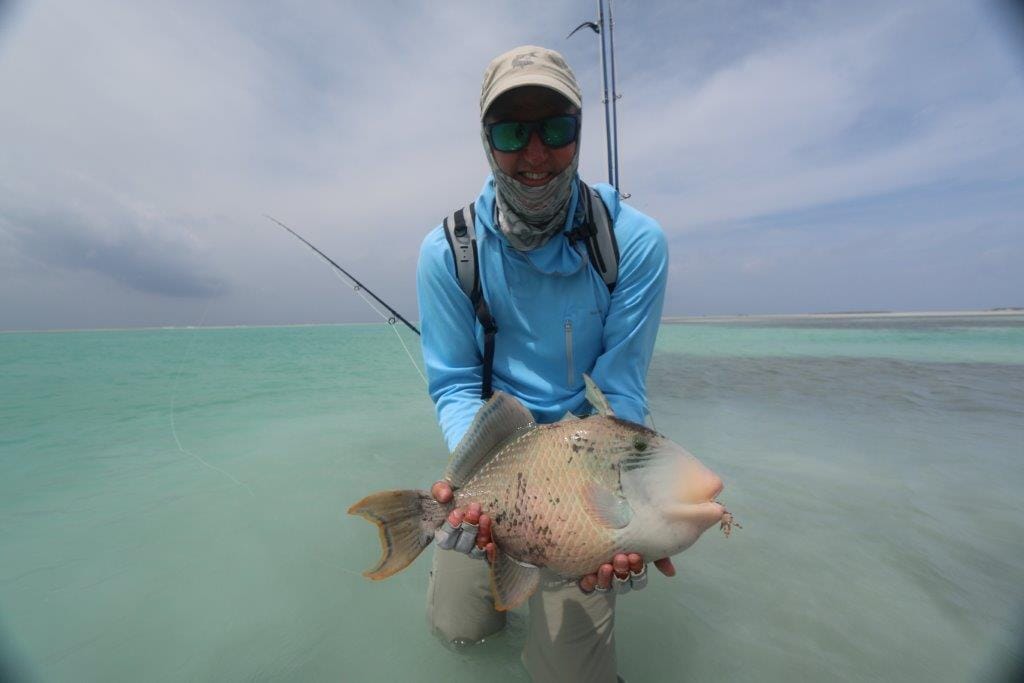 For more details on Cosmoledo or any of the other Indian Ocean atolls please contact Charlotte Chilcott or contact the office on +44 1980 847389.