Cosmoledo Atoll Fishing News
22 February – 1 March 2018
Last rods available on Cosmoledo this season are 12-19 April 2018 – 2 rods are available. New moon is on 16th April so a great tidal week.
For 2019 3 rods just became available in 7-14 February.

Contact Charlotte or Peter if you are interested.

The flat calm, sunny conditions from the previous week followed through into week three. Neap tides early in the week moving into full moon springs towards the end meant that the guests could look forward to some good water movements as the week wore on. The weather took a slight turn for the worse as a low pressure system seemed to settle over the atoll making for some difficult sight fishing conditions.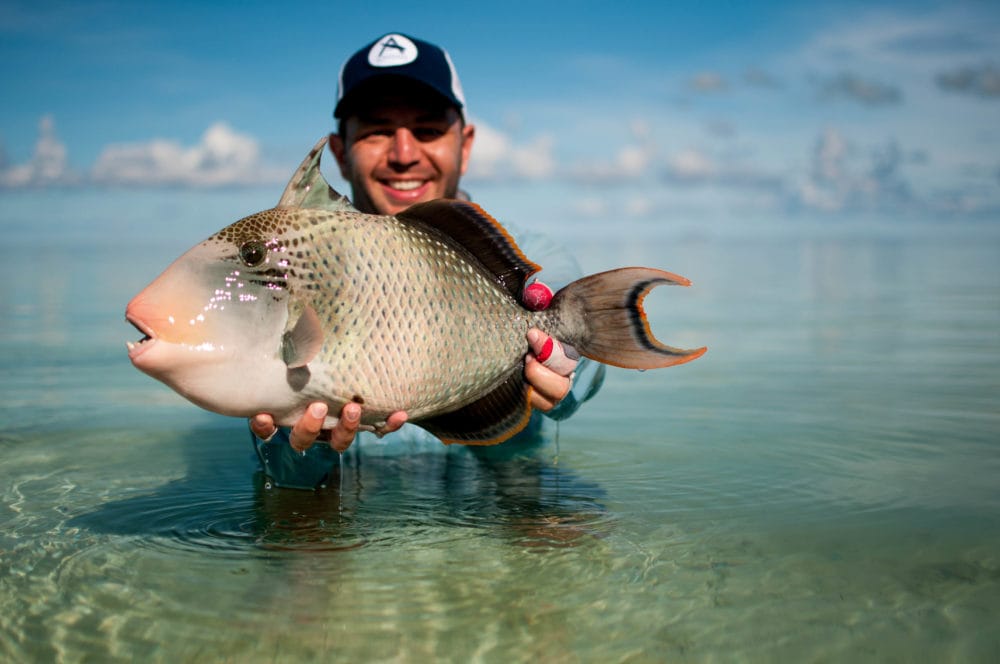 Aaron and Lacey Chaus made the most of their long journey from New York and got to sample some great fishing both on the flats and on the reefs around Cosmo. In one particular session, Aaron landed some great grouper species including a monster 50lb camouflage grouper. His day to remember came on day two however. After landing a couple of GT's and some bonefish Aaron managed to come tight with a monster Yellowmargin triggerfish that measured 52cm to complete his first "Flats Slam".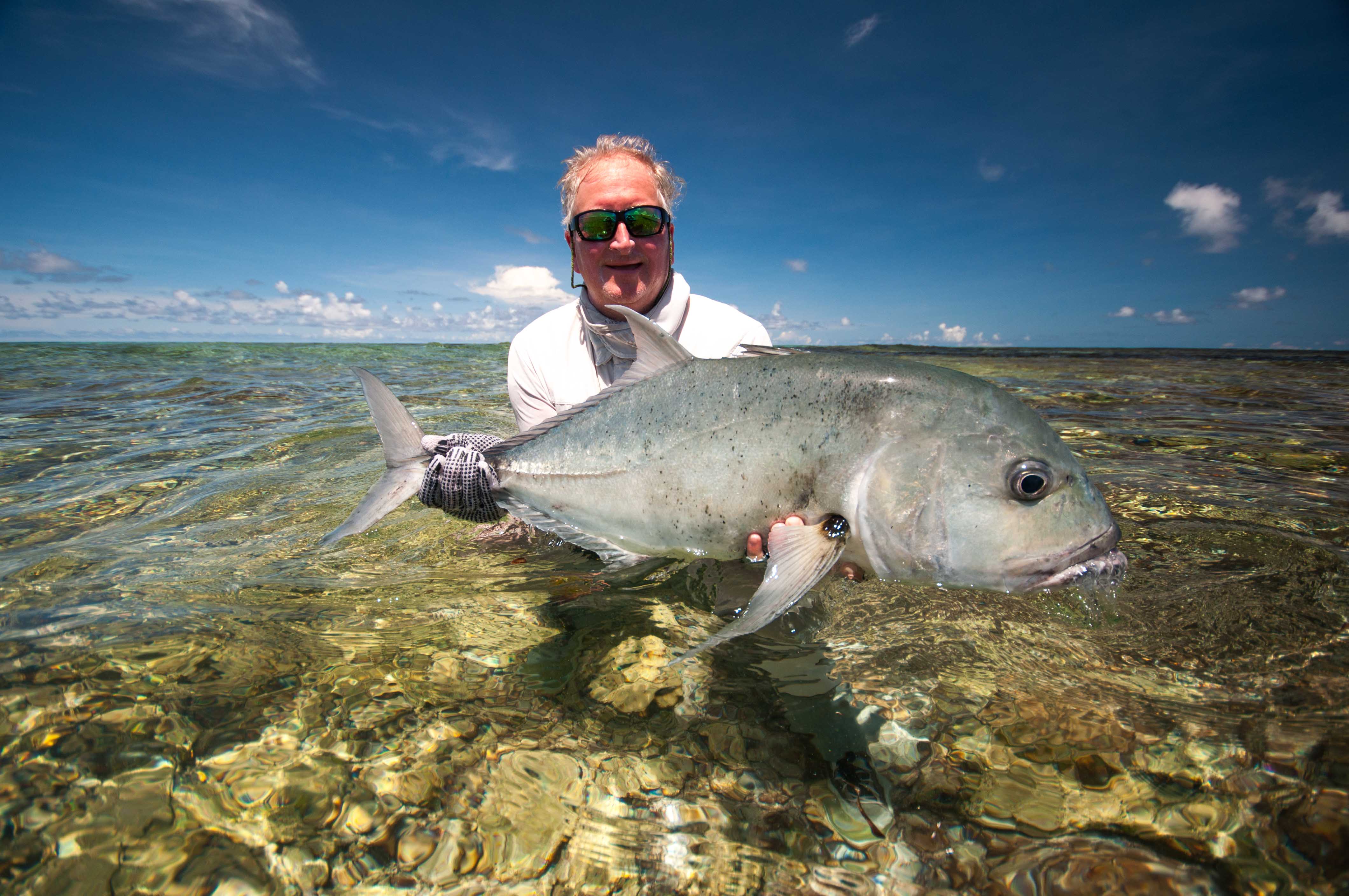 The GT of the week belonged to Ben Pierce. After warming up on a few good fish Ben hooked up on a fish that tested his tackle and his stamina in the cooking heat. The fish measured in at 105cm and was the biggest of the week. Uwe Holzkamp had a good week on the water and finished strong. After racking up a good tally of GT's and a Napoleon wrasse his fish of the trip was found offshore. Chasing down diving birds and busting tuna, Uwe made the perfect shot and the beast engulfed his popper. After a long tug-of-war Uwe boated a great yellowfin tuna estimated at 45lbs.
All in all, the fishing was slow by Cosmo standards but the moral was kept high by some good banter on and off the water with a great group of guests.
Giant Trevally: 43, Bonefish: 22, Yellowmargin Triggerfish: 1
If you would like more information please contact Charlotte Chilcott or Peter McLeod or call us on ++44 1980 847389. Alternatively click HERE if you would like us to contact you.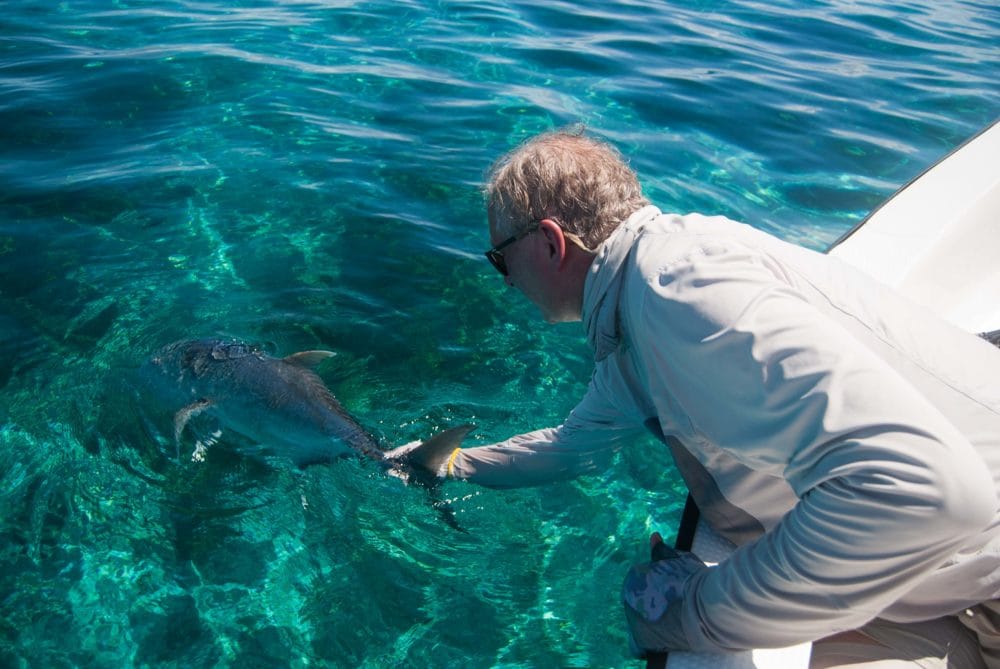 Cosmoledo Atoll Fishing News
1 – 8 March 2018 – Big GT's, Permit and Bones!
With full moon spring tides and a serious low-pressure system making its way over Cosmoledo this week, to say that the elements were against the guests may be a bit of an understatement. At times the wind speeds reached 54 knots, turning the lagoon into a churned up mess of whites horses and stinging rain. There were however a few gaps in the weather and as the week went on the conditions started to settle down. Joe Montana got the week off to a flying start before the weather set in. On arrival Joe went for a walk along the beach and found himself the first Indo-Pacific permit of the season. A few of the other guest had some close encounters that same afternoon and this seemed to set the tone for the rest of the week with everyone keen for a piece of gold.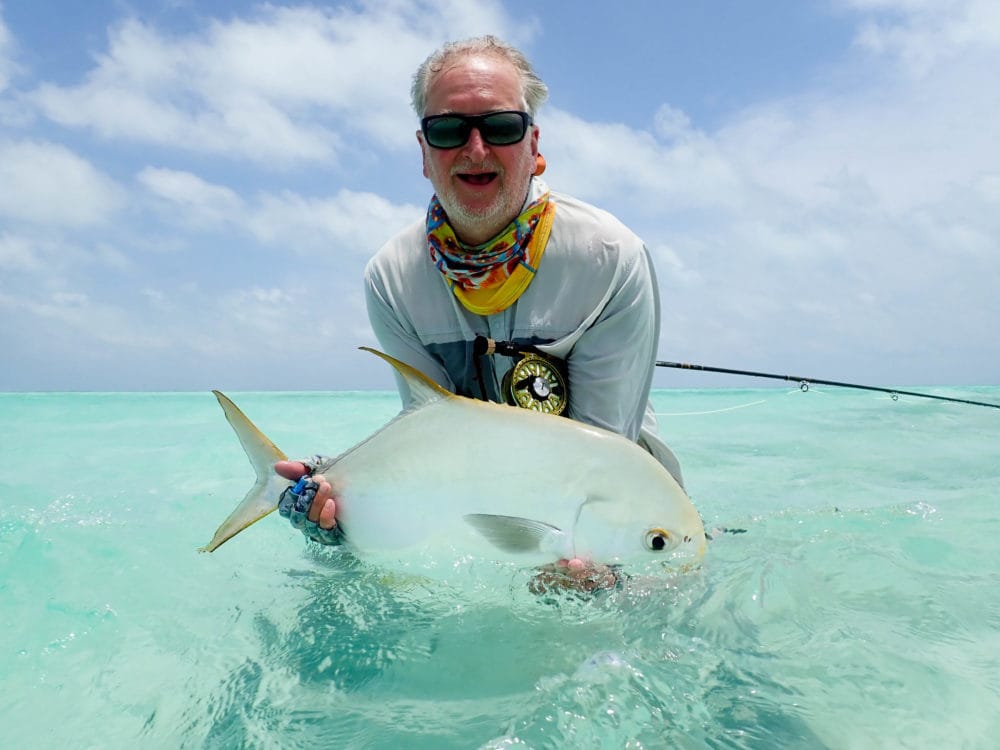 Robert Cardwell had a great afternoon once the weather cleared and landed his first Moustache triggerfish to round off a great 'Flats Slam'. The following day Istavan Virag followed suit with his 'Flats Slam' that included a Moustache triggerfish, bonefish and GT. He didn't end his week there, on an even more memorable day Istavan landed the second Indo-Pacific permit of the week that measured a solid 72cm as well as the first metre plus GT of the week.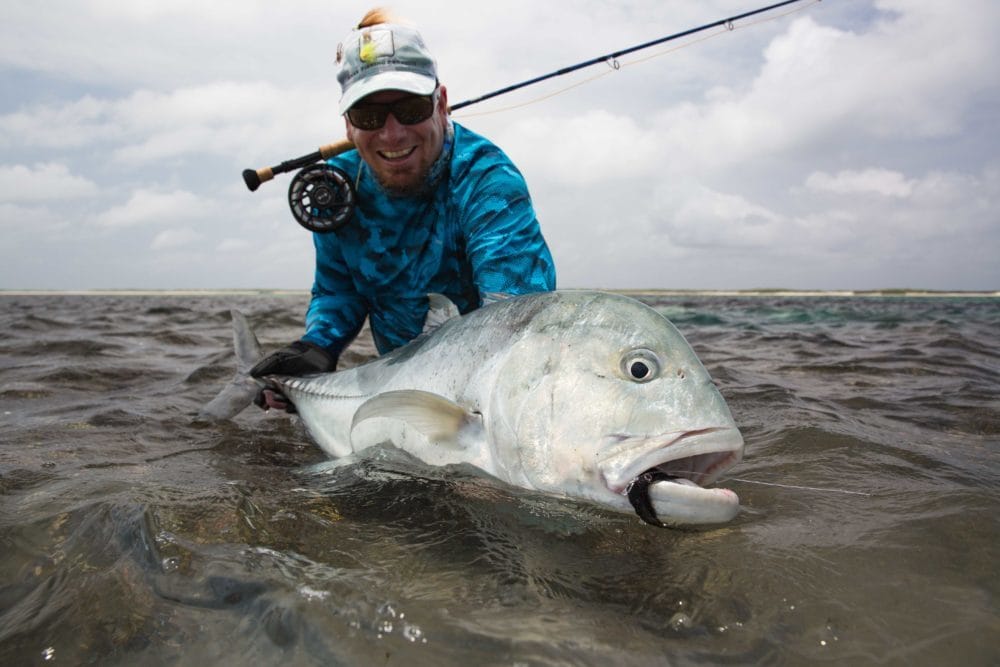 With us for a second week, Andy Suenram made the best of the sunny skies. Late in the afternoon Andy managed to raise a monster GT to his fly and after a strong battle Andy landed the GT of the week a bus of a fish measuring 114cm (the biggest of the season so far). Not to be outshined, it was Andy's good friend Ben Pierce that stole the show on the final day of his two-week stay. Ben spent the day fishing the Eastern side of the atoll, drifting the endless white sand flats and it paid off. Ben got stuck into a couple of good bonefish and the odd GT that came cruising passed. He then managed to land a stray Moustache triggerfish to complete his 'Flats Slam', but this wasn't the end of it. After countless trips to the Seychelles over many years, Ben finally managed to land his first ever Indo-Pacific permit to round off his 'Super Slam'. A great way to end a tough week after a two-week stay on Cosmoledo.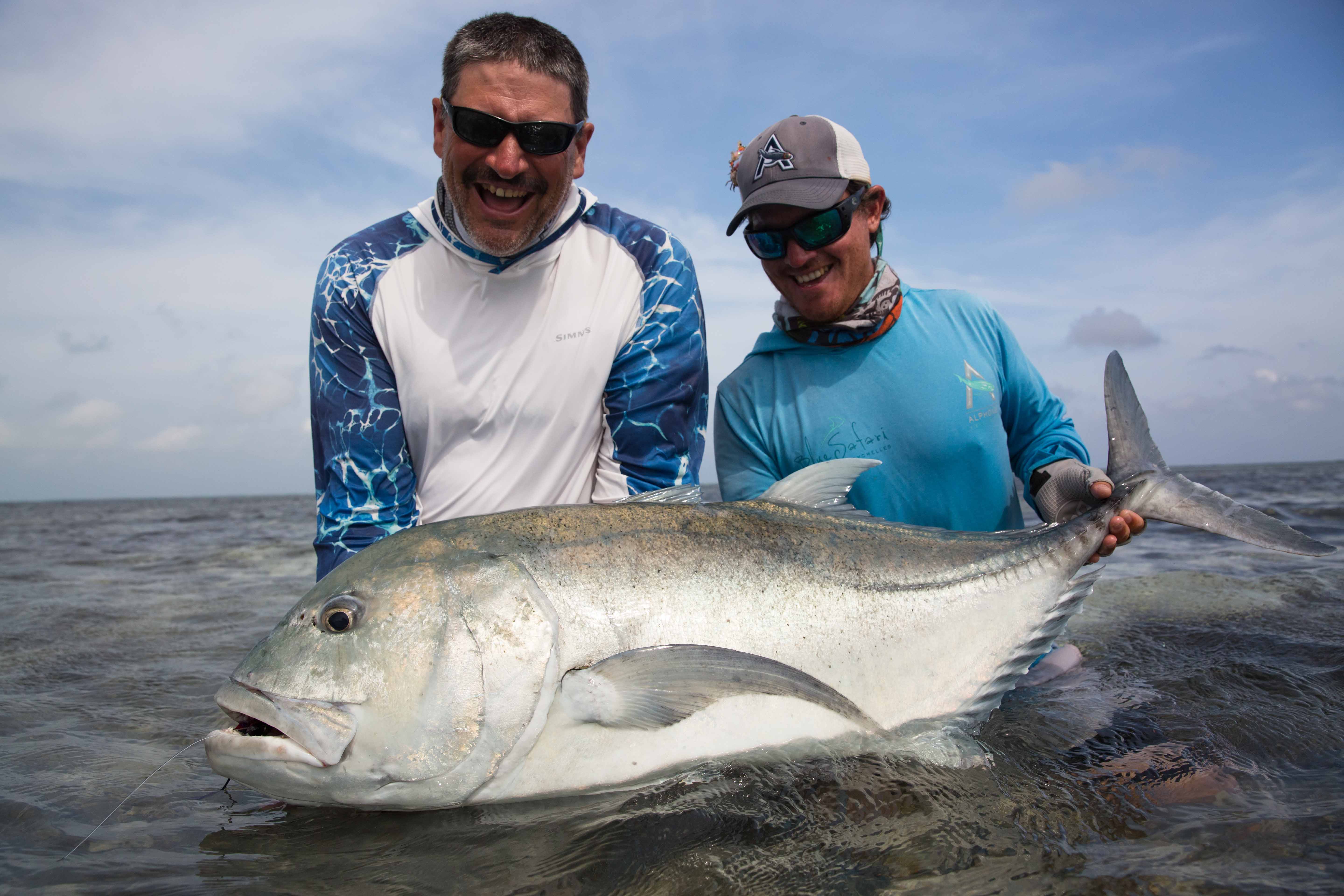 The weather played a big part in this week's fishing but our guests kept their chins up and remained positive with some great catches whenever the weather allowed. We look forward to some calming conditions and more great fishing next week.
GT: 61, Bonefish: 21, Indo-Pacific Permit: 3, Moustache Triggerfish: 3
If you would like more information please contact Charlotte Chilcott or Peter McLeod or call us on ++44 1980 847389. Alternatively click HERE if you would like us to contact you.