The Middle Aged Man and the Sea – Cayo Largo
To celebrate their 50th birthdays, Richard Anderton and James Marshall followed in the footsteps of legendary literary angler Ernest Hemingway and went saltwater fly fishing on the flats of Cuba's Cayo Largo…
"If this is your first trip you won't catch anything," said the man in the tackle shop. "Unless you speak fluent Spanish the guides will think you're American and take you to all the worst places."
Having just handed over a large portion of my kids' inheritance for a week's fly fishing in Cuba, this was the last thing I wanted to hear but the man selling me my saltwater lines and reels hadn't finished giving me advice. He also assured me that mine would be a wasted trip unless I could double-haul when casting and that I should've gone to Cuba years ago, before mass tourism ruined the fishing. Sadly the shop didn't sell either a time machine or a Spanish phrase book so I took my purchases home and consoled myself with the thought that at least Havana would be fun.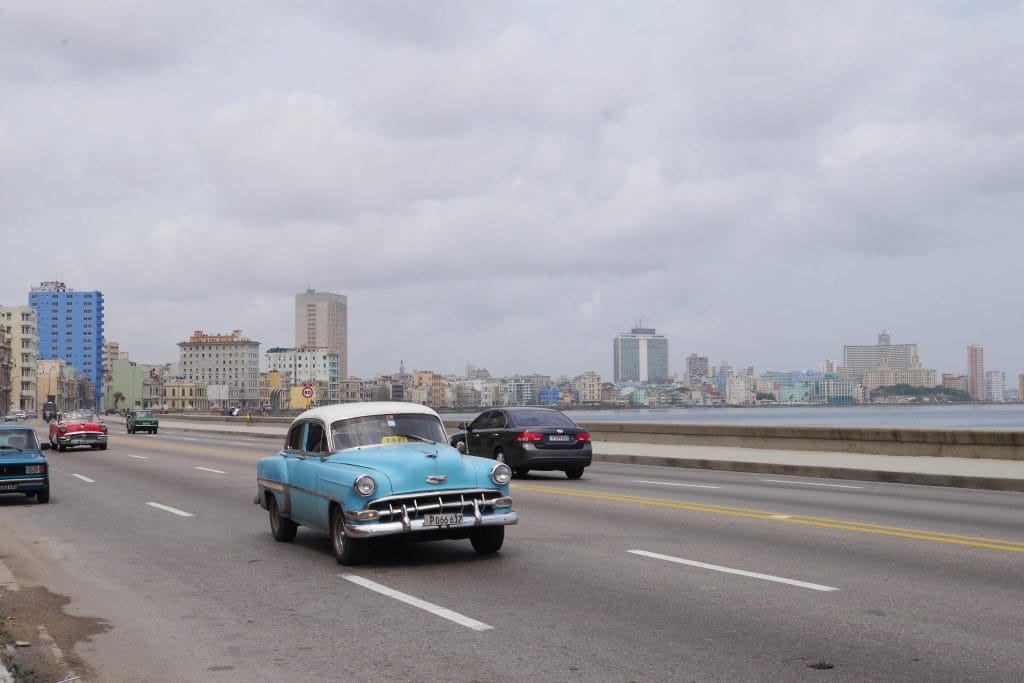 If the Sunday newspapers are to be believed, Cuba is currently the destination of choice for those searching for an 'authentic' travel experience but I freely admit that I'm not one of those people. My idea of an adventure holiday is trying the strange brown mush at the hotel buffet but the recent thawing of relations between Castro's Communist government and the USA means that this unique relic of the Cold War is in danger of becoming just another exotic tourist trap.
The streets of Cuba's impoverished capital are slowly filling with Japanese cars and these shiny Hyundais and Hondas now mingle with the thousands of antiquated Buicks and Chevrolets that were entombed in Havana by the 1960 US trade embargo. Similarly in Old Havana and Vedado, the two districts where most European tourists stay, the famous watering holes of the city's decadent heyday are being mercilessly restored and new five star hotels are being constructed with astonishing speed.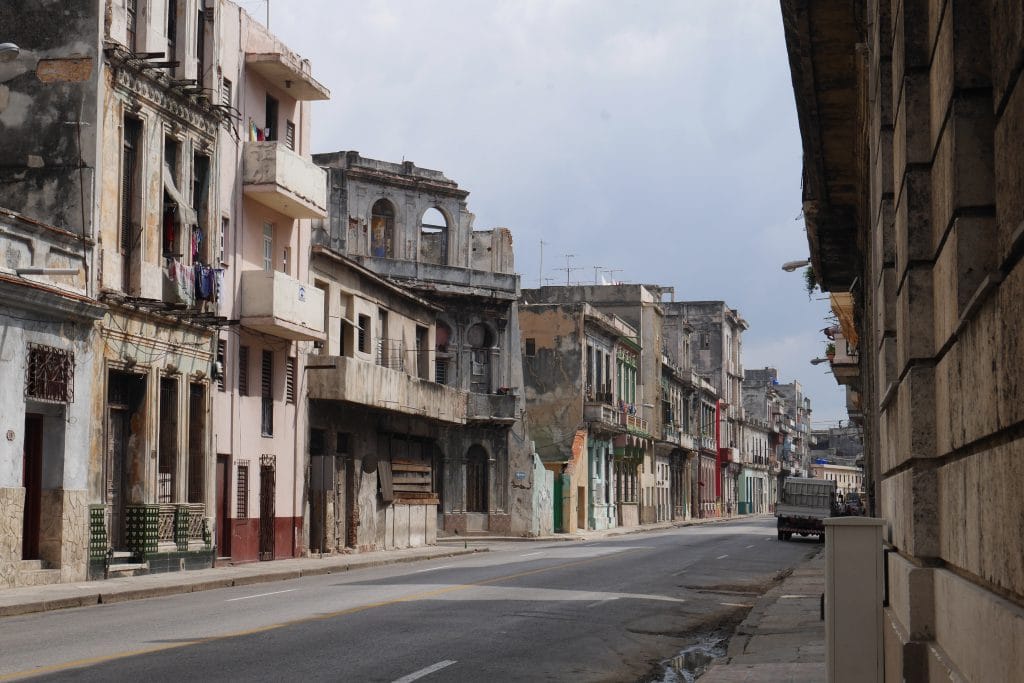 Like James Wormold, the fictitious hero of Grahame Greene's satirical spy novel Our Man in Havana, Westerners can once again sip a mojito in the wonderfully atmospheric Hotel Sevilla (now owned by French hotel chain Mercure) or stay in the Art Deco Hotel Nacional where Mafia bosses held their 'sit downs' whilst film stars gambled away their millions. Back on the literary trail, Nobel prize winning author Ernest Hemingway was a long-time resident of Havana and the old soak's room at the Hotel Ambos Mundos is now a shrine to the author of The Old Man and the Sea.
Yet, for all this frantic construction work, many of Havana's finest building are just crumbling facades with nothing but piles of rubble behind and those with sensitive noses should avoid the side streets away from the tourist areas. On the plus side, crime rates are generally low and the city is bursting with frenetic energy that makes even the shortest walk a thrilling adventure. Every bar is filled with the infectious rhythms of rumba or salsa and on the street corner are crowded with hucksters peddling everything from illicit cigars to overpriced taxi rides in bicycle trishaws.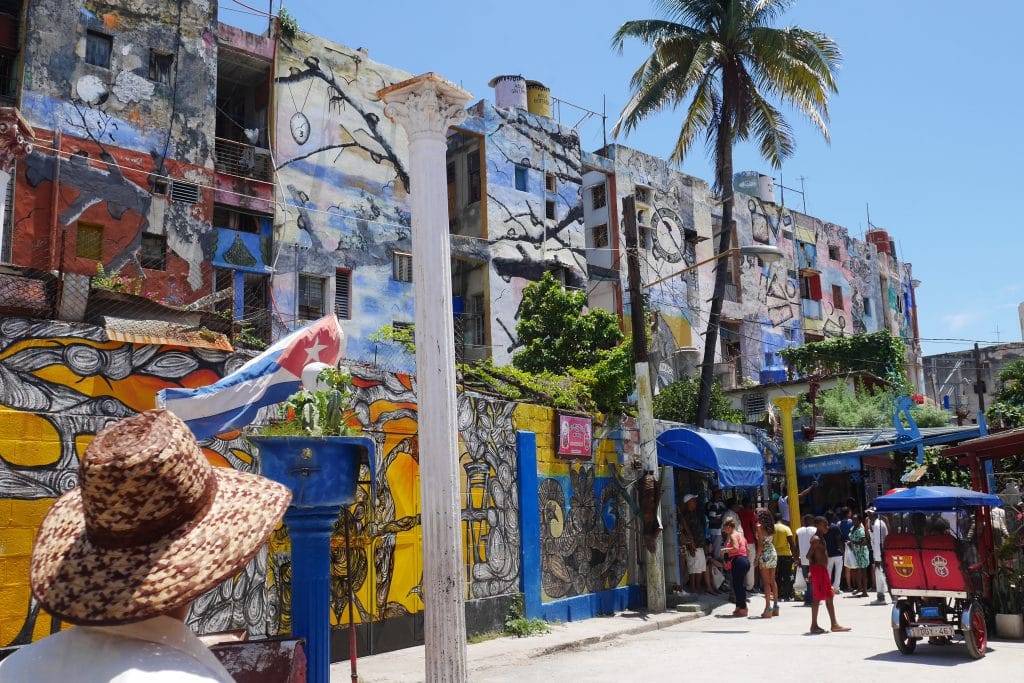 In these ways Havana overloads every one of the senses so it's easy to forget that Cuba is still a fervently Communist country. Credit cards are rarely accepted (even in tourist hotels), heavy tipping in the special CUC tourist currency is mandatory (so take twice as much cash as you think you'll need) and restaurant menus can be something of a lottery; whilst I was there, there was an acute shortage of tomatoes and cooking oil! Fortunately James and I had come to Cuba for its fishing, not its cuisine, and the pristine island of Cayo Largo is in complete contrast to Cuba's outlandish capital.
A 40 minute internal flight, aboard a civilian version of a Soviet era troop transport, takes sun worshippers and fishermen to the extremely pleasant and well-managed Club Sol. This all-inclusive, western-style, beach resort wouldn't look out of place in Majorca or Corfu and the fishing operation is run by respected Italian company, Avalon, which has been operating in Cuba for 15 years.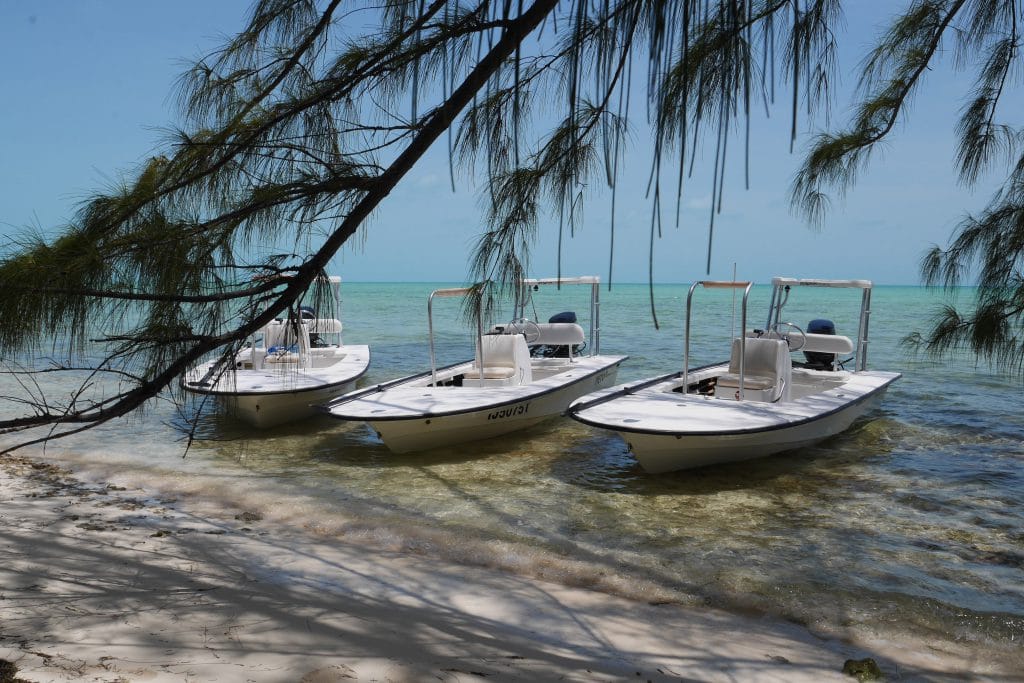 In 2008, Avalon secured the exclusive rights to fish the protected waters around Cayo Largo and no more than 12 anglers are allowed to cast a fly in any one week. Six modern skiffs (ironically of US manufacture) transfer two anglers, with their driver-guide, to their beat for the day and none of the fears expressed by  my fishing shop salesman came to pass. Our guides, William and Alexis, spoke impeccable English and were very keen to help James and I achieve our first Grand Slam.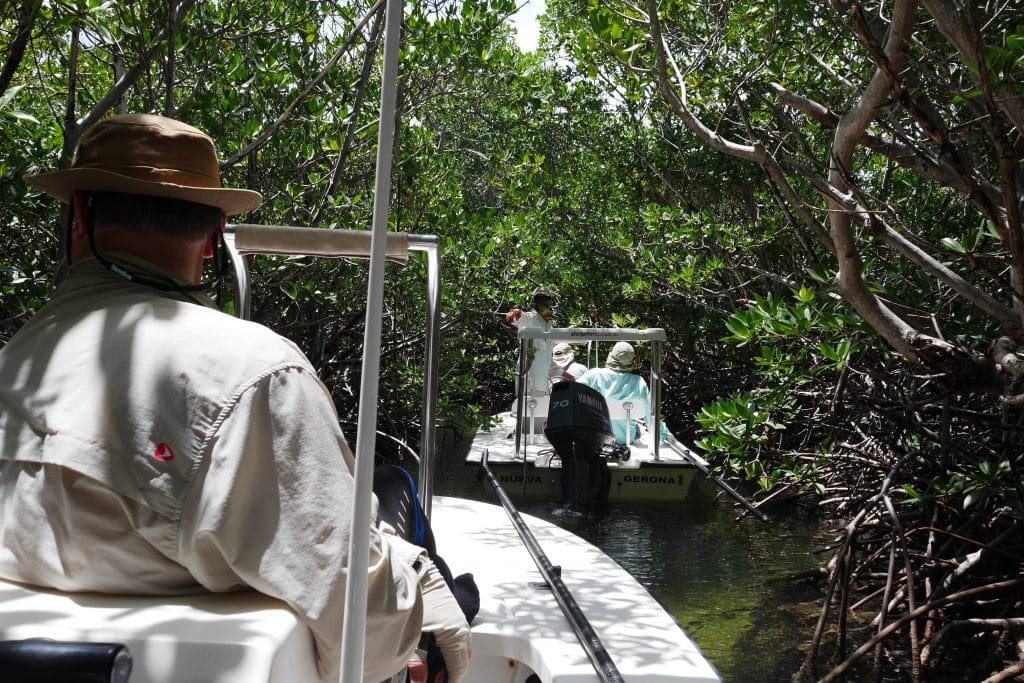 For the uninitiated, there are four prime target species for saltwater fly fishermen visiting Cuba. These are bonefish, permit, tarpon and snook. The first three are open water species which inhabit the shallow flats and deep channels but snook swim between the tangle of mangrove roots that surround the low lying islands called cayos. A Grand Slam is landing three out of four of these species in a single day and it's not easy. In other parts of the Caribbean, wading is the usual method of fishing the flats but, in Cayo Largo, the presence of large sharks and stingrays mean most anglers prefer to take turns casting from the skiff's bow. This is done whilst the guide stands on a specially constructed tower, punting the boat through the shallows and searching for the tell-tale signs of fish.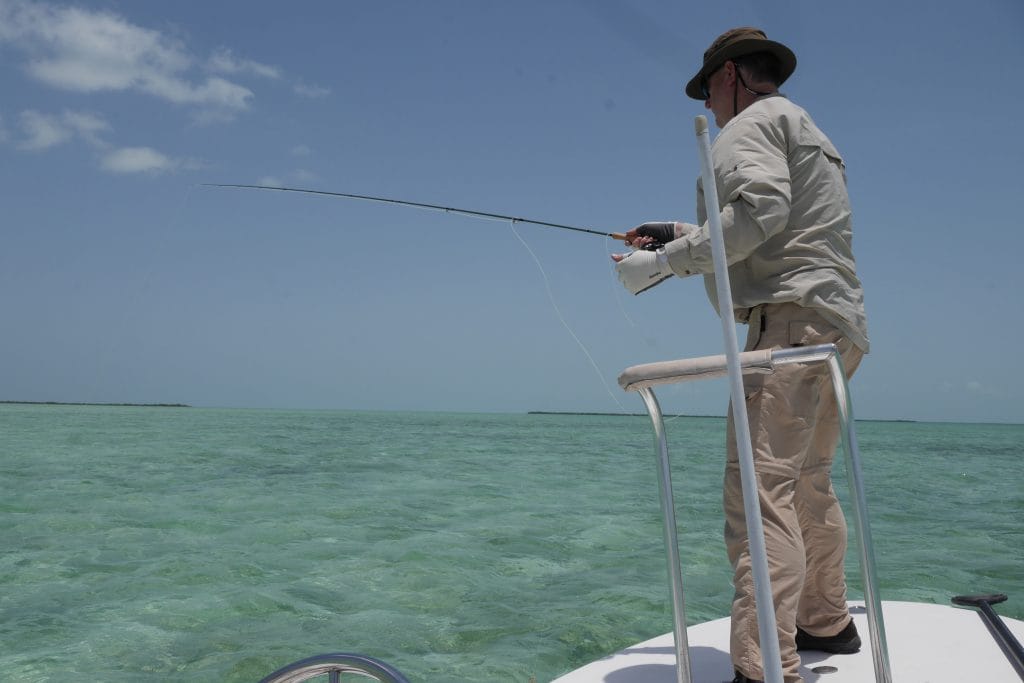 The hard-fighting bonefish, which can reach more than 10lbs in weight, are the easiest species to spot. They swim in schools numbering  from a few dozen to several hundred and the sand churned up as they feed turns the clear, cobalt-blue waters of the Caribbean an unearthly white. Like wet fly fishing, the fly is dropped into the path of these feeding fish  and 'stripped' long and slow to mimic the movement of fleeing shrimp. Takes are often light but, when hooked, a bonefish streaks across the flats like a torpedo and takes several hundred yards of line from the screaming reel.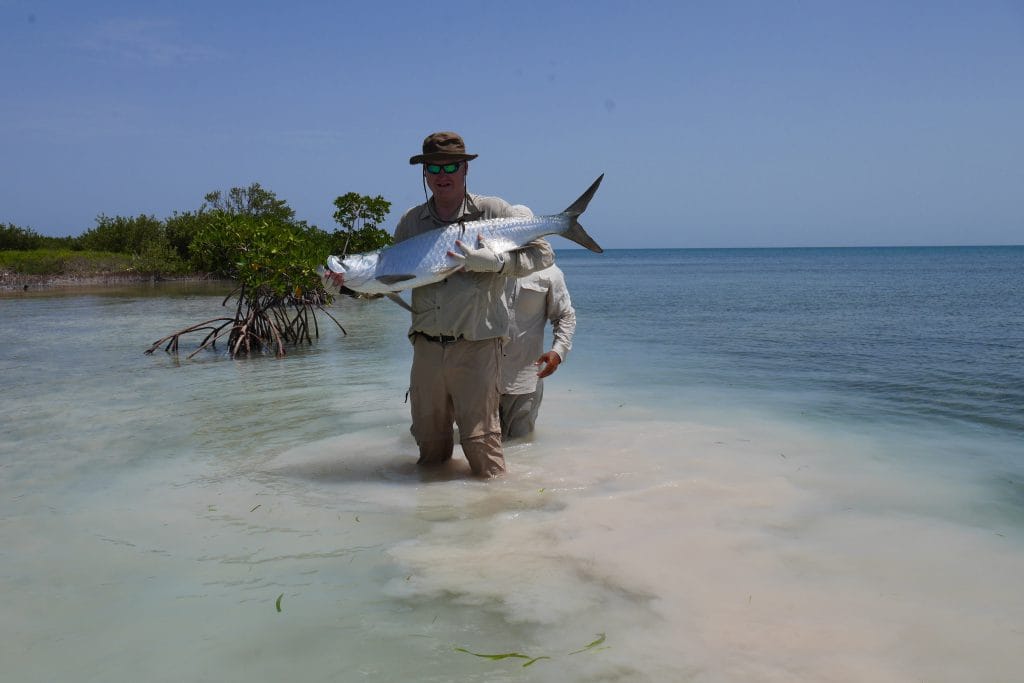 The much rarer, and more nervous, permit follow both bonefish and stingrays as they feed to pick off the shrimps and small crabs missed by their piscatorial companions. Like dry fly fishing, the fly must be dropped a few inches in front of the permit's nose, otherwise the fish take fright and disappear into the deep. Tarpon, the heaviest of the Grand Slam species, are more forgiving but persuading one of these leviathans to take a fly is only half the battle. Tarpon leap like the hardest fighting salmon and can easily shake a hook loose if given an inch of slack line. Landing a big tarpon can take upwards of 30 nerve-shredding minutes and is one of the greatest thrills in fly fishing.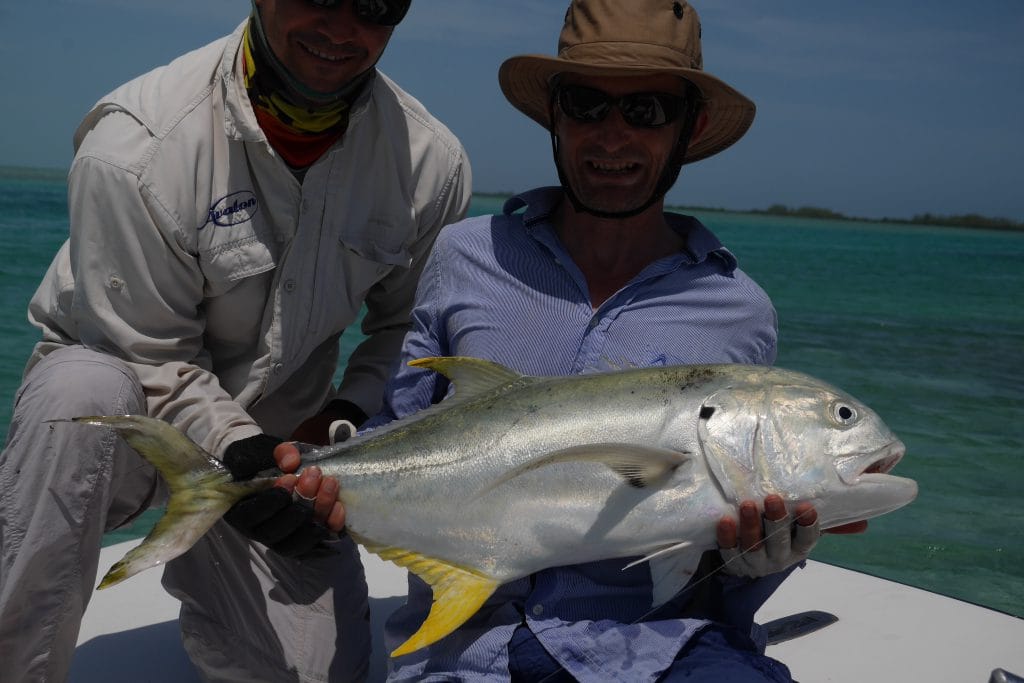 Having spent my entire fishing career flogging the rivers and reservoirs of Northern England, I had no  idea what to expect so the six days of being punted through the lagoons and mangroves of  Cayo Largo were a glorious surprise. Nothing can match the sheer elation of fishing in truly idyllic tropical surroundings and casting whilst sharks swim lazily beside your boat is something that should be on every angler's 'bucket list'. Much to my wife's despair I'm already dreaming of my next saltwater fishing trip but, I know what you're thinking, did I achieve my Grand Slam?


Despite the gloomy prognosis given by my tackle salesman, I'm delighted to say that James and I each landed our Grand Slams on the same day (a Double Slam) and though mine was achieved on a snook I also managed to land a 50lb tarpon before flying home. This was by far the biggest fish I've ever caught and, if you'll pardon my shameless boasting, it was by far the biggest fish caught that week. Moreover, none of the other anglers in our group came close to hitting a Grand Slam but, as they were mainly American, perhaps the man in the tackle shop was right after all!
For more information on Cayo Largo and Cuba please contact Aardvark McLeod or call our office on +44(0)1980 847389.