Beyond the people and culture there are numerous other aspects of Cuba to fall in love with, none more so than the fishing. For a mixed species destination it really has it all and is difficult to beat. In fact, if you're just targeting a single species it's difficult to beat too! What Cuba presents and provides in abundance is value for money no matter what you choose to target, and that is what makes it a proverbial hot-cake in the saltwater world.
As a new addition to the Aardvark McLeod team, I was sent off to Cuba, taking in three destinations that were making all the right noises in the fishing circles. With the non-existent British summer any respite was welcome, and the thought of drinking mojitos under a moonlit Caribbean sky was idyllic.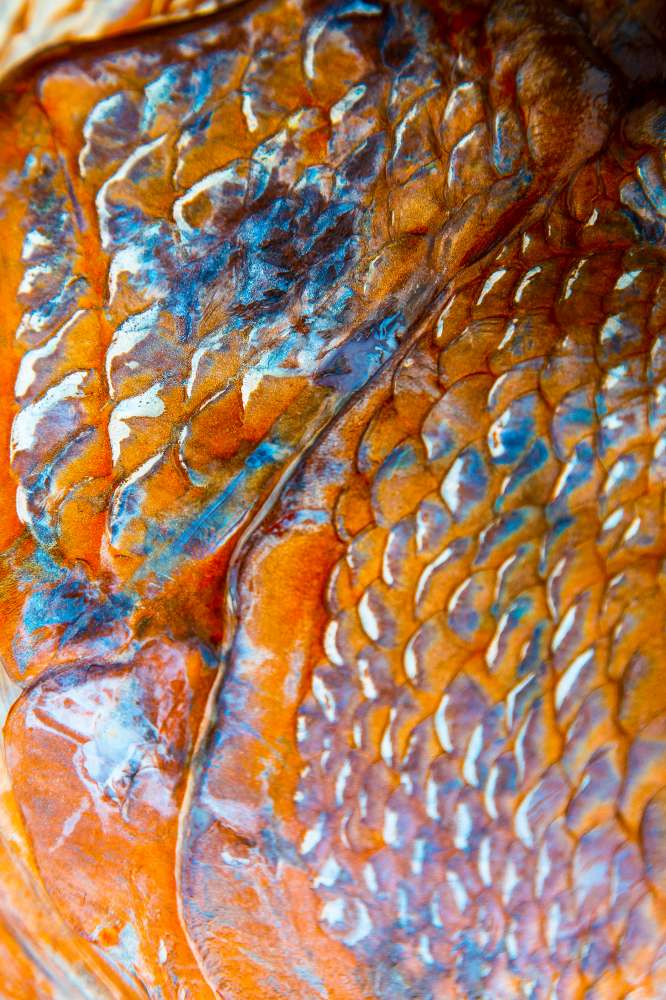 Looking at weather maps of Cuba before leaving, however, did leave me rather perplexed; it was almost identical to that of the UK! A large area of low pressure stuck firmly over the whole of the country that showed no sign of waning.
Unfortunately the weather forecasts have a terrible consistency to them when you least want them to be. Such was the case when I arrived in Havana. The warm, welcoming smiles soon gave way to reservations; there was mass flooding in areas to a level that had caused evacuations. The weather showed no sign of abating and worst of all there was wind to accompany the rain; perfect sight fishing conditions!!
Tarpon are a species that I hold in high regard; they are tough to beat as a sporting species, both from their challenging nature through to their fighting prowess. They can beat you up on a prolonged fight then spit the hook at the last minute as if the hook had never penetrated at all. They can leave you hugely frustrated but ultimately in awe.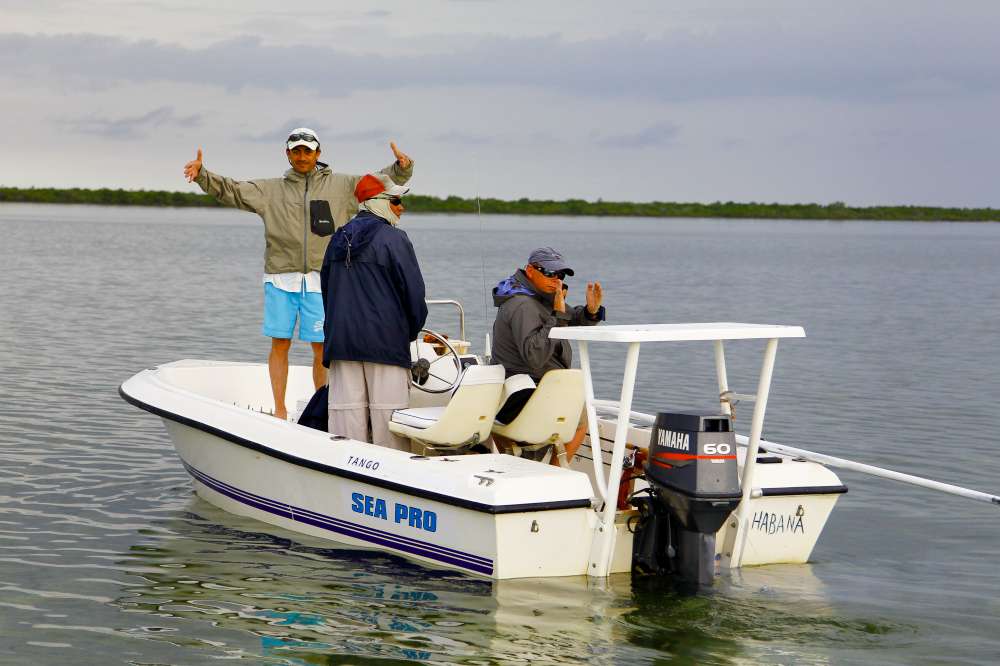 First stop was Cayo Santa Maria, a location I had heard about many years ago as a destination in the making in terms of tarpon. Indeed, it has turned out to be more than that, becoming a true mecca for anyone with tarpon on their hit list, especially with the sight fishing opportunities on the flats and 40 lb'ers being classed as small ones! Last season fish of over 150 lbs were sight-fished with a fly on the flats! That's one big herring!
Some members of the party did hit the flats, hoping for pockets of sun to give that crucial insight into what lay below. The wind was playing havoc too, but sheltered bays were found and tarpon of up to 30 lbs were seen in numbers and caught. Great fun on a 10# rod and an excellent way to introduce you to the intricacies of the species. The rest of us headed for the main channel, which gave birth to the stronger currents that pushed the baitfish around and, as a result, became a major feeding station for the tarpon. The tarpon were at home and at home in their hundreds – no fisherman's tail tale I can assure you. School after school would push through, porpoising their shimmering armour as they did so. It really was a fantastic spectacle and we all just wished the weather would break to allow us to target them in earnest. Sadly it didn't, but the guides soldiered on regardless.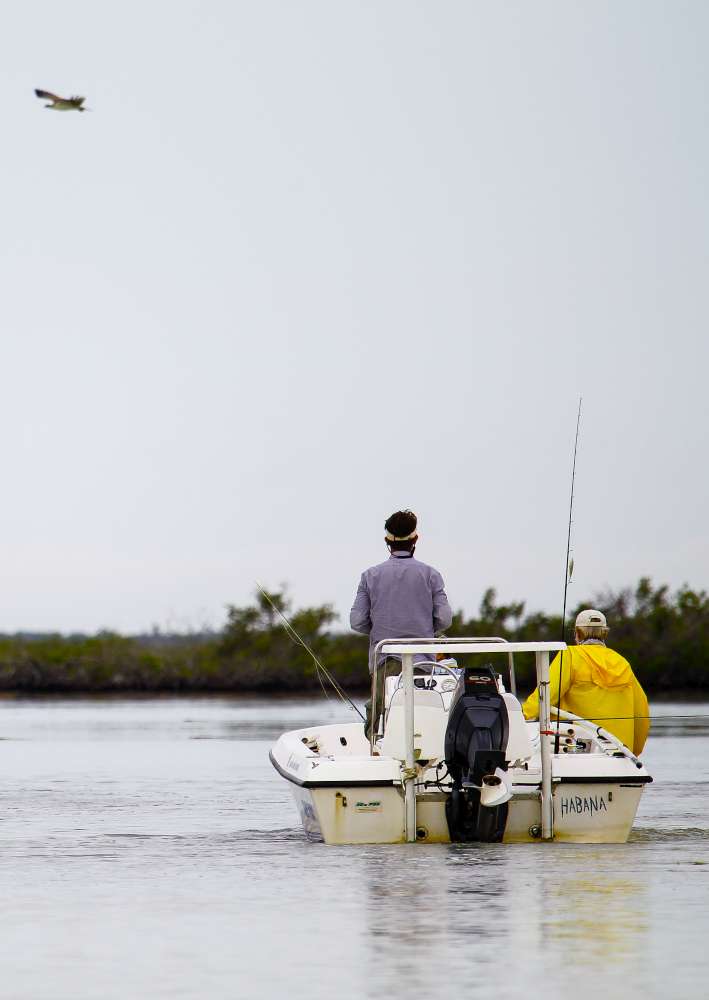 There was a decent roll to the water, and it certainly wasn't safe enough to be casting off the platform. However, there was sufficient room from within the boat, so action commenced. An intermediate was called for to cut through the waves and anchor your line if nothing else. Beyond that the flies were surprisingly subtle on the business end. I was expecting gaudy baitfish patterns, but the guides seemed to all favour black, purple or brown patterns that are remarkably streamlined, but made of very mobile materials such as rabbit and marabou that create a fantastic action in the water.
The guides all had their ways of finding 'the' spot. All relied on experience, of course, but after that some went for the 'between this point and that point' approach where others deployed modern day approaches in the form of 'X' marks the spot on a handheld GPS device. The GPS was remarkably accurate and gave alarmingly regular results. If 'X' marked the spot you could bet your bottom dollar there was something lurking close by.
On one occasion I recall the guide checking the action of a fly by the side of the boat. The fly drifted back some 5 ft as the guide got distracted by a splashy cast – probably one of mine – at which point he nearly had his arm ripped off as a tarpon took hold of the trailing fly!! Needless to say the fish weren't boat shy. However, all care was taken to assure this and you would never find the guides motoring right onto a spot – they would always stop a good distance out and then paddle you in carefully and quietly.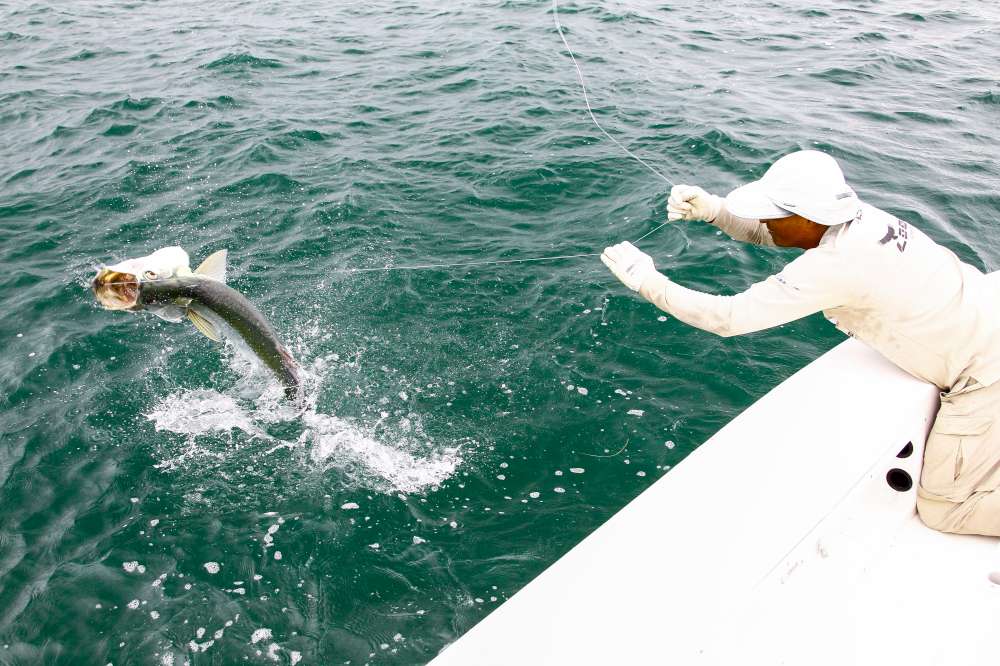 I may get shot for saying this, but I love tarpon and tarpon fishing almost (almost!) as much as my beloved sea-trout. They are just hedonistic creatures. They are challenging without being impossible, they give everything in a fight, are airborne enough for you to know what you hooked should you lose it, and find a strange equilibrium between pleasure and pain. You can lose a tarpon and be absolutely distraught yet in awe and smiling at the same time! A pretty unusual sensation really, but that's tarpon for you. If you haven't fished for them then you need to in order to experience what I mean, otherwise you'll probably just think that I'm a bit mad, which may also be true…
Fishing for me is all about the take and for that tarpon have little competition. The moment the fish takes and you feel everything go solid – much like when a salmon takes and you hook that proverbial rock – your heart starts racing as you manically look at where the line is placed by your feet, if there's a loop wrapped around your reel etc. That initial take and run is like no other. It will test you and every bit of your tackle. It's an awesome rush and feeling.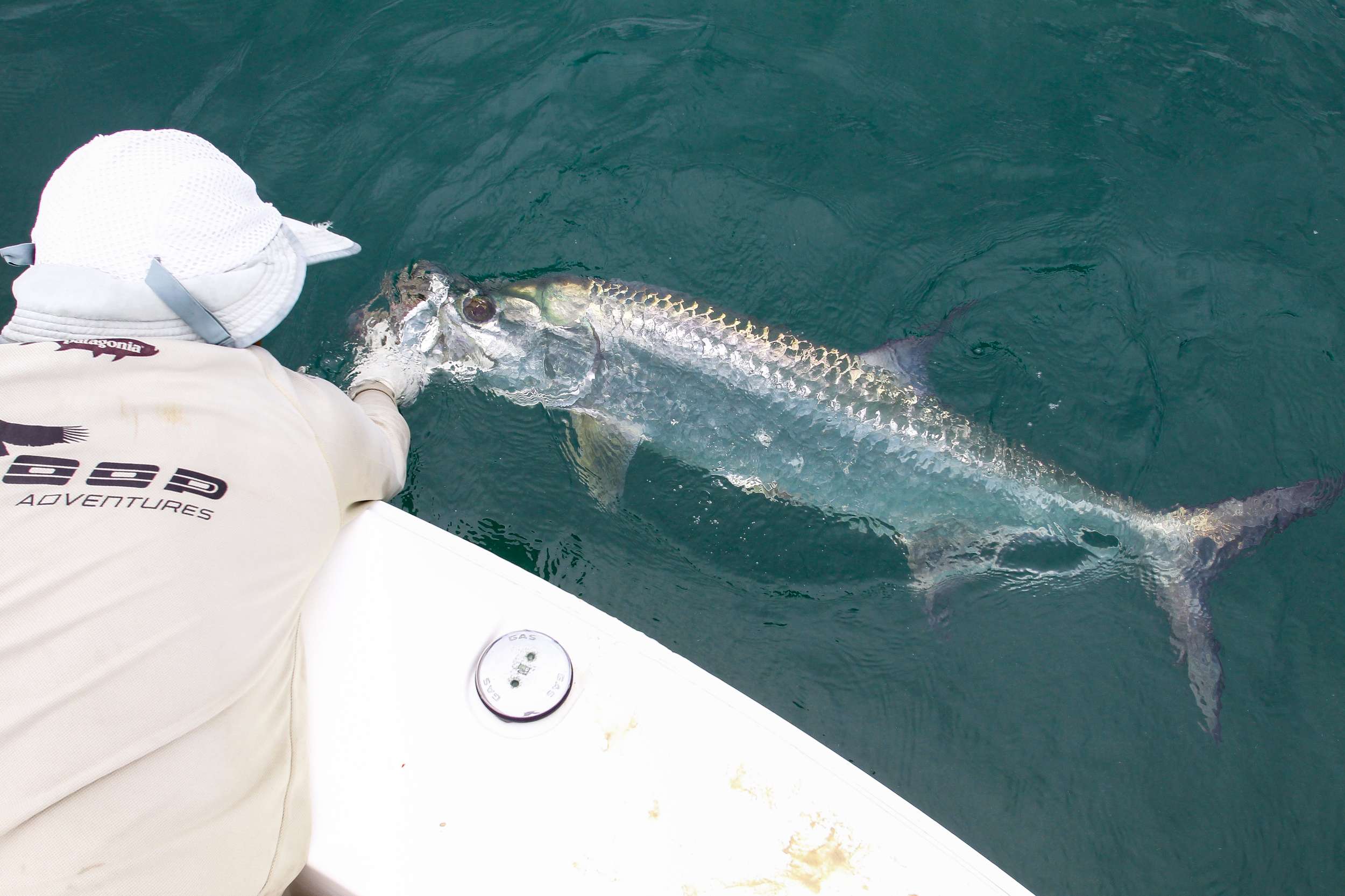 That, in a way, is what makes Santa Maria special. It really is an out-and-out tarpon fishing destination and one that has no real comparison in terms of numbers, size and obliging fish. Sure, you can target other species here, but you really shouldn't as the tarpon reigns supreme in these waters.
A few tarpon were hooked and landed during my stay but I couldn't really do the place justice. I could see the potential, but godly acts prohibited capitalising on them, basically. Fish of up to 80 lbs were hooked and I landed my best of around 60 lbs, which I was over the moon with – the thought of a 150 lbs+ tarpon on the flats scares me after seeing what a 60 lbs fish does. One to visit again for sure, but not one for the faint hearted! An adrenalin junkie's playground is a fair surmise.
Next stop was to be a couple of islands over; the famous tourist resort of Cayo Coco and the fishing around Cayo Romano and Cayo Paradon. I won't keep harping on about the weather, so please take it as a given that none of the places within this report were seen in the best light. I almost prefer this though, because if decent fishing is managed under these conditions then I can only imagine what they would produce under idyllic conditions.
This is an area I had visited years before any fishing operation had taken hold so it was interesting to revisit and see how things had changed, but also get to some areas that were largely unreachable on my previous trip.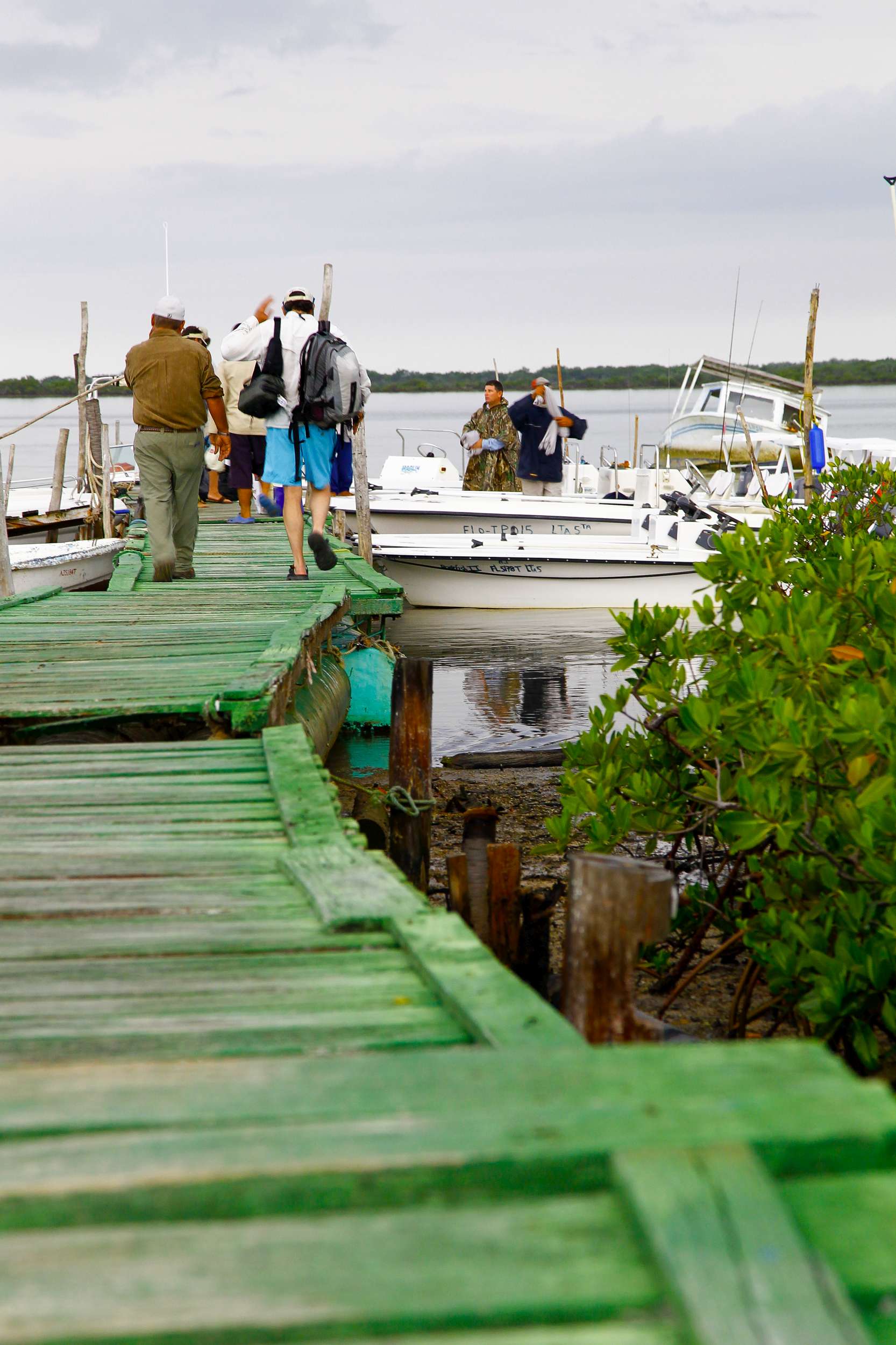 The first thing that you appreciate about the fishing grounds in this area is their vastness. It is absolutely huge. In no way, shape or form could the area be overfished given the current angling practices in the area and I have no doubt that what is currently being explored is really just scratching the surface. The potential is massive.
The season has been uncharacteristically cold, which meant that the tarpon hadn't made it inshore in numbers, where they could usually be targeted on the flats and in the channels. Not a massive problem, but this is a location that should give you a good opportunity of a grand slam. Healthy numbers of bonefish littered the flats and their average size was surprising; I would have to give them a conservative estimate of 4 lbs or so, especially given the number of 6 lbs+ bonefish that were seen and caught. To compliment this though you had the numbers, so it wasn't a case of waiting or searching for the larger fish. Furthermore they were, as a rule, catchable, which isn't always the case with the above average sized bonefish – again, the sheer remoteness of some of the fishing grounds would assist this, of that I have no doubt.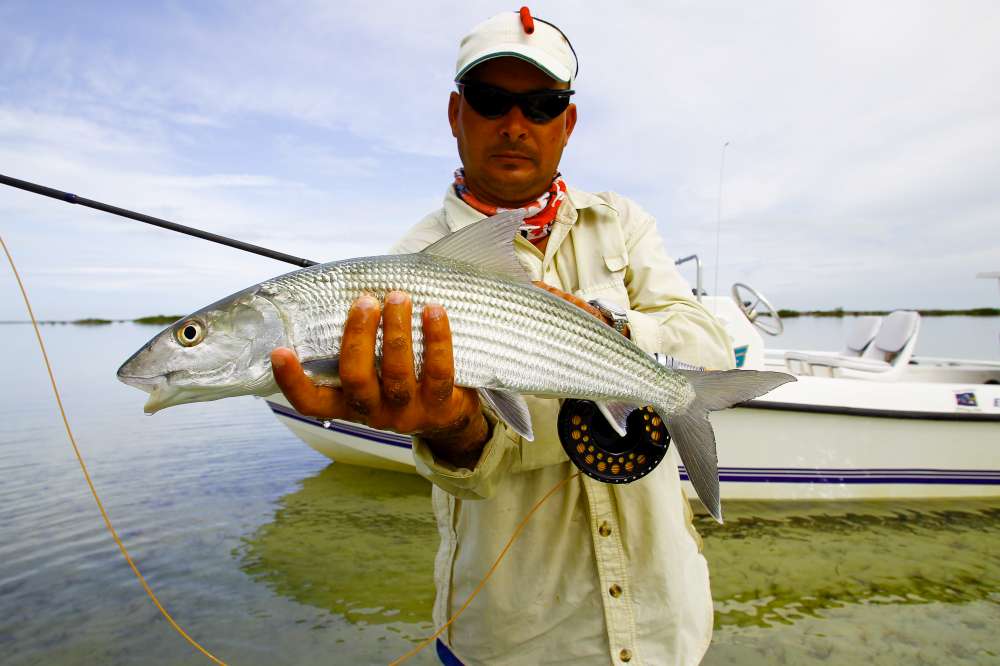 To complement the bonefish there are also a good number of permit present with these being of a decent size too – there certainly seemed to be plenty in the 8-15 lbs bracket. As per usual these fish are no mugs, regardless of the minimal fishing pressure. In fact I have all but given up on them and prefer to chase tarpon, but that's the beauty I guess of knowing the intricacies of each species – or, perhaps more accurately, the frustrations. Others on the trip did manage to hook permit and some fine specimens were landed whereas I found myself enjoying a spot of popper fishing with a small fly around the mangroves for snapper – great sport on a 8# rod and a good break from the usual flats species. That's something I would always recommend actually – not snapper fishing per se – try and mix your week up and try to see what else the location has to offer. For example, try and target box fish or ladyfish to add some intrigue. This is especially pertinent if, perhaps, you have caught the main species and then want to see what else could be caught to add to your species list. The guides will often have great suggestions but are never really asked for them as the majority of visiting anglers would prefer to just target the main three; bonefish, tarpon and permit.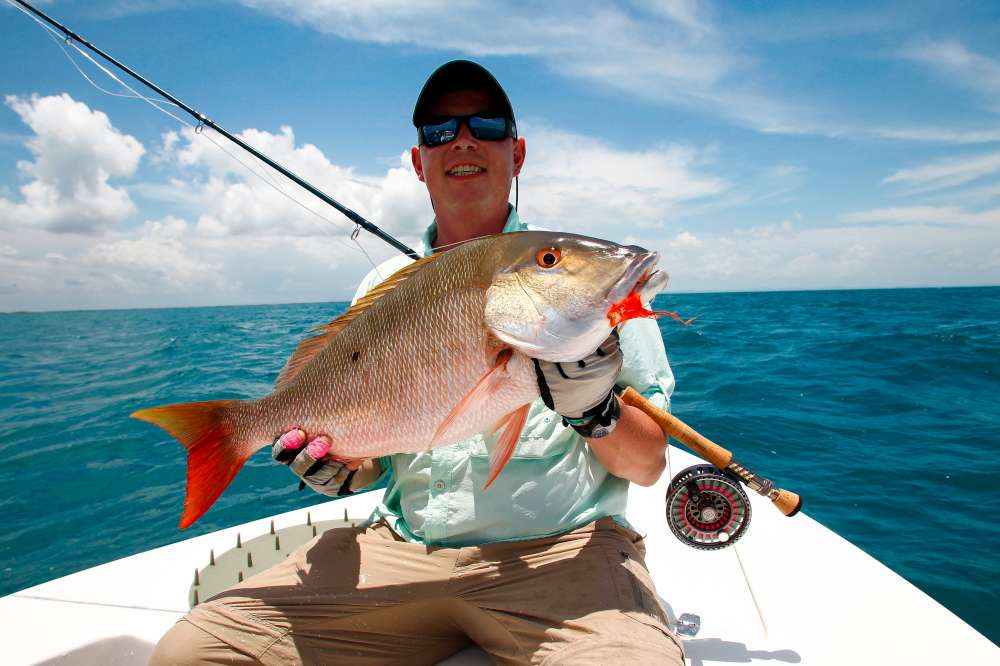 Ok, so I promised not to revert to weather issues. However, at this stage I must, as the weather got so bad that we couldn't even get to our final destination – Las Salinas – because of mass flooding. Indeed, it was so bad that we couldn't even get to the dock. There were, however, contingencies. The Rio Hatiguanico was high, but certainly clear enough and fishable. This is a tarpon fishery, but also holds snook, snapper and jacks. I had also fished this location a few years previously and had amazing sport so was keen to return. I recalled one day where I hooked one tarpon that looked bigger than me! Not difficult for a vertically challenged Welshman I agree, but a decent fish nonetheless. There was also a point where I managed to hook and land 6 baby tarpon up to 20 lbs in 6 casts. Fantastic sport in anyone's book.
Action was almost instantaneous, but sadly short-lived during our trip. A couple of small tarpon to 15 lbs were landed, but the wind was playing havoc with the boats, killing any decent drift and not allowing the fly to fish around properly without being whisked under the boat. We gave it our best shot but ultimately resigned to the fact that it wasn't to be.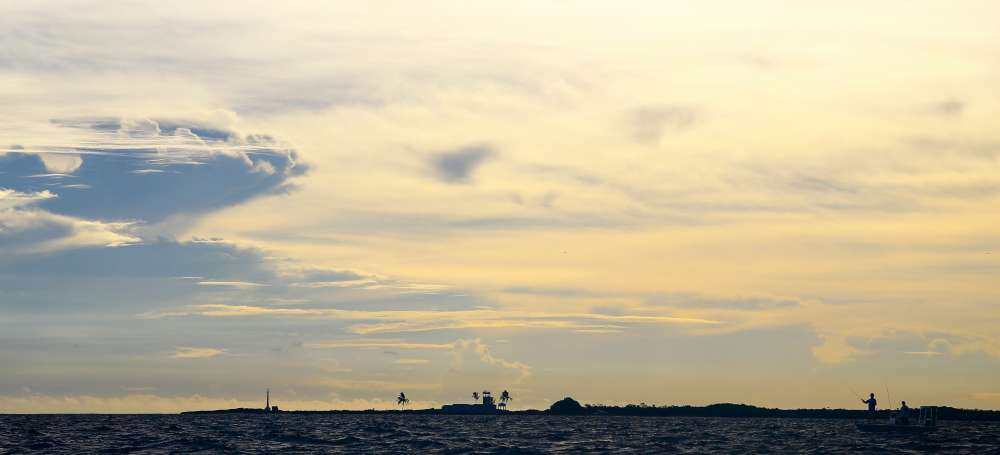 And so the curtains were drawn on the Cuban escapade. A real bag of mixed fortunes but some surprisingly good memories given the conditions. Most of all, the trip left me salivating for more, which is always a positive note to leave a journey on. I do have a date with a few more of those tarpon, and can't wait to do the tango with a few of those big ladies! After all, I have had my fill of rejection from the ladies over the years, so a few more won't hurt…
To find out more about travelling to Cuba you can contact Steffan by email: [email protected] or telephone: 01980 847389