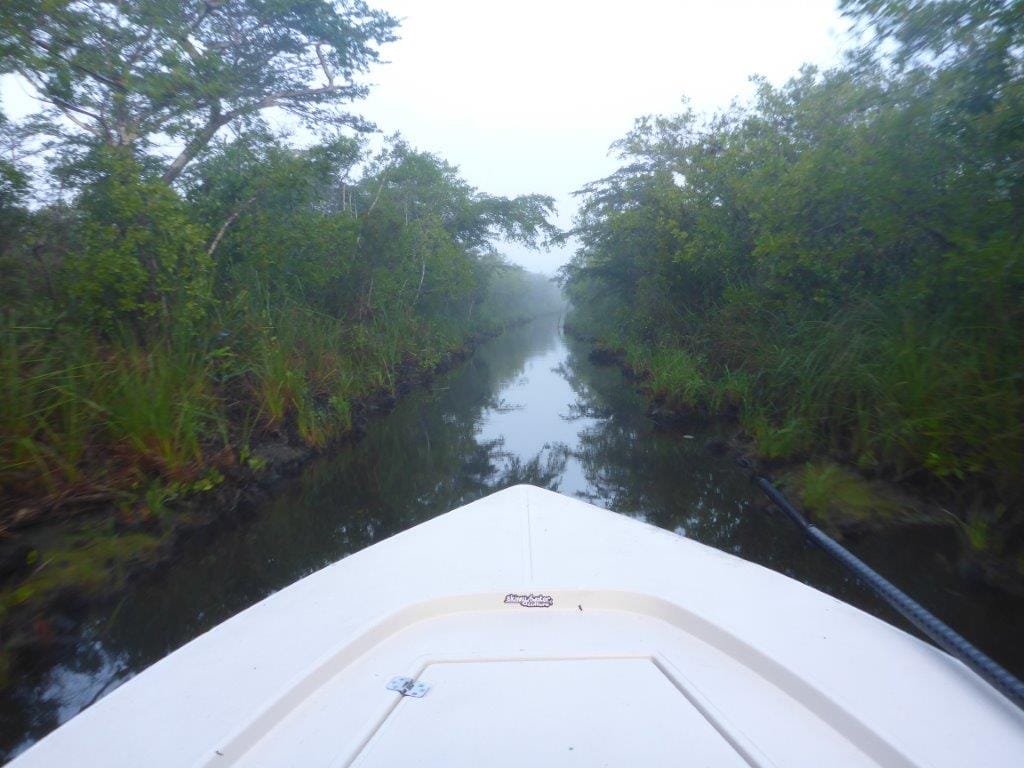 Day one dawned with high hopes.  Pick up at 7.00am from the hotel followed by a half hour drive down a forest track to move the 20km to the boats. First surprise is we aren't at the coast! However start to set up the rods.  One mosquito –swat it. Its friends join me. Eventually set up #6(bones), #9(permit) and #10(tarpon) rods by moving at more than mosquito pace wherever possible.  Note to self – do this on the boat next time! We then set off down the cut which turns out to be 11 km long, was dug by hand during the Spanish occupation and is an interesting high speed motor with 2' either side of the boat for clearance.
We arrive in open water to find considerable wind, motor to the fishing area and arrive about 8.45am (later days were about 8.30 because the rods were already set up).  Machito, my guide, seems determined to test my casting by putting me into the wind with inevitable failure on my part, but eventually I hook and land a nice 3 ½ lbs bone. The morning proceeds with some wading, but mainly boat fishing and produces a couple more bones in the 3-4 lbs region with a number of larger fish seen but not hooked.  These fish take readily if the fly is put in the right place but, as with all bones, spook easily if the wind gets the better of you.  Highlight of the morning was to persuade two ladyfish to take.  Unfortunately both came rapidly unstuck.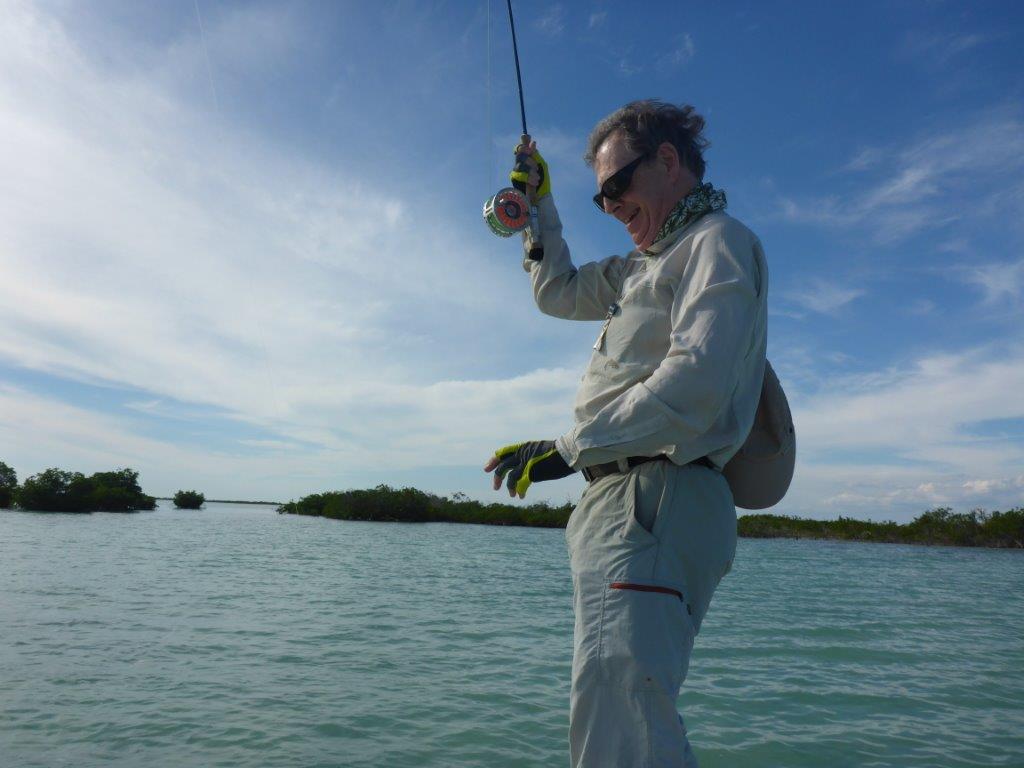 After a break for lunch Machito suggests we move to an area where we have a chance at some tarpon, which we do.  We rapidly spot a couple who chase and take the fly but no cigar; no hook up.  We cruise the mangroves for an hour or so, seeing several tarpon but having more success hooking the mangroves than fish.  Suddenly we come across several very laid back snook.  The largest of these follows my tarpon fly but doesn't take.  On about the fourth cast a tarpon dashes in stage right and slashes at the fly.  A cast to the right and he's on!  A combination of masterful poling of the boat away from the mangroves by Machito and bullying the fish with the #10 weight and we boat a 9 lbs tarpon – my first ever.  Machito points out that if we can get one of the snook we're on a slam!  Change to small yellow popper and cast at the snook who are still there; they've seen enough flies for one day and aren't interested but one further down the channel is!  Contact lasts about 10 seconds, he's gone and it's 3.00pm and time to head back.  Still an almost slam on the first day isn't bad.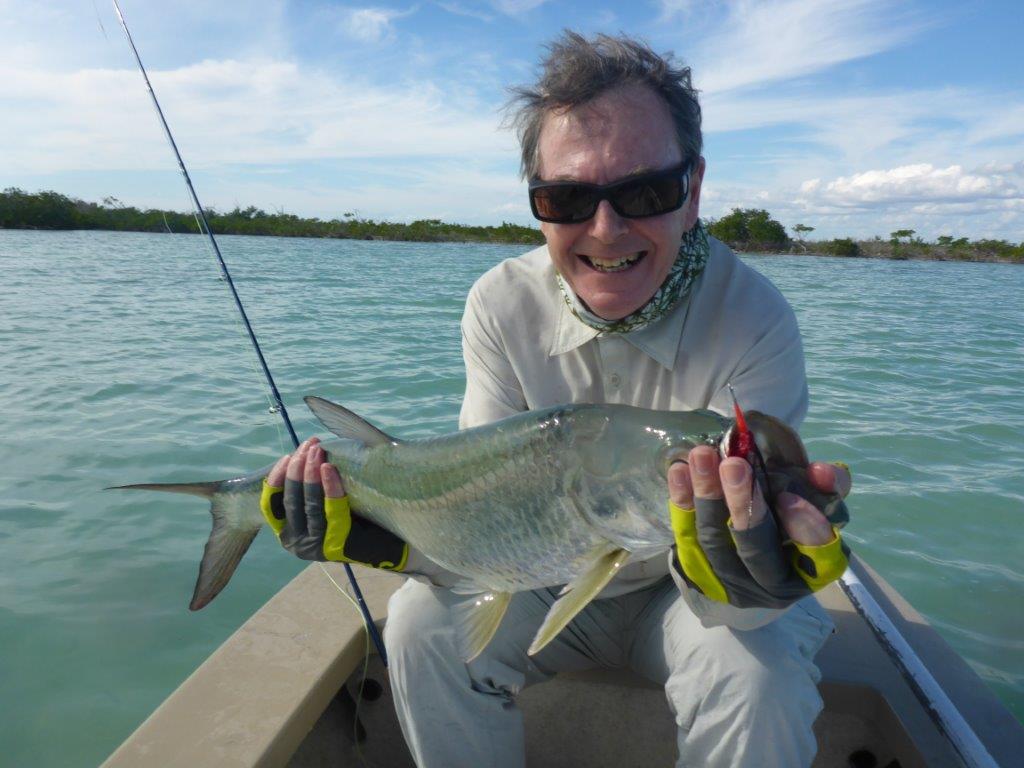 Day two and I'm on the "big" boat with Marco.  The wind has dropped, he mentions the magic word "permit" and we're off.  I have four shots at permit, none easy, all missed.  After an hour and a half the tide is dropping and it's time to go after something else – tarpon! We arrive with me slightly groggy have been smacked in the face by a flying squid en-route! The wind is back up but we have fun as follows: 1st fish I don't set the hook, off first jump; 2nd fish set the hook, off like a rocket, burns fingers through my stripping glove – and that's just guiding out the slack line – drop line, fish gets off; 3rd fish caught, 15 lbs, released by Marco; 4th fish fly lost at first jump due to overenthusiastic hook setting; 5th fish lost at first jump due to weak hook setting trying not to repeat 4th fish performance.  After lunch the fish disappear and it clouds over so we go bone fishing.  Hard work but a couple of nice bones, including one of about 5 lbs, to round off the day.  This tarpon fishing is easy!
Day three – the golden one.  With Marco on the "big" boat again, some wind but good sun and after permit.  This time we wade to limit any spooking of the fish.  Within 20 minutes I'm into a permit.  Heart stopping first run as it takes 150 yds of line and I know, because I had to rewind it myself, there is only 200 yds of it instead of the 300 yds I ordered.  Slowly, oh so slowly, get 50 yards back only to have the fish take it all back.  What seems like a lifetime later the fish is in my hand: my first permit, a fish I have been chasing for five years.  Not a bad one for here, about 10 lbs.  The smile doesn't leave my face for half an hour.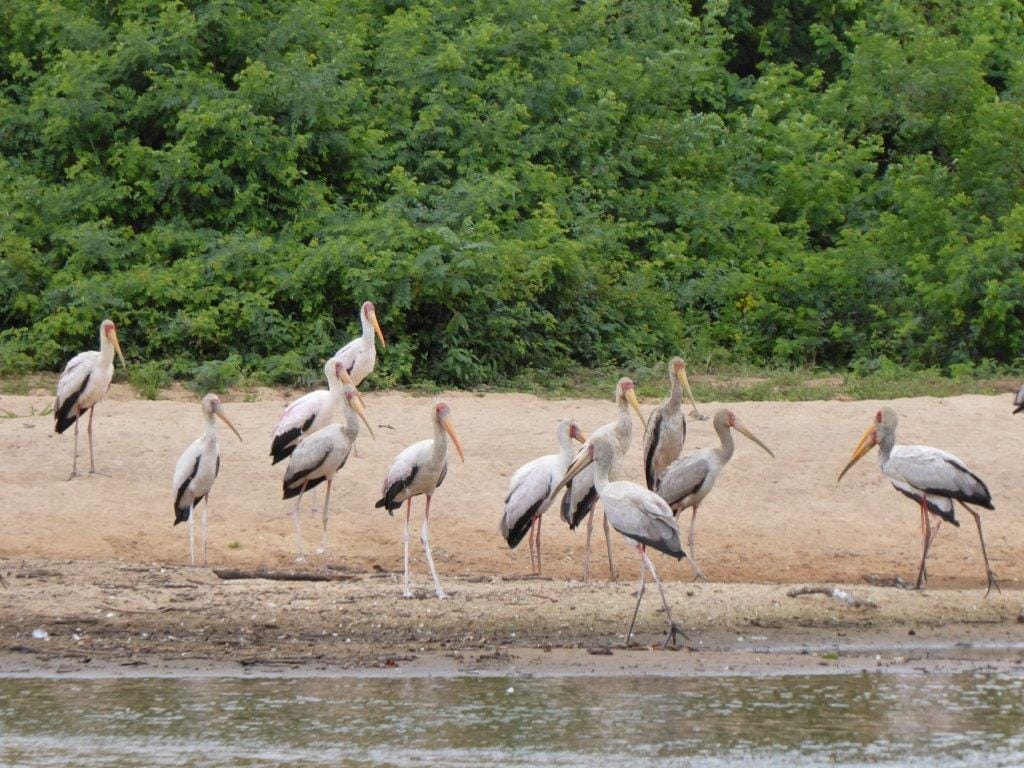 All we need now is one of those easy tarpon, a bone and then we can go after a snook for a Super Grand Slam!  Except when we arrive at the tarpon area the tarpon are there but the weather has gone totally sultry.  The wind has dropped but there is heavy overcast cloud and even Marco can't see much more than 10 m from the boat.  We spend 3 hours casting at spots where fish were rolling a minute ago, with no result.  Suddenly a pod of 20 fish, the largest we see all week appears – and I do an excellent job of overcasting right into them, scattering them to the four winds.  Marco's comment that "That was the grand slam opportunity" doesn't help.  In the depths of despair half an hour later Marco spots three fish, decent cast, hooked fish, 11 lbs tarpon in the boat and the second species ticked.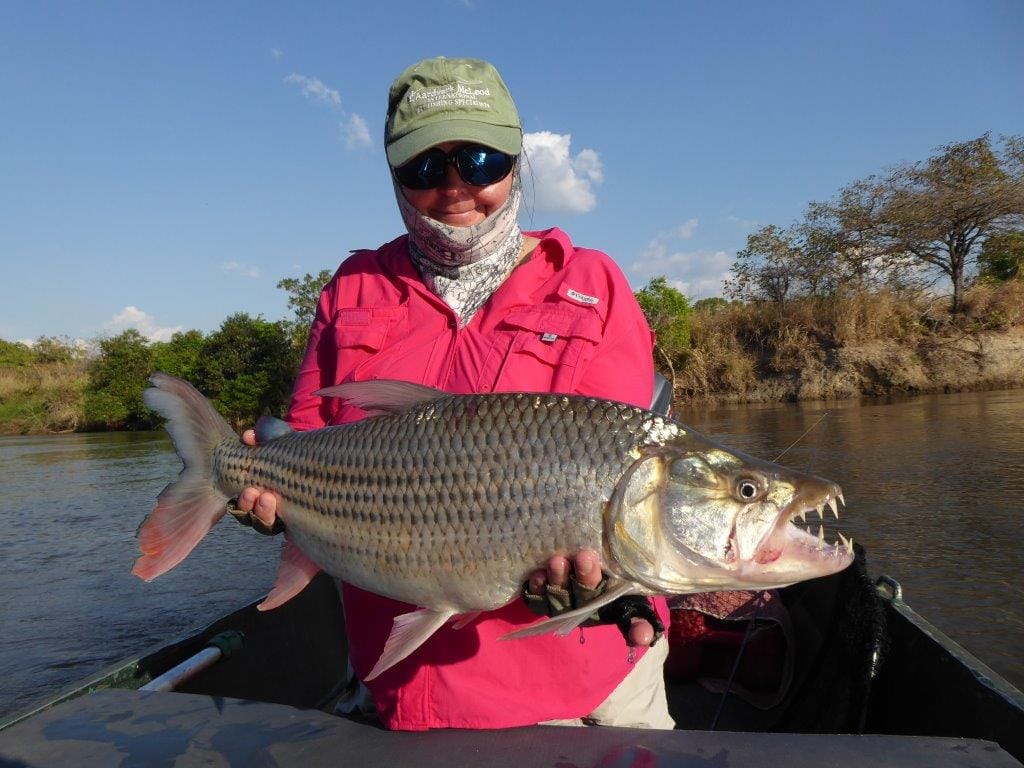 We're short of time but who can fail to catch a bone fish, even in poor light conditions?  After you've had one come off, broken one off and failed to do an easy 15ft roll cast to go for another you realise it could be you.  Finally with 13 minutes to go I land a bone – only 2 lbs, but it counts.  What a day of highs and lows but heck, my first permit and a Cuban Grand Slam – life just doesn't get any better than this.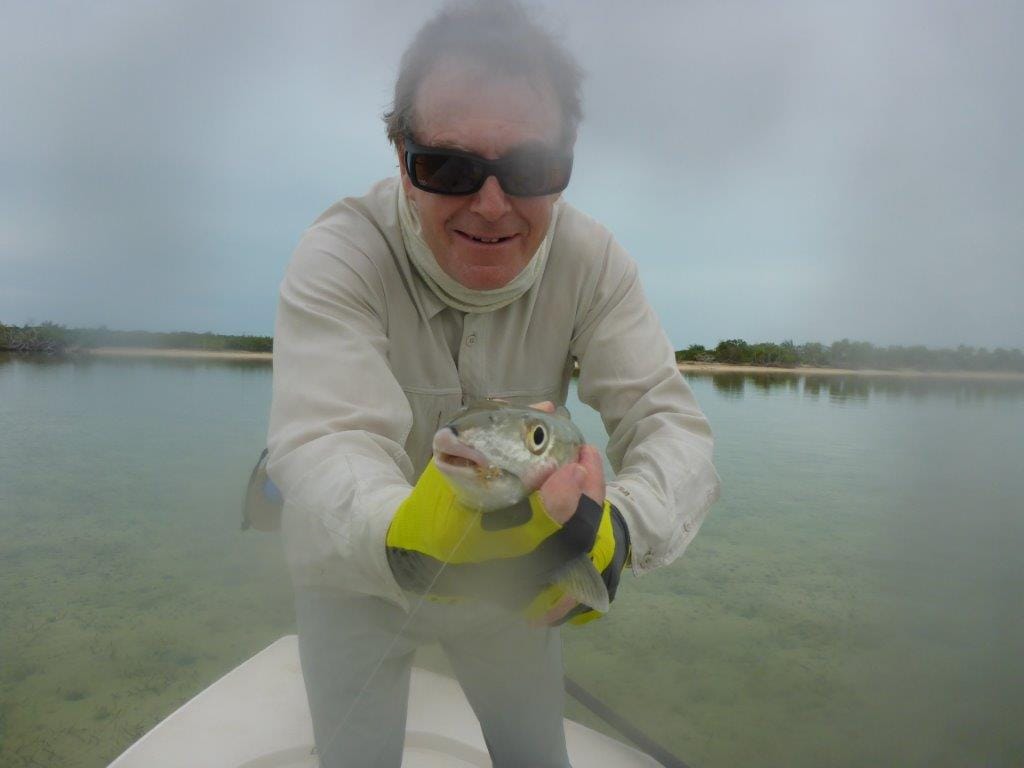 Day four, can I repeat?  No; heavy overcast all day, lot of wind, cast at two fish, blank.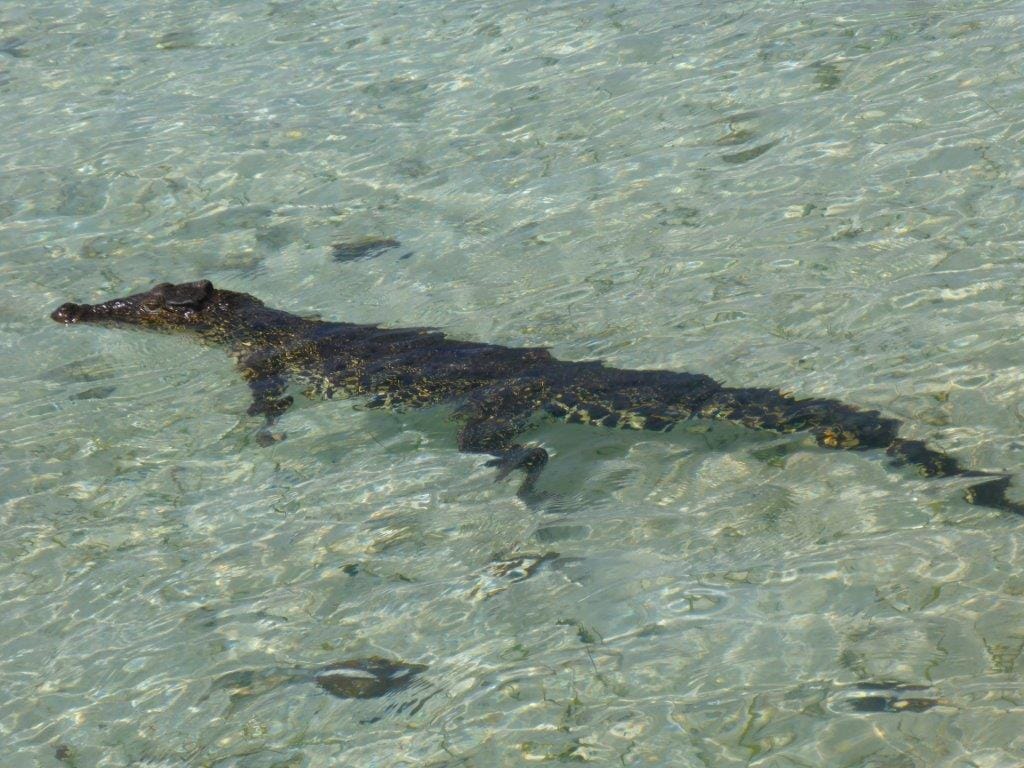 Day five after the permit again.  Had shots at 9 or 10 in less than 2 hours, but only got one cast right bang on the nose of a 20lb (about as big as they get here) cruising fish.  It's after this that Marco tells me when he says cast on the nose of the fish it's when they're tailing, not cruising!  For the rest of the day tarpon are nowhere in sight, the wind is back up and coming from my right hand side.  The bonefish obviously know this since they maintain station well off to the right all afternoon.  I think I caught one.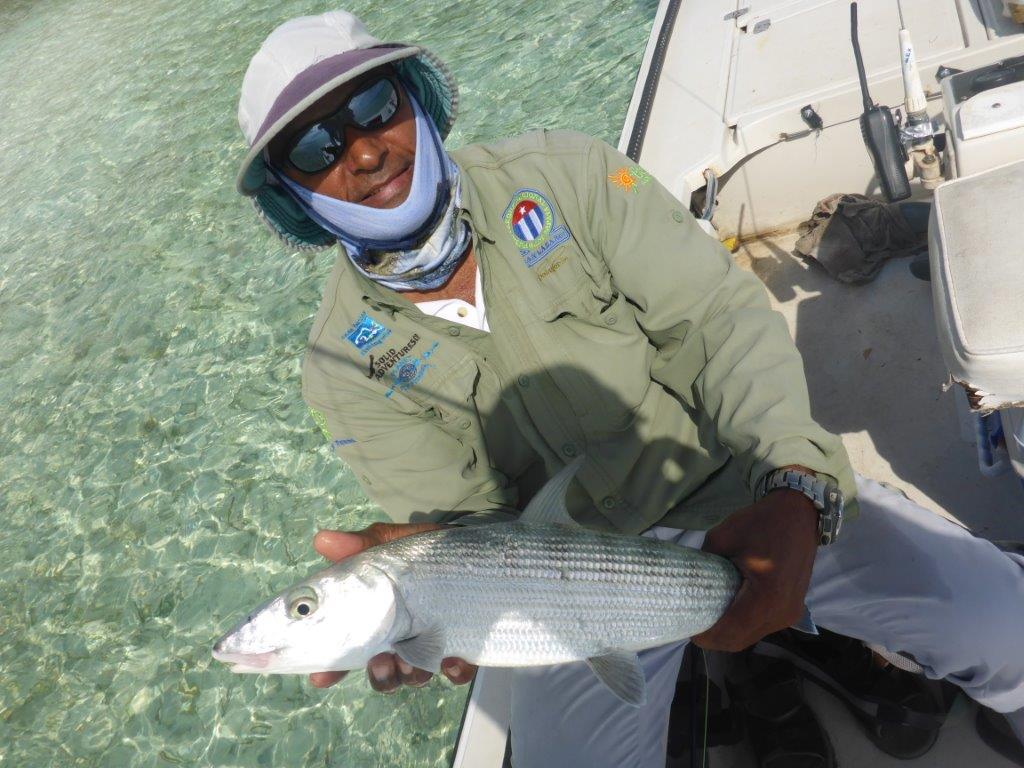 Final day, on one of the small boats again.  We cruise the mangroves and see good numbers of snook but visibility is poor due to bad light and wind so no result from them or the bones we see.  Coming out of the mangroves we disturb a large barracuda and then see massive numbers of bonefish, many initially tailing.  Marco thinks they want to make for open water but are being contained by the presence of the barracuda.  You can't not cover fish but they are so spooky they show no interest in any of several flies, so we move on.  We see a number of bones, some in the 6-8 lbs region, but a combination of wind and casting from the small boat defeats me.  After lunch I plead to finish the day wading which we do on some lovely firm footing.  Less fish seen but I get 6 in the afternoon in the 3-4.5 lbs range, two without Marco's help.  The end of a great experience.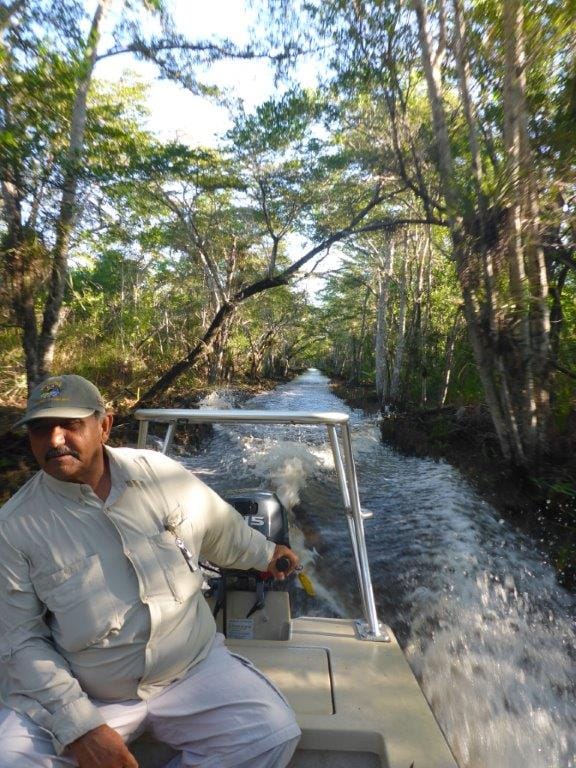 This fishery is real fun at present.  The opportunities for permit are spectacular, although the area in which I saw them is limited. Chances for tarpon up to around 20 lbs are excellent and I believe that big tarpon can be caught at the right time of year.  Snook are there and can be caught – regrettably not by me this time.  There are a lot of bonefish here but they are sometimes hard to find.  They seem to fight harder than those I am accustomed to in Venezuela and the Seychelles.  A 4 lbs fish can run 50 yards of backing off you and have three or four shorter runs, more what I would expect from a 6 lbs fish.  Whether this is due to most of them being caught in somewhat deeper water I do not know. The small boats are about 14' with V hulls for speed.  For someone nearer 70 than 60 and of dubious casting ability, this becomes something akin to fishing from a roller skate perched on an oil slick.  The "big" boat at 16-17' is a bit better.  Wading in some areas is possible but the bottom is variable and can be difficult.
For value for money I know of nowhere better.  Don't be surprised if the shower is weak and sometimes has no water or is lukewarm.  Don't expect Cordon Bleu cuisine – although the snapper I had at one of the local restaurants, "La Terraza de Mily" across from the hotel, was some of the finest fish I have ever tasted.  For better food ask to stay at a "Homestay" rather than the Playa Larga hotel – prior to fishing I stayed at Hostal Mayito which is en route to both fisheries.  Expect excellent English from Mario, a really friendly welcome, good food and air conditioning.  Don't expect massive rooms or more than a basic bathroom and shower.
Although it is described as Las Salinas this fishery is actually San Lazaro which is to the West of the original fishery at Las Salinas which still exists.  Las Salinas is a one hour, 22 km, drive down a road that is much worse than that to San Lazaro.  There is then a one hour punt to the flats, which I understand have good bone fishing with the occasional permit (I haven't been to Las Salinas so all comments about it are hearsay).  As an alternative to the flats you can fish the river, again by manual punt.  Here they have big tarpon.  There were bank days on the river whilst I was there but also days on which multiple fish in the 50-70 lbs region were lost and landed.  One fish estimated at 100 lbs was fought for an hour and a quarter late in the day before it broke the fly line as the angler went into s**t or bust mode at the end of the session.  To get there you either fly via Europe at increased cost and time or on a direct Virgin flight out of Gatwick.  One word re dates.  I'm told the mosquitos around June time are terrible.  I'm also told that the wind and overcast skies that we had during November this year mirror 2013, but in previous years this would have been unusual.  And of course avoid hurricane season. One final thought.  For the non-purist both fisheries allow spinning so consider packing some gear.  Day four would have been much more fun – and probably much more productive – spinning.