Times, they are a'changing and as attitudes and restrictions relax, Cuba will probably be unrecognisable in the near future to many who have been travelling there for a long time.  The influx of our cousins across the water has begun and with them will come big changes; some will be good and beneficial and some not so – such is the cycle of life.
Another cycle, on our side of the pond, is the weak Euro and some might say it's a sign … a sign to pack your rods and head to Cuba.  Take advantage of the Euro rate of exchange, take advantage of the daily flights to Havana and the opportunity to explore the many and varied options.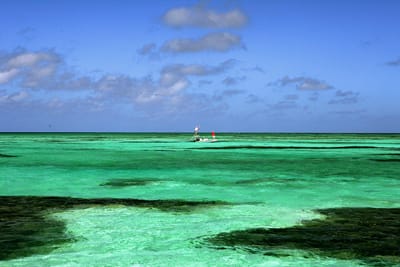 Jardines de la Reina
Cuba's best known destination with the greatest number of options from La Tortuga, the moored house boat to the liveaboards. Avalon Fleet 1 (groups of 8 – 10) and Avalon Fleet II (groups of 10 to 12) and for smaller parties there are Halcon and Caballones (groups of 4 to 8 and La Reina (a group of 4)
Isla de la Juventud
Big tarpon await and options range from the Hotel Rancho which offers single rooms to 1-8 anglers and the two liveaboards, Georgiana and La Perola, both of which can accommodate groups of 6 anglers.
Cayo Largo
Hotel based, and all inclusive, six skiffs operate out of Cayo Largo, fishing 12 rods per week. The resort works extremely well for non-fishers and the fishing is arguably the best in Cuba with a very high percentage of Grand Slams landed every season.
South Ana Maria
Still relatively unknown, tarpon, bonefish, permit, snook, jacks, snapper and barracuda await and the boat can accommodate 4 to 8 anglers exclusively.
Cayo Cruz
Boasting Venezuelan like flats, this area has seen some extremely productive bonefish and permit numbers with anglers staying either at the Hotel Casona de Romano or living aboard Avalon Fleet 1.
Cabo de San Antonio
An ideal location for spinning, vertical jigging, trolling, bait casting and tropical popping, Cabo de San Antonio is hotel based and ideal for small groups.
Las Salinas / San Lazaro
Closest to Havana, the operation is hotel based at Hotel Playa Larga, fishing 8 rods per week.
Cayo Santa Maria
Arguably the best location in Cuba to target big, migratory tarpon, this operation is hotel based and fishes six skiffs per week.
Cuba is also an excellent destination for families with beckoning white, sandy beaches, all inclusive hotels and for those who like to travel and explore further afield there are some fantastic hiking routes, breath taking dive sites and snorkelling, seemingly endless beaches at Varadero, colonial Trinidad which is a UNESCO world heritage site and revolutionary Santa Clara. Santiago de Cuba has the Museo Emilio Barcadi and of course there is Havana itself to explore. Stroll down the Malecon, enjoy the music and the deep, seductive beat of the music. Immerse yourself in old Havana and glory in the absence any golden arches while you can.
For more information about any of the Cuban operations and their costs or to discuss trip around Cuba, please contact Charlotte Chilcott or call +44(0)1980 847389.