Clare Carter has recently returned from the Isle of Youth in Cuba where she had tarpon in her sights. Part of a private group, they had the freedom of a liveaboard to move around the mangroves in search of tarpon. Accompanied by Brandon King who has guided many of our clients on Alphonse Island in Seychelles as well as further south in Madagascar, Clare has very kindly put the following trip report together of their week on board MV Georgiana.
After weeks of fly tying, kit preparation and excessive excitement we were on our way to a trip of a lifetime in Cuba with some awesome friends. An 8 hour direct flight from Gatwick to Havana on Virgin, one hour clearing customs and we were met and whisked straight to a waiting taxi. The 20 minute drive through Havana to our hotel was a real eye opener; it's as if you have turned the clock back. Most of the vehicles are old 1940's to 1060's American cars, some a little worse for wear and others newly refurbished to their former glory. The buildings were beautiful albeit run down, the entrances made of marble with delicate detailing around the open wooden shutter windows. It was easy to imagine how luxurious it would have been back in its heyday. With no signs of any ghastly westernised food chains or giant super markets it was like stepping back in time. We reached our hotel, the Saratoga, and were met by a very friendly doorman who took our bags inside. The marble lobby with its big winding staircase leading up to the bar where a grand piano was playing was a stark contrast to the slightly shabby exterior. We were shown to our rooms, large and spacious with marble floors and a balcony overlooking the square and the old cigar rolling factory. Up on the roof of the hotel was a beautiful pool and bar area where we found Tomi and Jan Hradecky and the rest of the team. Settling down with a large mojito to watch the sunset we discussed the plans for the next 10 days.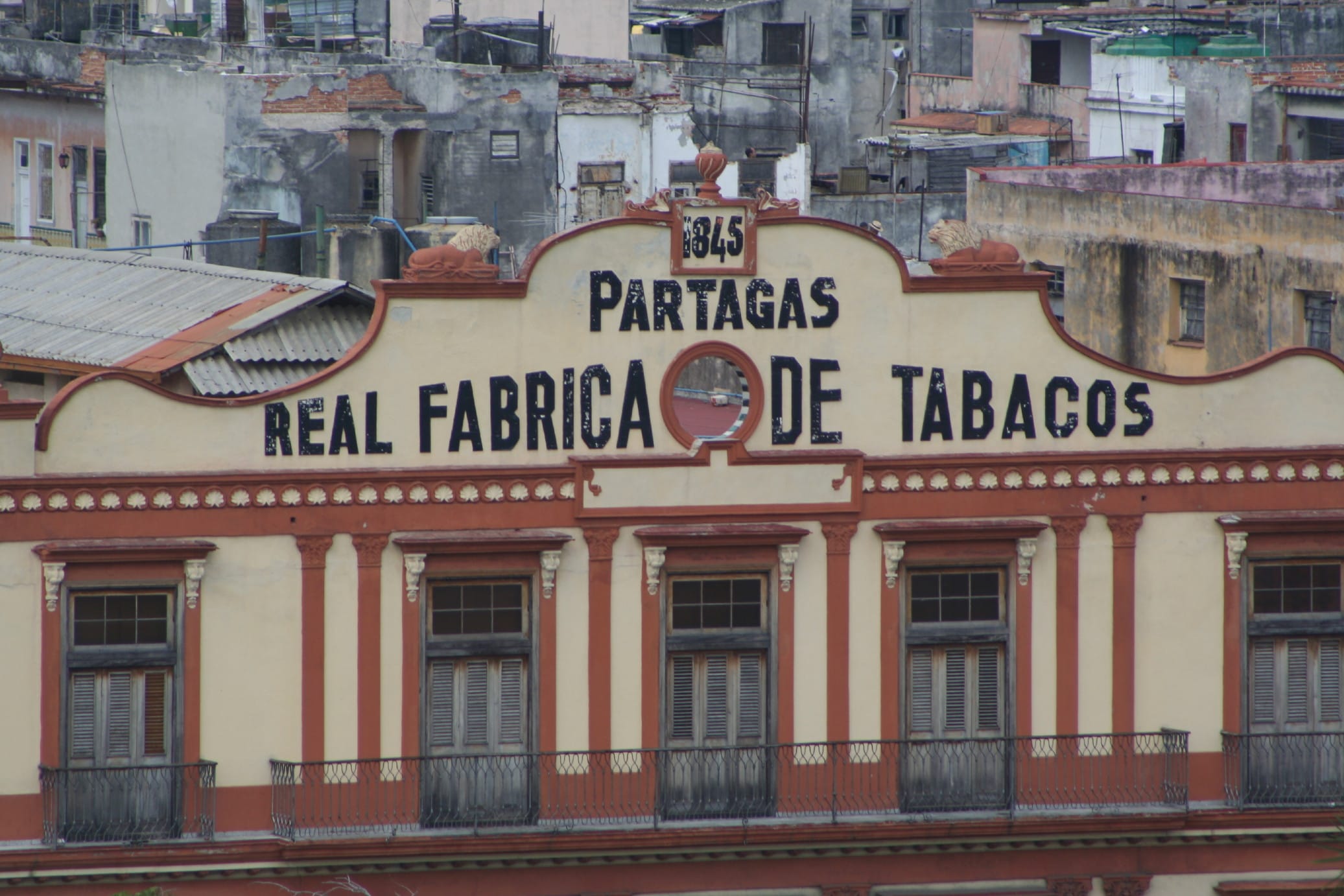 The next 2 days were spent exploring Havana, taking in the sights and getting to understand the culture and people; it is a very safe and friendly city. We took a trip to the local cigar rolling factory where we were shown the background and history of the Habanos cigars. Climbing the many steps to the 4th floor we were taken to see the huge rooms full of wooden benches with experts rolling up cigars. Each day they are given a carefully selected blend of leaves to roll, the process is so secretive that even the rollers do not know which brand they are rolling. They are given a target each day and must complete this in order to get paid and be given their 5 free cigars that they may smoke or sell. There is a shop attached to the factory where you can buy legitimate cigars for a fraction of the price in Europe so we stock up with a box or two for fishing later in the week. There are many people on the streets who will try to sell you cheap cigars but these are mostly poorly made and not worth wasting your money on so be warned! In the evening we organised a traditional meal of suckling pig with black beans and rice. The food was outstanding, they bought out our 2 small suckling pigs whole and then cut them up and served with all the traditional trimming…..all washed down with a few more mojitos! Heaven! The next day we packed up our fishing kits and with great excitement headed to the airport. Be prepared to get comfy as the planes seldom fly on time but after a few rum and cokes we were too giddy to care. Eventually we were on the short 20 minute flight to Gerona. Landing at 9.30 pm we groggily disembarked to be met by a lady in full nurses uniform who promptly stuck a thermometer under our arms. I am guessing we were all fit to travel as we all made it out of the airport and into a waiting taxi for the 15 minute drive to the beautiful boat, the 'Georgiana'. We would be spending the next 6 nights aboard fishing the flats of the Isle of Youth. The boat was docked in the mangroves waiting for our arrival. We were shown to our rooms which were spacious, clean and super comfy with a bunk and a single bed and en-suite loo and shower. On the upper deck was a chill out area at the back of the boat full of cosy cushions and a huge dining table in the middle that could be enclosed to protect from rain, Mosquitos or wind. We sat down to a sumptuous meal of lobster, salad and chicken, then off to bed early.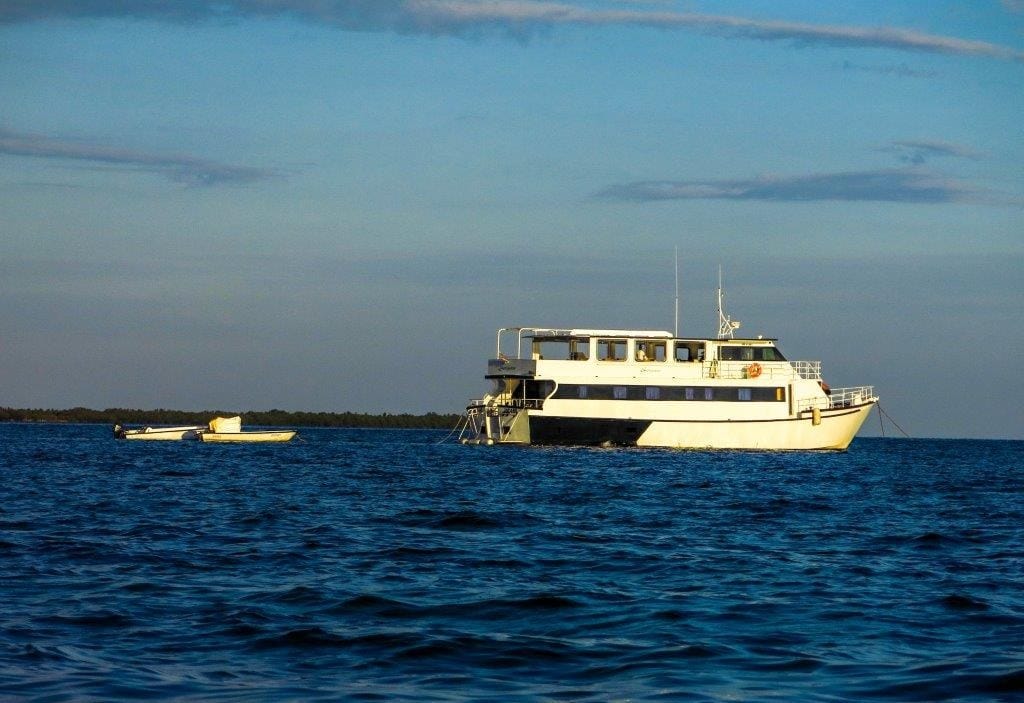 Waking at 7am to an amazing breakfast spread of fruit, cereal, cheese, fresh bread and eggs with hot Cuban coffee we were ready for our first day on the water. After meeting our guide for the week, Landy, we set up our kit and got the boat packed. My weapons of choice were a Clutch 9# and 12# both with floating lines and super 9 and 11 Abel reels as well as a Clutch 11# rod with a sink tip line to fish some of the deep channels. Brandon had his Hardy Proaxis 9# and 12#, both rigged with floating lines with a Loomis 10# as backup. An Omnispool was loaded with a sinking line at the ready. The weather was perfect, not a cloud in the sky and a light breeze to break up the surface of the water. After a 45 minute drive in the skiff we arrived at the first flat. I hopped up onto the front of the boat, stripped out some line and stood ready, fly in hand. Within 10 minutes we could see 2 dark shapes of about 40-50 lbs heading for us down the flat.
"Attention…… 1 o'clock, cast cast!" I put a cast just in front of the fish and started to strip the purple and black bunny fly through the water. A small burst of speed and then the water erupted, 3 big tugs on the line and I had set the hook. Then the show began, he launched himself clean out of the water shaking his whole body, giant mouth open, each time I bowed the rod to him and each time he just shook his head looking more annoyed……unfortunately after some extremely impressive acrobatics he managed to spit the hook and slink off into the deep blue. My heart was in my mouth, it was like catching a seriously oversized queen fish mixed with the strength of a giant trevally. Brandon was up next, waiting patiently on the bow of the boat, rod at the ready as Landy our guide quietly and expertly poled us around the flat.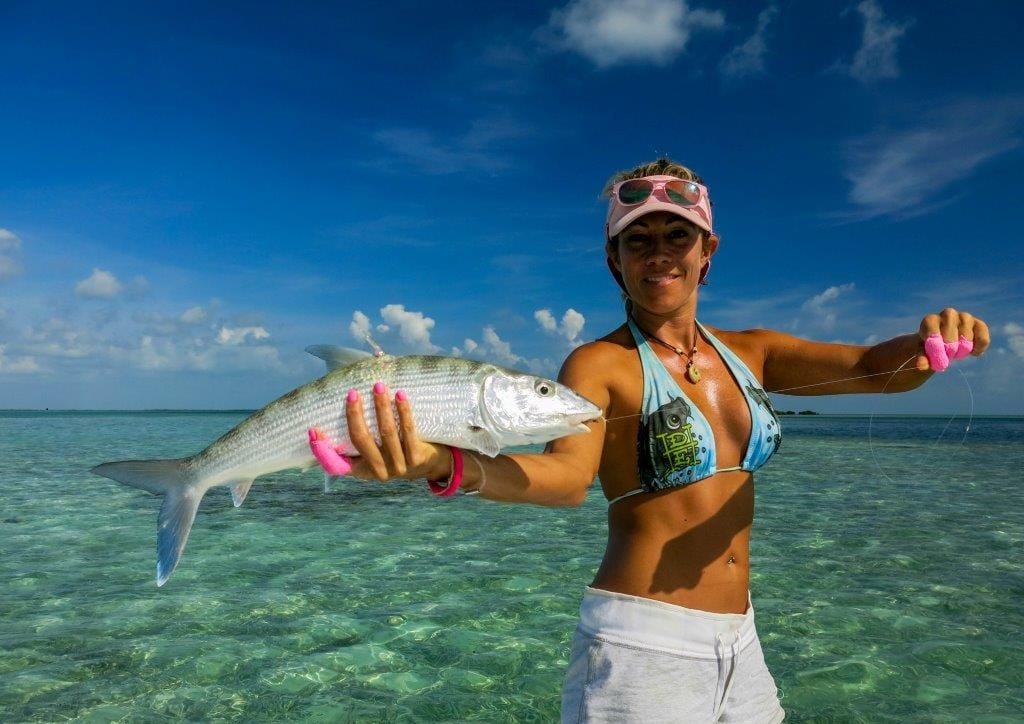 20 minutes later and …..'attention' Landy shouted….'11 o'clock'.As a dark stealthy shape appeared 20 meters from the boat Brandon put a perfect cast a meter in front of him…strip strip strip, bang he was on.
The water erupted, which was followed by a very impressive display of leaps and splashes as it hurled itself out of the water trying to shake free. 10 minutes later he sulkily gave up and came in to the boat. Landy gently held the fish and we took a few pictures and a scale that had come lose (which when dry goes as hard as thick plastic with ridges and can be used as a nail file) before setting him back on his way across the flats.We continued to fish down the flats along the islands casting at a few more tarpon to no avail until we got back to the mother ship. Onboard was a sumptuous lunch spread of black bean soup, fresh caught lobster, salad, vegetables and sweet potato. The afternoons are very hot so from 1 till 4 is much needed siesta time in the air conditioned interior. At 4 we were back on the boat and off to the surf zone. The tarpon cruise up and down the reef in the deep and come in onto the flats with the tides. Polling up and down the surf line you could see sand cuts in the coral where they would suddenly appear. After no luck there we putted down to a wide open sand flat and cast at small jacks for the remainder of the afternoon. At 6pm as the sun started to set we made our way back to the mothership for dinner and a catch up with the rest of the team….a truly special first day on the water! After a delicious dinner, many mojitos and fishy stories galore we settled down to sleep as the boat gently rocked in the moonlight.  Tally for the boat overall: 5 tarpon caught and unlimited fun had!
Day 2
Waking at 7, breakfast and on the boat for 8 we were off.  We fished a beach area first thing as we waited for the right tides on the flats. Brandon hooked a nice size snapper off one of the clumps of driftwood embedded just off the shore which gave him a really great fight. After which we headed to a secret bone fishing spot where big single bones were slowly feeding as they crossed the flat. First cast and I was into a beautiful bonefish of around 4 lbs which promptly ran causing screams of delight from both me and the reel. Then Brandon followed suit with another fantastic 4 lbs bonefish. After an exciting morning we relaxed on the mothership until 4 pm then set off out again. Tally for the boat overall: 4 tarpon, 4 bones, 1 large snapper.

Day 3
The mother ship was on the move again further east so we fished the flats down to meet her. The landscape is made up of many mangrove islands some with little sandy beaches. In between these there are vast sand flats of varying depth and size which stretch out anywhere from a couple of hundred meters to a kilometre away from the surf zone. All covered in crystal clear water, and each holding a different yet exciting species of fish. We found the 'Georgiana' moored in a big mangrove channel and spent the rest of the day fishing close by. In the afternoon Landy took us to a little section of mangrove, in the corner was a small open gap no bigger than a mini. I carefully cast the fly as close to the back of the gap where the mangroves started as possible. Strip strip, and out of nowhere shot a baby tarpon which engulfed the fly. What a shock, as it started to leap around we had to quickly draw him out to the open. Finally my first Cuban tarpon! Elated we fished our way down to the boat as the sun started to set. Then for a shower and some much needed drink whilst watching the sunset and listening to stories of Jan Hradecky's very impressive catch of 3 tarpon in one afternoon! Tally for the boat overall: 5 tarpon, 2 bones, 1 snook.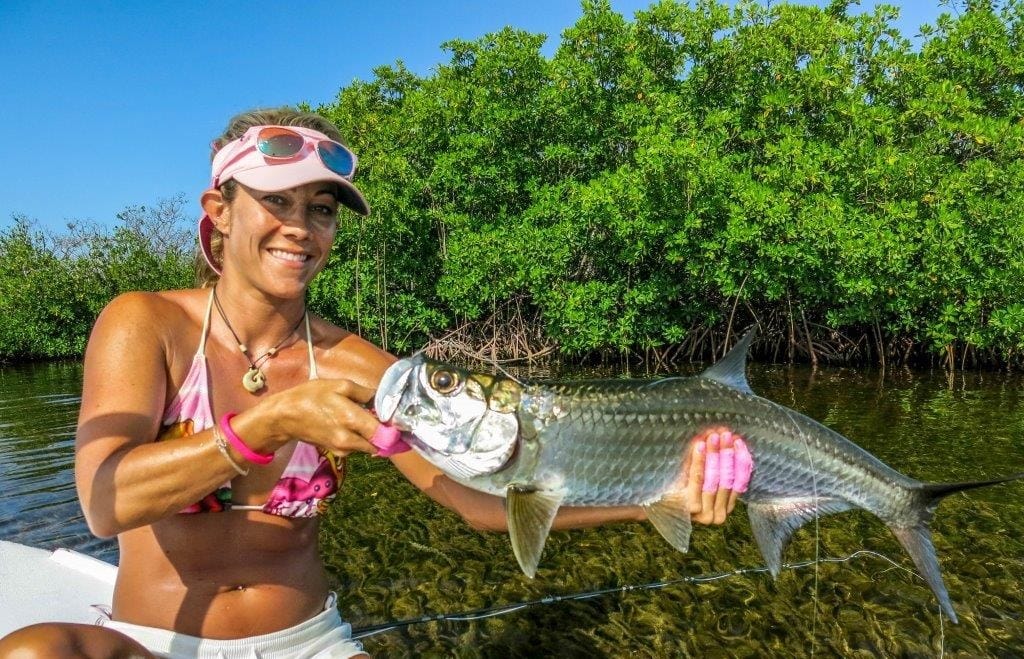 Day 4
We started off the day by heading deep into the mangroves, Landy navigated us through a very windy small channel overgrown with mangroves to a large lake. Brandon was up first and within 15 minutes he had hooked into a monster tarpon which unfortunately came off….frustrating but that's tarpon fishing for you. After lunch we gave up our siesta time as there was a spot we wanted to fish for permit. The glare of the sun made it slightly challenging but Landy polled us along nonetheless. We were hugging the mangroves on a sand and seaweed flat, Brandon armed with a tarpon rod and me with my 9# and Avalon shrimp at the ready. Like lightening 2 tarpon shot out of nowhere and past the boat….damn. Just as we started to relax and our eyes had become accustomed to the glare I spotted a school far out of what looked like tarpon acting very strangely, on closer inspection I couldn't believe my eyes. It was a huge, and by huge I mean 30 to 50 fish, school of permit on the surface. We slowly polled over to them and got into position. I cast out in front of them, let the line sink and waited, as they approached my hands were shaking. Slowly I started to retrieve the line with a steady strip and a flick at the end to mimic a swimming shrimp. All of a sudden they turned and came after the shrimp, bustling and barging each other to get at it, and then….nothing. Huh? As they turned we again polled into position, cast out, waited , and again they seemed to fight over the fly but again nothing! Changing flies we attempted a few more shots, but it was not to be and they slowly disappeared as quickly as they had appeared earlier. We had some more shots at a few tarpon and another school of big 15 lbs plus permit again to no avail so by late afternoon Landy moved us on to another of his special spots. As we slowly and quietly poled in through the small opening we could see down a narrow canal. About 50 meters down there was a school of tarpon between 10 and 80 lbs gently rolling in the glass calm water, their silver backs glinting in the evening sunset. Below the boat there were so many baitfish it looked like the bottom was moving. Brandon at the ready, he calmly cast as we got close enough. My heart was in my mouth as he stripped the line back, then it went tight. The water erupted as all 50+ lbs of fish flew into the air. Below us the bait was in a frenzy and tarpon were shooting under the boat towards the entrance to the canal. After a few frenzied moments and some epic jumps he launched himself into the mangroves and the leader broke…..frustrating but what an amazing display. As we sat quietly contemplating what we had just witnessed we could hear the tarpon all around us deep in the mangroves gently surfacing to gulp air…..a perfect end to a perfect day on the water. Returning to the mother ship we discovered the Hradecky team had showed everyone up with Jan catching a nice 45 lbs tarpon and Tomi catching 3 tarpon, one of which was of 25 lbs. Tally for the boat: 7 tarpon, 3 snook, 3 bonefish and lots of mangrove snapper.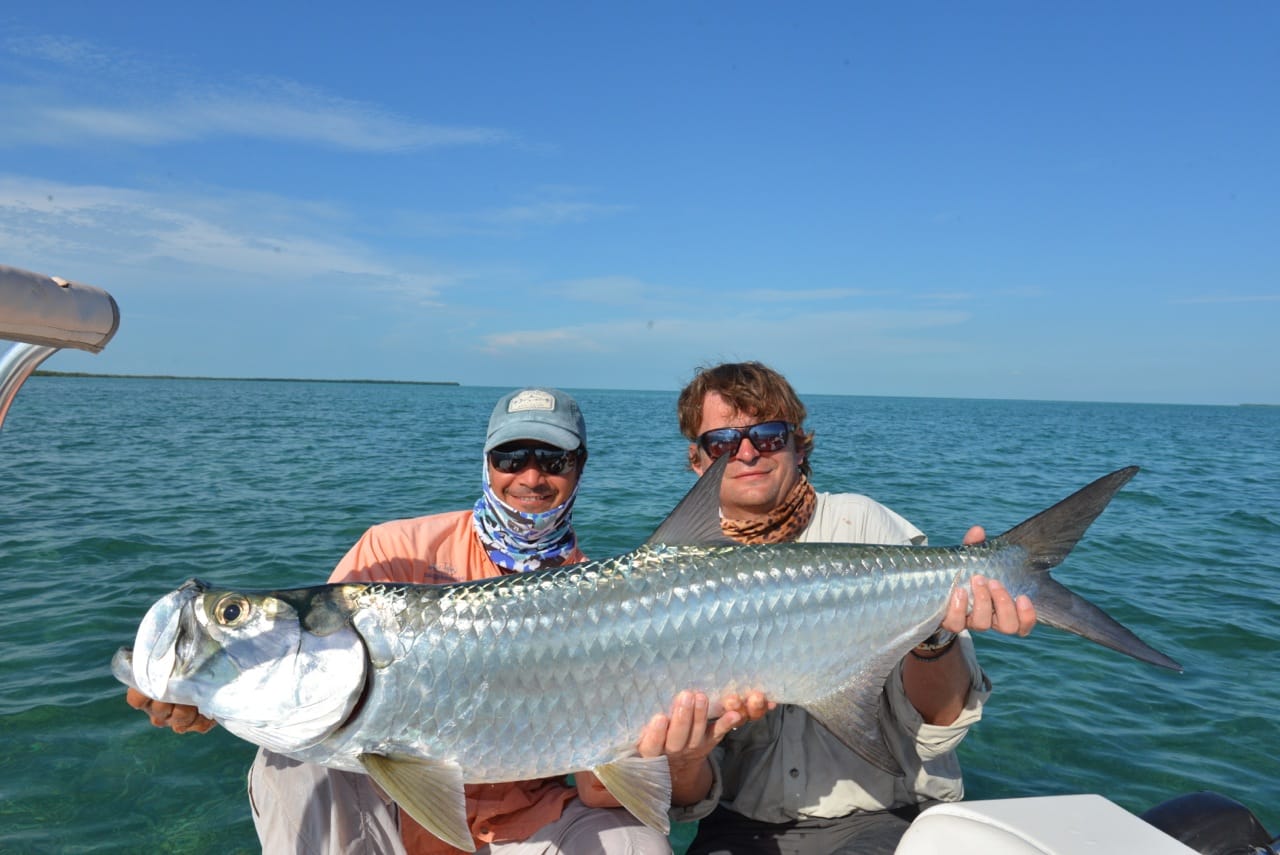 Day 5
Today we had to start to head back west so after breakfast the mothership set sail and we slowly fished the flats back towards them. Landy took us on a little adventure through the mangroves to a big pool looking for tarpon. As we came out the other side onto the north side of the islands we could see a beautiful still mangrove cove. Making our way along the outer edge we could hear the tarpon deep in the roots of the mangroves sipping air. Casting into one of the depressions made by an old hurricane I hooked a really nice fish, but as quick as he was on and jumping…he was off. We slowly polled along hugging the line of mangroves, a few fish were rolling in the distance. Suddenly there was a school that appeared close to the boat, fish of around 60-80 lbs. I cast out and they turned after the fly.  Vying for the fly, their huge mouths open, sucking in water as they chased after my little pink and white bunny (yes some pink for luck). Bang and he was on. As he launched himself out of the water I bowed the rod, then resumed my tug of war as he tried to escape in every direction possible. We got some epic footage and shots of the sheer power of these fish as they take off out of the crystal calm water. With their giant mouths open and huge silver bodies flailing they do everything in their power to dislodge the fly. 10 minutes in and he seemed ready to admit defeat, as I steered him towards the boat and Landy leant down to grab the leader, the fly popped out and with what looked like a wink he was gone, back into the deep blue….. 'A long distance release' as my Dad would say. We headed out to a flat near the surf line to see if we could see any permit or tarpon and I somehow managed to catch a nice blue box fish….not quite what I was after but really beautiful to see up close. The flats were full of jacks and we had some shots at a few nice size barracuda which unfortunately always managed to bite trough the leader!  Tomi again showed everyone up by catching a nice 40 lbs tarpon. Tally for the boat: 3 tarpon, 3 bones, 1 snook, many jacks.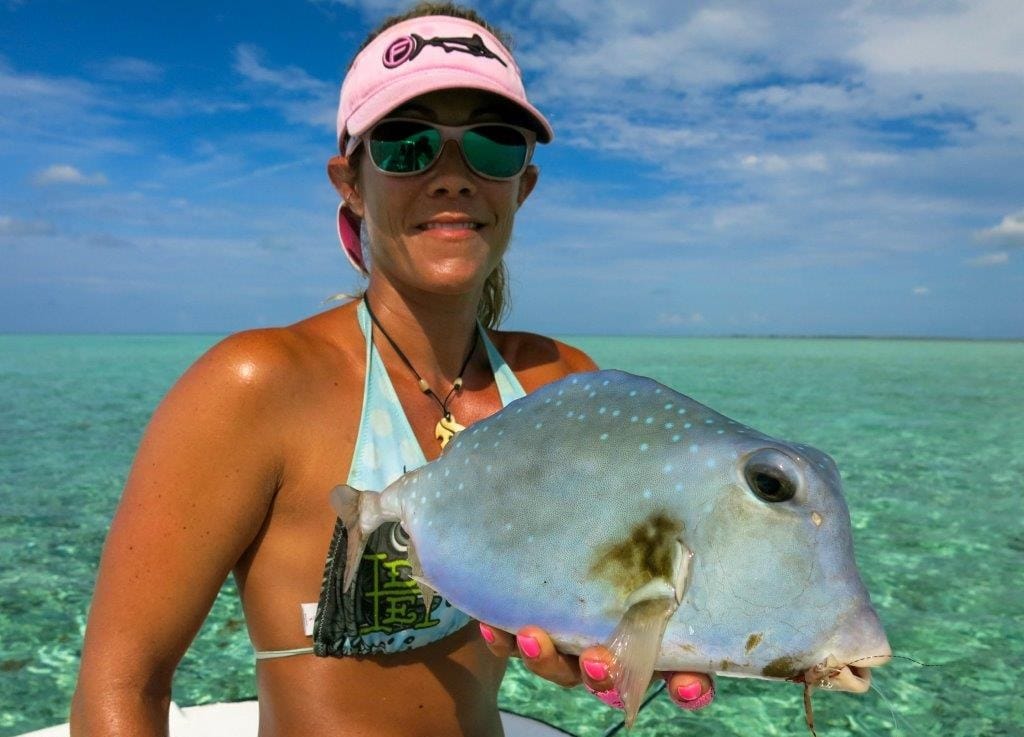 Day 6 (half day)
The mothership set off back to dock after breakfast and we began fishing back towards there ourselves. With the mangroves around us and the backdrop of the  mountains it was a truly beautiful place to be, I felt very lucky to have experienced such amazing fishing with great friends. Arriving back at the dock to unpack we were met by an elated Tomi who had landed his first snook, a giant at 15 lbs ….the perfect end to a perfect week. A final lobster lunch and we were on our way to the airport for the short flight back to Havana.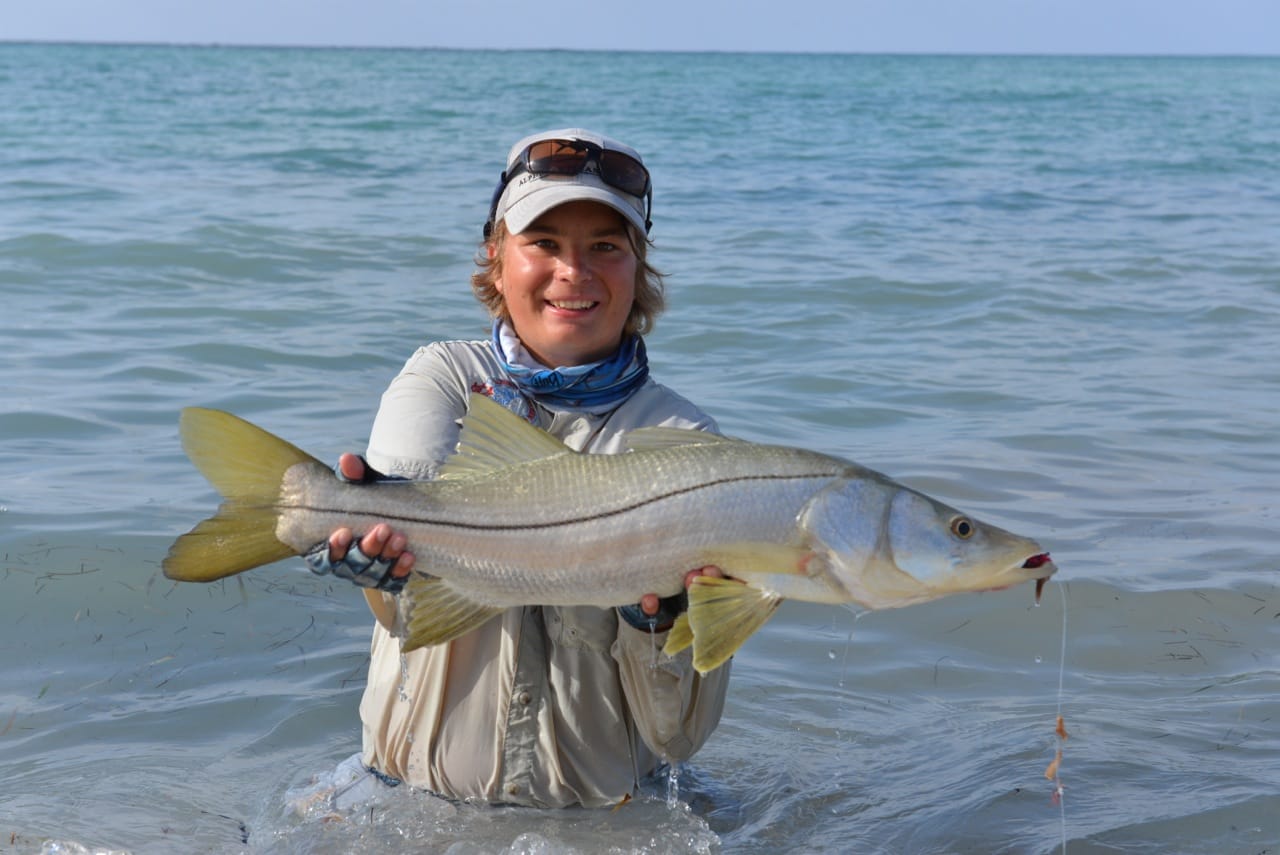 We spent 2 more days in Havana relaxing and taking trips in the old pink Cadillac convertibles around the city to see the sights.One evening visiting 'Casa de la musica' was an eye opener but I won't spoil the surprise! Then back to the airport for the flight home. A truly wonderful week with great fishing and fantastic friends!
Clare's tips …..
Take bug spray, the mangroves in the evening can be full of mosquitos!
Stock up on cigars, they are really cheap;
Try El Buganvil restaurant (order the suckling pig 24 hrs in advance);
Be patient, the internal flights have a schedule of their own so bring a book or ipad;
A pillow, you can always do with some home comforts;
Tarpon flies of the moment are all purple and black or red and black (bunnies and toads);
For permit it's the Avalon shrimp;
Chocolate for your guide (they will do anything for you then);
If you need to escape the sun then an umbrella for the flats boat will come in handy;
A cooling towel for the boat;
Don't take too much kit a 8/9 and an 11/12 weight rod with floating lines and some sinking lines on an omnispool are more than enough
For more details or to hold space please contact Charlotte Chilcott or call us on 01980 847389
01980 847389.