February fly fishing report from Cameron Musgrave, Desroches Island Resort, Seychelles
January has produced some really spectacular fishing days and memorable catches, both on the flats as well as offshore. We have had some really experienced anglers visit our shores who spent numerous days fishing the various flats, islands, cuts and reef edges that make St Josephs so sought after. Although at times the fish were a little lethargic due to the warm water associated with the January-February period, once the cooler tides started to push, the bonefish – as always – turned up in good numbers which allowed our anglers to enjoy some shallow water bonefishing at its best. The permit have also been a regular occurrence and although they are said to be the fish of a thousand casts, we have had a fair amount of success.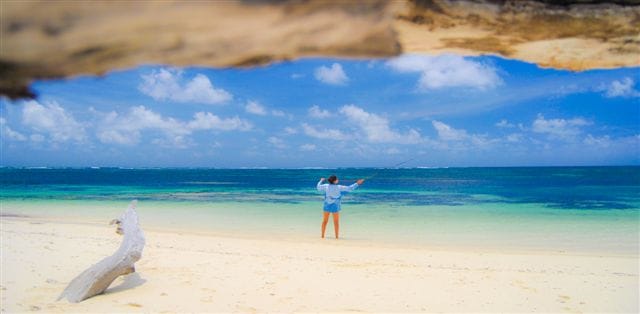 Charles Limond spent a few days fishing with us and on his first day at St Josephs his thirst for incredible bonefishing was quenched. Two days later we where back on the flats of St Josephs and once again the mornings fishing was incredible. Literally straight off the skiff, from 8:30 am until 12:00 pm, we were constantly stalking tailing permit. After hooking a tailing fish off the back of a ray, which looked just like a permit, we thought the stars had aligned. After a stressful fight it turned out to be a fare sized yellow spot trevally which was, in its on right, a great catch.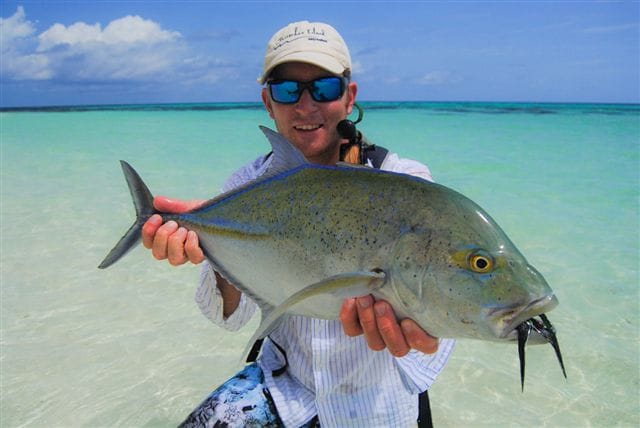 We persevered and eventually hooked a good permit which unfortunately pulled the hook on its first run. The fish kept on coming as Charles continuously presented flies to the permit that seemed to have lock jaw. After a three and a half hour permit frenzy and an estimated sixty shots, within walking only a few hundred meters on the flat, the tide had come signalling the time to target some offshore species. Two flat line teasers and one up in the rigger, a bright pink Cam Seglar tube fly, 7 knots ahead and with eyes peeled we set off. Very quickly, two sailfish attacked the spread as we did a quick switch while Charles presented his fly perfectly. One of the fish turned at the fly and Charles set the hook. The fish was highly energetic as it tail walked off into the distance. After a very long and tiresome fight, Charles landed his second fly caught sailfish for the week.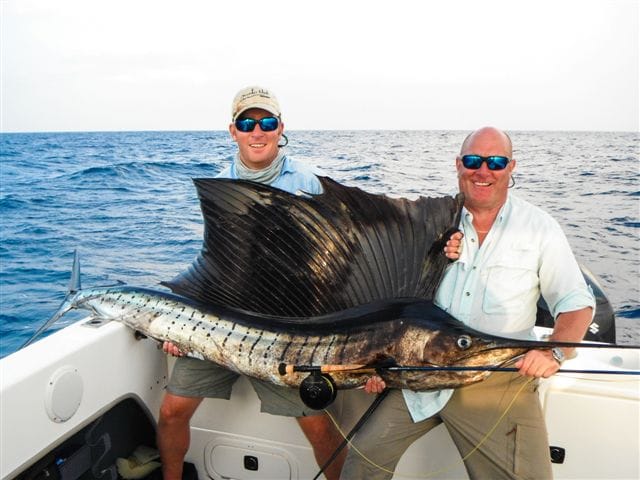 Happy Rogers also had a memorable trip as as he too was casting into permit immediately after stepping off the skiff. As we were walking towards another bonefish hot spot, we saw a single tailing permit on our path, with a quick change of fly, we approached stealthily towards the feeding fish. As Happy was about to make his cast, another three permit came into range. I quickly motioned Happy to adjust his cast and to target the closer fish. After a precision cast, one of the permit shot out of the group and engulfed the fly, not a big fish but never less a permit. Mission accomplished and another permit to add to the catch reports.