Mexico has long since been the playground for the saltwater fly fishermen. As one of the first fisheries developed after the saltwater movement in Florida in the late 1960's and early 1970's it is well established and fly fishing has become part of the Yucatan Peninsula's heritage.  Originally started in partnership with one of the longstanding managers from Casa Blanca, Bobby Settles, Grand Slam Lodge was to provide the same exceptional fishing opportunities as some of the other lodges in the area; but with a high level of comfort aimed at the non-fisher as well. Since that time it has become one of the premiere lodges in the Yucutan. Here are eight reasons you should consider going there this year: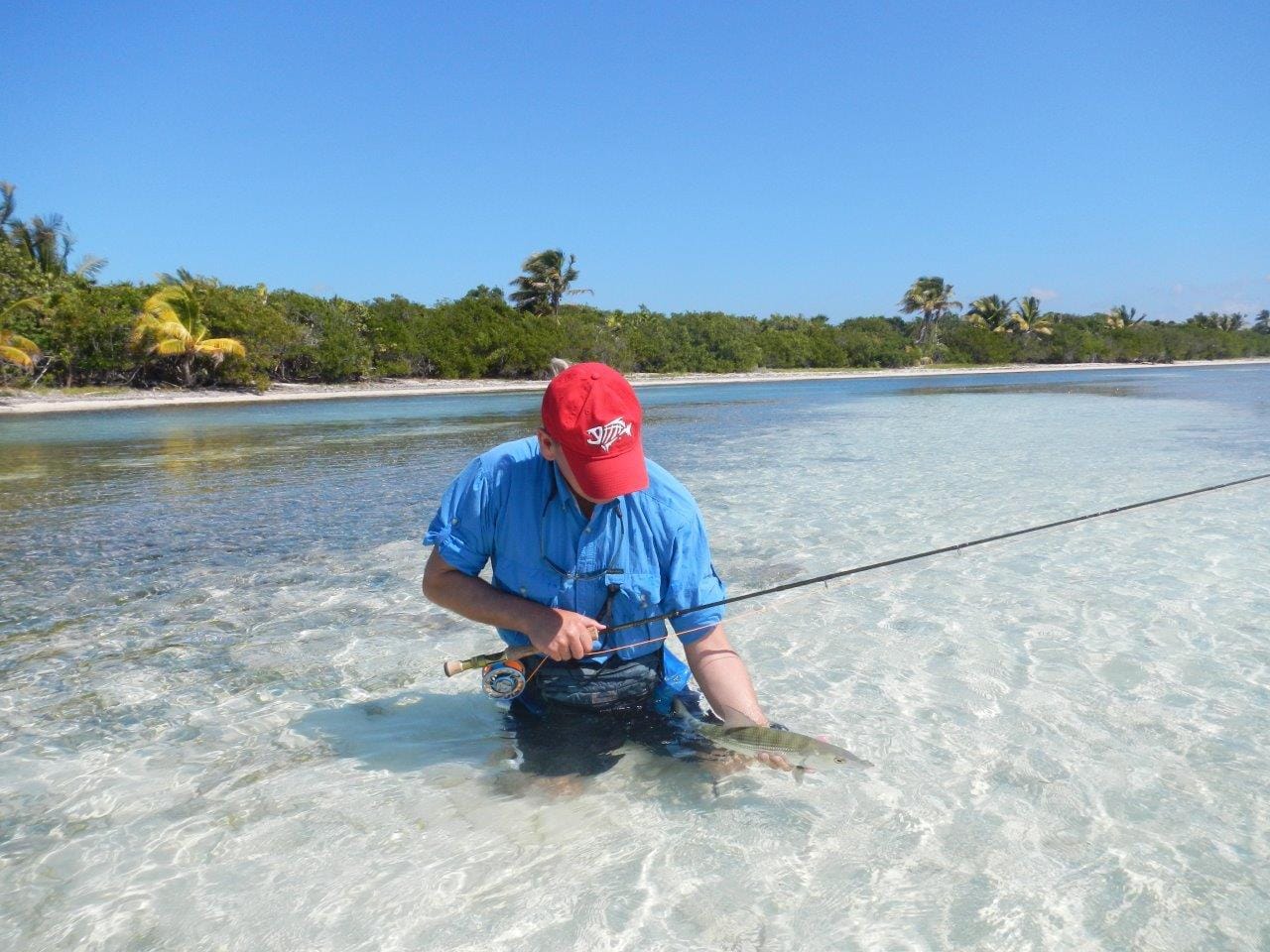 Species diversity
There are very few places on the planet that can offer the saltwater species that the Yucutan Peninsular and in particular the Sian Kaan Biosphere. From the Boca Paila lagoon system right down to Punta Allen and Ascension Bay the whole area is not only a world heritage site, but also a protected area for all manner of species of fish. This 1.3 million-acre estuary is teeming with fish, birds and other wildlife. The fish naturally populate without human intrusion.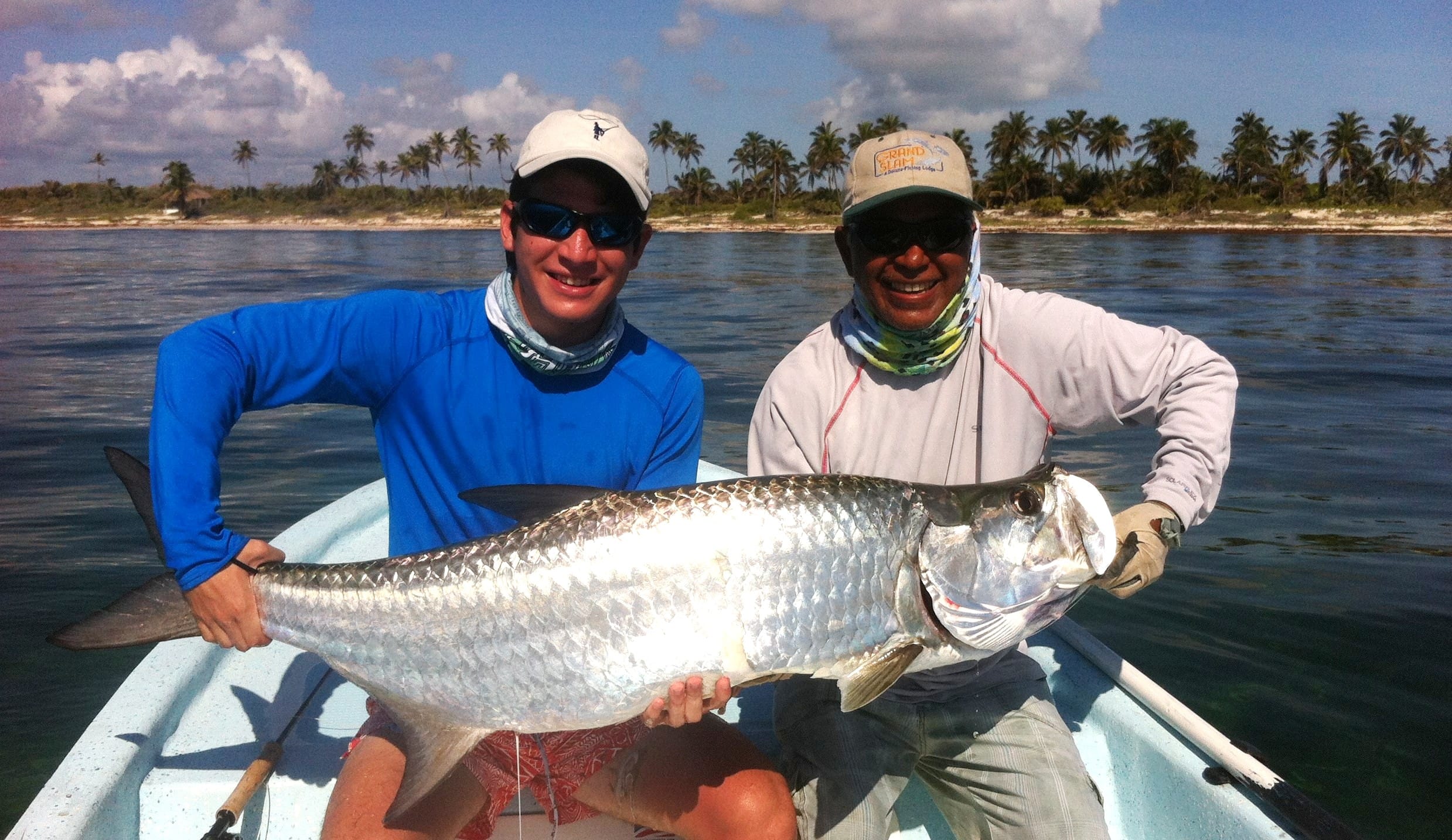 A great learning spot
For those that have only just taken up saltwater flyfishing or keen to give it a try, Grand Slam Lodge offers the perfect location to learn about the saltwater environment, to master the tackle and techniques and also to come into contact with all the major species encountered on these flats. With a huge wealth of experience many of the guides have guided on these flats for over 20 years and under their watchful tutelage you will very quickly find your feet. It's perfect for beginners or those wishing to pass on their passion to the next generation.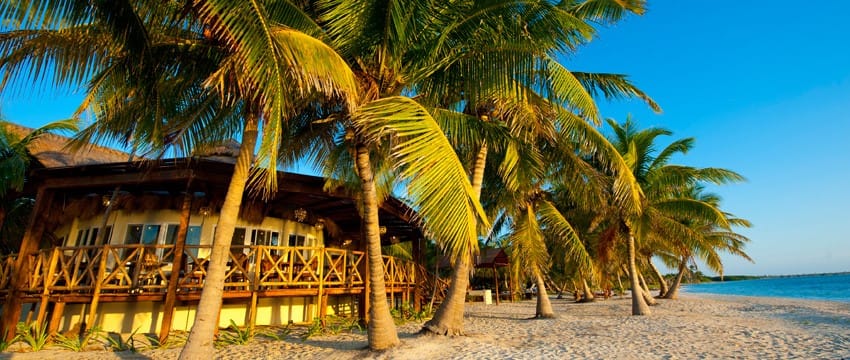 Perfect position
The lodge is located just north of Punta Allen and gives the ideal location to access north into the lagoon system or south into the main Ascension Bay area to give you the best to both worlds. This allows you to make the most of conditions and tides and give you the best possible opportunities to target your chosen species. Between the oceanside flats and the huge lagoon area every kind of environment is available.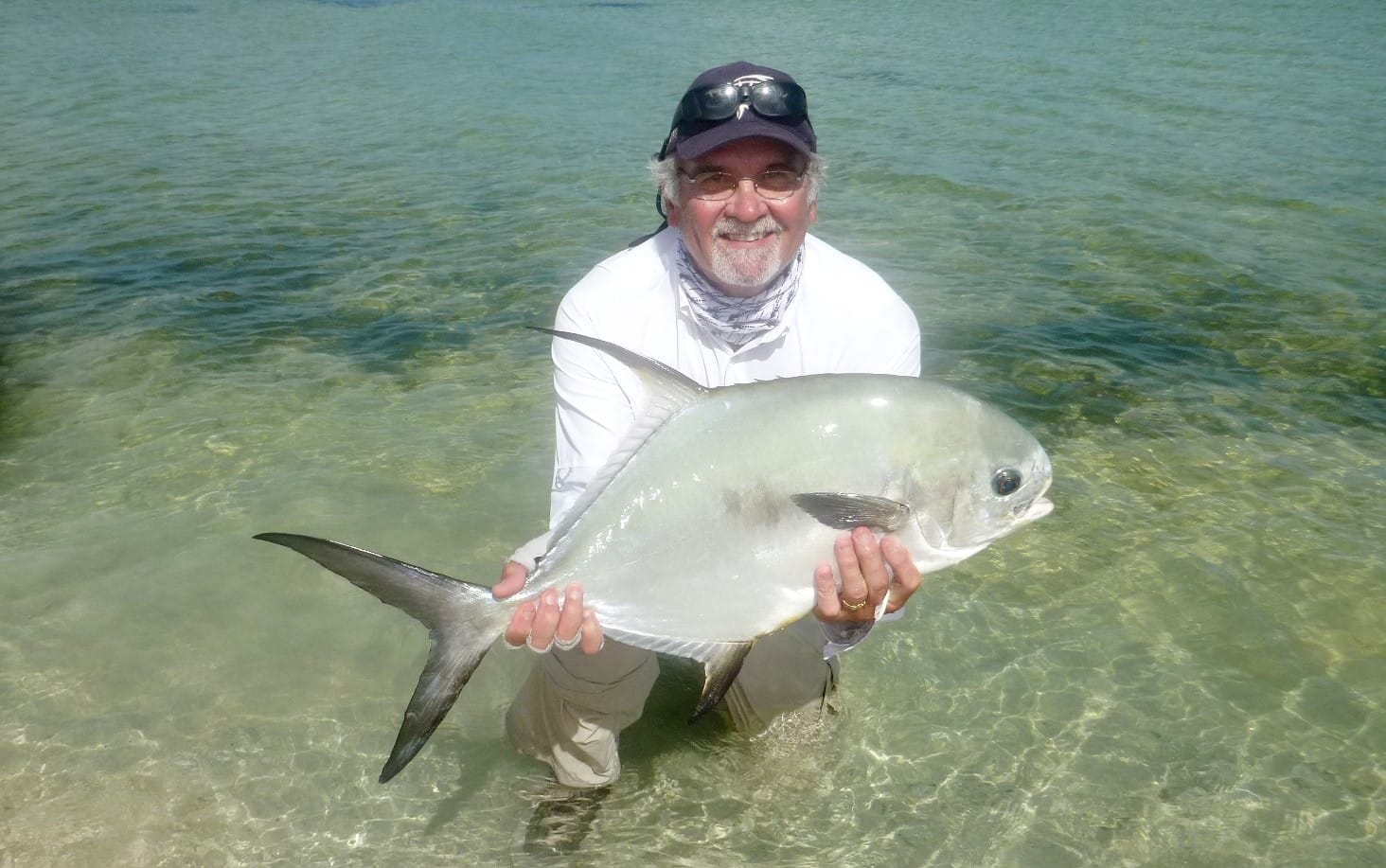 A Grand Slam opportunity
As per its name this is one of the few areas that it is possible to catch a grand Slam (Permit, tarpon and bonefish in one day) or even a Super Slam by adding a snook.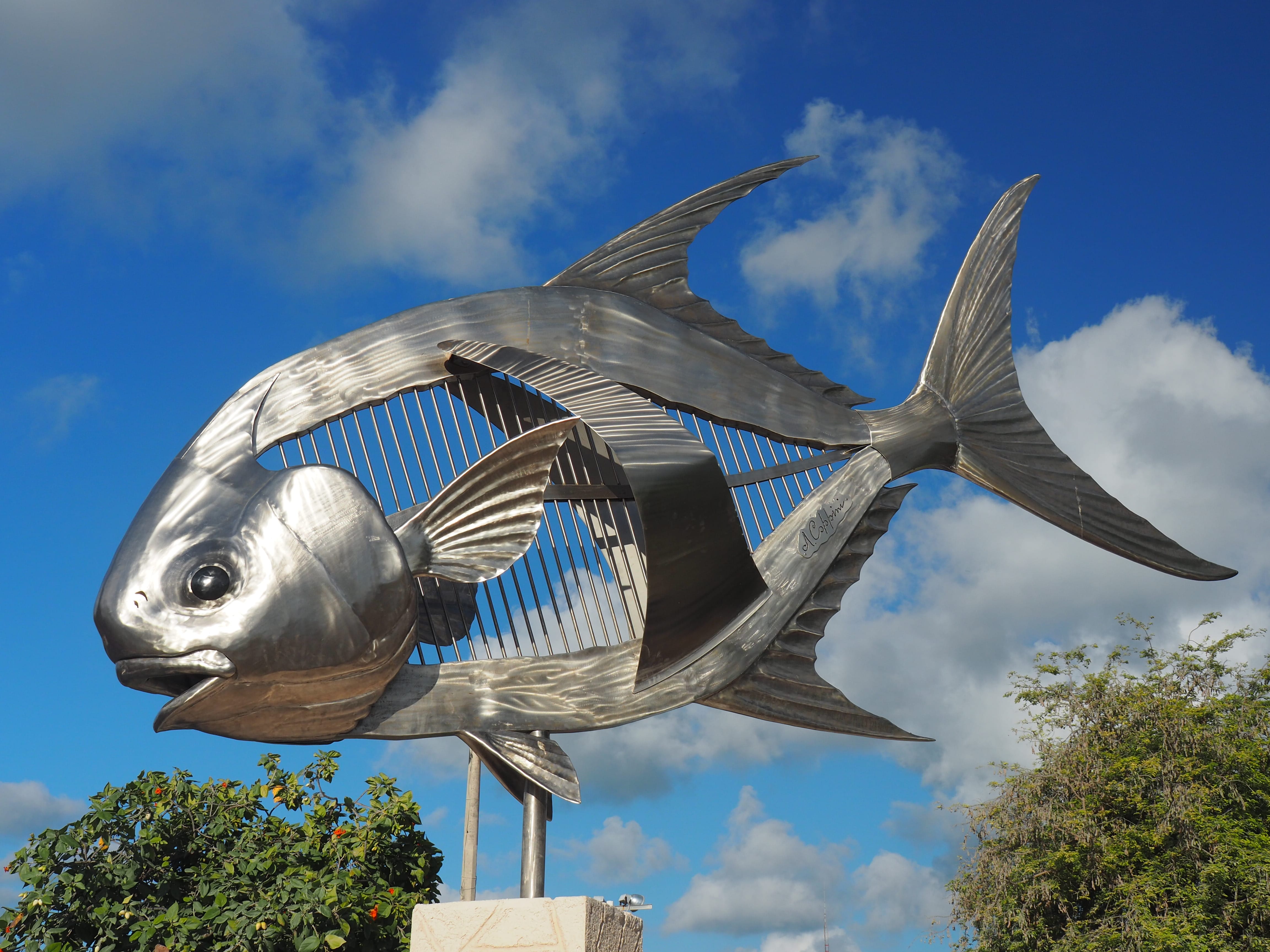 Permit City
This whole area has for many years been world famous for its opportunities to catch a permit on a fly. Considered by many to be the holy grail of fly fishing the hugely nutrient rich lagoon system is a natural breeding ground for crabs of all shapes and sizes – the favourite food of hungry permit. If you were not suffering from a dose of "Permit Fever" before you arrive, you certainly might be by the time you leave. Point of Fact Punta Allen is known as the permit capital of the world with a large statue to remind you.
Fishing on arrival day
The drive down from Cancun is some 3 ½ hours drive south of Cancun International Airport; most of the trip is on smooth highway, but the last hour from Tulum to the lodge is on a rough dirt road. At this point if you wish we can organise for you to met by your skiff and guide and fish your way back to the lodge while your luggage is transferred ahead of you. After a long flight of excitement and anticipation this is the perfect way to unwind and get a jump start on your fishing.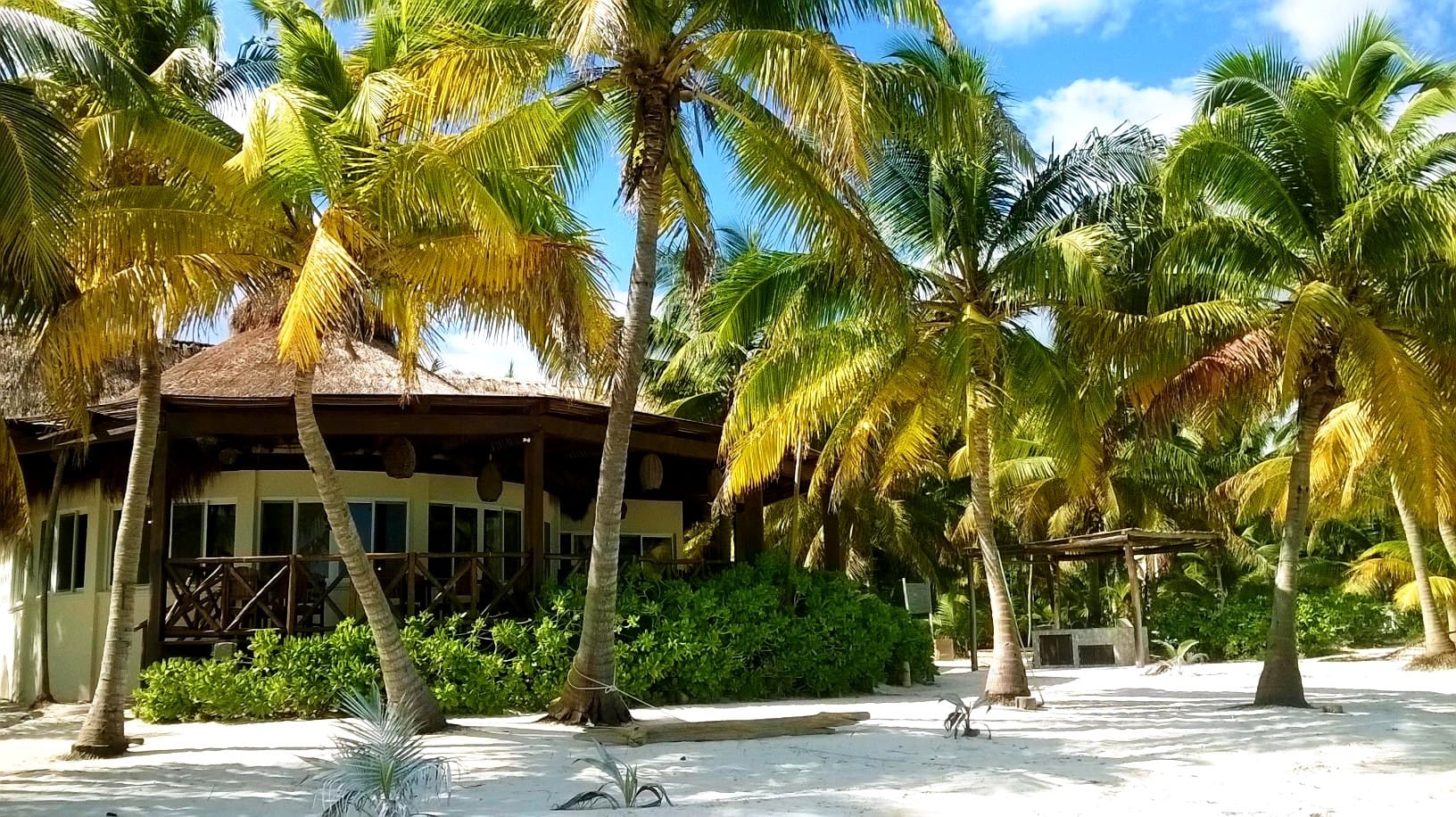 Non – fisher and family friendly
Grand Slam Lodge is one of the most comfortable operations on the Yucutan and is geared specifically towards those that might not share the same enthusiasm for fishing as their spouse! Situated on a narrow, palm tree-studded strip of sand, the lodge faces the Caribbean on one side with the lagoon lapping on the other side. So you get great sea views plus easy access to Ascension Bay with our lagoon dock. The main lodge has a tropical thatched-roof design with natural flair. It features a social area, a bar with swings for seats, and Kai Restaurant with a covered beachfront deck. There is a decked swimming pool so those that wish to swim can either swim in the sea straight in front of the lodge in the sand bottomed azure water or the comfort or lounging by the pool. Day trips can also be organised to visit various sites in the vicinity including the famous Mayan Ruins at Tulum, Scuba diving, personal trainers, or trips to the local golf courses.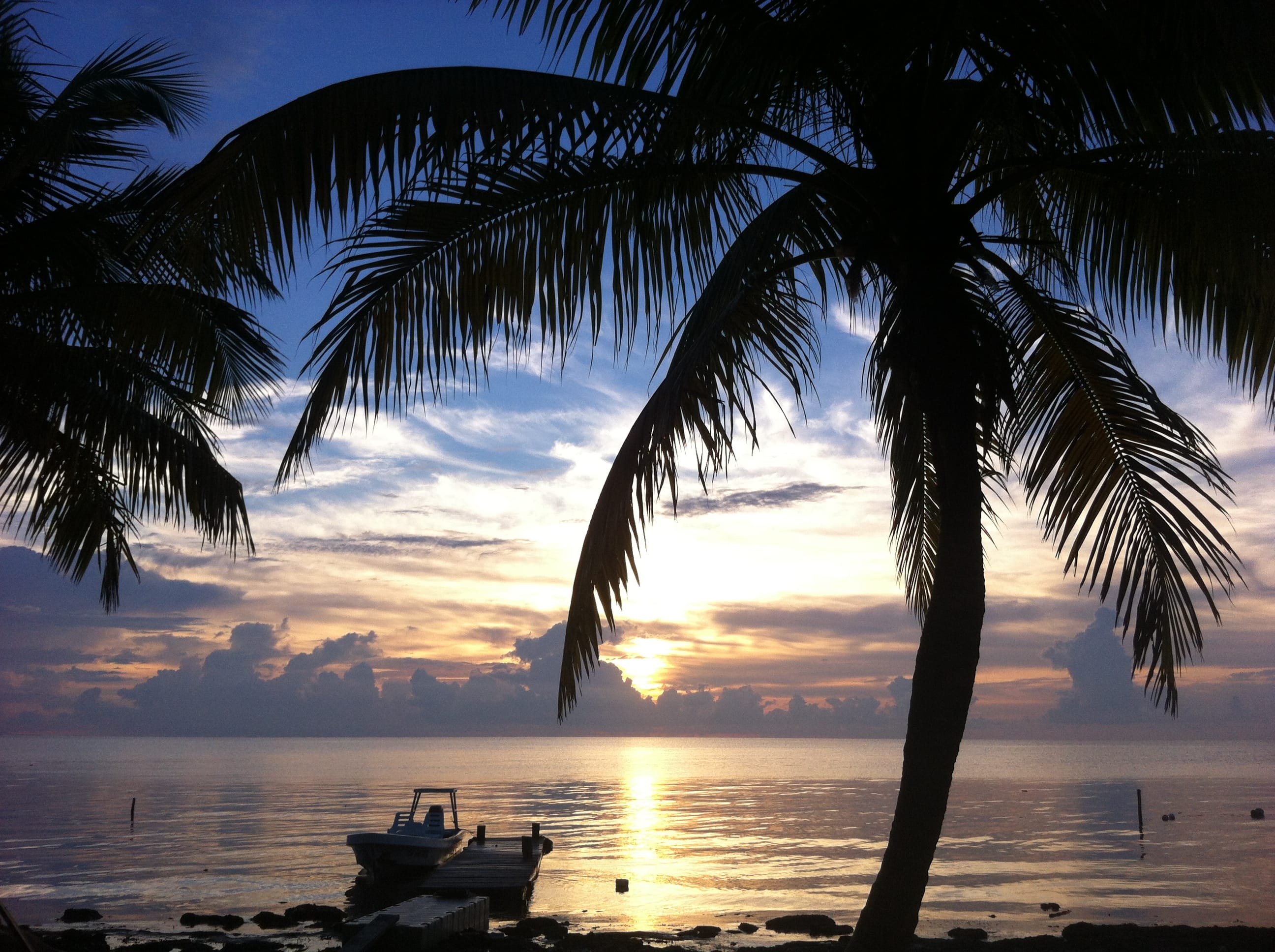 Direct flights from the UK
Cancun is one of the few destinations that it is possible to fly directly from the UK. This is becoming increasingly popular.
If you are looking for something a little different this year and the Grand Slam could be the answer as it also offers excellent value for money. Packages at Grand Slam Lodge can be tailored to suit your needs which make it perfect to take a non – fisher. Prices are from US$5,425 per person based on a 7 night / 6 day fishing package inclusive of transfers from Cancun.
If you would like to discuss some winter escape options or for more information then please do not hesitate to contact Peter McLeod or call our office on +44(0)1980 847 389.