Weather: The weather was a little mixed with a few days of showers, a few days of sun and a few days of wind, generally cool for this time of year. The winds started from the north and gradually switched back to the normal east winds but reverted to north at the end of the week. The wind was moderate most days.
Air Temp: High 70's, low 80's for the High. low 70's, for the lows.
Water: 78 degrees.
Moonphase: The full moon is on 3rd February
WHAT GUESTS WERE CATCHING
Bonefish (Macabi):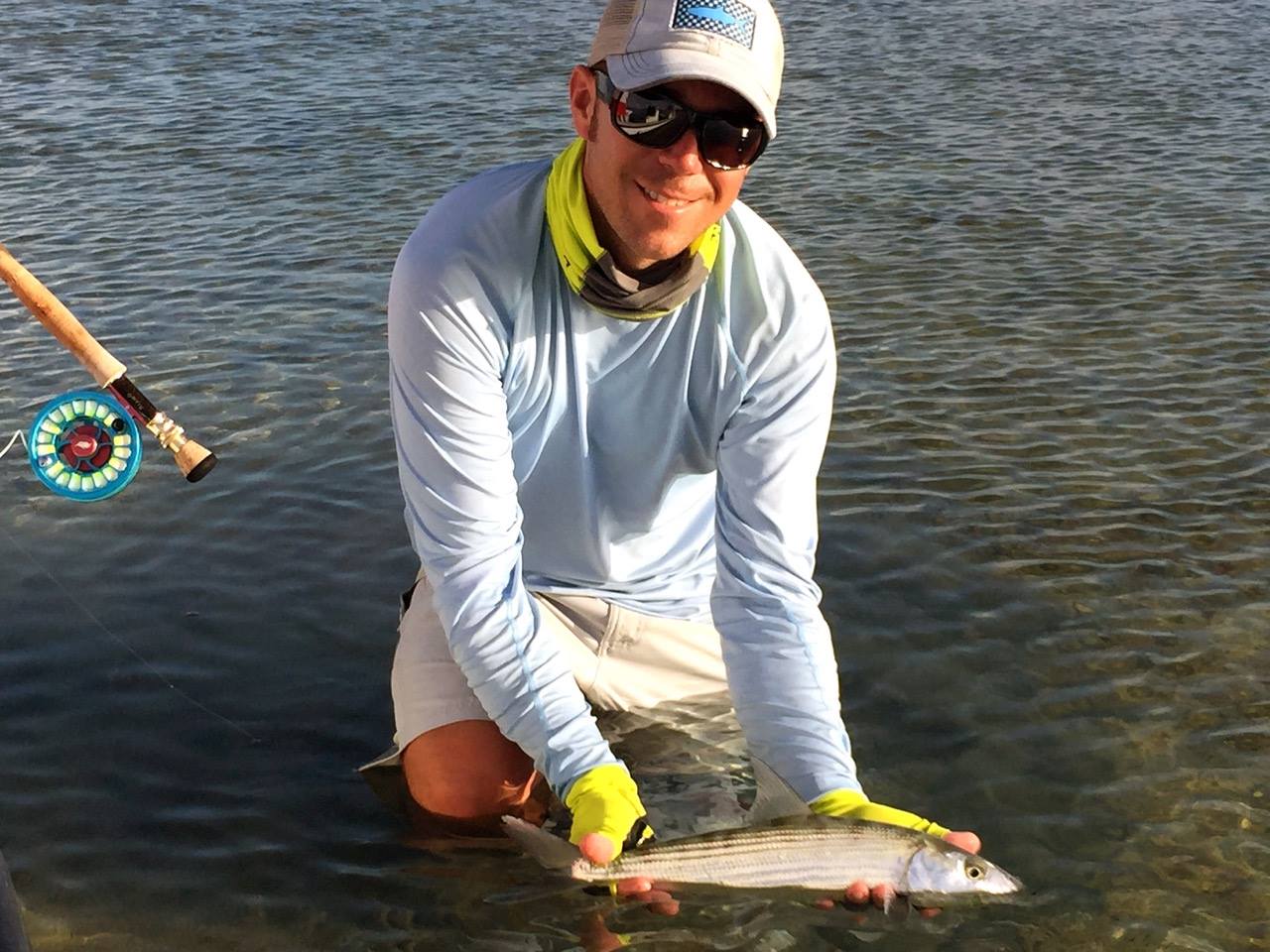 Everyone caught bonefish with a couple up close to 5 lbs. Many of the guests were first timers to flats fishing so it made their trips, Marty (she was an excellent casting student), her husband Rico, and Brent alternated fishing with Capt. Kechu and had a blast earning their bonefish pins. Our old friend Kim was hunting tarpon most days but landed some bonefish to get the skunk off. Maine resident Kevin had some luck with bonefish on his expeditions to the lagoon using a canoe to get to the wading that is available out behind the lodge. Jimmy and Penney from New Mexico teamed up with Capt. Hilberto for some fishing variety but both got their bonefish on their first day out. Pat and Mike had great fun fly and spin fishing with Capt. Junior, father and sons Paul and Brad, Bill and Chris, Hal and Kevin were back on the water together, just enjoying each other's company in between the takes, the runs and the good casts, the bad casts and memories of fishing together years ago. John "Lefty", and his buddy Phil did some damage in the bonefish department despite the bad shoulder injury that John suffered just before the trip. With a little practice he learned to pin the elbow at his side using his body a bit more to generate the line speed he needed.
Permit (Palometta):
Our hero of the week was Steve from Colorado, returning for his second trip. He had a four permit week with one gorgeous 20 lb permit with two smaller ones midweek and his grand slam fish late in the week. The next story is very unusual as Chris managed to land a permit on his first ever flats experience with Captain Tomas.
Tarpon (Sabalo):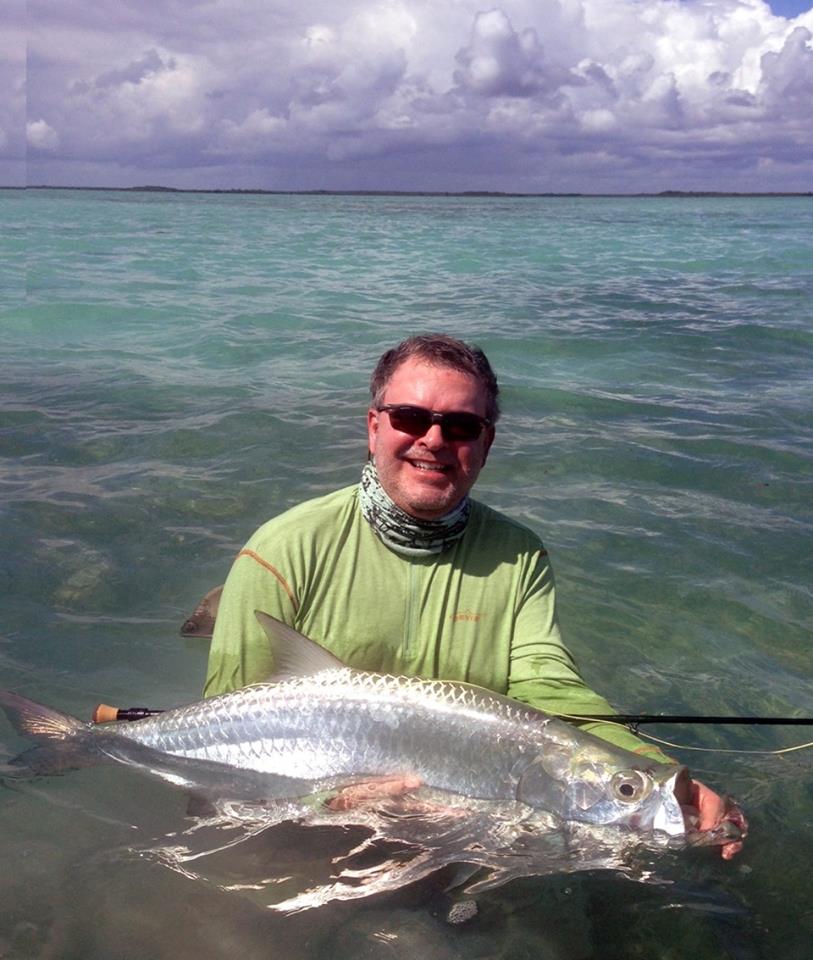 Paul got a beautiful 50 lb fish when fishing with Captain Cesar out on the far edges of Savanah flats near the mainland. Steve got an early morning 15 lber with Captain Emir on his first step towards his slam day. Capt. Junior and Mike landed a beautiful 50 lber out on Savannah late in the week when the winds tapered off. What a last cast that Bill made with the urging of Capt. Tomas… a beautiful big fish came next to the boat before the hook broke!
Other Species:
Kurt was able to get a huge red snapper on his day out reef fishing with his brother Dick. Barracuda, snapper & jacks were also fair game along with some triggerfish, and the occasional shad.
Grand Slam:
Steve teamed up with Captain Emir and Gordy for the only slam of the week. It was Steve's last day and after landing three permit earlier in the week he and his guide decided to get up early and get it done. It paid off big time. Leaving the dock at 0530 they ventured through the dark arriving at a calm channel hoping to see some rolling tarpon. Sure enough a few fish did roll but still no takes. Towards 0630 or so a fished roll and Steve delivered a quick cast 15 feet in front of the roll, the flash of the take was visible in the low light and the 15 lb tarpon came to hand a few minutes later. A solid 3 lb bonefish was just a short 5 minute boat ride away and was done by 0700.
Now off in search of the real problem – permit. They ventured back to a lagoon that held a nice school early in the week. Gordy and Steve waded this muddy flat trying to find them again. 300 yards across the lagoon, then back again, slogging through mud up to their knees at times, determined to find them. Sure enough Steve spotted a fish out of the corner of his eye and threw a single shot and it was game on, with the slam in hand by 0830. How often does a plan like this come together? Once or twice in a fisherman's lifetime. Congratulations to the Guide team of Emir and his son Gordy for getting Steve to the right spots at the right time.
Flies that worked:
Bonefish: Christmas Island special, Spawning Gotcha, Crazy Charlie tan
Permit: Mantis shrimp, Christmas Island Special
Tarpon:Black Death, all white Deceiver
Guide of the Week:
Capt. Emir for his grand Slam efforts with Steve!
Week's Summary:
It was a pretty quiet week here at the lodge with only a couple boats going out each day. Congratulations to Marty our most improved caster this week, she came out to the casting clinic three days in a row, determined to cast well enough to get her bonefish pin. Sure enough first day she got it.
– Ed Blank
For more information on El Pescador please contact Aardvark McLeod or call +44 1980 847389.