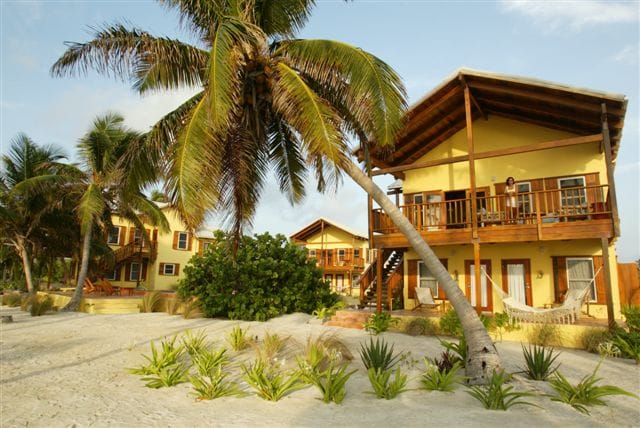 Weather: A mix of clouds & sun with light rain and scattered showers.
Air Temp: 74 – 84 degree Fahrenheit; 23.3 C – 28.8C Winds: NW 5 to 10, N 5 to 10, NW 5 to 10, SW 0.
Water: Temps ranged from 75-80 degrees
Moonphase: New Moon December 28th
WHAT GUESTS WERE CATCHING
Bonefish: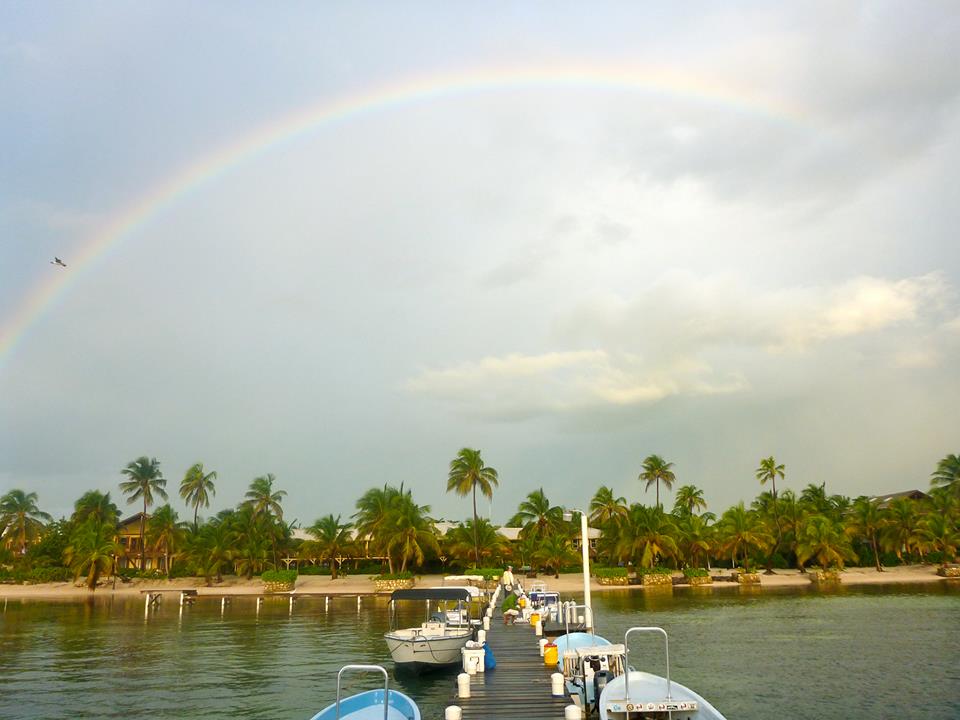 Quincy just landed a nice bonefish in front of the lodge. It's a perfect lee afternoon – fins and tails are making themselves seen out there. His son Q is here as well, they both are avid fly fishermen from Seattle. Mike decided to practice his casting out in front of the lodge as well. He kept a fly on for practice and then he had a big bone suddenly grab his fly! He lost it when it headed toward the dock, but it was fun to see all the action. These are the really smart fish, so they get extra attention! As for the crew here this week we need to mention that Mary and Christy proved that they can get more than parking tickets with a golf cart. Both of the barrel racing champs landed bonefish and will be awarded tonight! Look for bonefish pins on their next cowgirl outfit. Byron landed 22 bones on fly his first day out! He was hoping for Mr. Permit. Clarification, he was counting on Mr. Permit, but the fish won. The bonefish kept him sane. The Chang family is here and they all landed bonefish on fly! Congratulations to Wan, Joe, Chris and Colin. Kenn and Patti landed bonefish on fly everyday they went out with Captain Kechu and had a great time. It was really fun to see Tom out with his family. They run a great lodge in Washington State, and enjoyed the warm water and the bonefish. One day they had a shore lunch with Captain Cesar. His lovely wife Carol and their beautiful daughter Kelsey yelled, "bonefish are on their way to you," as he was wading the flat waiting for lunch. He saw the bones, made the cast, and caught a very nice bonefish which he released.
Permit: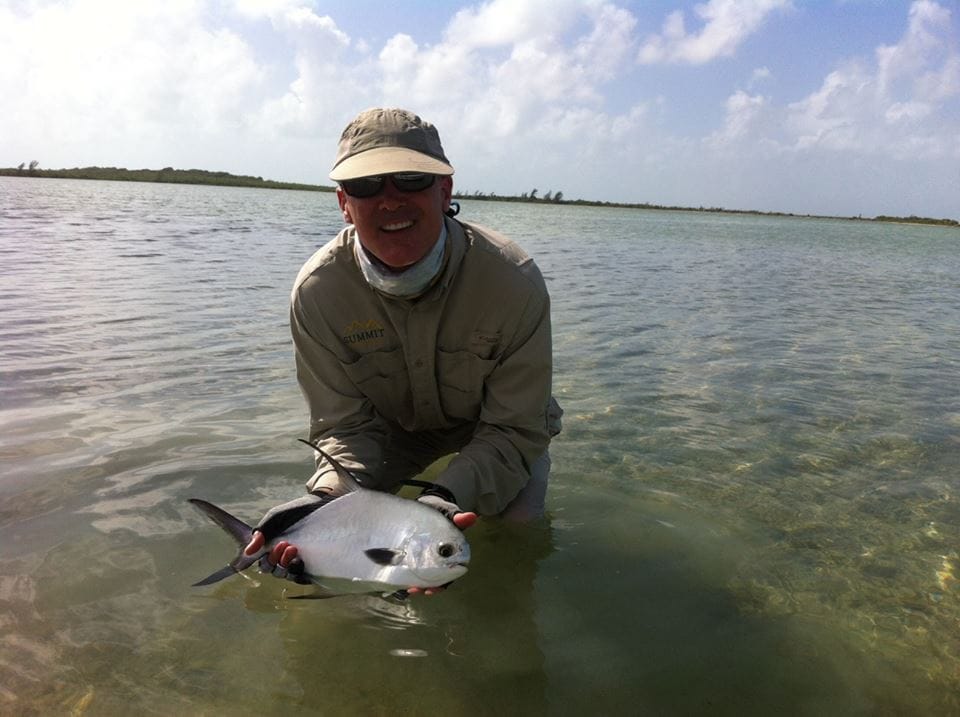 Permit were scarce this week, but Stephen landed one on fly with Captain Raton! And Garth went out with Captain Cesar on day number two and landed a nice permit on fly! It was challenging for permit this week because the water was off colour and we didn't have a lot of sun.
Tarpon: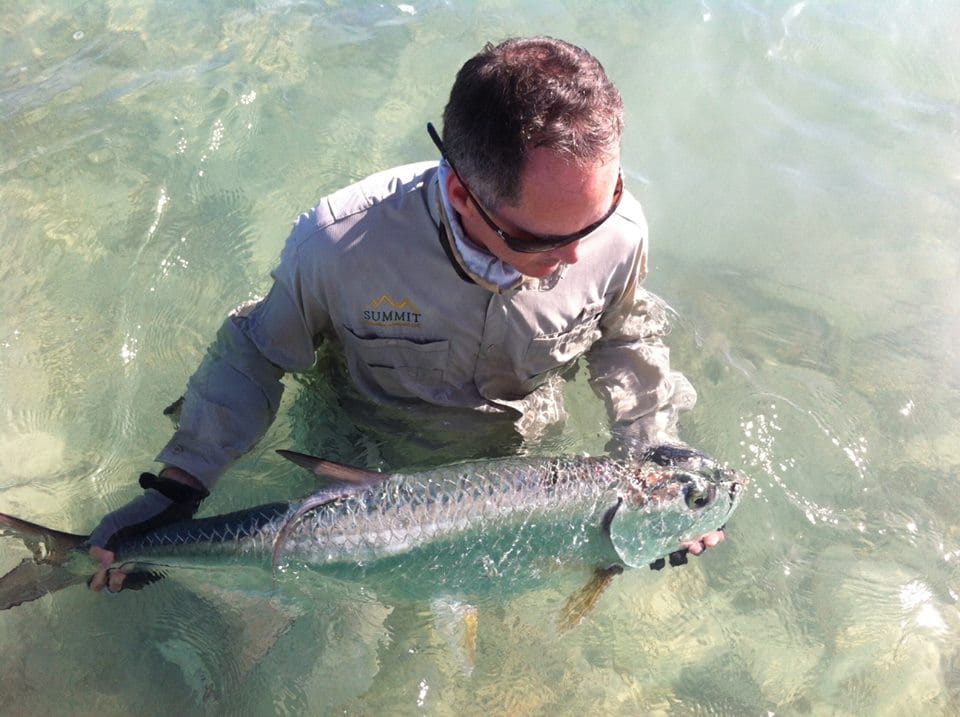 Q jumped one with Captain Emir early this morning in a lagoon. His father Quincy had a nice bite but lost it on the strip. Meredith jumped one today with Captain Cesar up north.
Snook: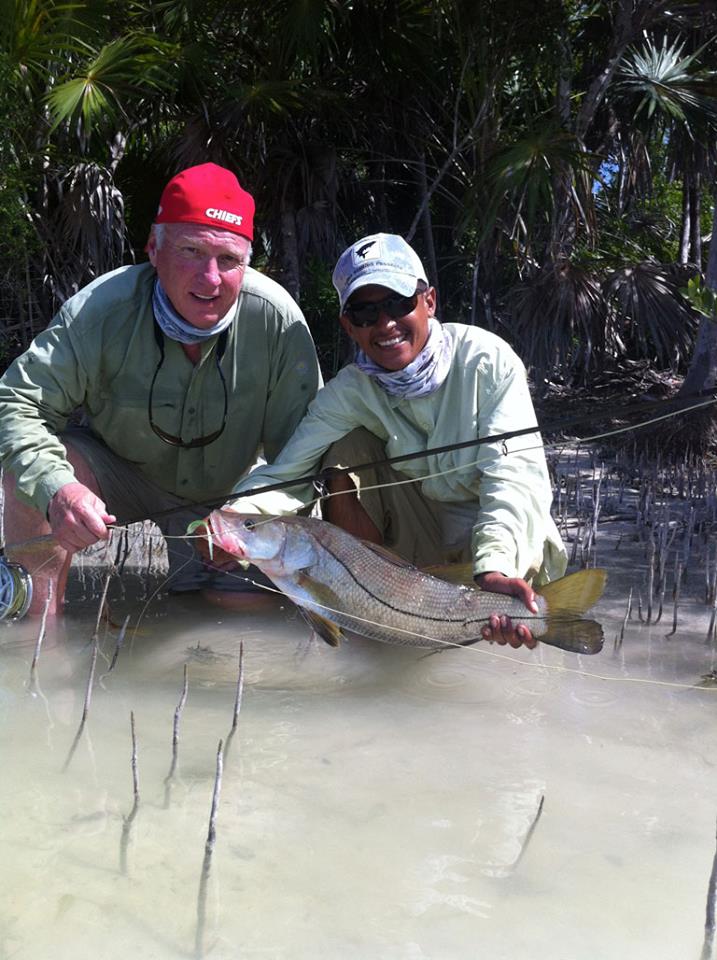 Meredith was fishing with her father and Captain Cesar today and landed 5 snook on fly. World record holder, Jim Boker was here with his family and friends. Jerret and John ripped it up on light spin – they landed 8 snook over ten pounds, the largest was about fifteen.
Grand Slam:
Todd was here for one day of fishing with Captain Emir and he slammed! He landed the permit, then the tarpon, then the bonefish!
Other Species:
Barracuda and some really big snapper were landed and eaten this week.
Flies that worked:
Bonefish: Crazy Charlie, Gotcha, CI Special.
Permit: Turneffe Crab, Avalon, Big Squimps!
Tarpon: Black Death, Chartreuse toad, White toads and bait fish patterns.
Guide of the Week:
Captain Emir for Todd's slam!
Week's Summary:
We had a wonderful Christmas week here at El Pescador. Tons of great food and laughter made for a fun holiday with our guests and EP family. I had several calls to make sure Garth from Bozeman was all set for his fly fishing this week. His beautiful wife Cara, suggested they have a break in warm weather. Then she said it could also be a fishing vacation! Garth happens to be a busy surgeon, besides a passionate fly fisherman. What is important to my buddies in Bozeman is that he is their goalie for the hockey team. I'm thrilled Garth was able to land a permit, and hopefully tomorrow a tarpon! Tom, Carol and Kelsey – it was hard to say good bye! We really enjoyed you around here and look forward to when you can return. Thank you to all of our guests this week. It's been great to see your fishing skills improve but most importantly, we all feel we have made new friends of El Pescador. Until next year! With a ton of fishing blessings from the fishing department!
Cast to your dreams!
– Lori-Ann
For more information on El Pescador please contact Aardvark McLeod or call +44 1980 847389.