After several months of a cold and wet UK winter, finally the day arrived for departure to Farquhar Atoll.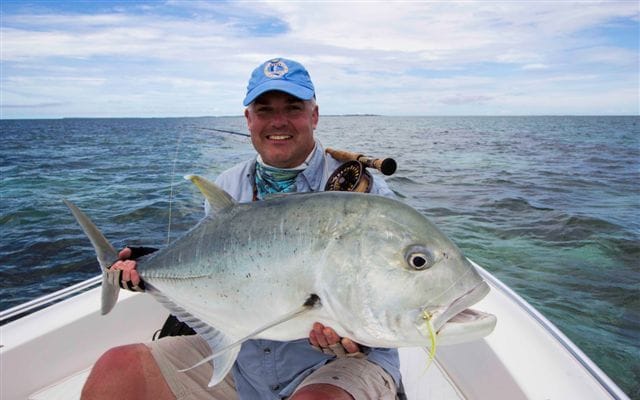 The group of travellers were Paul & Richard Smith, a father a son combination from the UK who had never fly fished in saltwater before. Peter Solovyov and Vadim Titovets from Belarus, Tom Haskins, Mark Weare, Peter Opperman and myself all from the UK.
Getting to Farquhar is straight forward with a flight from London to Dubai, Dubai to Mahé in the Seychelles and a 1 hr 45min charter flight from Mahé. This trip also included a nights rest in Mahé after the flights from the UK.
We stayed at the Crown Beach hotel. A very modern contemporary hotel situated right on the beach front with all the modern facilities.
Next morning after a civilised bacon and egg breakfast we headed to the airport for our IDC (Island Development Company) charter flight to Farquhar.
On arrival at Farquhar the FlyCastaway guides meet us off the plane and said goodbye to the departing anglers. A quick five minute drive saw us arrive at the lodge. Accommodation of Farquhar is not five star luxury, but what it is, is more than adequate for anglers who are on the water all day and simply need a clean bed and a hot shower at the end of a hard days fishing. Let us not forget just how remote this atoll really is. After a quick safety briefing, and a delicious lunch we tackled up and headed out independently for a few hours fishing before supper.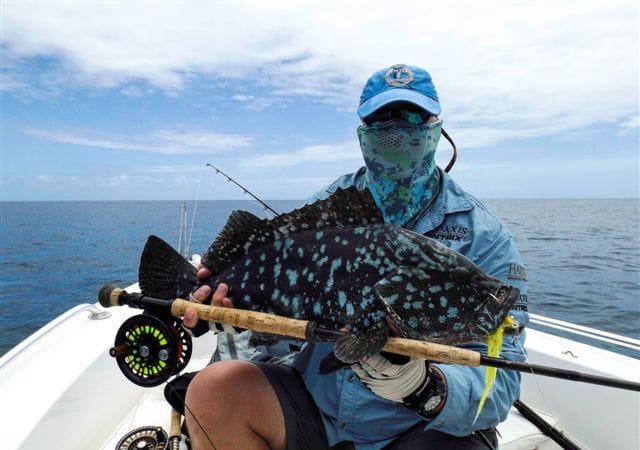 On this first afternoon of fishing Richard Smith and I found a small group of coral heads and proceeded to catch some very nice sized emperors, some small groupers and were smashed to pieces by some bigger fish. Richard who had never cast a fly in saltwater was an instant convert. Until you try this type of fishing you really can't explain to people just how strong saltwater fish are. Alongside us Mark Weare caught a very good sized blue spangled emperor.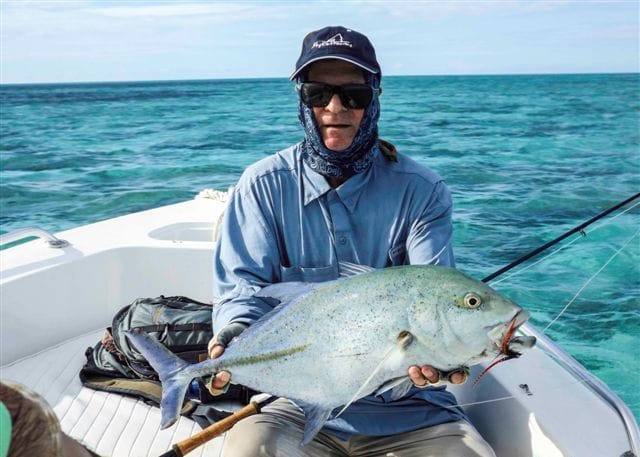 The next six days fishing were nothing short of outstanding. Unfortunately we had a weather front hanging over the island for the first three days of the trip which made sight casting quite difficult but as soon as the bright rays of the sun shone the fishing instantly picked up.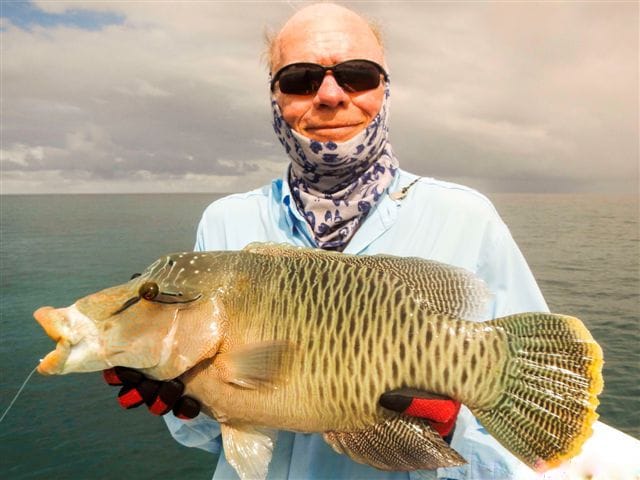 Farquhar is a mixed fishery and having an open mind is the key. Anything could happen within seconds. Best laid plans change regularly with the tides. The FlyCastaway guides are very professional and make a huge effort to plan ahead and give every angler every chance to catch that trophy fish.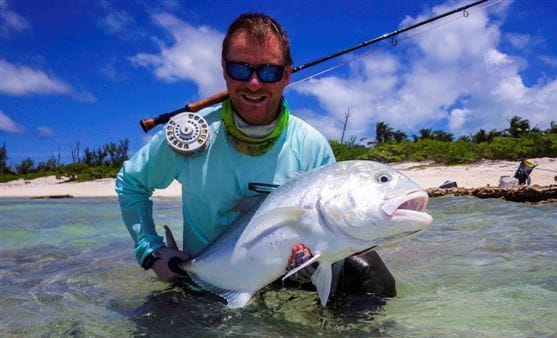 Standard outfits of #8, #10, #12 are the norm here. The guides don't mess about and on the #10, #12 outfits you will have leaders of 80-130 lb. You need it, trust me….
As day three dawned the rain had gone and with no wind the general feel about the atoll was different. The fishing started to "fire". Everybody caught bonefish sight casting this day, some nice bluefin trevally landed and the first giant trevally on fly was caught.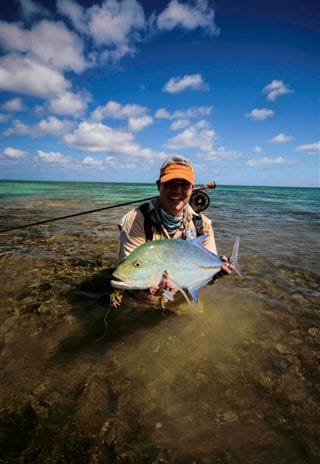 The following three days saw some excellent bonefishing with fish up to 8 lbs. More bluefin trevally and GT's really starting to appear. The general form each day was to work the tide in the morning with a wading session then as the tide became high, fish from the boat. The "bommy" fishing around coral heads in the lagoon was a great way to spend a few hours each day. This form of fishing did throw up some cracking fish including several grouper species, the prized boha snapper and many emperors. You have to hang on tight though, or these fish will take you into the reef in a flash.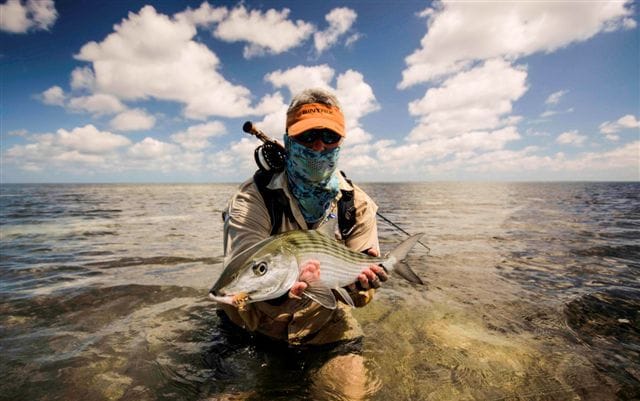 Now with the weather settled the business of catching triggerfish and bumphead parrotfish could begin. Some very nice sized triggers were landed, but bumphead's are a whole another story. What a fish… you need stealth, cunning, patience of a saint, and plenty of luck. Vadim Titovets, who is an extremely experienced saltwater angler hooked several of these fish including eight in one session and was smashed each time by the power of the beast. Needless to say Vadim has unfinished business on Farquhar.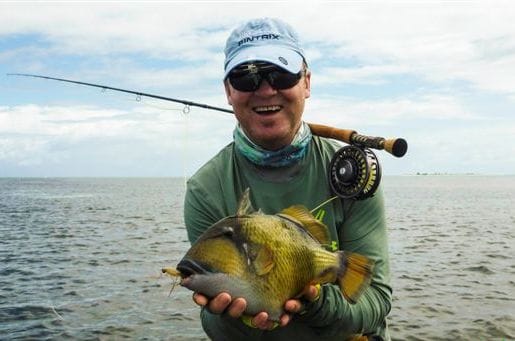 Other notable catches over the week was Tom Haskins "grand slam", consisting of a GT, bonefish & triggerfish. Well done to Tom who adores sight casting on the flats.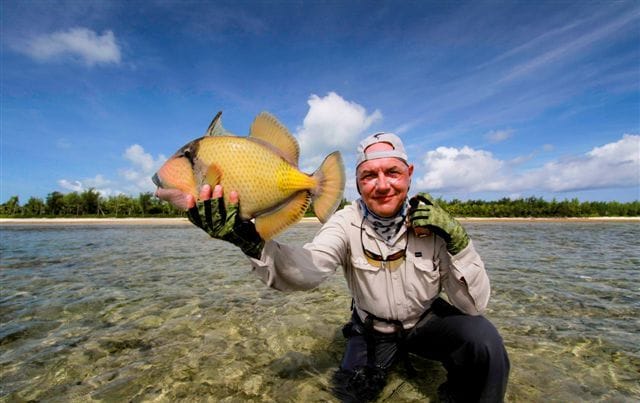 GT's fell to Paul, Vadim, Mark, Peter O & myself. All the anglers on the trip had opportunities at this species. Richard Smith had a power house boha snapper, and on a day's offshore fishing briefly hooked a sailfish on the fly. Paul Smith also had a black tip shark on the fly. Peter Solovyov was the master trigger fisherman.
All told the fly fishers had 68 bonefish, 8 GT's, 8 triggerfish, 6 bluefin trevally and many more emperors, groupers, and smaller auxiliary species.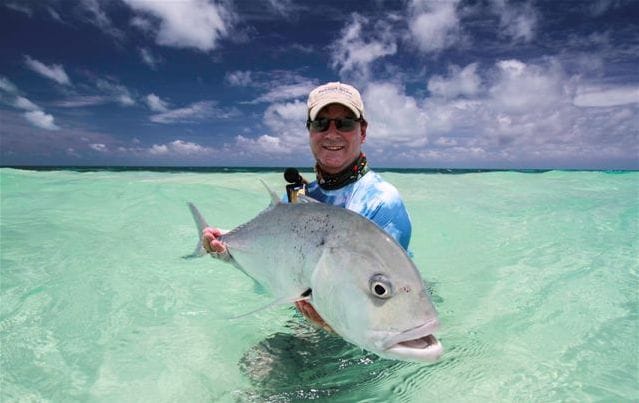 Leaving Farquhar with perfect weather, calm seas and the next group of excited anglers arriving was very difficult, but with having experienced the islands rich offerings there were no complaints from anybody.
If you like "hunting" fish Farquhar is the place for you.
If you would like more details on Farquhar, or any of our other Indian Ocean destinations, please contact Peter McLeod call our office on +44(0)1980 847389.