This was our sixth trip on the trot this season and the guys were amped to put in one last big effort before we had a week off. The southern part of the atoll had, over the past few weeks, been providing some really cool water and so we had no hesitation in heading to some of our favoutite spots down south at the start of our week. Our primary focus would revove around GT's, Triggers, Bumpies but with Farquhar being Farquhar we could easily run into 100lb Naleon Wrasse, monster Barracuda, Golden Trevally and a host of others.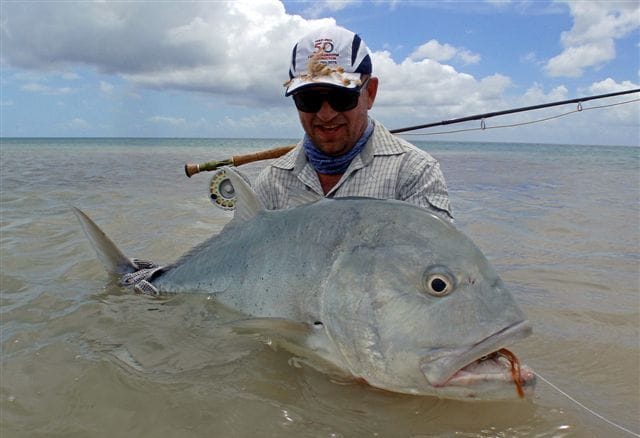 True to form we were off to a flyer with Arjen landing the first GT within 5 minutes of stepping onto the flats Ronnie and Harold alos stepped up to plate with some great catches, Ronnie landing a nice Moustache Triggerfish and Harold fortunate to land the partciularly tricky Yellow Marin Triggerfish. The tone had been set and with a super group of guests we charged head first into the remainder of the trip.
There would however be one fish which would get the better of us this week. During the course of the next 6 days we hooked and fought 22 Bumpies. We had coral breakoff's, bite through's …to be honest we saw it all. Dave alone was able to capitalize on the abundant Aqua Hulks, landing a really nice specimen.  On the GT front we run into good numbers throughout the week, which really got the guests excited. Arno managed two really nice fish in the 90 cm region, one of which presneting itself on a Stingray situation…..it was text book! He did however later connect to a truly monstrous fish which was well over 1m and will no doubt be a fish which will haunt him for years to come. Colin had to work hard for his fish but after a lengthy surf walk found his fish following a nice size Lemon Shark. Dave also landed a good GT after negotiating it through some pretty nasty coral ridges, however Arjen took top honours with a meter long fish which tested every knot and join to limit. Congrats Arjen.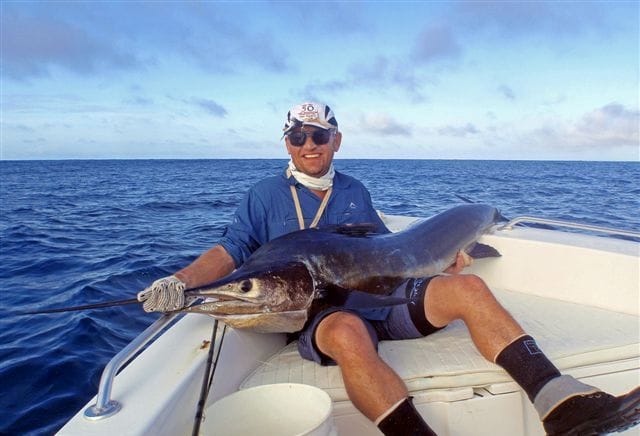 Although the numbers of Sailies around Farquhar has tapered off, there are still a few eager specimens  willing to come up on a well presented tease and switch. Arno and Arjen both managed to persuade decent fish to latch onto their flies which capped off a pretty great week for both anglers.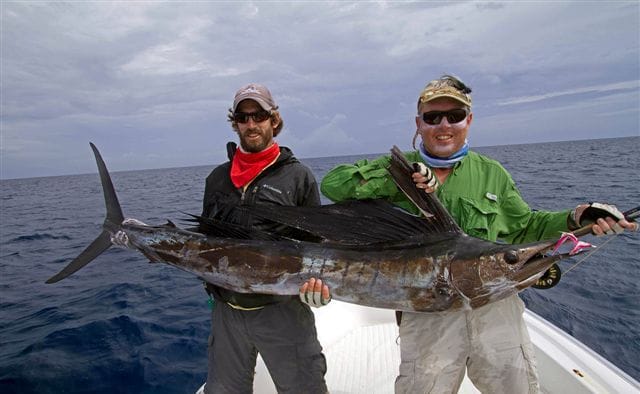 Team "Bommy bash" Harold and Rob managed to rack up the species count capturing countess species, including a very nice Green Jobfish, which in Rob's case (he had a broken thumb) was a job well done. Colin landed a gorgeous Napoleon Wrasse, however the guide's personal favourite for the week was withoput doubt a 20lb plus Saddle Back Grouper 20 lb's hooked and landed by Willem …on a flat nogal. After some excruciating minutes of being reefed by the fish, Willem bullied the magnificent black, white and yellow beast back onto the flat where it carefully landing and released.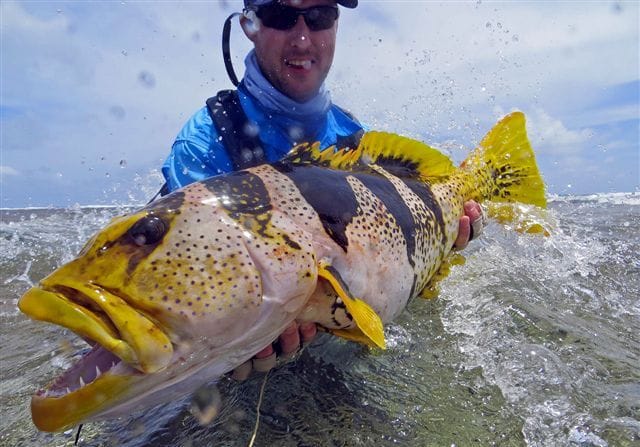 And so with that, we come to the end of another week on Farquhar. The guides and guests had given it a big effort and the rewrads were there for all to see. But enough about that, it's time for some well deserved sleep…all 6 days of it!
Until next time
Tight Lines
James & The Farquhar Guide Team
If you would like more information on Farquhar or to hold space, please contact us or call us on 01980 847389.