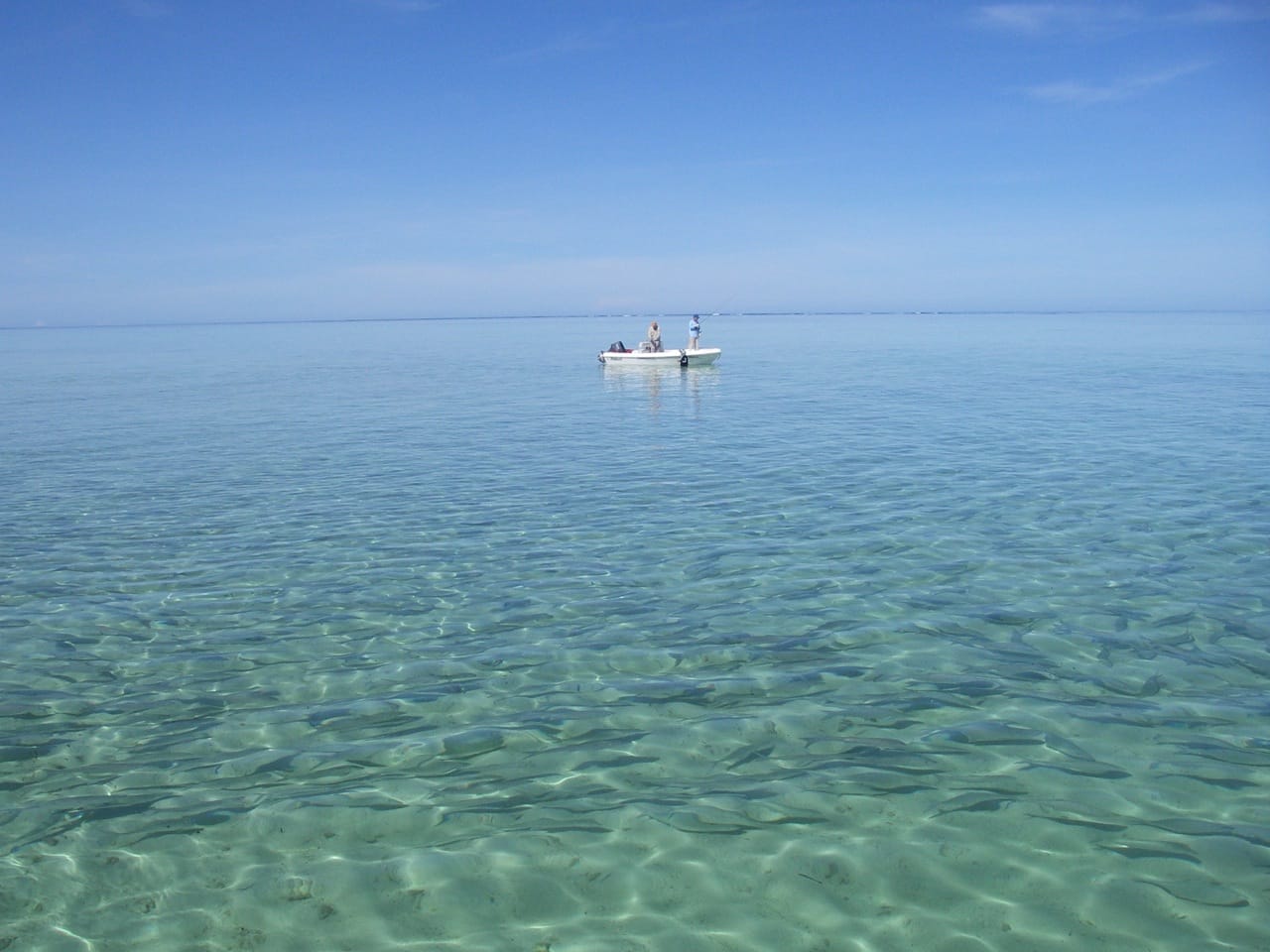 It's our second week on Farquhar this year and after a phenomenal first trip the gears are in full motion. Neap tides were on the cards and we were expecting the Bonefish numbers to be up there. There's a wonderful phenomenon that tends to happen on a certain neap tide, usually once or maybe twice a season: a massive, if not colossal school of bones pours into the atoll and will stay just long enough for every angler to be left astounded by it's sheer mass, and of course, catch enough to fill his bone fishing quota for the rest of the year. As you may have guessed, this week was one of those weeks and I can report with certainty that many many gorgeous silver bullets were caught, although the exact number was lost long before the end of the first day.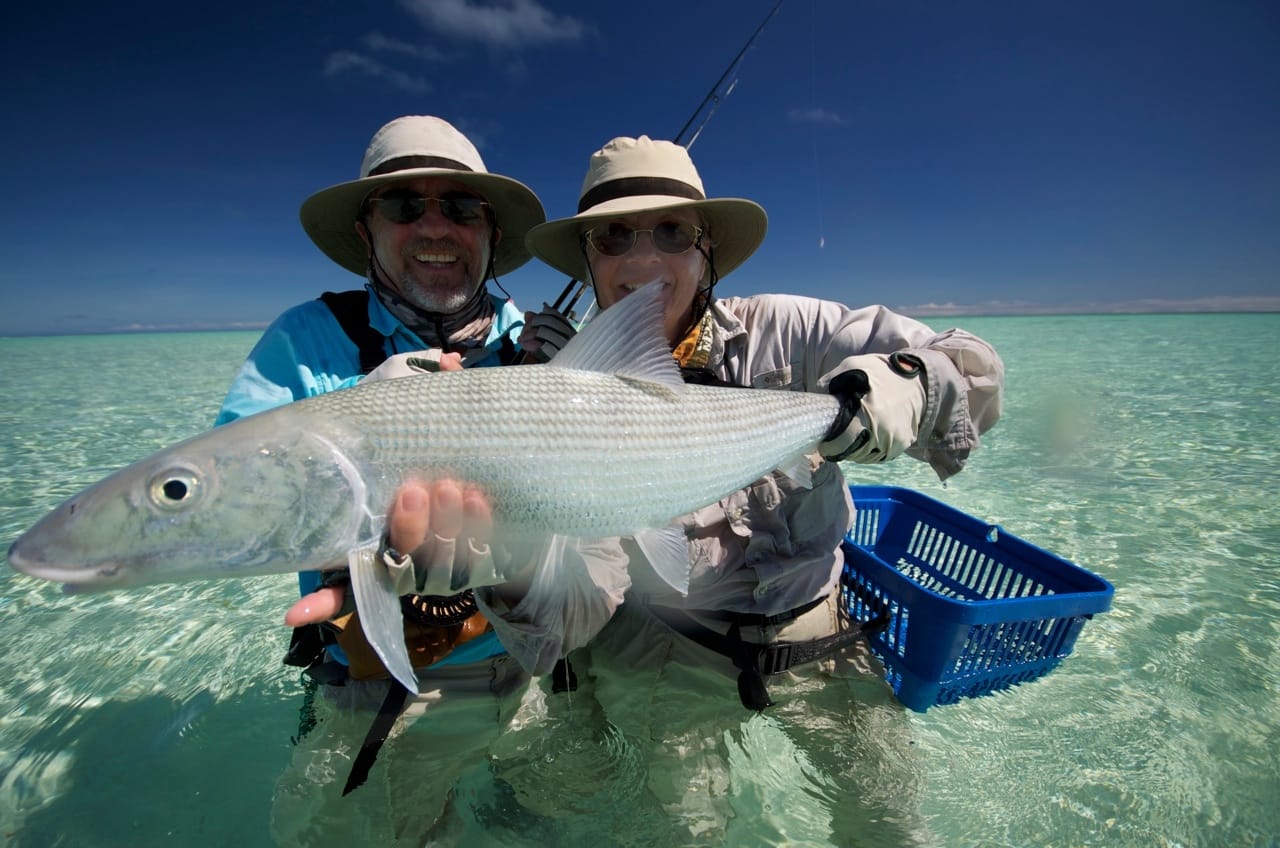 This didn't mean there wasn't the classic, traditional style flats' fishing around. On the other side of the atoll you could target large single Bones. They weren't easy though, but if you brought your "A – Game" you were certainly rewarded. That's the beauty of Farquhar. "These bones are too easy? Fine, let's go to another spot." And when we all got tired of the Bones, we turned our sights onto the Triggers and Bumphead Parrotfish…of which there were many.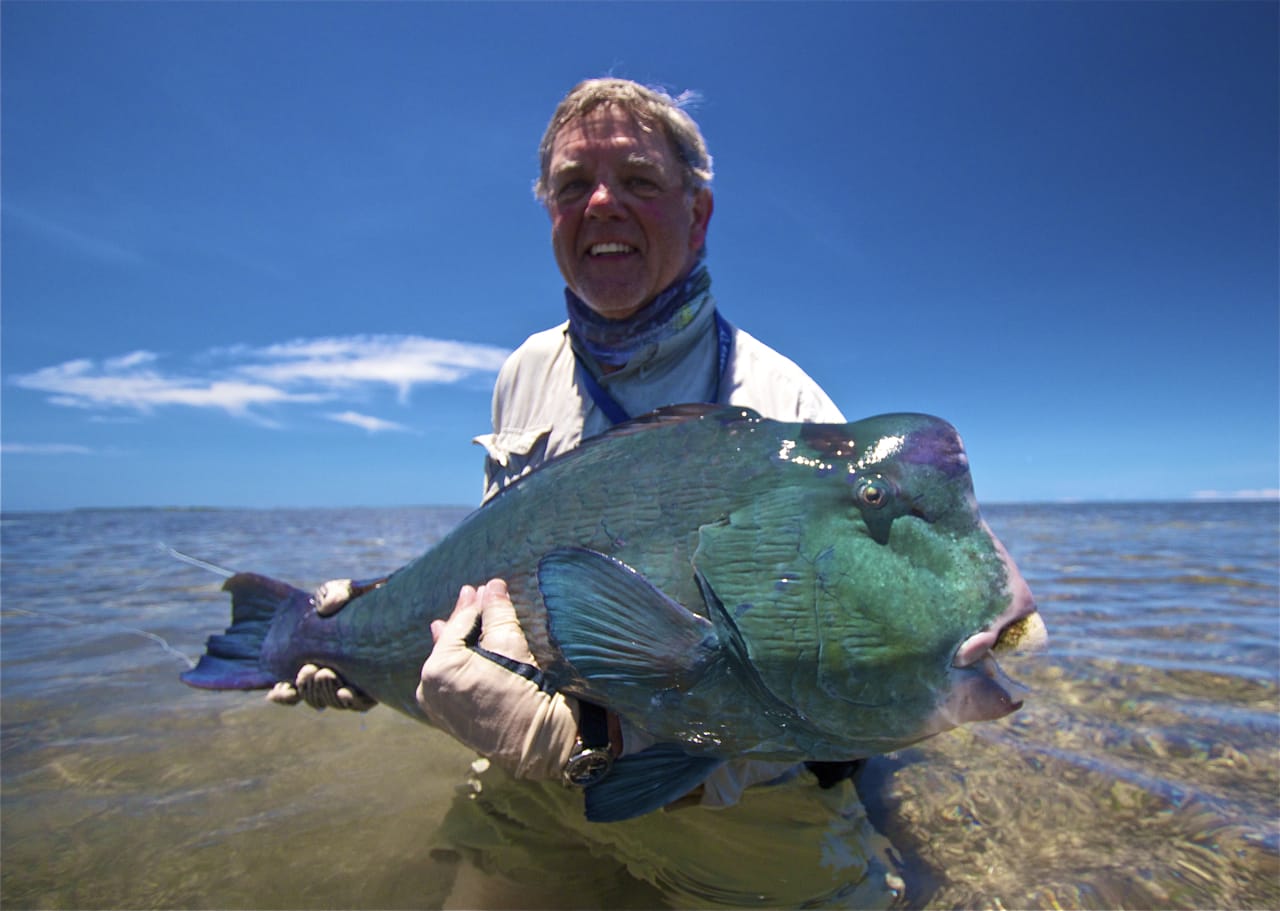 While the fisherman's prayer is usually an appeal to the powers that be to bestow good weather on it's subjects, good weather can be a double edged sword. Sure, the visibility might be at its best, but soon enough it warms the flats, and most of the flats species don't enjoy the warm water too much! We have our ways and means however, and when things got a little quiet we headed offshore.
To illustrate what can happen offshore, we'll take the last day as an example. It usually takes some time to locate the fish, while we were hitting the marks, trying to establish which one is currently holding the fish. Kyle arrived on the scene to report that Jako and Ben had already landed a Milkfish, the second this week. Not long after Keegan radioed to say he had raised a few Wahoo and Dogtooth. Sure enough, a few short minutes later there was a yell on his boat, and a severely bent rod – one times Dogtooth Tuna on! Things were heating up.  Phil's line slammed tight and a Wahoo tore off with the immense speed they're so well known for. Many more swarmed underneath the boat. After the fish was landed and photographed, Joe expressed how badly he wanted to catch a Wahoo – a fish that he'd been after for quite some time but hadn't managed to boat. The words had hardly left his mouth when again there was an explosion behind his fly and the Wahoo did it's best to destroy Joe's reel drag. Joe finally got his fish, an immensely rewarding feeling for the guide.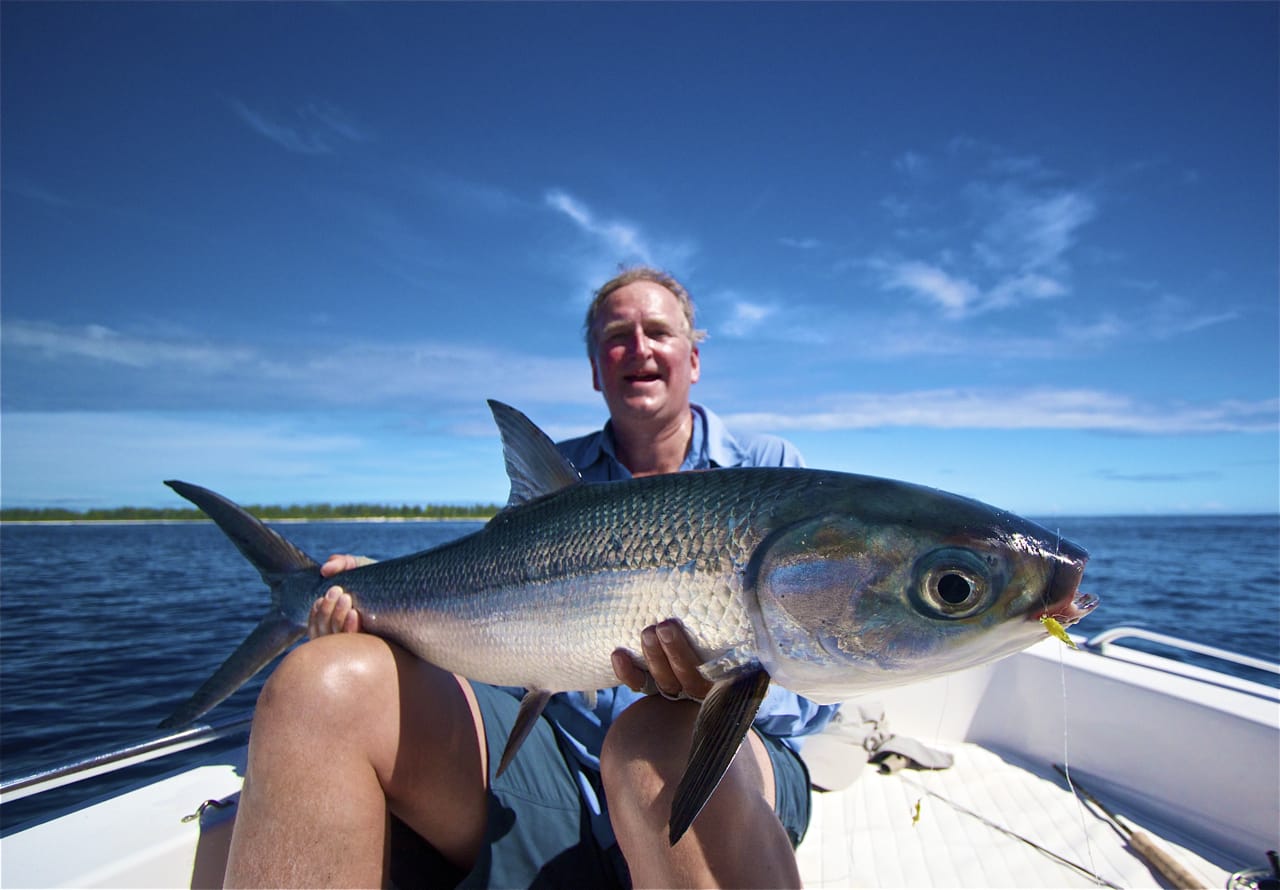 After landing a Rainbow Runner, huge Bonito and raising a Sailfish, the action slowed. We thought we'd head back to the wreck for some lunch, but we didn't quite make it. A massive Doggie interrupted our lunch plans, and after a 45 minute fight boated the estimated 45 – 50 kg fish for a photo shoot, after which it was released and swam powerfully back to its dark watery lair.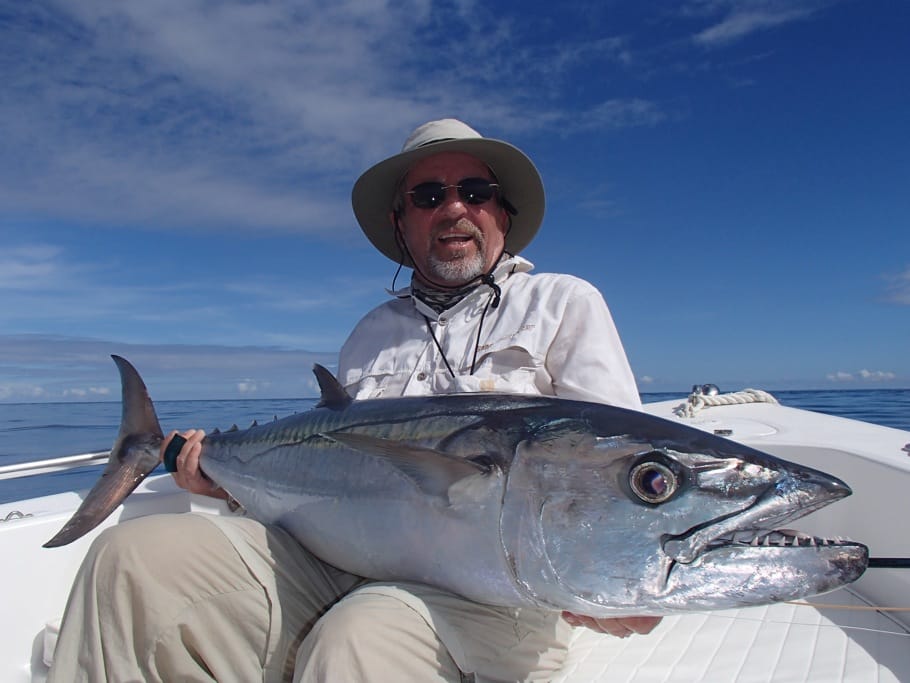 And that was just before lunch…
Most of this week's guests will be staying for another week, and who could blame them? The fishing seems to be going from strength to strength. Tomorrow is the start of another week, and if the last two are anything to go by, things are looking promising. Every week is so vastly different, who could possibly know what is in store for us.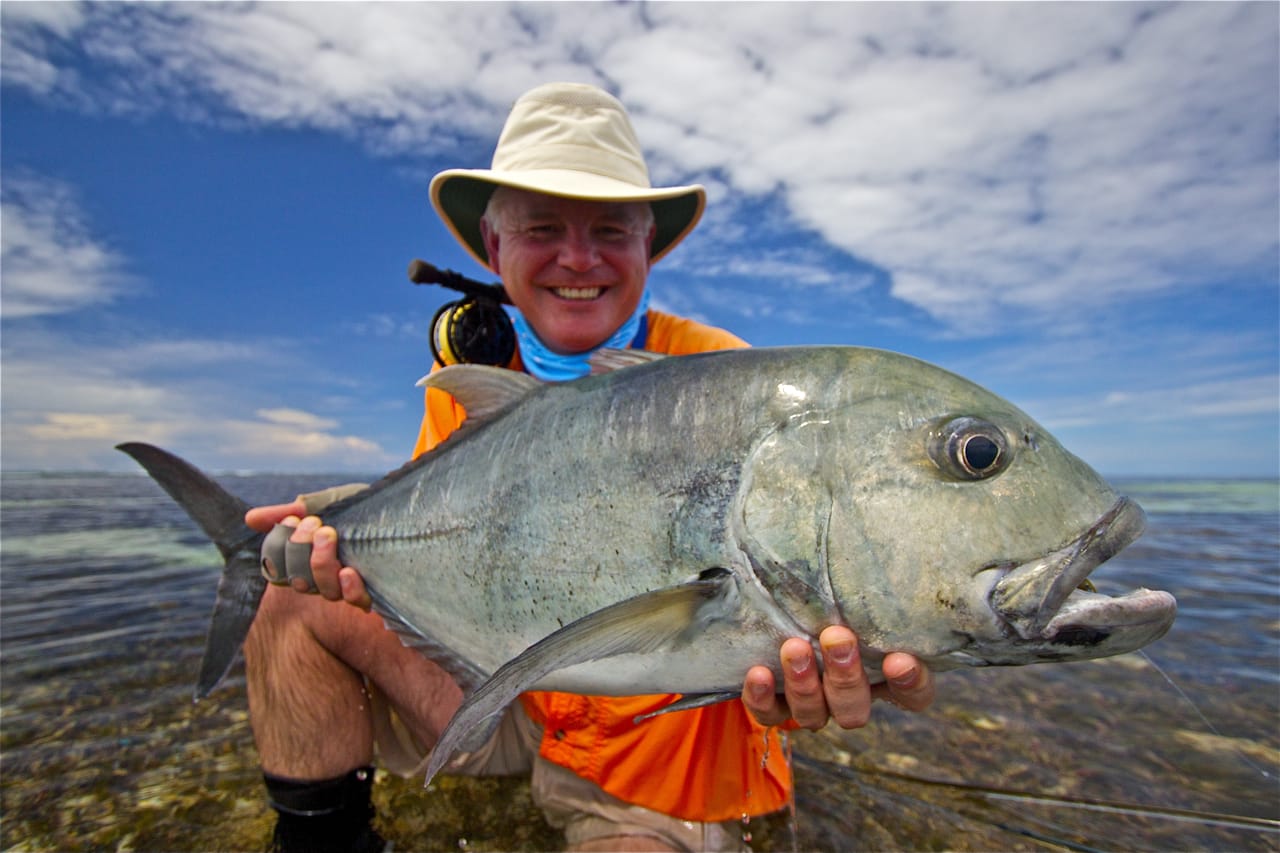 There are still 4 rods  remaining on Farquhar this spring if escaping the cold appeals to you, and we also still have 5 rods remaining on our hosted week in 17 – 24 November on optimal tides. For more information and an itinerary please contact Peter McLeod.